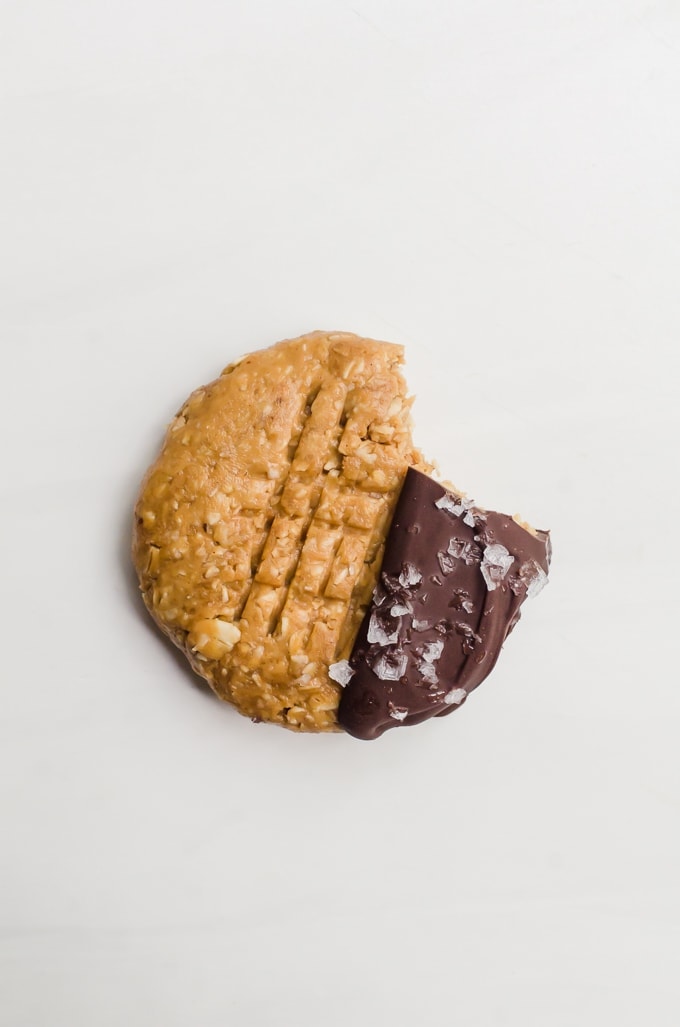 Chocolate Peanut Butter No Bake Cookies
Yield 1 cookie
Once you realize how easy it is to make a chocolate peanut butter no bake cookie, you will want to make one every day! 
Ingredients
2 tablespoons (1/2 cup or 113 grams) peanut butter
2 heaping tablespoons (2/3 cup or 63 grams) instant oats
1 teaspoon (5 teaspoons) powdered sugar
1/4 teaspoon (1 teaspoon) vanilla extract
1 tablespoon (3 tablespoons) semi-sweet chocolate chips
flaky sea salt
Instructions
Stir together the peanut butter, oats, powdered sugar, and vanilla together in a bowl. Mix until well combined.
Gently knead the mixture for a few seconds to ensure everything is well combined. 
Form the dough into a disc. If you are making a few cookies, make the discs two tablespoons big. 
Place the cookie(s) onto a piece of parchment paper and freeze for five minutes. 
Melt the chocolate in a small bowl by heating it for 30 seconds and stirring well. 
Dip an end of the cookie into the chocolate, then sprinkle with the sea salt. 
Place in the freezer to harden the chocolate. If making multiple cookies, keep stored in the refrigerator until ready to eat. 
Notes
The measurements in the parenthesis are if you are making multiple cookies - you should be able to get approximately 5 cookies from the mixture. 
Courses Dessert
Cuisine American
Recipe by A Cookie Named Desire at https://cookienameddesire.com/chocolate-peanut-butter-no-bake-cookies/