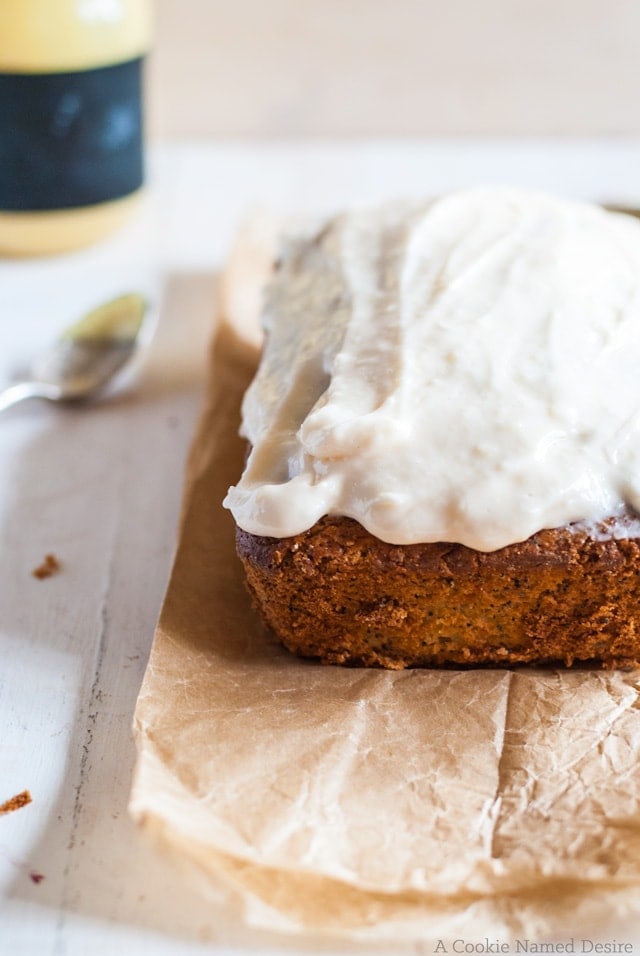 Yeah, calling this a citrus poppy seed bread with citrus curd swirl probably isn't the most specific title, but I really used a couple of types of citrus here and wanted to attempt to keep the title short-ish. If you are wondering, I used lemon and honey tangerine. I love honey tangerines (also known as Murcotts). I expected them to have a subtle honey flavor to them, but they are actually a cross between a tangerine and a sweet orange. Very sweet and citrusy.
I decided to make this poppy seed loaf after eating a really delicious slice of lemon poppy seed cake with cream cheese frosting during Easter brunch. They were severely lacking in desserty options. Just canolis (which I do not like), mediocre cream puffs, and this cake which was fan-freaking-tastic. I may have had a couple of slices. Ever since then, I haven't been able to get that cake out of my head.
I didn't want to make a whole cake; I just wanted something quick and simple that would allow me to get my grub on asap. A quick bread was the first thing that came to mind. And to amp up that citrus flavor, I made this delicious curd to swirl into the poppy seed bread.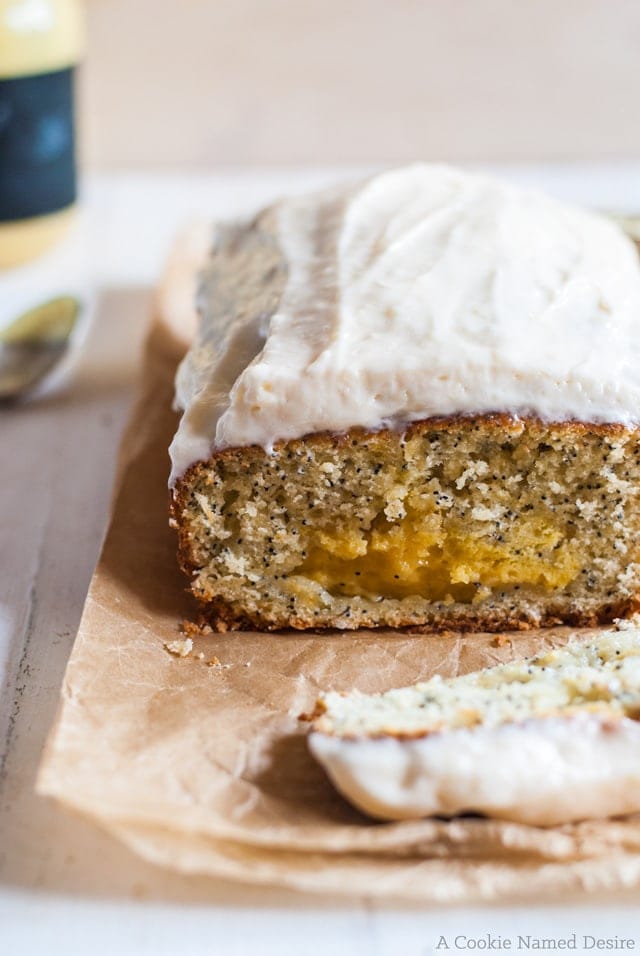 The curd really gives the bread that extra citrus zing, and when you get a nice bit of it in a slice..... yum. I'm not afraid to tell you that I ate about half the loaf just searching for large swirls of the citrus curd.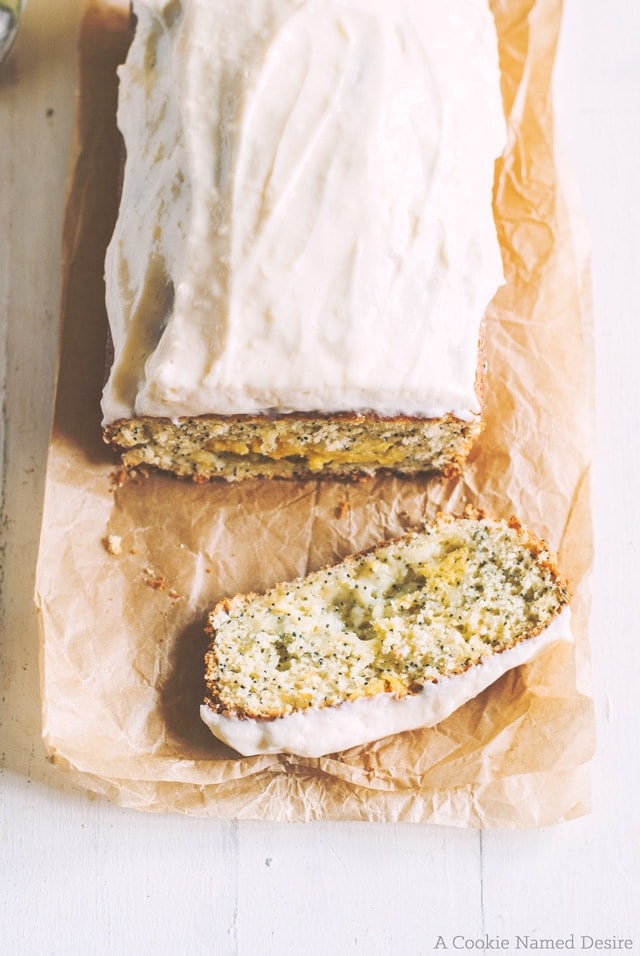 Citrus Poppy Seed Cake with Citrus Curd Swirl
Yield: 1 loaf

Prep Time: 30 minutes

Cook Time: 1 hour 5 minutes

Total Time: 1 hour 35 minutes
Ingredients
For Citrus Curd
1/2 cup sugar
zest of one lemon
zest of one honey tangerine
1 cup honey tangerine juice
1/2 cup lemon juice
3 eggs
5 tablespoons unsalted butter, cut in cubes
For Poppy Seed Bread
2 eggs
1/2 cup milk
1/4 cup honey tangerine juice
1/2 cup oil (canola or vegetable work well)
3 tablespoons melted butter
3/4 cup sugar
zest from one honey tangerine
1 teaspoon vanilla
2 cups, plus 2 tablespoons all purpose flour
1 1/4 teaspoons baking powder
1/2 teaspoon salt
1 1/2 tablespoons poppy seeds
For Cream Cheese Frosting
4 ounces cream cheese, softened
1/4 teaspoon vanilla extract
zest of half a honey tangerine
zest of half a lemon
1 tablespoon honey tangerine juice
1/2 tablespoon lemon juice
1 cup powdered sugar
Instructions
For the Citrus Curd
Place the zest and juice together with the sugar in a medium saucepan. Quickly rub the zest into the sugar to help release the oils in the zest. Add in the citrus juices and heat on medium, stirring occasionally until the sugar is dissolved.
In a medium bowl, beat the eggs. Slowly add one third of the citrus juice mixture into the eggs, beating the eggs constantly as you are pouring. (I put a third of the citrus juice into a liquid measuring cup to make it easier for me to pour with one hand)
Slowly pour the egg mixture back into the saucepan with the remaining citrus juice, stirring constantly.
Continue to heat the saucepan on medium and beat the curd constantly until the becomes thickened. The best way to test this is to run a finger over the back of a spoon dipped into the mixture. If the line remains on the spoon, then the curd is thick enough, if the mixture quickly covers the line, then you need to cook the curd longer.
Strain the curd through a fine mesh strainer. Allow to cool completely.
For the Poppy Seed Cake
Grease and flour a 9 x 5 loaf pan. Preheat the oven to 350 degrees F
Beat the eggs and milk together. Stir in the juice. Add in the melted butter, oil, zest, and vanilla and mix well.
In another bowl, mix together the flour, baking powder, salt and poppy seeds.
Mix the wet ingredients into the dry and mix until it is just incorporated.
Pour half the batter into the loaf pan and drizzle about a third of a cup of the curd onto the batter. Swirl with a butter knife. Add the remaining batter to the pan and add another quarter cup of curd onto the batter. Swirl again.
Bake for about 50 minutes, or until a toothpick comes out clean. Allow the bread to cool in the pan for at least 10 minutes, then transfer to a wire rack to cool completely.
For the Cream Cheese Frosting
Beat the cream cheese until smooth, add in the extract, zest, juice, and powdered sugar. Mix until smooth. Spread over top the cooled loaf.