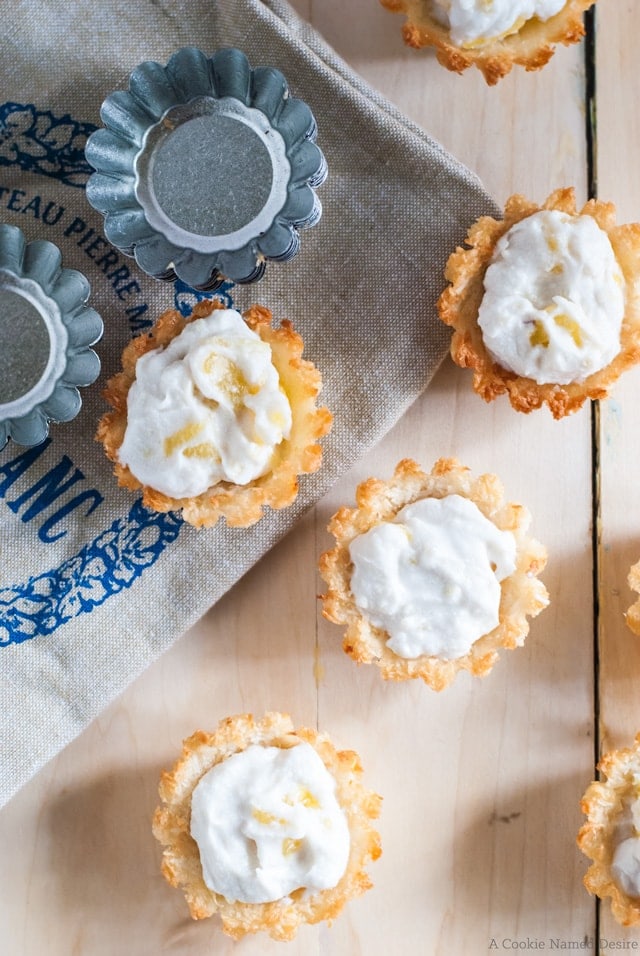 Macaroon Cups with Ginger Coconut Whipped Cream and Pineapple
Ingredients
Macaroon Tart
1 1/2 cups unsweetened shredded coconut
2 tablespoons sugar
2 tablespoons light brown sugar*
pinch of salt
1/2 teaspoon vanilla extract
2 egg whites
Filling
1- 14 oz full fat coconut milk chilled completely**
3 tablespoons powdered sugar
2 1/2 teaspoons freshly pressed ginger juice
1/3 cup, plus 2 tablespoons chopped pineapple
Instructions
Preheat the oven to 350 degrees F. Lightly grease mini tart shells and set aside.
Mix together the ingredients for the macaroon tarts. Scoop rounded tablespoons of the coconut mixture into the tart shells and press into the bottom and sides. Place the shells on a baking sheet and bake for about 10 - 11 minutes until they begin to look golden at the edges. Set aside to cool completely.
Open the coconut milk and scoop out the hardened white milk solids from the can and place into a mixer. Add the powdered sugar and ginger juice. Whip until light and fluffy. (For the best flavor, chill the whipped cream overnight and re-whip when ready to serve. Fold in the pineapple.
Fill the macaroon tarts with the coconut whipped cream and serve.
Notes
*Can replace the light brown sugar with more granulated sugar**You should chill the canned coconut milk for at least four hours, preferably overnight.
Recipe by A Cookie Named Desire at https://cookienameddesire.com/macaroon-tarts-with-ginger-coconut-whipped-cream-and-pineapple/