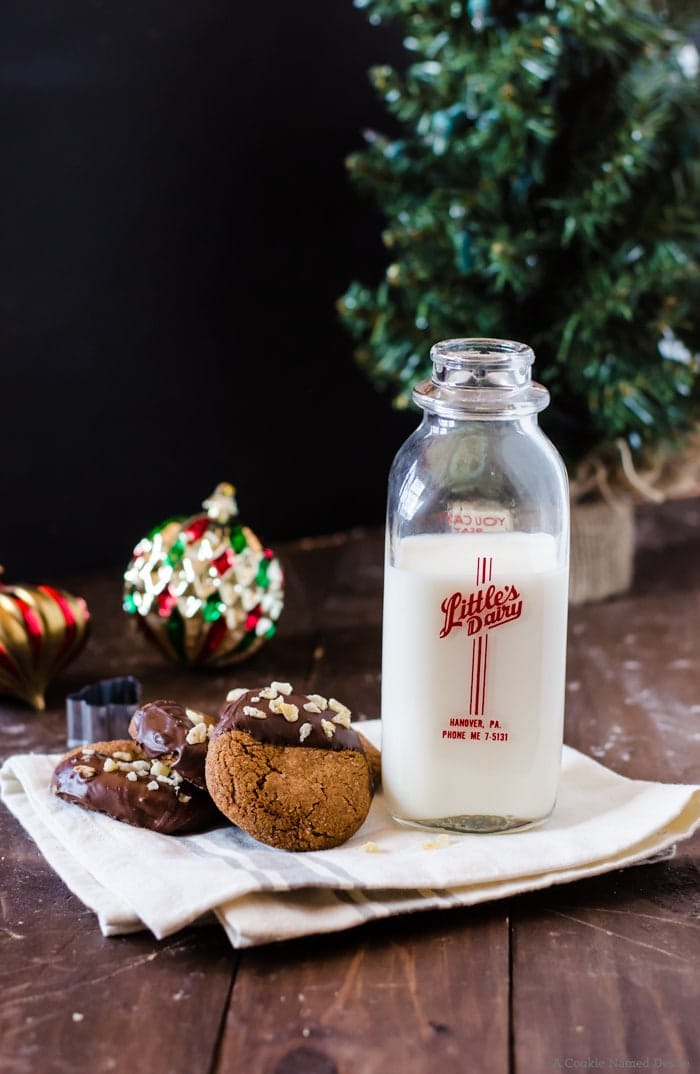 Triple Ginger Spice Cookies
Delicious soft and chewy triple ginger cookies packed with warm ginger flavor. A Christmas must-have!
Ingredients
2 1/2 cups all-purpose flour
1/2 cup candied (crystallized) ginger, diced and divided
2 teaspoons baking soda
1/2 teaspoon salt
1 teaspoon cornstarch
3/4 cup (1 1/2 sticks) unsalted butter, room temperature
1 cup packed brown sugar
1 large egg, room temperature
1/4 cup molasses
2 1/2 teaspoons ginger paste
1 tablespoon ground ginger, divided
1 teaspoon cinnmon
1/3 cup granulated sugar
9 oz dark or semi-sweet chocolate
Instructions
Preheat the oven to 350 degrees F. Line two baking sheets with parchment paper.
Mix together the flour, 1/3 cup of the crystallized ginger, baking soda, salt, and cornstarch. Set aside
In a mixer, beat the butter and brown sugar together and beat until it is light and fluffy. Add in the egg, molasses, ginger paste, and 2 teaspoons of the ground ginger and cinnamon and beat well.
Slowly mix the flour mixture into the wet ingredients and mix until just combined.
Mix together the remaining ground ginger and the granulated sugar together and place on a plate or in a bowl.
Scoop 1 1/2 tablespoons of the dough and roll into a ball. Roll the ball of dough in the ginger sugar and place the dough on the baking sheet. Repeat with the remaining dough, leaving about 1 - 2 inches between each cookie.
Bake for 12 - 14 minutes. The cookies should look cracked and still soft in the centers. Transfer to a wire rack to cool completely.
Melt the chocolate in a double boiler, or in the microwave by heating in a microwave-safe bowl for 30 second increments at 50% power, mixing every 30 seconds.
Dip the cookies halfway into the chocolate and place back on the parchment-lined baking sheets and sprinkle the remaining crystallized ginger on top of the chocolate. Allow the chocolate to harden.
Recipe by A Cookie Named Desire at https://cookienameddesire.com/triple-ginger-spice-cookies/