I've been wanting to share these brownies with you for so long. At first i wanted to retake the photos, but I love these brownies so much, I am just going to share them with you now.
What makes these brownies extra amazing is that they are in my friend, Jennifer from Bake or Break's, new cookbook called Quick Shop & Prep 5 Ingredient Baking. So the whole book is premised on the fact that you can make so many delectable treats at home with 5 or less addition ingredients besides what you already keep in your kitchen already. The book assumes you have essentials like flour and butter, and when you add a couple of extra ingredients - like cardamom and chocolate, you can make something amazing. (ahem, chai spice brownies, ahem)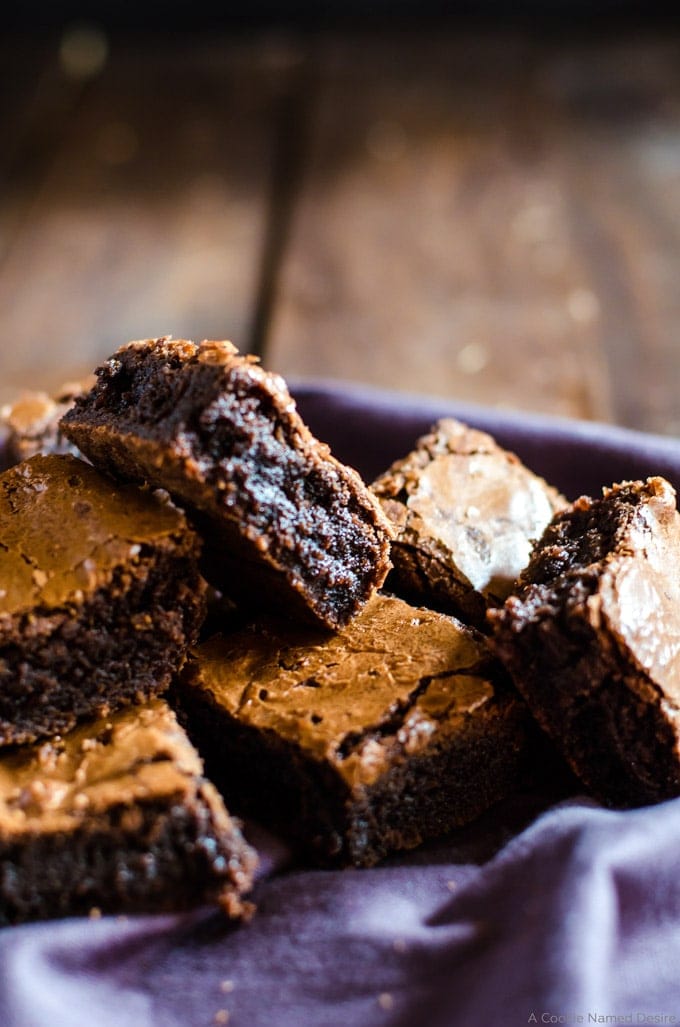 It took me so long to decide what I wanted to make from the book. I spent days pouring over everything. I read it from cover to cover and still couldn't find anything I wanted to make. And I mean that in the best way possible because my problem was that I literally wanted to bake all the things! You should see my book. I have markers all over the place marking off all the things I want to make.
I think by keeping the book based on adding only a few extra ingredients here and there really makes you think about how simple baking really is and these recipes are perfect for someone just starting out. Or something who wants a deliciously sweet amd homey dessert to share with their family.
These chai spice brownies eventually won me over because the flavor combination of chai and brownies is right up my alley. I have to say... I think Jennifer made food crack. I could not stop eating these! The more I ate them, the more I wanted. It was a vicious war between my mouth and my jeans. So. freaking. good. The only thing I would change is to up the ginger and black pepper in the recipe because I personally love that kick they provide. Besides tasting amazing, they had an amazing texture. Fudgy and gooey, but still had that delicate crackly top. Perfect.

Chai Spice Brownies
Ingredients
7

oz

bittersweet chocolate

½

cup

8 tablespoons unsalted butter

1

cup

sugar

2

large eggs

1

teaspoon

vanilla extract

1

cup

all-purpose flour

½

teaspoon

salt

½

teaspoon

ground cardamom

¼

teaspoon

cinnamon

¼

teaspoon

gound ginger

¼

teaspoon

black pepper
Instructions
Preheat the ocen to 350 degrees F. Grease an 8x8 inch baking pan and set aside.

Melt the chocolate and butter together (her recipe asks you do this in the microwave at 50% powder for 30-second increments - I used a double boiler) set aside to cool.

Mix together the sugar, eggs, and vanilla together. Add to the chocolate mixture and beat well. Add in the flour, salt, and spices and mix well.

Pour the batter into the greased baking pan and bake for 30 - 35 minutes, or until a toothpick inserted in the middle comes out clean.

Allow to cool, then cut into bars.
Tried this recipe?
Tag me on Instagram! @acookienameddesire #acookienameddesire