S'mores cookies are a delicious twist on your favorite campfire treat! These cookies are soft and chewy, filled with graham crackers and chocolate, then stuffed with gooey marshmallows for the ultimate s'mores dessert. Trust me, everyone will fall in love with these s'mores stuffed cookies!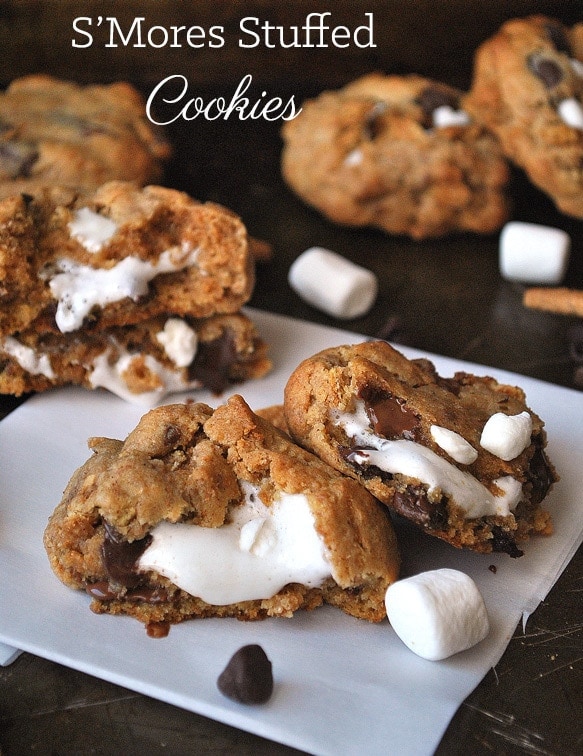 I don't know if you've noticed, but I kind of have a thing for cookies. Well, much more than just "a thing," but it's not like we are exclusive or anything either. I also have a bit of a "thing" for challenges.
I came across a few recipes for cookies stuffed with marshmallows which looked out-of-this-world incredible, but every single comment on the recipe notes that unless they used vegan marshmallows, the marshmallows would disappear during baking.
Now, I don't have any issues with vegan marshmallows. They taste okay, but the texture isn't my favorite. Every vegan marshmallow I've tried (and I've tried a lot of vegan marshmallows in my time), always seems a bit tough and a little too chewy. I can certainly see how they would be able to stand up against the heat without any issues.
Plus, they are a little bit better for you. Aren't they? My main concern here is the fact that not everyone is going to have ready access to vegan marshmallows and not everyone will want to have to order them online or make their own.
So my challenge here was to make a marshmallow stuffed cookie without them disappearing. And I think I've just about cracked the code.
Let me elaborate.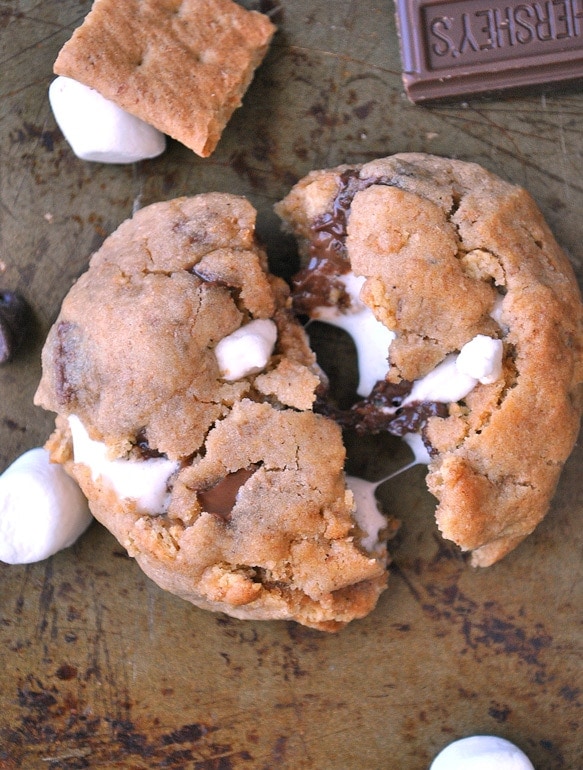 There are actually many recipes using non-vegan marshmallows to stuff cookies. But the melting issue was there with these recipes, too. I actually spent countless hours trying different methods. Some resulted in marshmallows that dissolved within minutes (Boo!), others managed to last a couple of hours.
The secret to s'mores stuffed cookies
The trick, as it turns out, is to get the dough as cold as possible without freezing them, and getting the s'mores cookies to cool quickly, without putting them in the refrigerator.
Saying that, these S'Mores stuffed cookies can be made ahead of time, up to three days in advance.
When you form the s'mores cookies, it is also important to keep the top cookie thinner than the bottom. The marshmallows will be able to stand the heat while in the oven when they are a little more exposed.
The thinner top allows the marshmallows to lower their temperature faster once they are out of the oven. Which is the critical part. You can put these cookies by a window or near a fan to help the process.
I have also noticed that there is a difference between how you bake them. These cookies bake better in a convection oven and you are almost guaranteed success if you are using a convection oven (or using "convection bake" if your oven has the option of doing that or just "bake").
Non-convection ovens tend to need a longer bake time and can dissolve the marshmallows more easily. I recommend checking on the s'mores cookies every minute past 8 minutes if your cookies still look very raw at the top.
Please also note that, in general, s'mores stuffed cookies will look underbaked. This is normal. We want them underbaked, because that's what makes them soft and chewy. They continue to bake while on the baking sheet.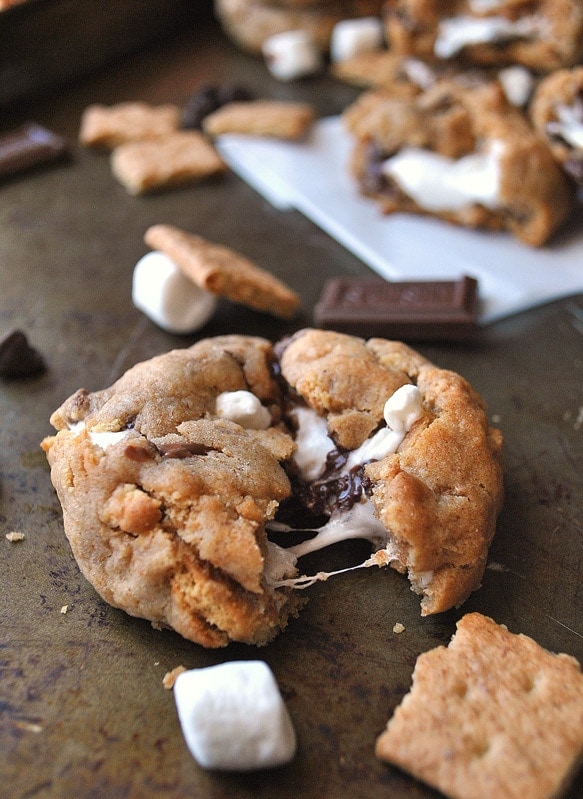 S'mores stuffed cookies take a little extra time and love to make, but they're worth it.
Trust me, they are worth it.
In need of more s'mores in your life?
Try my boozy s'mores milkshake (you can make it non-boozy too!), or my s'mores ice cream.
Stuffed cookies your jam? Try these salted caramel stuffed chocolate chip cookies, these brownie stuffed cookies, or these Nutella stuffed red velvet cookies. Also, just check the cookies archive cause there's so many more cookies you need to try!
Don't have time to make these delicious cookies now? Pin it for later!
Yield: 20 cookies
S'Mores Stuffed Cookies
Gooey s'mores stuffed cookies,
Total Time
1 hour
38 minutes
Ingredients
2 1/2 cups (320 grams) all-purpose flour
1/2 (2.5 grams) teaspoon salt
1 teaspoon (5 grams) baking soda
1/2 teaspoon (2.5 grams) baking powder
1 cup (90 grams) crushed cinnamon graham crackers
1 1/2 teaspoon (7.2 grams) ground cinnamon
1 cup (227 grams) butter, room temperature
3/4 cup (165 grams) brown sugar
2 large eggs
1 teaspoon (5 grams) vanilla extract
2/3 cup (117 grams)  semi-sweet chocolate chips
1/2 cup (88 grams) roughly chopped milk chocolate
2 cups (100 grams) mini marshmallows
Instructions
Mix together flour, salt, cinnamon, baking soda and baking powder. Set aside.
Break up the graham crackers into small pieces. Be careful to not let it get too powdery, but some graham cracker powder is okay. Set aside.
Cream the butter and sugar together until fluffy.
Slowly add the eggs one at a time, then the vanilla. Slowly add the eggs one at a time, then the vanilla. Beat well, then slowly add the flour mixture and beat until just incorporated.
Fold in the graham crackers and chocolate.
Take a tablespoon and a half of the cookie and create a small indentation.
Stuff 4 - 5- mini marshmallows into the indentation. Make sure they are TIGHTLY packed in. Top with another 2/3 tablespoon of cookie dough and press together until the dough completely covers the marshmallows. Repeat with the remaining dough and marshmallows.
Place the cookies on a baking sheet and cover. Cover with plastic wrap and chill in the refrigerator overnight, up to three days.
Preheat the oven to 350 degrees.
Uncover the cookies and bake for 8 - 9 minutes or until a light golden brown.
Use a spatula to immediately remove the cookies to cool on a wire rack. For the best results, place the cookies near a fan to cool them quickly.
Serve immediately or store in an airtight container and enjoy within 24 hours.
If you want to learn how to cheat this recipe, take a look at the note below this recipe!
Notes
Cheat the recipe: Roll the cookie dough without the marshmallows into balls 2 tablespoons big. Bake for 8 - 10 minutes. Once cooled, toast marshmallows and use the cookies to sandwich them.  
Some readers said they prefer sandwiching a large marshmallow with two small squares of graham cracker to help prevent the marshmallow from disappearing
Nutrition Information:
Yield:
20
Serving Size:
1
Amount Per Serving:
Calories:

91
Total Fat:

2g
Saturated Fat:

1g
Trans Fat:

0g
Unsaturated Fat:

1g
Cholesterol:

19mg
Sodium:

42mg
Carbohydrates:

17g
Fiber:

1g
Sugar:

4g
Protein:

2g