Velvety graham cracker infused ice cream with swirls of rich chocolate and studded with raosted marshmallows. This s'mores ice cream will be your favorite way to cool down this summer.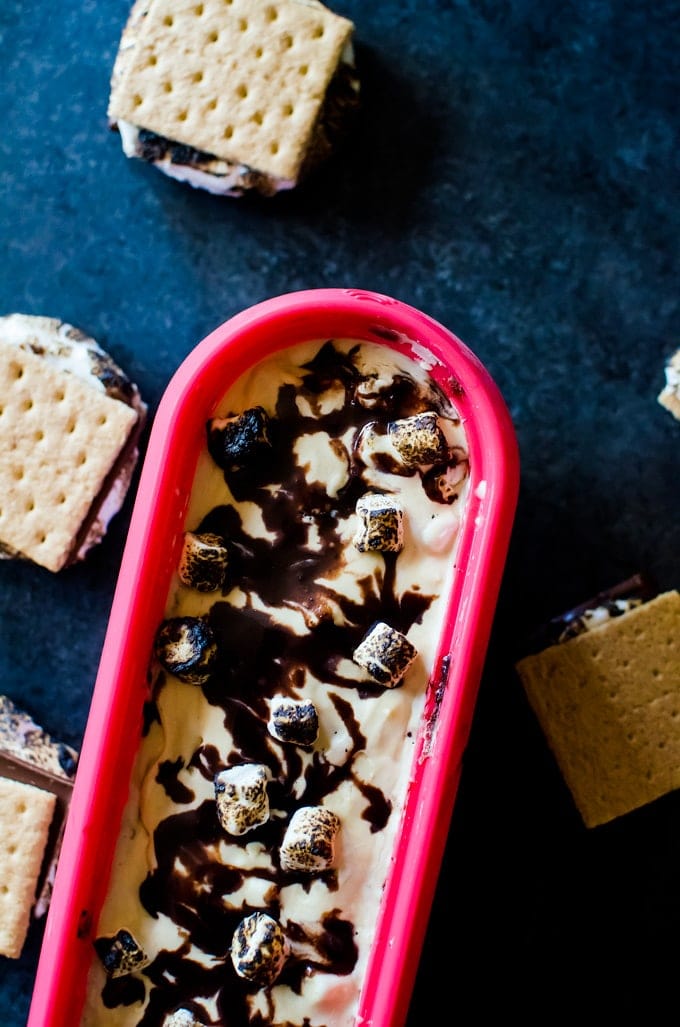 Hola, my lovely internet friends!!!
After a ton of silence on my end, I am BACK and with something that is, quite frankly, the most exciting news EVER!! You see, this week is the official start of summer and to celebrate, I am hosting a little something I am calling Ice Cream Week! I am obsessed with ice cream and what better way to bring on the heat than with an ice cream cone? Ammiright? Joining me are a few of my favorite blogger friends who will also be sharing recipes during the week.
But that's not all. Oh no, that's not all. (Do I sound like I belong on an informercial or car sales lot yet?!)  I've also joined up with some of my favorite brands in the world to give you a super sweet ice cream prize package. What what! I don't know if you can tell, but I am just bursting with excitement! In the prize you will be getting a brand new ice cream maker, courtesy of Cuisinart; my favorite ice cream scoop from Zeroll; some baking ingredients from Rodelle; and a bunch of goodies including ice cream containers, an ice cream scoop, and popsicle molds from my good friends at Tovolo! I am also sending you one of my favorite ice cream cookbooks, Sweet Cream and Sugar Cones annnnddd maybe one or two extra surprise goodies. Yay!!!
Okay, so now I finally got that all out, let's take a look at my first Ice Cream Week recipe! S'mores are kind of my thing and so I couldn't think of a better scoop to use to celebrate than this s'mores ice cream. Graham crackers were always my favorite part of s'mores so we start with a graham cracker pie crust infused ice cream base. To it, we add delicious melty chocolate and lots of roasted marshmallows. And I mean lots of roasted marshmallows. Because those are the b.e.s.t.
I used the Philadelphia style to make this ice cream because the cream cheese just works so well here. It gives it a bit of a cheesecake feel and who doesn't want a s'mores cheesecake ice cream in their life?!
So let's get out of our seats and scream for #icecreamweek and make this s'mores ice cream now! Don't forget to check out all the other ice cream recipes below and enter in the giveaway!!!

Recipe Card
S'mores Ice Cream
This creamy s'mores ice cream tastes just like your favorite campfire treat
Ingredients
1 9-

inch

graham cracker pie crust

1 ½

cups

mini marshmallows

2 ¼

cups

whole milk

divided

1

cup

heavy cream

⅔

cups

granulated sugar

2

tablespoons

light corn syrup

1½

tablespoon

cornstarch

4

tablespoons

full-fat cream cheese

room temperature

¼

teaspoon

sea salt
For the Chocolate Swirl
5

oz

dark chocolate*

½

cup

plus 2 tablespoons heavy cream
Instructions
Preheat the oven to 300F.

Bake the graham cracker pie crust about 10 - 15 minutes. Take out and allow to cool completely.

While the crust is baking, roast your marshmallows using a kitchen torch, getting as many of the sides as possible and getting them nice and burnt. Allow to cool completely.

Place the crust (minus the container it is in) into a large saucepan and add all the milk except 2 tablespoons. Simmer on medium-low for about 20 minutes. Add the heavy cream and stir well.

Strain the mixture through a fine mesh strainer lined with cheesecloth. Press down on the mixture to get as much of the milk and cream out as possible. It's okay if some of the graham cracker remains end up in the mixture, but keep it to a minimum or else the ice cream will be grainy.

Turn up the heat to medium. Add the sugar and corn syrup and mix well.

Take the remaining milk and add it to the cornstarch and mix well to create a slurry. Mix the cream cheese with the salt.

Add both the slurry and salted cream cheese into the milk mixture and mix well. Heat, stirring constantly, until the mixture becomes nice and thickened. The final mixture will be thicker than your typical ice cream base.

Place the ice cream base into a gallon freezer bag and store in the refrigerator until it is very cold, at least 40F. I usually leave mine overnight.

While it is chillding, mix together your chocolate and cream and heat on medium and stir until the chocolate is completely melted and combined well with the heavy cream. Set aside to cool.

Churn according to your ice cream maker's instructions (read my guice on how to make ice cream without an ice cream maker here). Add a thin layer of ice cream on the bottom of your ice cream container. Add a swirl of chocolate and then the roasted marshmallow. Continue layering the ice cream with the chocolate and the marshmallows until you run out of everything.

Freeze until firm, at least 3- 4 hours.
Notes
*I highly recommend using dark or semi-sweet chocolate. Even if you are not a fan of darker chocolate. The ice cream base is quite sweet, so the contrast of the darker chocolate works better than a sweet milk chocolate.
Nutrition
Serving:
0.5
cup
Calories:
234
kcal
Carbohydrates:
25
g
Protein:
3
g
Fat:
14
g
Saturated Fat:
8
g
Polyunsaturated Fat:
1
g
Monounsaturated Fat:
4
g
Trans Fat:
1
g
Cholesterol:
32
mg
Sodium:
83
mg
Potassium:
160
mg
Fiber:
1
g
Sugar:
20
g
Vitamin A:
370
IU
Vitamin C:
1
mg
Calcium:
74
mg
Iron:
1
mg
Tried this recipe?
Tag me on Instagram! @acookienameddesire #acookienameddesire
Monday
S'mores Ice Cream via A Cookie Named Desire
Coffee Chocolate Ripple Ice Cream via An Italian in my Kitchen
Unicorn Ice Cream via The Tip Toe Fairy
Tahini Ice Cream with Chocolate Chip Cookies via The Floating Kitchen
No Churn Honey Nut Ice Cream via Honey and Birch
Vegan Peanut Butter Chocolate Praline Crunch Ice Cream via Heart of a Baker
Peanut Butter Lovers Ice Cream via Cookie Dough and Oven Mitt
Cotton Candy Ice Cream via Homemade Hooplah
Butter Pecan Ice Cream via Zagleft
Bourbon Vanilla Bean Ice Cream via Vanilla and Bean
Mint Mojito Coffee Ice Cream via The Little Epicurean
Strawberry Banana Ice Cream via The Bitter Side of Sweet
Peanut Butter Ice Cream via Pretty Simple Sweet
Vanilla Rainbow Ice Cream via Go Go Go Gourmet
Lychee and Cherry Swirl Ice Cream via My Food Story
Brigadeiro Ice Cream via Olivia's Cuisine
Salted Pretzel Ice Cream with Chocolate and Peanut Butter via Cake Over Steak
Strawberry Black Sesame Ice Cream via Madeline Marie Blog
No Churn Caramel Chip Ice Cream via Fearless Dining
Wednesday
Horchata Ice Cream with Dulce de Lecha Swirl via A Cookie Named Desire
Strawberry Peach Ice Cream via The Tip Toe Fairy
Sweet Tea Ice Cream via Cookie Dough and Oven Mitt
Blueberry Lemon Ice Cream via The Bitterside Of Sweet
Friday
Coffee Chocolate Chunk Ice Cream via Honey and Birch
Maple Ice Cream via A Cookie Named Desire
Finding Dory Ice Cream via The Tip Toe Fairy
Passionfruit Ice Cream via Olivia's Cuisine
=