Learn everything you need to know about how to make salt water taffy at home. This simple recipe is easy enough for the average home baker of any experience level!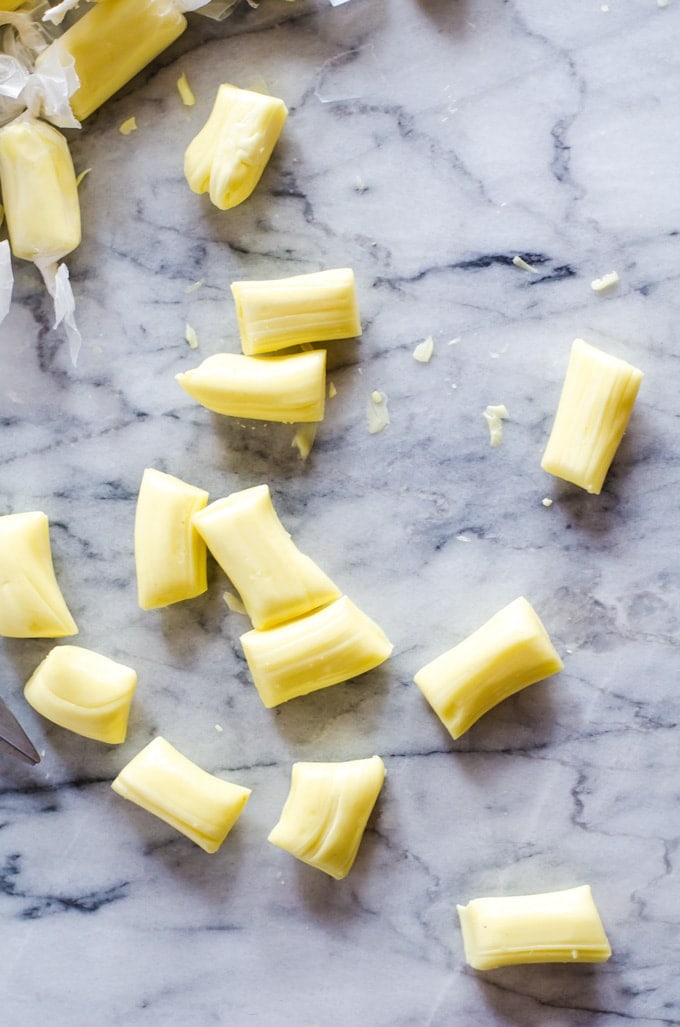 The other night I was up late browsing things online and I started reading something. For the life of me, I could not remember what it was, but it gave me the idea to try and  learn how to make salt water taffy. I never made salt water taffy before, but it sounded like a fun experiment to try. I went through my cabinets to see what extracts I had for flavor inspiration. I don't have many extracts, but I did come up with two ideas: chocolate mint and lemon pound cake. I really wanted to try lemon pound cake, but since I don't really use food coloring, all I had was a teal blue and the red velvet emulsoon. Chocolate mint it was then.

The next morning, I had to run to the grocery store and buy corn syrup – a vital ingredient in making salt water taffy. That's when I had a "duh" moment. Why not buy yellow food coloring while I was out for the lemon pound cake? So that's what I did.
I was using one recipe to make my salt water taffy and everything was going well until it came time to pull the taffy. I noticed small shards of candy would harden and snap off. Eventually, the whole thing got too hard for me to even pull and after a couple of minutes, it had totally crystallized and was more like a hard candy. I suspected the temperature that I was meant to bring the sugar up to was way too high, so I decided to try again using another recipe as inspiration which not only called for a lower temperature, it also used more corn syrup which helps to prevent the sugar from crystallizing and getting hard. I also added a touch of water to make it softer like the taffy I get at the shore.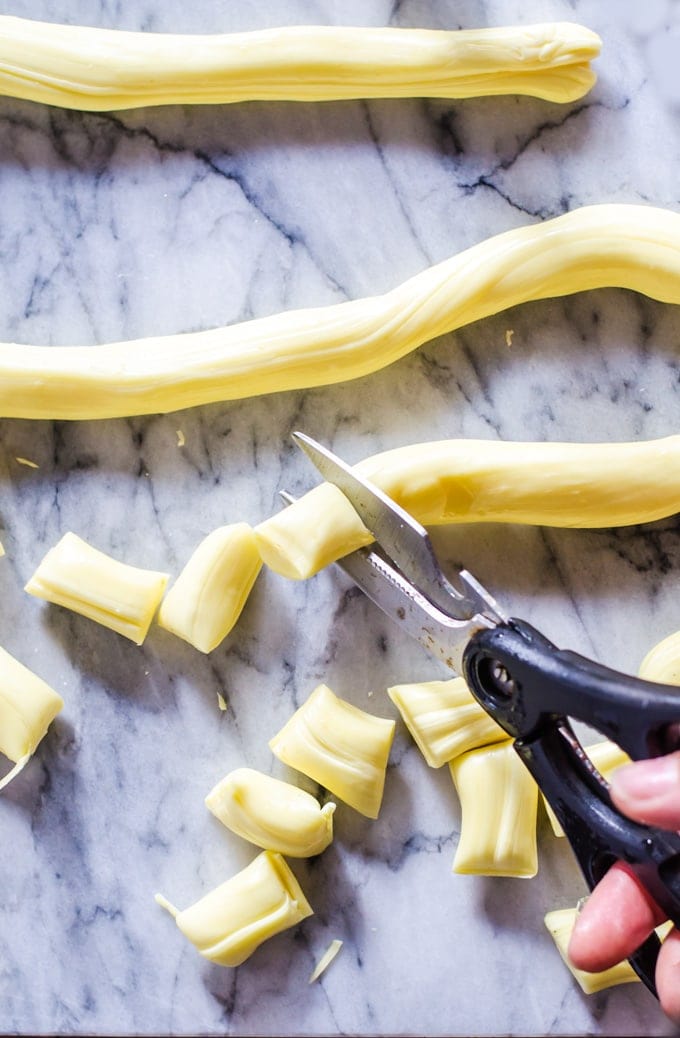 Success! I could immediately tell the difference in the consistency even before I started pulling the taffy.
FYI, guys, pulling taffy is serious business. Most recipes recommend you butter or grease your hands when you pull your taffy, but all you really need to do is wait until it is cooler. Once it is a nice warm temperature, it won't stick to your hands at all. You need to stretch and pull the taffy swiftly and for about 10 minutes. This is so the candy aerates. Otherwise you will end up with a taffy that is much harder and will take some warming up before you can bite down on it. I also use a touch of baking soda which creates air bubbles inside the taffy to help keep it lighter.

You the flavor possibilities are endless with taffy as long as you can get the extracts for it. And you can skip the food coloring if you don't want it. I decided to go with the coloring because it's almost Halloween and I always make an exception for Halloween. Plus, I wanted it to look like proper salt water taffy being from Jersey and all.
P.S. Sorry the process pictures were so sucky. I wanted to try and take in-process shots and kept running from the kitchen (where there is nearly no light) to my family room where I had a tripod set up. Everything goes pretty fast, so I didn't have a chance to really set up the shots. Just throw everything in front of the camera and hope it's focused on the right spot!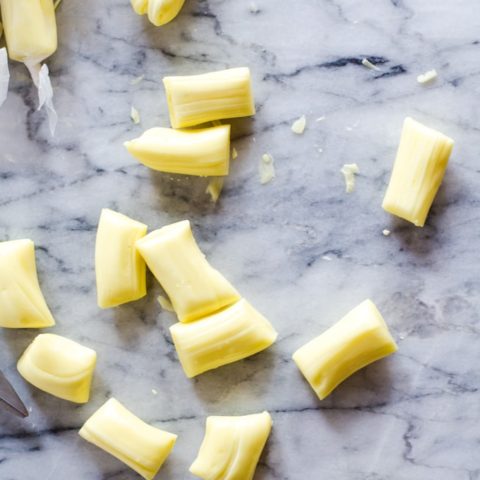 How to Make Salt Water Taffy
Yield: approx 25 candies

Prep Time: 30 minutes

Cook Time: 20 minutes

Total Time: 50 minutes
Ingredients
1 cup sugar
1 tablespoon cornstarch
2/3 cup light corn syrup
1/4 cup water
1 1/8 teaspoon glycerin
1/4 teaspoon salt
1/8 teaspoon baking soda
1/4 - 1 teaspoon extract/flavoring
3 drops food coloring (optional)
Instructions
Grease a marble slab or cookie sheet. Set aside
In a medium saucepan, mix together the sugar and cornstarch, then stir in the corn syrup, water, glycerin, and salt. Mix well over medium heat. Once the mixture begins to bubble, stop stirring and insert your candy thermometer. Brush the sides of the pot with a wet pastry brush if you see sugar crystals.
Continue to cook until it reaches 254 degrees. Swiftly remove from heat and add your baking soda, flavoring, and food coloring. Mix to combine. To make the lemon pound cake flavor I did, you need a scant 1/2 teaspoon lemon extract, 1/2 teaspoon butter extract, and 1/4 teaspoon vanilla extract.
Pour the sugar mixture on your greased slab or pan and wait until it is cool enough to touch. Roughly 5 - 10 minutes. To speed the process, you can use a bench scraper to fold the sugar mixture over itself and also begin letting air into the mixture.
Once it is cool, lightly grease your hands if desired and begin pulling, folding the candy over itself, and pulling more. You need to pull the taffy at a vigorous pace for about 10 - 15 minutes.
Pull the taffy into a long, thin rope and use your kitchen scissors or a knife to cut out your pieces. Wrap them individually in wax paper.