Learn everything you need to know about how to make salt water taffy at home. This simple recipe is easy enough for the average home baker of any experience level!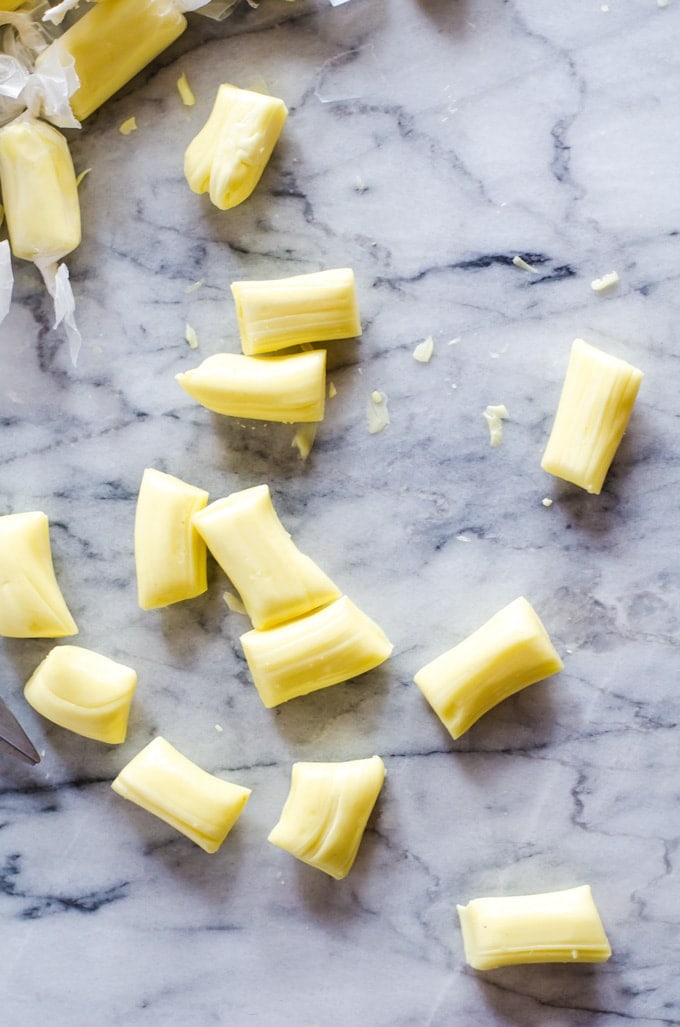 Living in New Jersey, the best thing during the summer was heaving to the shore and eating all the taffy as we walked the boardwalks. It is the best and trying to make it at home is the best. So, if you aren't going to the shore by time soon, bring the shore to you with this fun project!
Ingredients
Sugar - Use only granulated sugar. This recipe is impossible with any other type of sugar.
Cornstarch - We use cornstarch to give the taffy a nice and smooth texture. You can use arrowroot powder if you do not have cornstarch.
Corn syrup - Corn syrup acts as an "interfering agent". Without getting too technical, corn syrup helps the sugar in the taffy syrup from crystallizing.
Water - Water helps to keep the sugar crystallizing at the beginning stages.
Glycerin - The glycerin here helps give the taffy a soft and creamy consistency that we know and love. You can find glycerin at most baking goods stores or craft stores that sell baking supplies.
Salt - The salt doesn't make the taffy salty. It isn't even why it is called salt water taffy. Its only purpose here is to bring out the flavor in the taffy.
Baking soda - I like to add baking soda to my taffy recipe to give it more aeration so the taffy stays light and chewy. A little goes a long way.
Extract/flavoring - Try and get creative here! I used a mix of lemon and butter extract, but try new things and see what you like!
Food coloring - This is a great way to make your taffy colorful and fun!
Special tools
Unlike most recipes you are better off using a few specific tools to make your taffy. Luckily, they are all tools you will use again in your kitchen if you are an avid baker and want to try more types of candy making!
Candy thermometer - We use this to make sure the sugar has cooked to what is known as the soft-crack phase. (This is the phase where most of the moisture is gone, the sugar syrup has some flexibility.
Wax paper or parchment paper - This is used to wrap your cut pieces of taffy so they stay nice and fresh.
Marble slab (or greased cookie sheet) - This is for your taffy to rest and cool. I prefer the marble slab as it is better at cooling.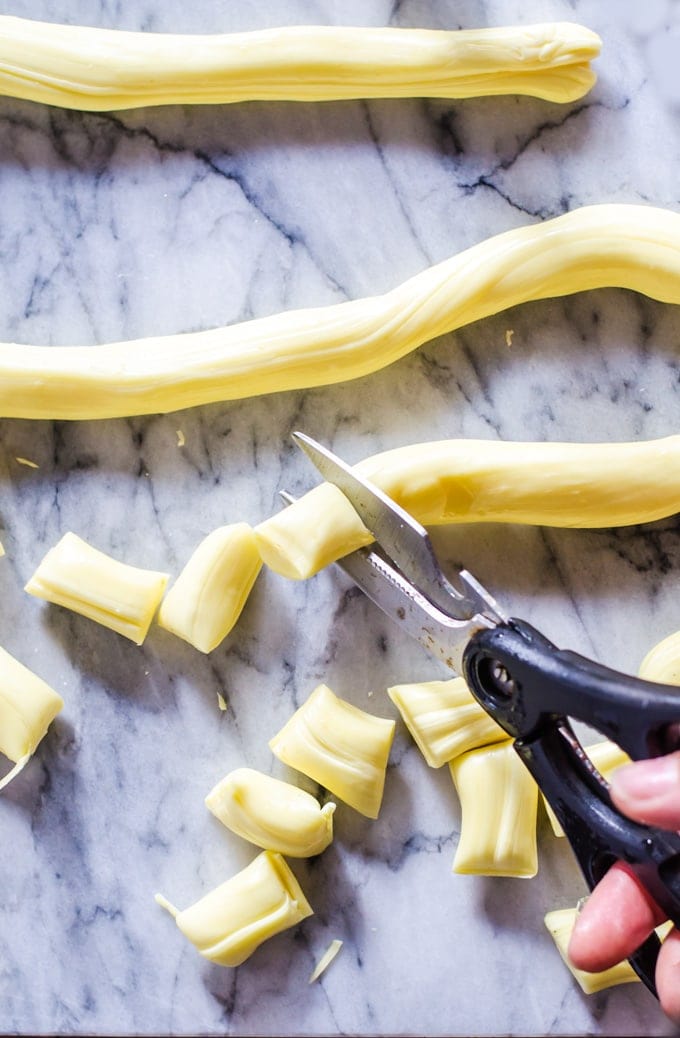 Tips for taffy pulling
FYI, guys, pulling taffy is serious business. Most recipes recommend you butter or grease your hands when you pull your taffy, but all you really need to do is wait until it is cooler.
Once your salt water taffy is a nice warm temperature, it won't stick to your hands at all. You need to stretch and pull the taffy swiftly for about 10 minutes.
When pulling, stretch the taffy as far as you can, loop it back onto itself and pull again. Continue to pull until the taffy becomes too difficult to pull and the taffy is fully opaque.
Why pull taffy
This is so the candy aerates. By pulling, you help air bubbles trap inside the candy. Otherwise, you will end up with a taffy that is much harder and will take some warming up before you can bite down on it.
I also use a touch of baking soda which creates air bubbles inside the taffy to help keep it lighter. This is especially handy if your arms tire out faster or you can pull as much.
Customization
You the flavor possibilities are endless with taffy as long as you can get the extracts for it. I highly recommend trying LorAnn Oils as they are pretty concentrated, they have a lot of variety, and can give you great flavor.
You can skip the food coloring if you don't want it, but they help to make your taffy a lot more fun and help you tell the difference if you make a few different flavors at once. I prefer AmeriColor gel food colors. They're a little pricey, but just a drop goes a long way.
Related recipes
You should try making these strawberry marshmallows or chocolate marshmallows. These caramelized honey macarons are also great. Pretzel toffee bark, raspberry caramels, maple caramels, and pumpkin spice toffee are delicious!
Recipe Card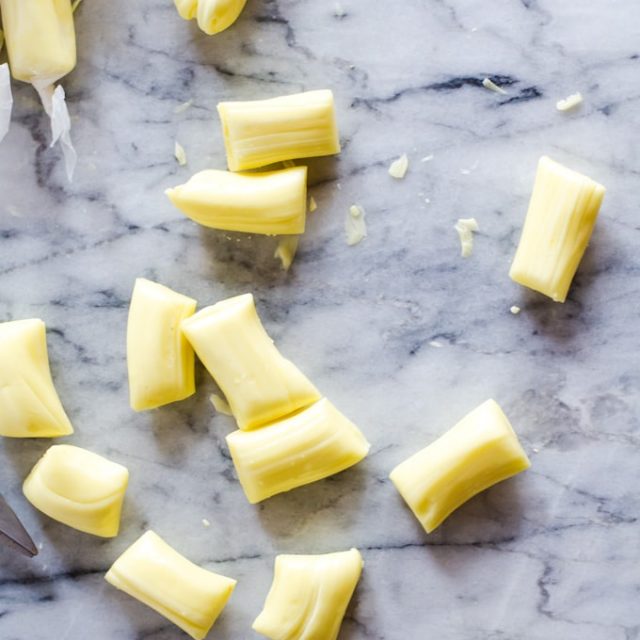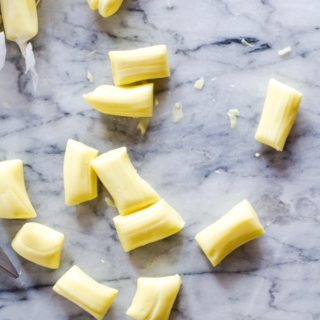 How to Make Salt Water Taffy
Learn how to make a soft, chewy salt water taffy everyone will love making and eating!
Ingredients
1

cup

sugar

2

tablespoon

cornstarch

⅔

cup

light corn syrup

⅓

cup

water

1 ⅛

teaspoon

glycerin

¼

teaspoon

salt

⅛

teaspoon

baking soda

¼ - 1

teaspoon

extract/flavoring

3

drops food coloring

optional
Instructions
Grease a marble slab or cookie sheet. Set aside

In a medium saucepan, mix together the sugar and cornstarch, then stir in the corn syrup, water, glycerin, and salt.

Mix well over medium heat. Once the mixture begins to bubble, stop stirring and insert your candy thermometer.

Brush the sides of the pot with a wet pastry brush if you see sugar crystals.

Continue to cook until it reaches 254 degrees. Swiftly remove from heat and add your baking soda, flavoring, and food coloring.

Mix to combine. To make the lemon pound cake flavor I did, you need a scant ½ teaspoon lemon extract, ½ teaspoon butter extract, and ¼ teaspoon vanilla extract.

Pour the sugar mixture on your greased slab or pan and wait until it is cool enough to touch. Roughly 5 - 10 minutes. To speed the process, you can use a bench scraper to fold the sugar mixture over itself and also begin letting air into the mixture.

Once it is cool, lightly grease your hands if desired and begin pulling, folding the candy over itself, and pulling more. You need to pull the taffy at a vigorous pace for about 10 - 15 minutes.

Pull the taffy into a long, thin rope and use your kitchen scissors or a knife to cut out your pieces. Wrap them individually in wax paper.
Nutrition
Serving:
1
g
Calories:
59
kcal
Carbohydrates:
16
g
Sodium:
33
mg
Sugar:
15
g
Tried this recipe?
Tag me on Instagram! @acookienameddesire #acookienameddesire