These sweet maple caramel candies with chopped hazelnuts are sure to win the hearts of anyone who tries them. This simple candy recipe is perfect for the beginner candy maker!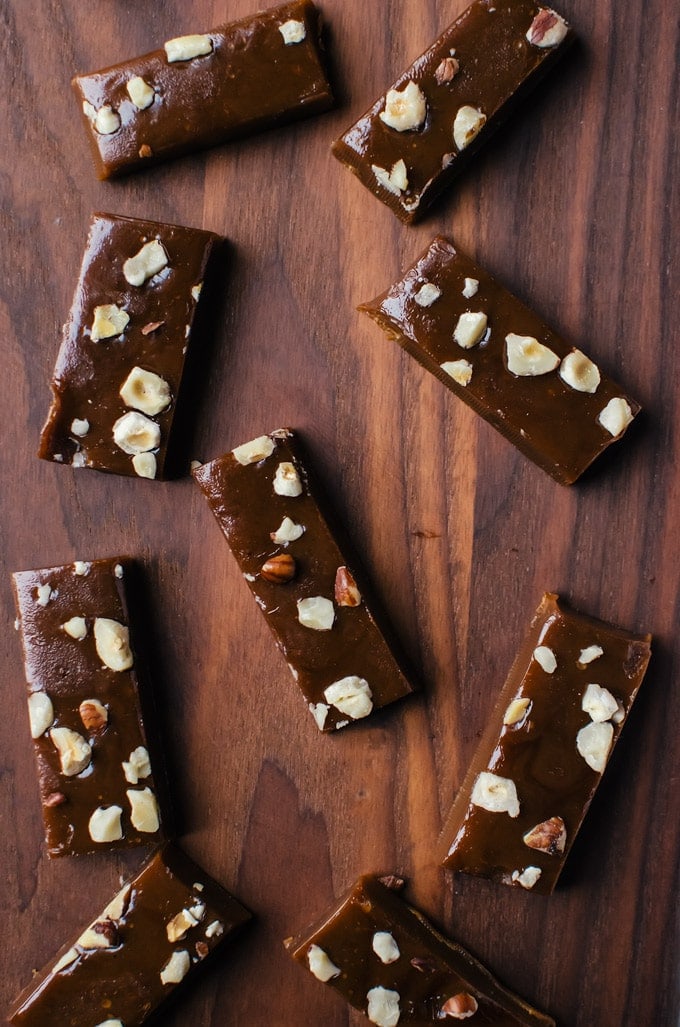 I am tirelessly going through my photos I took from cheese camp. There are hundreds and I love them all, so it is near impossible to choose just a couple to edit and share. In the meantime, I decided to do what I do best: share a recipe. I was inspired to make these maple caramel candies after sampling some of the maple syrup we had at the new Shelburne Farms sugar house.
There, I learned all about how maple syrup is made, plus the differences in the types of syrup. (For instance, there is no such thing as "grade B maple syrup" and the color of the syrup is what you look at for flavor profiles. Light maple syrup is buttery and more sugary. Darker syrup is more robust with concentrated flavors. It's all about what your personal preferences are. Personally, I love the darker maple, which is what I used here. Actually, I used another Vermont maple syrup that is aged in bourbon barrels so it has a smokiness to it with distinct flavors of bourbon in it. It's amazing and really makes the maple caramel incredible. This is the brand. If you can't get your hands on it, don't worry. The caramels are still amazing with regular maple syrup.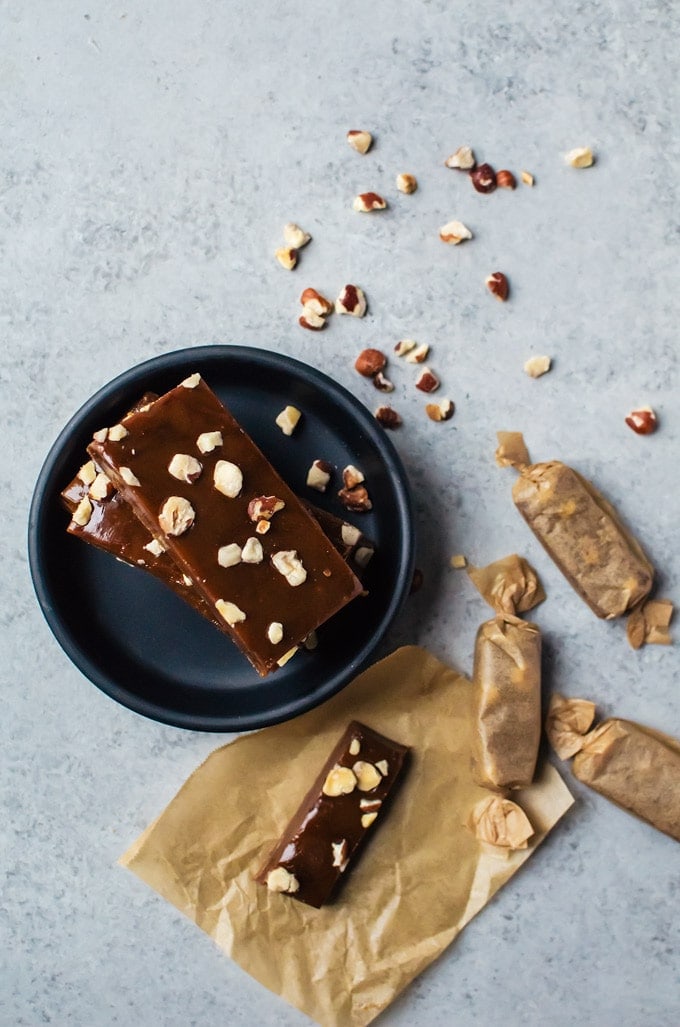 And much like caramel sauce, the color of your final caramel really depends on you. I made two versions. A lighter maple caramel candy, and a darker one that you see here. They both taste amazing, and I don't think I can pick a favorite. The lighter caramels taste sweeter and more buttery, while the darker variety has a deeper, more complex flavor that is still sweet, but not as overly so. Next time, I think I would swirl the lighter and darker caramel together because that would probably taste even better!
Recipe Card
Maple Caramel Candies with Hazelnuts
Irresistible maple caramels with hazelnuts
Ingredients
1

cup

heavy cream

5

tablespoons

unsalted butter

¾

teaspoon

salt

1

cup

granulated sugar

¾

cup

dark maple syrup

¼

cup

water

2 - 3

tablespoons

chopped hazelnuts
Instructions
Line an 8 x 8 baking pan with parchment paper and very lightly grease.

In a small saucepan, add the heavy cream, butter, and salt. Heat it just until it reaches a boil, then remove from heat and set aside. You will need to occasionally stir to prevent skin forming on top of the cream.

In a medium/small saucepan, add the sugar, maple syrup, and water together. Stir until combined, then heat on medium until it reaches 280 degrees F. Do not stir the mixture anymore once you've initially combined it.

Use a wet pastry brush to clean the sides of the pan as needed.

Pour in the cream mixture (do not stir) and boil until it reaches 250 degrees F. Immediately remove from the heat and pour into the baking pan.

Gently top with the chopped hazelnuts.

Leave to cool and firm - at least 4 hours, preferably overnight.
Nutrition
Calories:
79
kcal
Carbohydrates:
11
g
Protein:
1
g
Fat:
4
g
Saturated Fat:
3
g
Polyunsaturated Fat:
1
g
Monounsaturated Fat:
1
g
Trans Fat:
1
g
Cholesterol:
14
mg
Sodium:
53
mg
Potassium:
21
mg
Sugar:
10
g
Vitamin A:
150
IU
Vitamin C:
1
mg
Calcium:
13
mg
Iron:
1
mg
Tried this recipe?
Tag me on Instagram! @acookienameddesire #acookienameddesire