This gingerbread fudge is perfect for gifting this holiday season! Deeply gingery with delicious specks of crumbled speculoos cookies.
Why it works
This recipe is full of flavor. There is deep molasses undertone thanks to a mix of blackstrap molasses and dark brown sugar. Ground ginger gives a beautifully moreish bite.
The addition of crumbled speculoos helps to balance it all out and add a fun texture. To finish, we add a drizzle of white chocolate to bring in some lightness.
We use a method that is similar to the traditional method of making fudge, but is easy enough still that you can ease into it, if you've never made fudge like this before.
Ingredients
There aren't a ton of ingredients needed. Most of them are pantry staples, but you can make some substitutions, if needed.
Butter - We use only a touch of butter in this recipe. It helps keep the fudge soft and adds subtle richness. I recommend using unsalted butter, but you can also use salted butter if that is all you have available. We add it to the bowl we set aside and whisk it in later.
Cream - The cream adds richness and keeps the fudge nice and soft. Perfect for cutting and biting into. It is the perfect vehicle for infusing all the flavors of the fudge, too. I do not recommend substituting the cream with any other type of dairy or dairy alternative. You can use double cream, whipping cream, or heavy cream.
Sugar - We start with granulated sugar. You can use brown sugar to add more flavor, but I find that using brown sugar can leave the fudge grainy in texture. I prefer to use Domino Golden Sugar as it is less processed and has its own subtle molasses flavor.
Molasses - I used blackstrap molasses in this recipe. It gives a deeply robust flavor. If you prefer something milder, I recommend light molasses.
Chocolate - An integral part of this recipe is the chocolate. It lightens and balances the molasses and the spices as well as add sweetness. We use white chocolate here, and you can use white chocolate chips, but I prefer to chop white chocolate bars in smaller chunks and use that. For me, chocolate bars in general have a more complex flavor that is a lot more enjoyable than chips. It also has the benefit of melting better and providing a smoother end texture.
Spices - We use a combination of ginger, cinnamon, and nutmeg in this recipe. Since this is a gingerbread fudge recipe, we do go heavier on the ginger, but if you are a fan of cinnamon, feel free to increase the amount of cinnamon a little. A small amount of cloves can also work well here.
Salt - The salt enhances all the flavors in the fudge and amplify them more. I recommend fine sea salt. In many cases, a salty sweet combination is great, and if you have flaky sea salt, you can sprinkle a light amount on the fudge right after pouring it into your pan.
Speculoos - Speculoos cookies are one of my favorite cookies. I love the depth and dimension of the flavors. The caramelized sugar in the cookies pairs amazingly with gingerbread and it adds a welcome crunch to the fudge.
Method
Typically, the recipes that I've shared for fudge in the past have been incredibly simple as they use the method that uses sweetened condenses milk and chocolate. This time, we use the traditional method of boiling our mixture to reach a certain temperature.
This is because once the sugar reaches the temperature we need to make fudge - 240F - is around what is known as the "soft ball stage" which means that if you drop a small portion of the heated sugar into a glass of water, it will form a soft ball.
This allows the fudge to set, but remain soft enough for us to cut and bite into. For this reason, I highly recommend using a candy thermometer.
If you cannot get your hands on a candy thermometer, you may trying to find that stage manually by keeping a spoon and a bowl of cold water next to your fudge mixture.
Every few minutes, drop a small spoonful of the mixture into the cold water. Let the candy cool for a second, then feel it. It should be only slightly firm, but still pliable.
Tips
Remove any speculoos dust or small crumbs before you add the crushed cookies. The crumbs and dust will leave the fudge feeling grainy in texture when bitten.
Do not stir the fudge too much at any point as it can increase the chances of a grainy texture.
If you are looking for any variation, you can add finely diced candied ginger for an extra kick of ginger. You can also replace the speculoos cookies with graham crackers, ginger snaps, or your favorite holiday cookie!
The mixture will be super hot and you won't want to touch the mixing bowl after you transfer the mixture. The cooling rack allows air to circulate all the way around the bowl, cooling it faster.
It will take a while for the mixture to get to 240F, the temperature will climb slowly, but then increase suddenly, so keep an eye on the mixture.
Storage
When kept in an airtight container, the gingerbread fudge will be at its best for the first 4 weeks, but will last up to 8 weeks.
You cannot store the fudge in the refrigerator as it will dry out the candy. Instead, you can freeze your fudge in an airtight container, and it should last several months. Thaw at room temperature for a few hours.
You can eat the fudge straight out of the freezer, but the longer you let the fudge thaw, the less tacky the outside will feel.
Related recipes
If you're a fan of fudge, you will have to try my caramel popcorn fudge, Nutella fudge, and Oreo fudge.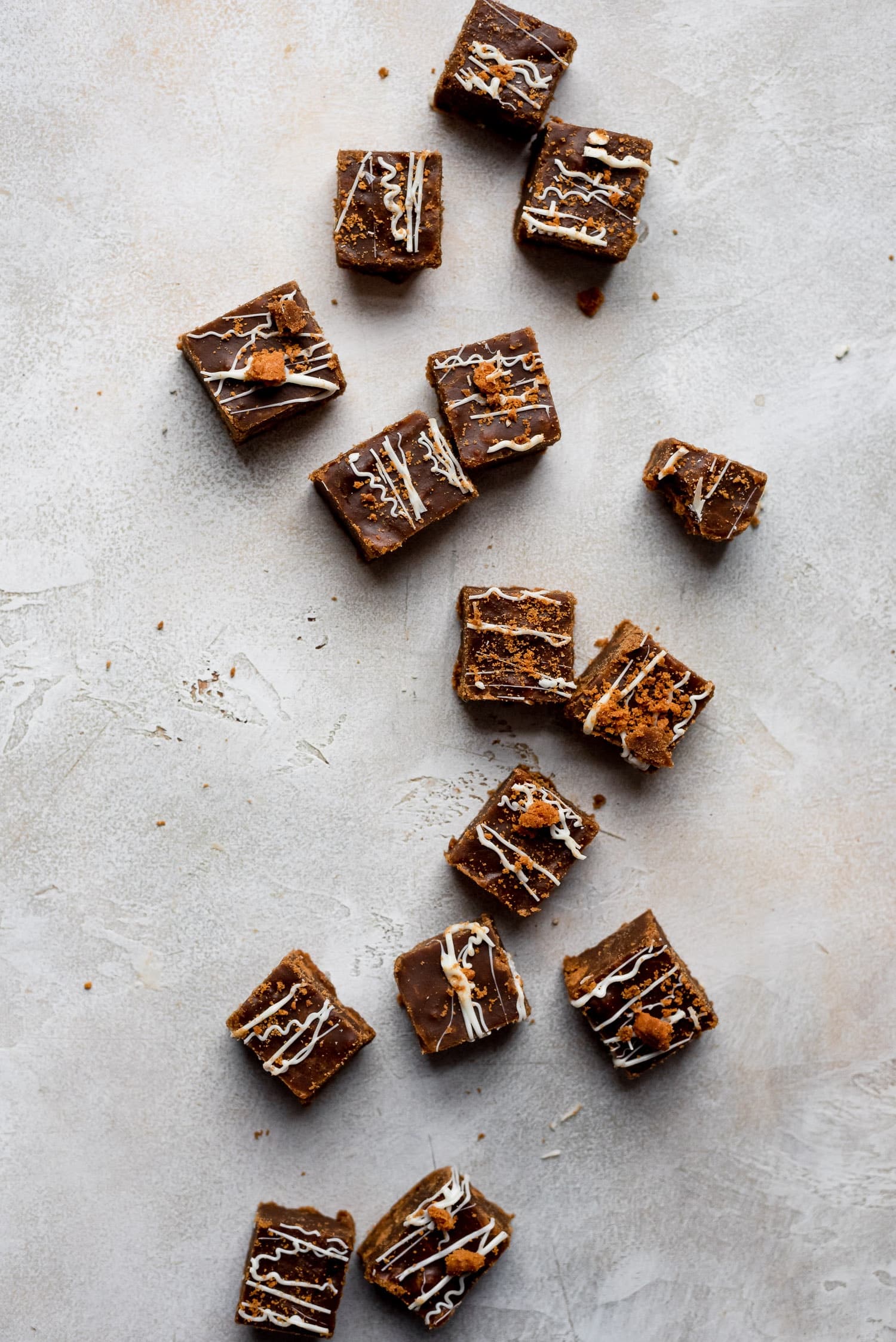 Recipe Card
Gingerbread Fudge
A deeply flavorful gingerbread fudge stuffed with speculoos cookies
Ingredients
1

tablespoon

unsalted butter

1 ½

cups

eavy cream

2 ½

cups

Domino® Golden Sugar

¼

cup

dark molasses

½

cup

white chocolate

2

teaspoons

ground ginger

1

teaspoon

ground cinnamon

¼

teaspoon

nutmeg

½

teaspoon

sea salt

⅔

cup

coarsely crushed speculoos cookies
Instructions
Line an 8×8 square baking pan with parchment paper. Grease the parchment paper. Set aside.

Place the butter in a large metal mixing bowl. Set the mixing bowl on a cooling rack.

Add heavy cream, Domino® Golden Sugar, molasses, white chocolate, ginger, cinnamon, nutmeg, and salt into a medium heavy saucepan.

Cook over medium-low heat, stirring constantly until the sugar has dissolved, approximately 10 minutes.

Increase to medium heat and bring to a low boil. Stop stirring as soon as you bring up the heat. 

Attach a candy thermometer and continue to cook - again, without stirring. Allow the mixture to boil to 240°Fahrenheit and keep at this temperature for 1 minute. 

Carefully pour the mixture into mixing bowl with butter. Do not scrape the bottom of the pan in case any of the sugar crystalized to the bottom.

Whisk butter into the mixture. It will be bubbly and hot. Be careful!

Allow to cool at room temperature for 30-40 minutes before mixing well and then transferring to the prepared and lined baking pan.

Fold in the cookie crumbs and swiftly stir well. 

Use a small offset spatula to quickly spread fudge to sides of the pan and smooth the top. Allow it to cool to room temperature before covering and chilling in the refrigerator for at least 8 hours.

Lift the parchment out of the square dish and cut into 1-inch pieces. Top with more melted white chocolate and crushed cookies, if desired.
Nutrition
Serving:
1
g
Calories:
188
kcal
Carbohydrates:
29
g
Protein:
1
g
Fat:
8
g
Saturated Fat:
5
g
Polyunsaturated Fat:
3
g
Cholesterol:
20
mg
Sodium:
70
mg
Sugar:
26
g
Tried this recipe?
Tag me on Instagram! @acookienameddesire #acookienameddesire