Get ready for the most fun and EASY fudge you will ever make! This chocolate caramel fudge with Cracker Jack Popcorn has a delicious gooey caramel center and is topped with your childhood favorite popcorn treat.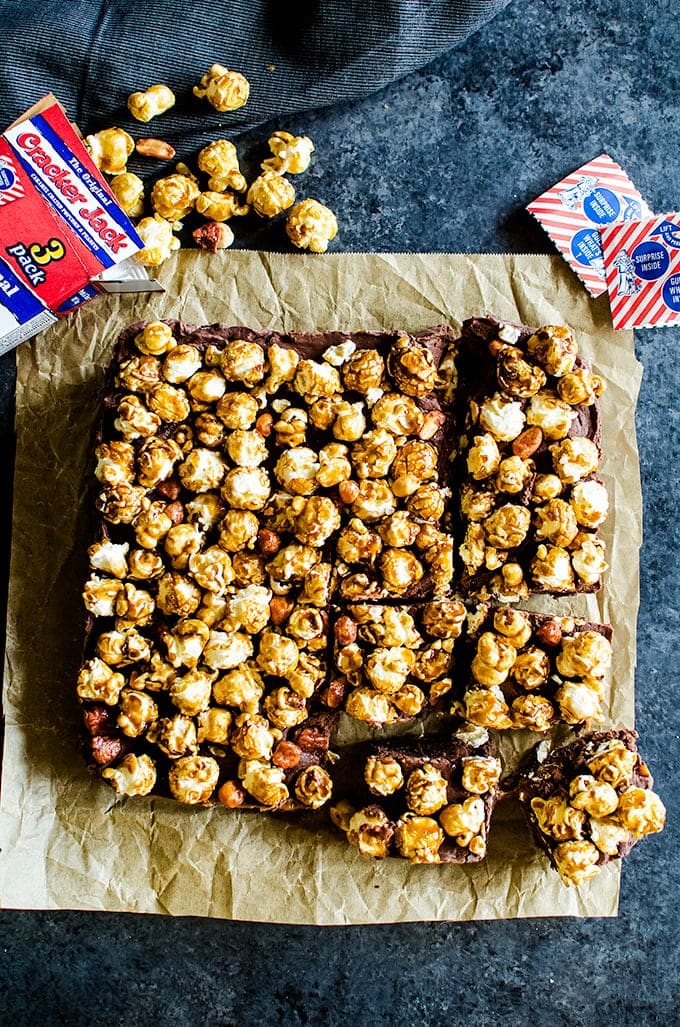 I'm not much of a fudge person. I love fudgy things. Like fudgy brownies. Those are amazing. But actual fudge... well, that's just okay. My only real experiences with fudge were during trips to the beach when we would walk the boardwalk and a person would be standing outside the candy shop handing out samples of fudge. They were tasty enough, but not something I could eat a lot of. But I was craving something that was super chocolaty and fun and the idea for this chocolate caramel fudge with Cracker Jack Popcorn came to mind.
As a kid I LOVED Cracker Jack Popcorn. Honestly, I don't know anyone who wasn't obsessed with those little boxes of popcorn. I miss getting neat little prizes in them. I haven't thought about Cracker Jack in years until I saw a huge bag of it at the grocery store so I picked some up to make this fudge. Of course, that wasn't enough for me. I needed the boxes for the chocolate caramel fudge pictures. I needed that bit of nostalgia so I went to four different stores until I could find the boxes. And guess what? They still have prizes in them. Now, you won't find a ring in it, but I did find neat baseball facts and stickers and temporary tattoos. I'll take it.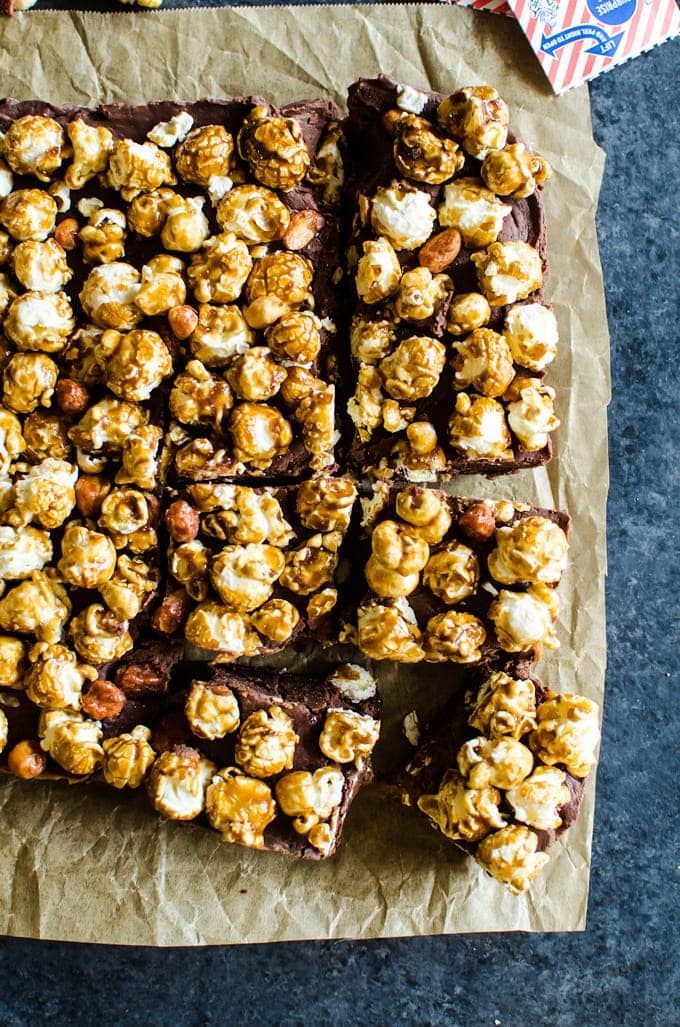 I used a simple chocolate fudge recipe - you can make it in the microwave if you want! To make it even more amazing, I added a layer of gooey caramel (I used caramel bits from Kraft). You can skip that part if you want to make it super easy, but I love that caramel center. It's so good. And if you can't find Cracker Jack popcorn, use any of your favorite caramel popcorn. For this chocolate caramel fudge I also used a mix of dark and milk chocolate. I wanted the depth of the dark chocolate, but the creamy childlike taste of the milk. It's so good! But you can use just one type of chocolate if you want. You really can't go wrong here!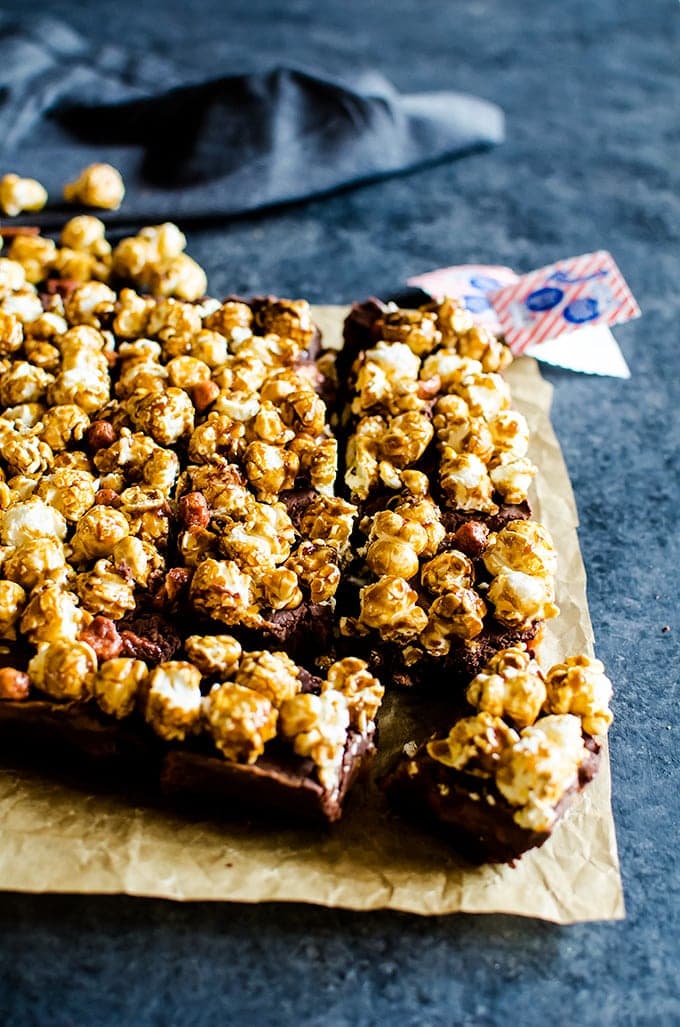 Recipe Card
Chocolate Caramel Fudge with Cracker Jack Popcorn
Ingredients
1

cups

chocolate

I used a mix of dark chocolate and milk chocolate

14

oz

sweetened condensed milk

¼

cup

unsalted butter

¼

teaspoon

salt

1

teaspoon

vanilla extract

1

cup

caramel bits

6.5oz soft caramel

2

tablespoons

water

2

cups

Cracker Jack Popcorn
Instructions
Line an 8 x 8 inch baking pan with aluminum foil.

Add the chocolate, sweetened condensed milk, butter, salt, and vanilla extract together in a heatproof bowl. Heat over a double boiler, or in a microwave at 30 second intervals mixing well until the mixture is completely melted.

In a small pot, add the caramel and water and heat on medium until the caramel is melted. Mix well to combine with the water.

Pour half the chocolate mixture into the baking pan. Spread the caramel over the chocolate, then top with the remaining chocolate. Spread in an even layer.

Top with the Cracker Jack Popcorn (or your favorite caramel popcorn) and press gently to adhere. Leave at room temperature for about 1 hour, then cover and allow to set for about 8 hours at room temperature.
Tried this recipe?
Tag me on Instagram! @acookienameddesire #acookienameddesire