These brownie stuffed chocolate chip cookies are the cookies you've been dreaming of. Crisp on the outside with chewy, chocolaty gooey brownie center. It doesn't get better than this!
For a few months, I've been considering a new project that involves lots and lots of cookies. I had a huge list of cookies I've been saving for this project, and these brownie stuffed chocolate chip cookies were on that list. It's been really hard to keep these cookies to myself and I finally caved when a few people have requested a recipe for them from me. I live to serve, so here they are in all their brownie chocolate chip cookie glory.
I used my favorite chocolate chip cookie recipe, and an improved version of my favorite brownie recipe. Don't worry, I am not going to make you click around the site for the recipes. No, I would never make you do all that.
It would be wrong for me to not give you a fair warning. These cookies are probably the best cookies on this site. And let's not forget that I once made s'mores stuffed cookies. The cookies are buttery and wonderfully crispy on the edges with an irresistibly gooey and chewy center filled with a decadent brownie. Finish off with an ice cold glass of milk and enter a moment of pure bliss.
I am drooling just thinking about it. The trick is to do the overnight chilling of both the cookie dough and the brownie batter. You absolutely don't have to chill either for that long, but the brownie batter does need to chill for at least half an hour. Also, you would be doing yourself a disservice by not chilling the cookie dough overnight. It's what helps give the cookies a nice depth of flavor and give it the best texture. If you don't want to chill overnight, just a quick chill with the brownie batter will work just fine.
The chilling you do after you've rolled out the cookie dough, however, is mandatory. This keeps the brownie stuffed chocolate chip cookies from spreading too much and allowing the brownie goodness from seeping out the bottom. The brownie portion coming out isn't the worst thing in the world, but it does make handling the cookies much more difficult because it tends to stay soft and the cookies will break apart when you try and pick them up.
You will end up with a little bit of extra brownie batter. I roll mine up into little balls and make little brownie puffs by baking them in the oven at 350 degrees F for about 8 mins.
Recipe Card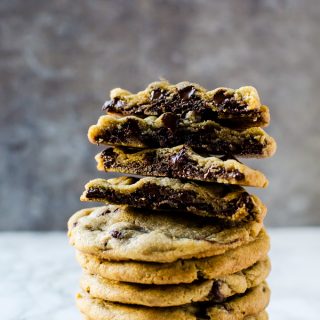 Brownie Stuffed Chocolate Chip Cookies
Ultra decadent brownie stuffed chocolate chip cookies. Crisp on the outside, soft and chewy in the middle with a fudgy brownie surprise. Dessert doesn't get better than this!
Ingredients
For Chocolate Chip Cookies
2 ½

cups

all-purpose flour

1

teaspoon

corn starch

1

teaspoon

baking soda

¾

teaspoon

salt

¾

cup

unsalted butter

room temperature

1

cup

firmly packed brown sugar

¾

cup

granulated sugar

1

large egg

room temperature

1

egg yolk

room temperature

2½

teaspoons

vanilla extract

1 ½

cups

chocolate chips
For the Brownies
½

cup

all-purpose flour

3

tablespoons

cocoa powder

¼

teaspoon

salt

4

tablespoons

unsalted butter

½

cup

granulated sugar

4

oz

semisweet chocolate

1

teaspoon

vanilla extract

1

large egg

room temperature
Instructions
In a bowl, mix together the flour, baking soda, salt, and cornstarch for the cookies. Set aside.

Beat the butter and both sugars together in a separate bowl until light and fluffy. Beat in the egg, egg yolk, and vanilla until well combined.

Slowly add the flour mixture, mixing in the flour as you add more. Once all the flour is added and there are no streaks of flour fold in the chocolate chips and mix just until they are evenly distributed.

Cover the cookie dough and chill for at least four hours, preferably overnight.

Once the cookie dough is made, immediately start the brownie batter.

Mix together the flour, cocoa powder, and salt for the brownies in a small bowl. Set aside.

In a medium saucepan, add the butter, sugar, and chocolate together. Heat on low and mix until the butter and chocolate are melted and the mixture is well combined. It will look fairly grainy at this point. Remove from heat and allow to cool until it is room temperature. If you kept the stove on low, it shouldn't take took long to reach this point.

Vigorously. beat the vanilla and egg into the chocolate mixture until well combined.

Stir the flour mixture into the chocolate mixture and mix until just combined and there are no streaks of flour.

Transfer the brownie batter into a bowl, cover, and chill for at least four hours, preferably overnight.

Remove the cookie dough and brownie batter from the refrigerator and uncover.

Place parchment paper or silicone baking mats onto baking sheets.

Measure out ½ tablespoons (1 ½ teaspoons) of the brownie batter. The batter should be thick, and may require a few minutes at room temperature or a touch of muscle to scoop it out. Roll out the brownie batter into a ball.

Measure out one tablespoon of cookie dough. Flatten slightly and create an indentation. Nestle the brownie batter ball into the indentation. Measure out another tablespoon of cookie dough and use that to cover the brownie ball. Roll the cookie dough in your hands swiftly to form a large ball. Set aside and repeat until you've run out of cookie dough. (You might end up with a bit of leftover brownie batter. I put mine in lined mini muffin tins to make brownie bites.)

Chill the cookie dough balls together as you preheat the oven to 350 degrees F.

Bake the cookies for about 10 - 12 minutes. Leave on the baking sheet for about 2 minutes to cool before placing on wire racks to cool completely.
Nutrition
Serving:
1
g
Calories:
203
kcal
Carbohydrates:
40
g
Protein:
3
g
Fat:
8
g
Saturated Fat:
4
g
Polyunsaturated Fat:
3
g
Cholesterol:
29
mg
Sodium:
151
mg
Fiber:
1
g
Sugar:
26
g
Tried this recipe?
Tag me on Instagram! @acookienameddesire #acookienameddesire
Originally posted 9/18/2016, Updated 2/18/2018