Your new favorite chocolate chip cookies. Golden, crisp edges, soft, gooey interior with pools of melted chocolate. This is the only recipe you will ever need for the best cookie experience of your life.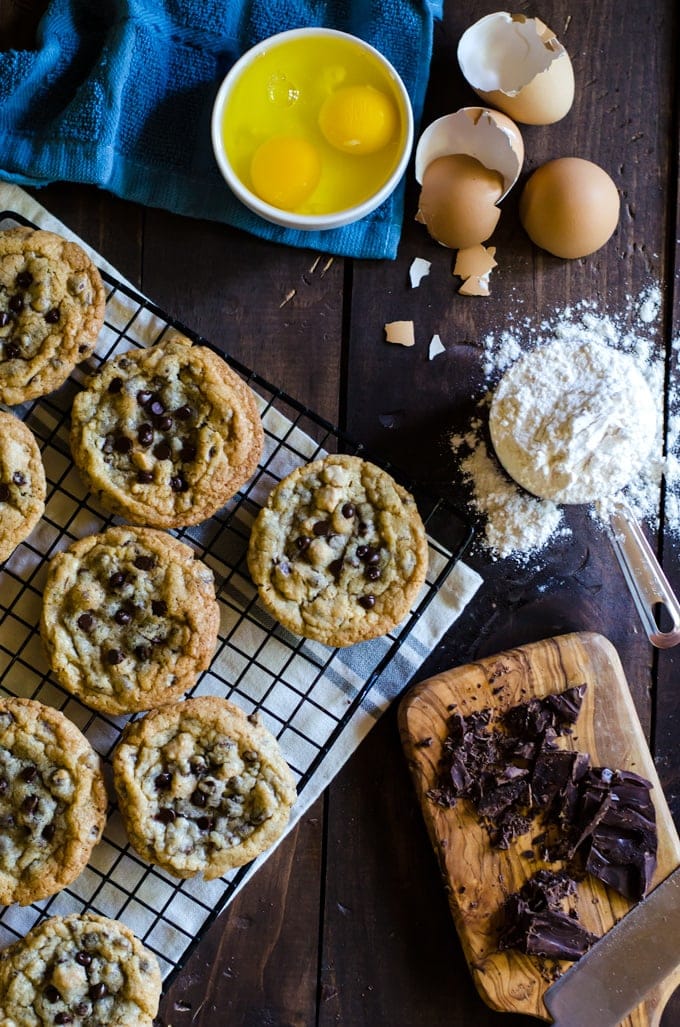 Why you'll love it
These cookies are packed with deep, complex flavor, but are so quick and easy to make. There are a ton of cookie recipes out there, but after testing hundreds of them over the years, this is without a doubt, the best cookie you will find.
They come out perfect every time, and only get better over time. In fact, creating this cookie is what inspired me to write a cookbook all about how to make your perfect cookie each and every time.
What makes these the best chocolate chip cookies?
The answer is simple. The edges are buttery and crisp. The inside is soft and gooey with just the right amount of melty chocolate, and they're irresistibly chewy on the outside. It has everything you could ever want from a cookie.
The best part is that they're amazing no matter when you bake them. You can bake up the cookies right away without chilling them, or you can chill them and bake them later. It is all up to what you want. No matter what, you will have the most delicious cookie ever.
Key ingredients
This cookie dough uses all the standard ingredients you'd expect. You probably have them all in your kitchen. The important part is how you use them and the ratios. Let's review some of the key ingredients though and any potential substitutes.
Flour - There have been varying opinions to the type of flour to use. Some say bread flour (because of the higher protein levels) is what you need for chewy cookies. Others reach for cake flour (because of its low protein levels) for soft and tender cookies. I recommend using regular all-purpose flour for the perfect results because they sit somewhere in the middle.
Cornstarch - I like using just a touch of cornstarch in my cookies because they help make them softer, while also helping them stay nice and thick.
Egg yolk - The extra egg yolk adds more moisture, aids in chewiness, and also makes the cookies richer in flavor.
How to make
Putting together these soft and chewy chocolate chip cookies is so quick and easy.
Mix together the dry ingredients
Beat together the butter and sugars together, then add in the egg and vanilla.
Mix in the flour to the butter mixture.
Fold in the chocolate until evenly disbursed.
Portion out your cookie dough onto your baking sheet.
Enjoy your cookies!
Expert tips for perfect cookies
Cookies are my favorite dessert. They're what got me interested in baking and inspired me to write a whole cookbook on them. I've learned a few expert tips through my years of experience that will ensure you get the perfect chocolate chip cookies ever time.
Learn how to measure your ingredients. It might seem simple, but it can make a huge difference. Packing in your flour versus whisking the flour and then spooning it into your measuring cup will give you significantly different results every time. You can end up accidentally adding as much as ¼ cup of extra flour in your cookies! I always recommend giving your flour a quick fluff with a whisk, fork, or spoon, then using a spoon to pour your flour into your measuring cup until it reaches over the measuring cup. Take the flat edge of a knife or handle of your spoon and gently sweep off the excess. If you want to be exactly sure every time, you can even get a kitchen scale.
Use more than one type of sugar. Using both granulated sugar and brown sugar play important roles in your cookie. The granulated sugar helps crisp the edges and can even aid in getting just the right amount of spread. Brown sugar contains molasses which helps give the cookies its soft, chewy texture. It also helps give your cookies a nice depth of flavor. I typically recommend light brown sugar, but using dark brown sugar is also good. The best cookies will use more brown sugar than granulated sugar.
Pay attention to your butter. The kind of butter can dramatically change your final cookie. The first thing you need to know is to always use unsalted butter. This is because every brand uses a different amount of salt in their butter and you want to be able to control the salt levels. Second, different brands and styles of butter will have a different fat to water ratio. European-style butter usually has between 82 - 85% butterfat. Regular American butter is usually 80% butterfat. Keep in mind the term "European-style" as there are several brands in America that have the same butterfat percentages as the European standard. What does this mean? A butter that has a higher butterfat ratio means they have less water. This is important when you are thinking about not only the richness of a cookie, but how much it will spread. High butterfat can result in an overly soft cookie with little spread, while one with less butterfat will give you more spread. It is up to you to decide what you prefer, but my recipe is made with American butter in mind.
Size matters. Larger cookies tend to bake better than smaller cookies. You get more control and they can actually work in your favor to get the exact texture you want. I recommend using a cookie scoop to make sure you get cookies that are the same size and will bake at the same rate. I recommend a 2 ounce cookie scoop, or a ¼ cup measuring cup.
Check you baking sheets. The baking sheets you use matters. Traditional cookie sheets do not have big rimmed edges. One side will be slightly rimmed so you have something to hold onto. These pans tend to bake cookies faster. I prefer using rimmed baking sheets for a slightly slower bake that helps develop flavor. The color of your baking sheets also matters. Darker sheets (whether it was purchases that way or became darker after use), will bake faster. Lighter sheets work best for a slower bake. Don't forget to always line your baking sheets with parchment paper or a silicone baking mat!
Underbake your cookies! The trick for soft, cookies with that gooey center is to underbake them. They're ready when the edges are a nice golden brown, but the centers still look underbaked, and perhaps even a little raw. They continue baking when you take them out of the oven just a tad with the residual heat which is exactly what you want. As this happens, it will give your cookies just enough firmness to hold together, while also leaving the centers perfectly gooey. It gives you the perfect texture every time.
Cookie FAQs
Do I need to chill my dough?
Technically, no, but for the best texture and depth of flavor, you definitely want to chill the dough for anywhere between an hour and 48 hours.
Can I freeze the dough?
Absolutely! The dough does well both in the refrigerator and in the freezer. If you plan on freezing the dough, I recommend portioning them out beforehand. Freeze them for an hour on the baking sheet, then transfer them to an airtight container. They will be good for up to a month. To bake, take them out of the freezer and let them sit on the counter while the oven preheats. You can bake them at the same temperature and you may only need to bake for an additional minute.
How long will the chocolate chip cookies last?
These cookies last in an airtight container for up to a week. If the container is sealed well, they should stay nice and soft without help. If you are unsure though, you can leave a slice of bread in the container.
Can I add in other ingredients?
You can add in nuts, dried fruits, or even candies. The best rule of thumb is to stay within a total of 1 ½ cups of total add-ins. You can also add in different spices like a teaspoon of cinnamon! You can even try adding more depth by turning these into brown butter chocolate chip cookies.
Can I use these to make ice cream sandwiches?
These cookies are perfect for ice cream sandwiches. They stay soft and delicious even from the freezer.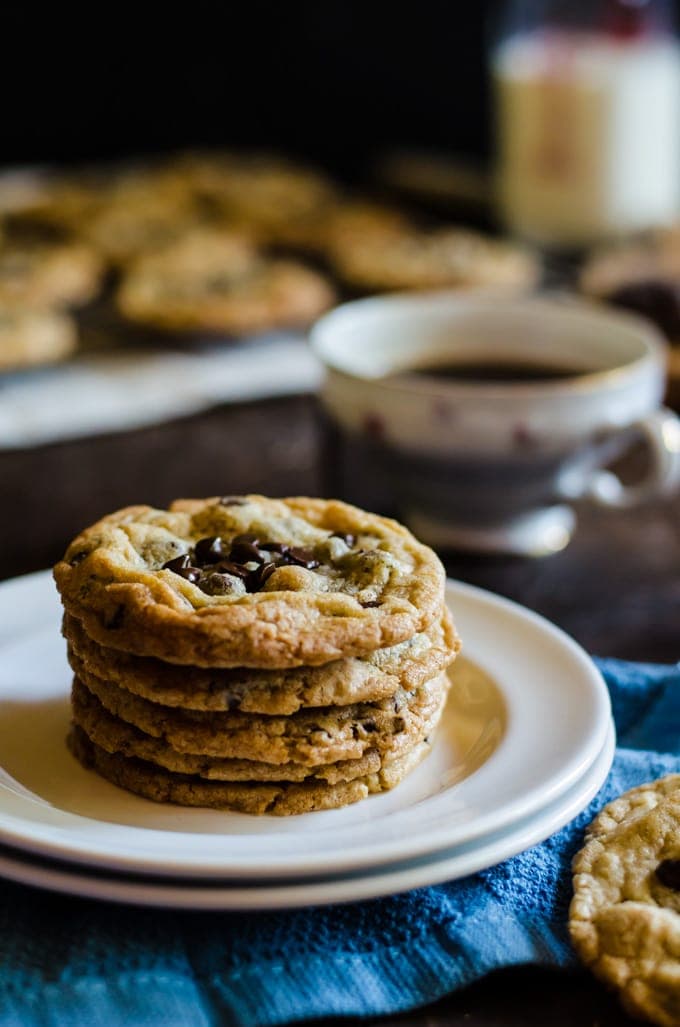 Recipe Card
My Favorite Chocolate Chip Cookies
Soft, chewy chocolate chip cookies
Ingredients
2 ½

cups

all-purpose flour

(312g)

1

teaspoon

baking soda

¾

teaspoon

salt

1

teaspoon

cornstarch

¾

cup

unsalted butter

room temperature (170g)

1

cup

brown sugar

firmly packed (220g)

¾

cup

granulated sugar

(150g)

1

large egg

room temperature

1

egg yolk

room temperature

2 ½

teaspoons

vanilla extract

1 ½

cups

chocolate chips
Instructions
Preheat the oven to 350F/177C. Line two baking sheets with parchment paper or silicone baking mats. If you plan on chilling your cookies, save this step for after the cookies have chilled.

Mix together the flour, baking soda, salt, and cornstarch, in a medium bowl and set aside.

Beat the butter and both sugars together until light and fluffy, about 3 - 4 minutes on medium speed in a mixer. Beat in the egg plus yolk and then add the vanilla and beat well again for about another minute.

Fold in the flour until just combined. Fold in the chocolate chips (reserve some to stud the top of the cookies).

(Optional) Chill the dough for an hour. You can skip this if you really want your cookies now, but you get a better flavor when you chill.

Scoop out balls of cookie dough at least 3 tablespoons bit and roll into balls. Place them at least 2 inches apart on your baking sheets.

Bake for 10 - 14 minutes, or until the edges are a golden brown and the tops still look underbaked. Remove and top with chocolate chips (you will need to carefully push them in so they stick). Leave them on the baking sheet for at least two minutes before transferring to a wire rack to cool completely.

Store uneaten cookies in an airtight container for up to a week.
Notes
Always make sure your ingredients are at room temperature. You can quickly bring your eggs to room temperature by placing the whole eggs in warm water for five minutes. 
You can use arrowroot starch instead of cornstarch, or omit it completely if you don't have it. You will still have soft, thick cookies. 
Spoon and level your flour when measuring, or better yet, use a kitchen scale. 
The recipe doubles very well if you want to make extra for later. 
You can experiment with different types of add-ins. Nuts, candies, dried fruit, or even omit the chocolate chips altogether. 
Nutrition
Calories:
298
kcal
Carbohydrates:
44
g
Protein:
3
g
Fat:
12
g
Saturated Fat:
7
g
Polyunsaturated Fat:
1
g
Monounsaturated Fat:
2
g
Trans Fat:
1
g
Cholesterol:
39
mg
Sodium:
164
mg
Potassium:
38
mg
Fiber:
1
g
Sugar:
31
g
Vitamin A:
283
IU
Vitamin C:
1
mg
Calcium:
40
mg
Iron:
1
mg
Tried this recipe?
Tag me on Instagram! @acookienameddesire #acookienameddesire