Learn how to make brown sugar at home! It is a simple two-ingredient recipe, you will wonder why you haven't been making it your whole life! This is perfect for when you are in a pinch and run out of brown sugar.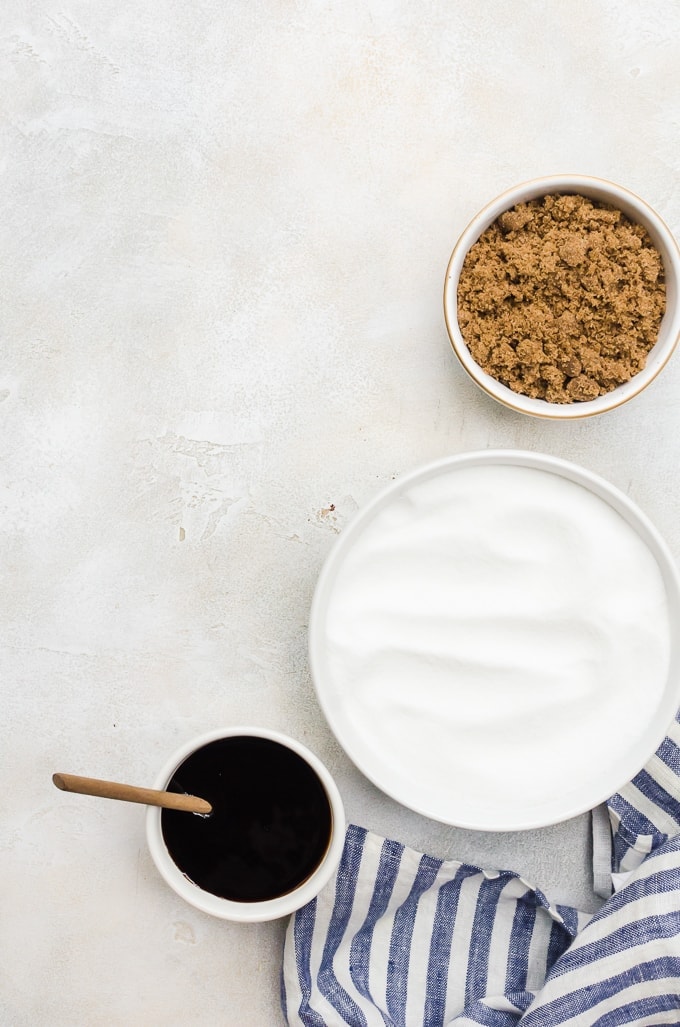 Why you'll love making your own
Too often, we look through out kitchen pantries and discover we've run out of brown sugar, or what we do have is now a solid rock. Luckily, you can make your own at home with just two ingredients and a couple of minutes. In fact, in some instances, it takes zero effort!
You can make exactly how much you need without having to worry about having extra around that can potentially harden up to bricks.
What you'll need
The best part about this is that you only need two ingredients to make your own brown sugar at home.
Sugar - Technically, any kind of sugar will work. You can even use sugar alternatives like stevia. I always use and recommend granulated sugar when possible.
Molasses - There are different types of molasses: blackstrap, light, and dark. I recommend using dark because it imparts a delicious flavor and works well in many recipes like chocolate chip cookies. Blackstrap will work, but the molasses flavor will be a lot more prominent. That isn't necessarily a bad thing, but it is something to note when you are using it in your baking.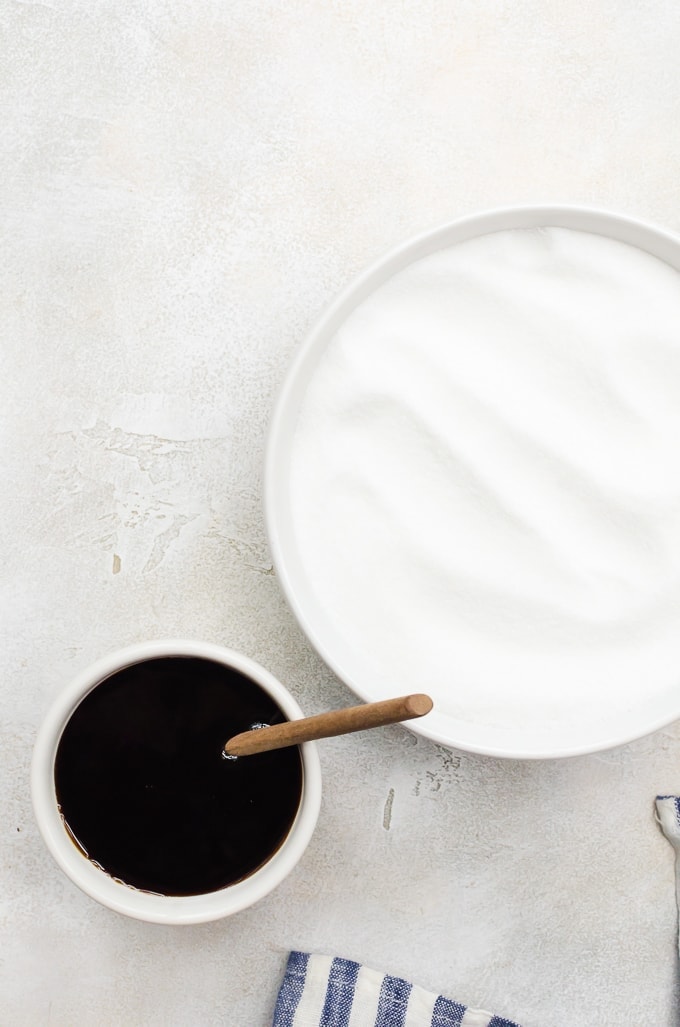 How to make
All you need is molasses and granulated sugar. One tablespoon of molasses for one cup of sugar for light brown sugar and 2 tablespoons for dark brown sugar.
You can mix the ingredients together in a bowl using a fork, or use a food processor. Pulse only once or twice to mix - you don't want to break down the sugar and accidentally make powdered sugar.
If you plan on making a large batch of your own brown sugar, you can use a stand mixer using a paddle attachment or a hand mixer.
Adding the molasses directly in with the sugar to your mixer if you are immediately using it in another recipe is also an option. I prefer making it on its own so I can have extra available for future use.
Note: If you want to make brown sugar syrup, but don't have brown sugar, you can simply add the ingredients to the saucepan without mixing them together first.
Storage tips
You should keep your homemade brown sugar in an airtight container at room temperature. It should last for up to a month. You can keep the brown sugar soft by leaving a terracotta disc in the container. You can also use a slice of bread. Adding a few marshmallows can also help!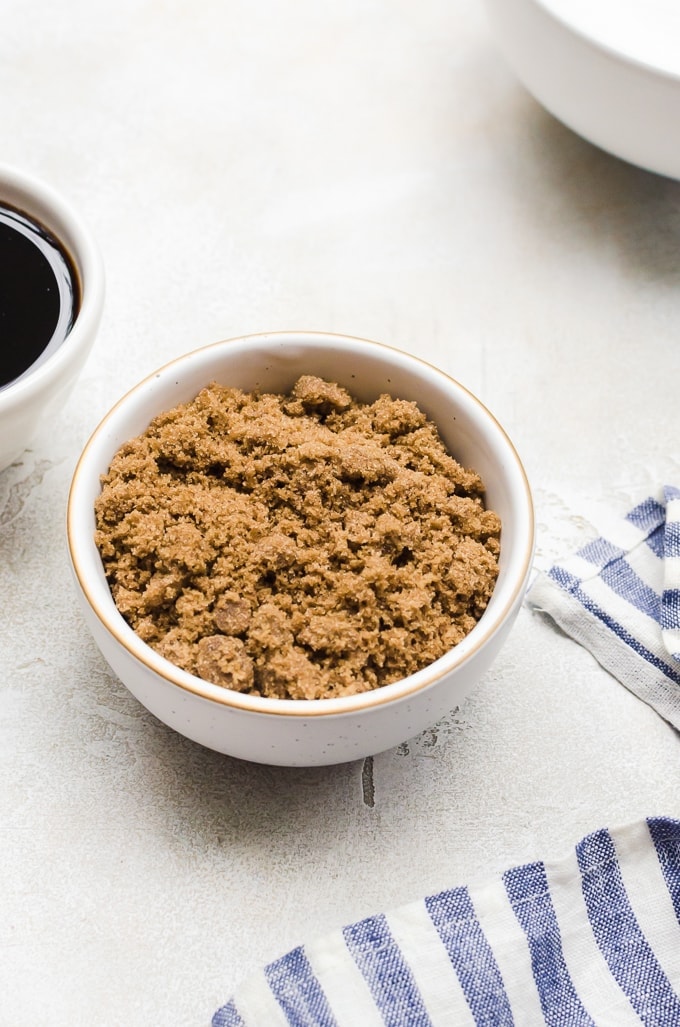 How to make brown sugar soft
Both homemade and store-bought brown sugar tend to get a little hard over time. There are a few quick ways to make brown sugar soft and keep it soft. The first thing to do is make sure you keep the brown sugar in an air tight container. That will prevent the sugar from dying out and hardening.
If the sugar is already hardened, you can also use the slice of bread trick at this point. Simply add a slice of bread to your airtight container and sugar. After about 30 minutes, the brown sugar should start to soften and keep it soft as long as it is in there. I recommend changing out the bread every couple of days.
If you need to soften your sugar right away, place it in a microwave-safe bowl, and cover with a damp, but not dripping wet paper towel. Heat it for about 20 seconds. While this is the fastest method, be careful about overheating the sugar as it will start to melt.
Is there a substitute for molasses?
So, there is good news and bad news. You can't really use anything else besides molasses to make brown sugar, but there are other substitutions for many recipes. A lot of people like to try to use maple syrup in place of molasses. Maple syrup, however, doesn't really work in the same was as it is thinner and has a more subtle taste. You can, however, replace it with 100% pure maple syrup. The best ratio is ⅔ cup of maple syrup for every 1 cup of brown sugar. You will also need to reduce the amount of liquid in the recipe by ¼ cup.
Treacle is also a popular substitute for the molasses, however, it may be more difficult for some people in the US to source in stores.
More important basics to learn
Now that you've made this recipe, you can make some amazing brown sugar syrup for your cakes, coffees, and so much more. If you are looking to learn how to do more at home, you will love learning how to make homemade buttermilk. You can also learn how to make marshmallows, which is perfect to keep your brown sugar soft.
Recipe Card
How to Make Brown Sugar
A simple recipe for making your own brown sugar at home
Ingredients
1

cup

granulated sugar

1 - 2

tablespoons

molasses
Instructions
Put the sugar in a small bowl and add the molasses. Add only 1 tablespoon for light brown sugar and 2 tablespoons for dark brown sugar.

Use a fork to fully incorporate the molasses to the sugar.

Store in an airtight container
Notes
Some resources recommend using a blender or food processor to mix the sugar and molasses, but I found the consistency to be much closer to store-bought brown sugar when you use a fork.
If you are using the brown sugar in your baking (such as in cookies) you can just add the molasses in with the wet ingredients to save you more time!
Make double, triple, or more batches if you know you will be going through brown sugar quickly. Just store in an airtight container! 
Nutrition
Serving:
1
tablespoon
Calories:
4
kcal
Tried this recipe?
Tag me on Instagram! @acookienameddesire #acookienameddesire