Learn how to make brown sugar at home! It is a simple two-ingredient recipe, you will wonder why you haven't been making it your whole life! This is perfect for when you are in a pinch and run out of brown sugar.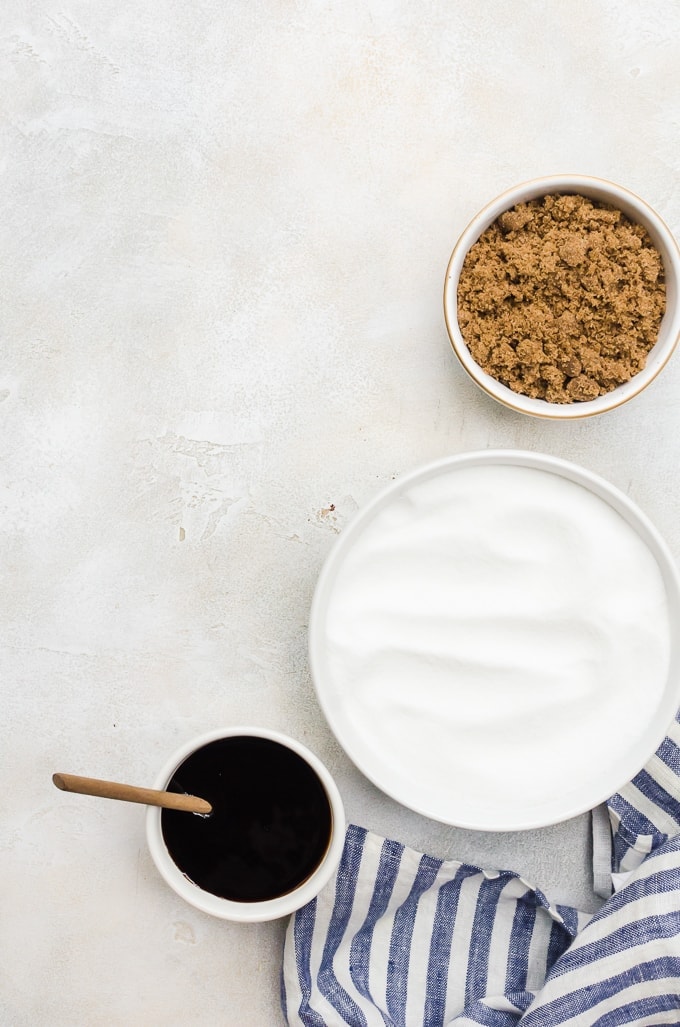 The other day, I started working on a recipe that required a cup of brown sugar. I went to my sugar cabinet (yes, I have a cabinet dedicated to all the different types of sugar I have) and reached for the brown sugar.
Except... there was no brown sugar. Oh, the bag was still there alright, but there was nothing in it! As it turns out. we ran out of the regular use sugar (I keep my granulated sugar separate from the sugar everyone else can use) so someone went in my cabinet and started using my brown sugar for their coffee!!
What. The. Actual. Heck.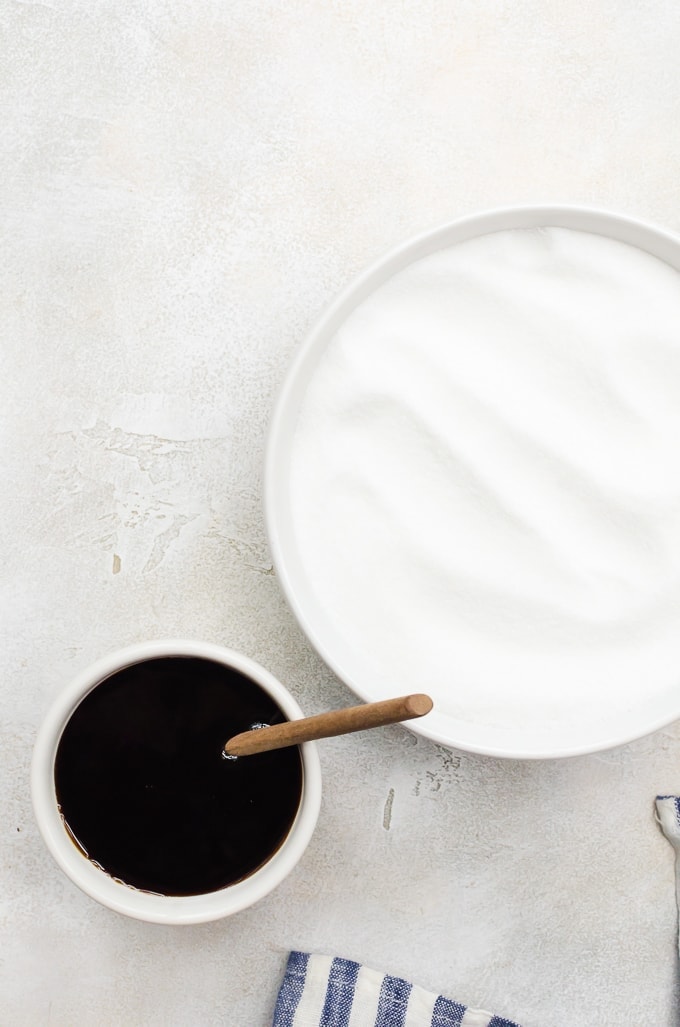 As you can probably gather, I am kind of particular about my ingredients, so this was was like, a huge deal for me.
Fortunately, I have this nifty chart I created filled with substitutions I learned through my years of baking and through my handy dandy America's Test Kitchen book so I knew I could easily make my own brown sugar.
I know you might find yourself in a similar situation, so I thought I'd quickly save the "recipe" on how to make brown sugar here for your reference. If you want to know how to make any other recipes for basic ingredients like this, please let me know!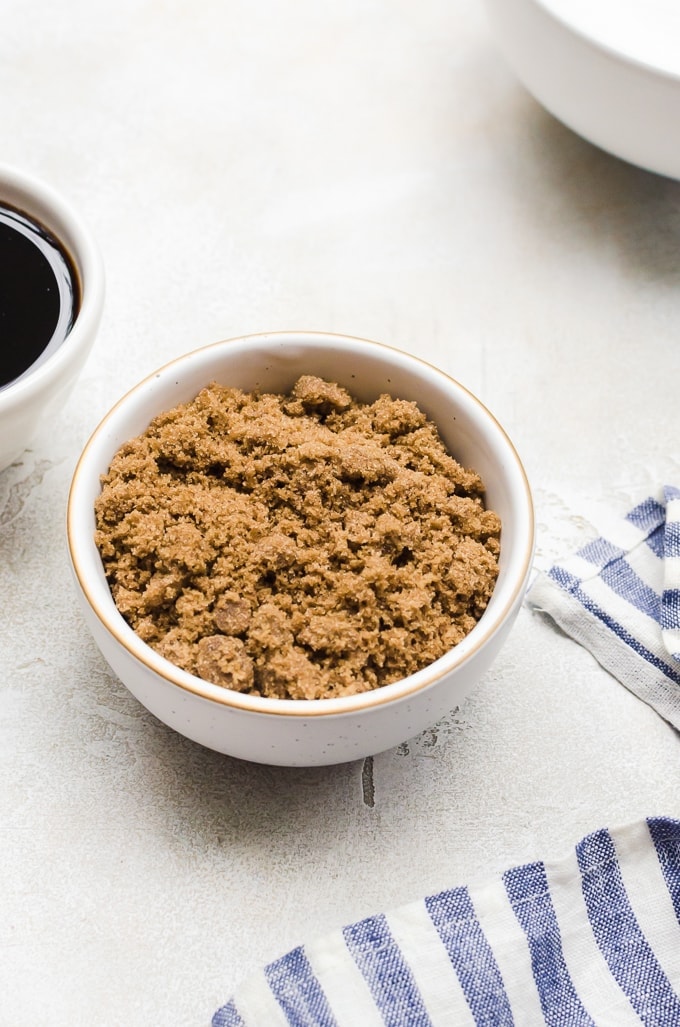 How to Make Brown Sugar at Home
All you need is molasses and granulated sugar. One tablespoon of molasses for one cup of sugar for light brown sugar and 2 tablespoons for dark brown sugar.
You can mix the ingredients together in a bowl using a fork, or just add the molasses in with the sugar if you are beating the sugar into other ingredients for a recipe.
How to Make Brown Sugar Soft
Both homemade and store-bought brown sugar tend to get a little hard at times. There are a few quick ways to make brown sugar soft and keep it soft. The first thing to do is make sure you keep the brown sugar in an air tight container. That will prevent the sugar from dying out and hardening.
You can also use the slice of bread trick. Simply add a slice of bread to your airtight container and sugar. After about 30 minutes, the brown sugar should start to soften and keep it soft as long as it is in there. I recommend changing out the bread every couple of days.
If you need to soften your brown sugar right away, place it in a microwave-safe bowl, and cover with a damp, but not dripping wet paper towel. Heat it for about 30 seconds. While this is the fastest method, be careful about overheating the sugar as it will start to melt.
Can You Make Brown Sugar Without Molasses?
So, there is good news and bad news. You can't really use anything else besides molasses to make brown sugar, but there are other substitutions for brown sugar for many recipes. A lot of people like to try to use maple syrup to make brown sugar. Maple syrup doesn't really work in the same was as it is thinner and has a more subtle taste. You can, however, replace the brown sugar with 100% pure maple syrup. The best ratio is ⅔ cup of maple syrup for every 1 cup of brown sugar. You will also need to reduce the amount of liquid in the recipe by ¼ cup.
How to Make Brown Sugar
A simple recipe for making your own brown sugar at home
Ingredients
1

cup

granulated sugar

1 - 2

tablespoons

molasses
Instructions
Put the sugar in a small bowl and add the molasses. Add only 1 tablespoon for light brown sugar and 2 tablespoons for dark brown sugar.

Use a fork to fully incorporate the molasses to the sugar.

Store in an airtight container
Notes
Some resources recommend using a blender or food processor to mix the sugar and molasses, but I found the consistency to be much closer to store-bought brown sugar when you use a fork.
If you are using the brown sugar in your baking (such as in cookies) you can just add the molasses in with the wet ingredients to save you more time!
Make double, triple, or more batches if you know you will be going through brown sugar quickly. Just store in an airtight container! 
Nutrition
Serving:
1
tablespoon
Calories:
4
kcal
Tried this recipe?
Tag me on Instagram! @acookienameddesire #acookienameddesire