Sure, the store-bought stuff is good, but nothing beats homemade milano cookies! Impress everyone during your cookie exchange this year!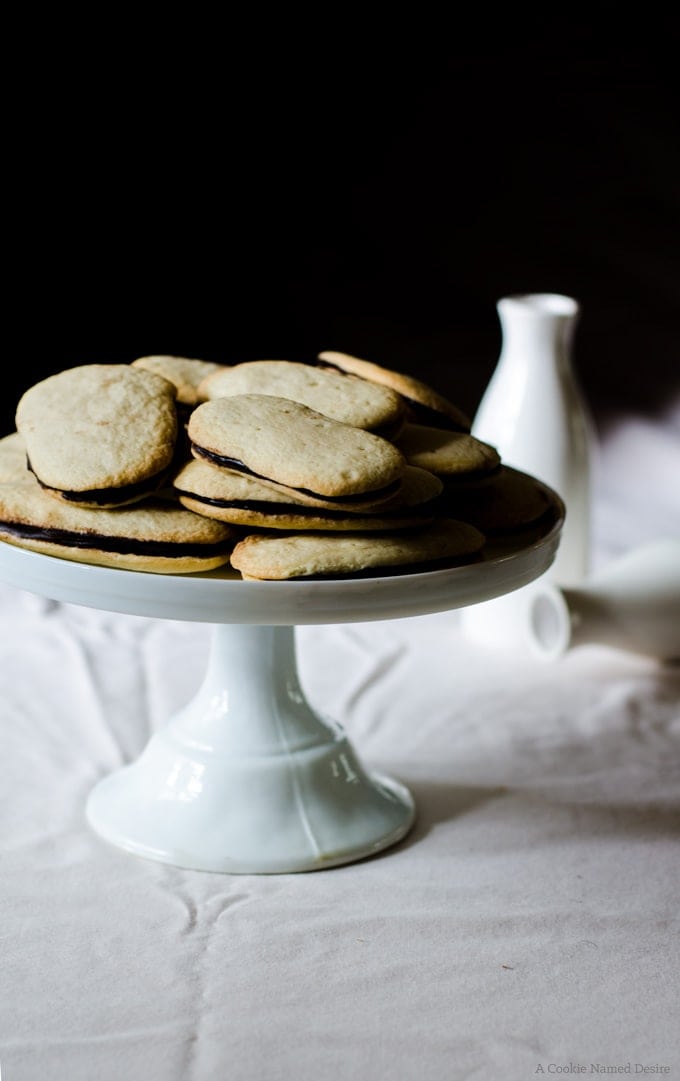 I have very few people I consider friends. And even fewer whom I consider my best friends. I don't get a chance to see many of them since we are all spread across the globe. One of my best friends, Erin, is living in Germany and we've always been each other's emotional rock and keep each other grounded. Since having a child and her having a lot to handle we haven't had a chance to have our much needed therapy sessions.
If you've been following the blog for a while, you know I went to Brooklyn for New Year to meet up with her. We talked about finding a way to get permanent residency in Europe for me. My daughter would be easy since her father is European and she can get dual citizenship, but that doesn't really do much for me. This morning Erin called asking me to hop onto a plane to Germany for a week because she might have a job opportunity that could lead to a permanent visa. Unfortunately, I never got around to renewing my passport, so I would need to get that done right away.
I am kind of torn. I was so amped up to move to Seattle and now this comes up and I want to see where this leads too. I would jump on this in an instant, but there is a risk that things wouldn't work out in regard to moving to Germany. We decided that I would go to Germany for a week to figure things out and if it looks like we might be able to do it, then we'll go forward. If not, hey, I got to spend a week back in Germany! It's been years since I've been there, so I am dying for a reason to go back.
Until I get my new passport, I'm going to snacking on these homemade Milano Cookies because, hello! Milanos are the best and I always feel so guilty buying them at the store. Somehow making Milano Cookies at home seems a lot better. Well, they taste a lot better for sure. I ate about half the batch of plain cookies without the chocolate because I couldn't wait any longer, Seriously, they are amazing just like that. The creamy dark chocolate ganache just makes it the kind of indulgent treat to have when you are reading a good book, or you know, waiting for a really exciting trip to happen.
If you want more cookies, try my double chocolate cookies or my cinnamon roll cookies! If you'd like to be more adventurous, try something like my edible sugar cookie dough!
Yield: one dozen
Milano Cookie Recipe
These delicious milano cookies taste even better than the real thing!

Prep Time 18 minutes

Cook Time 14 minutes

Total Time 32 minutes
Ingredients
1 1/2 cups flour
1/2 teaspoon kosher salt
8 tablespoons unsalted butter, room temperature
2 1/2 cups powdered sugar
2 large egg whites, room temperature
1 large egg, room temperature
2 teaspoons vanilla extract
1 1/2 tablespoons unsalted butter, melted and cooled
1 1/4 cups chopped dark chocolate
1/2 cup, plus 2 tablespoons heavy cream
mint extract (optional)
Instructions
Preheat the oven to 350 degrees F. Line two baking sheet with parchment paper.
Mix together the flour and salt. Set aside.
Cream the butter and powdered sugar together until light. Beat in the eggs well Add in the vanilla and the melted butter and mix until well combined. Add in the flour mixture and mix until just combined.
Fit a piping bag with a large 1/2" round piping tip and fill with the cookie dough.
Pipe 2 inch lines of dough two inches apart on the parchment paper. Bake for 9 - 10 minutes, or until the edges are a light golden brown. Allow to cool completely.
While the cookies are cooling, heat the chocolate and heavy cream over a double boiler until smooth. Allow to cool completely.
Drop a teaspoon of the ganache onto half the cookies and top with the other half of the cookies.
Store in an air tight container for up to 5 days.
Notes
If you want to make mint milanos, add a couple of drops of mint extract to your heavy cream before making the filling!
Nutrition Information:
Yield:
24
Serving Size:
1 cookie
Amount Per Serving: Calories: 90 Total Fat: 9g Saturated Fat: 5g Trans Fat: 0g Unsaturated Fat: 3g Cholesterol: 12mg Sodium: 36mg Carbohydrates: 15g Net Carbohydrates: 0g Fiber: 1g Sugar: 17g Sugar Alcohols: 0g Protein: 2g