Break into a soft giant double chocolate cookie as big as you hand! These Levain Bakery-style double chocolate cookies will be the highlight of your day.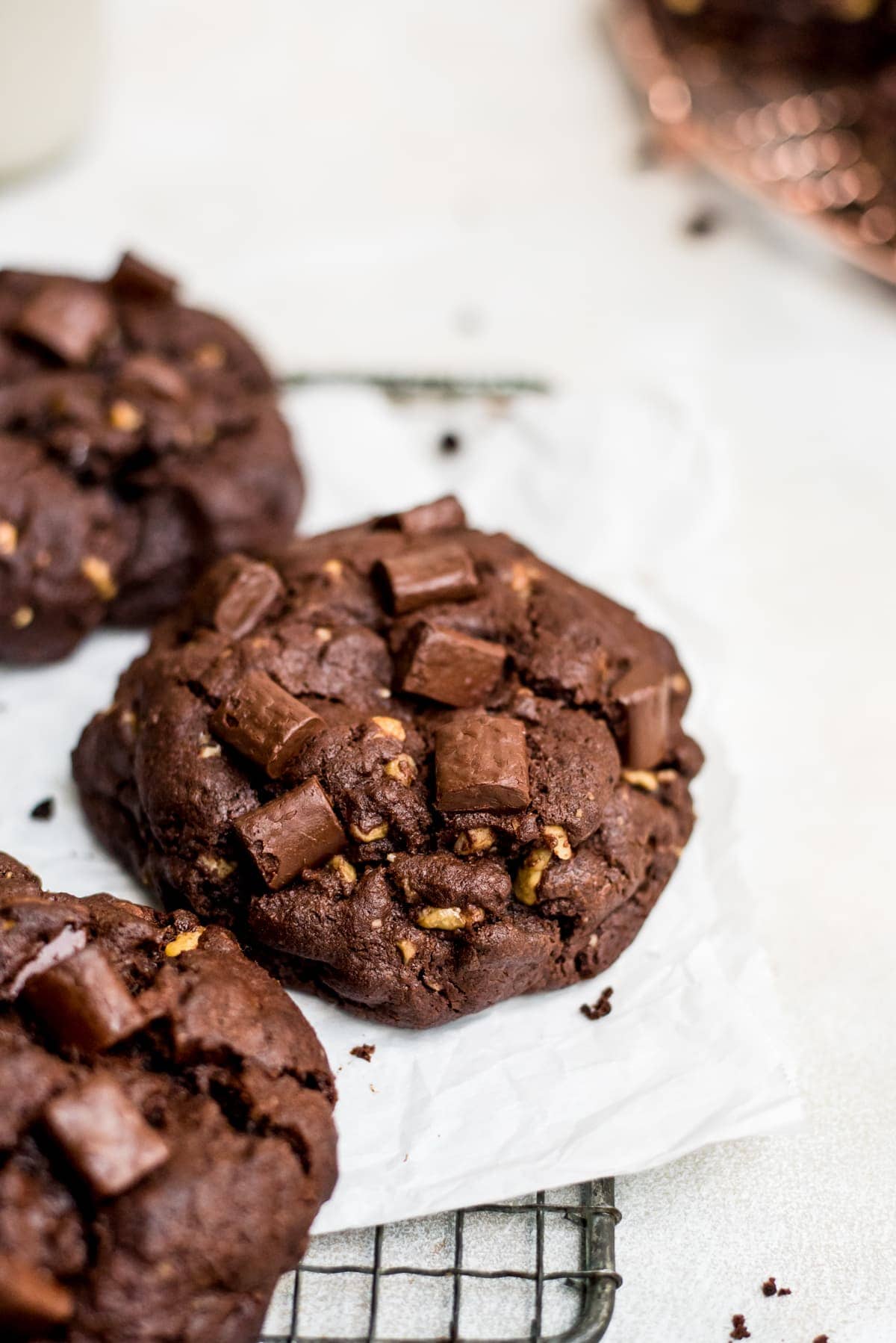 Chocolate needs its own section in the food pyramid. Life is so much better with a bit of chocolate. Especially in the form of giant double chocolate cookies that are so soft, fudgy, and as big as your hand.
I've been thinking about making these cookies ever since I took my daughter to New York City and we tried all the cookies at the Levain Bakery. The Levain Bakery double chocolate cookies were our favorite - even more than the regular chocolate chip cookies, believe it or not.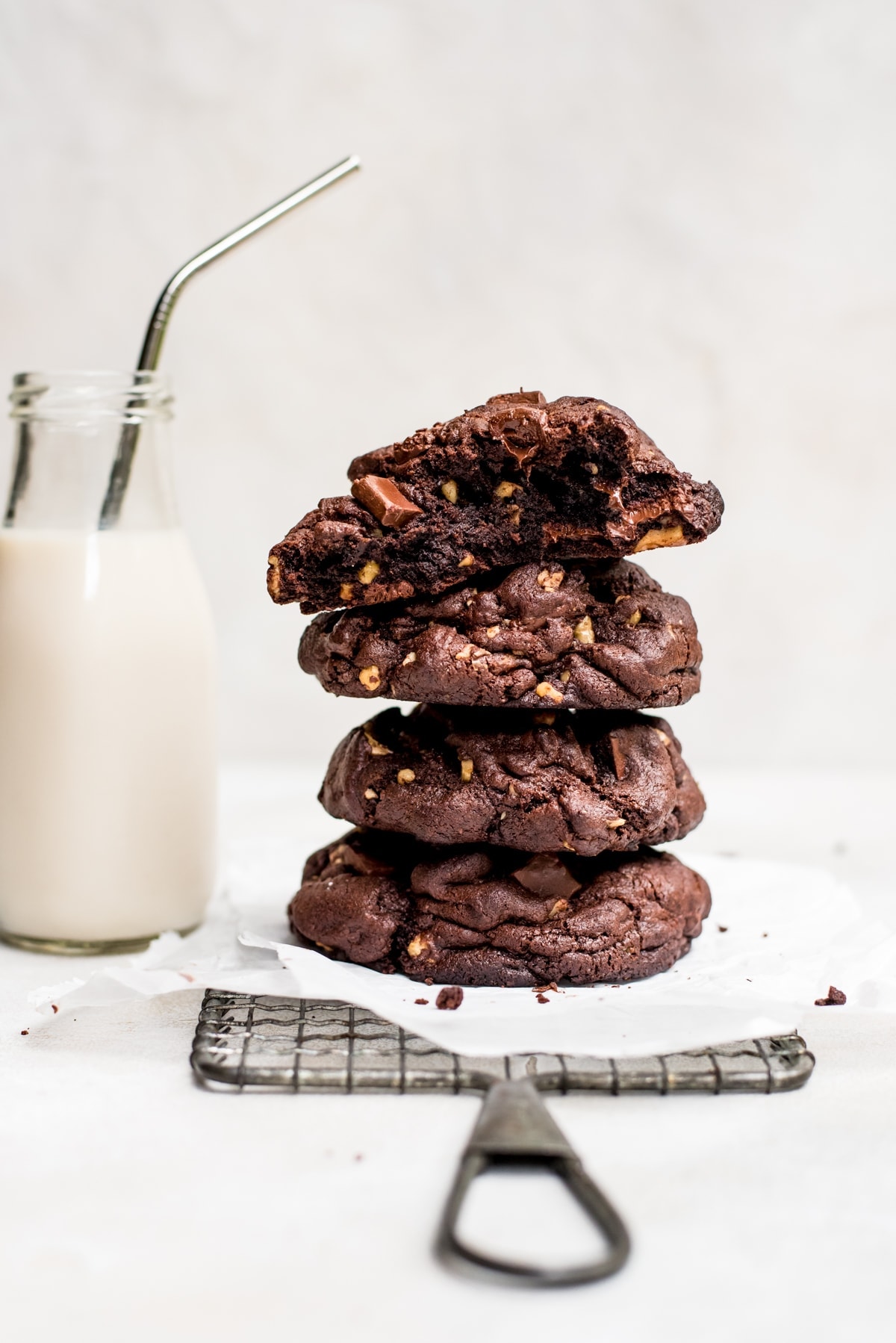 These giant double chocolate cookies are so soft, and just the right amount of fudgy. They stay soft pretty much forever as long as you keep them in an airtight container. They're almost a cross between a cookie and a brownie, and that is definitely something wonderful.
Despite their size, it's easy to finish one or two in a night. I might even encourage you to try to see for yourself.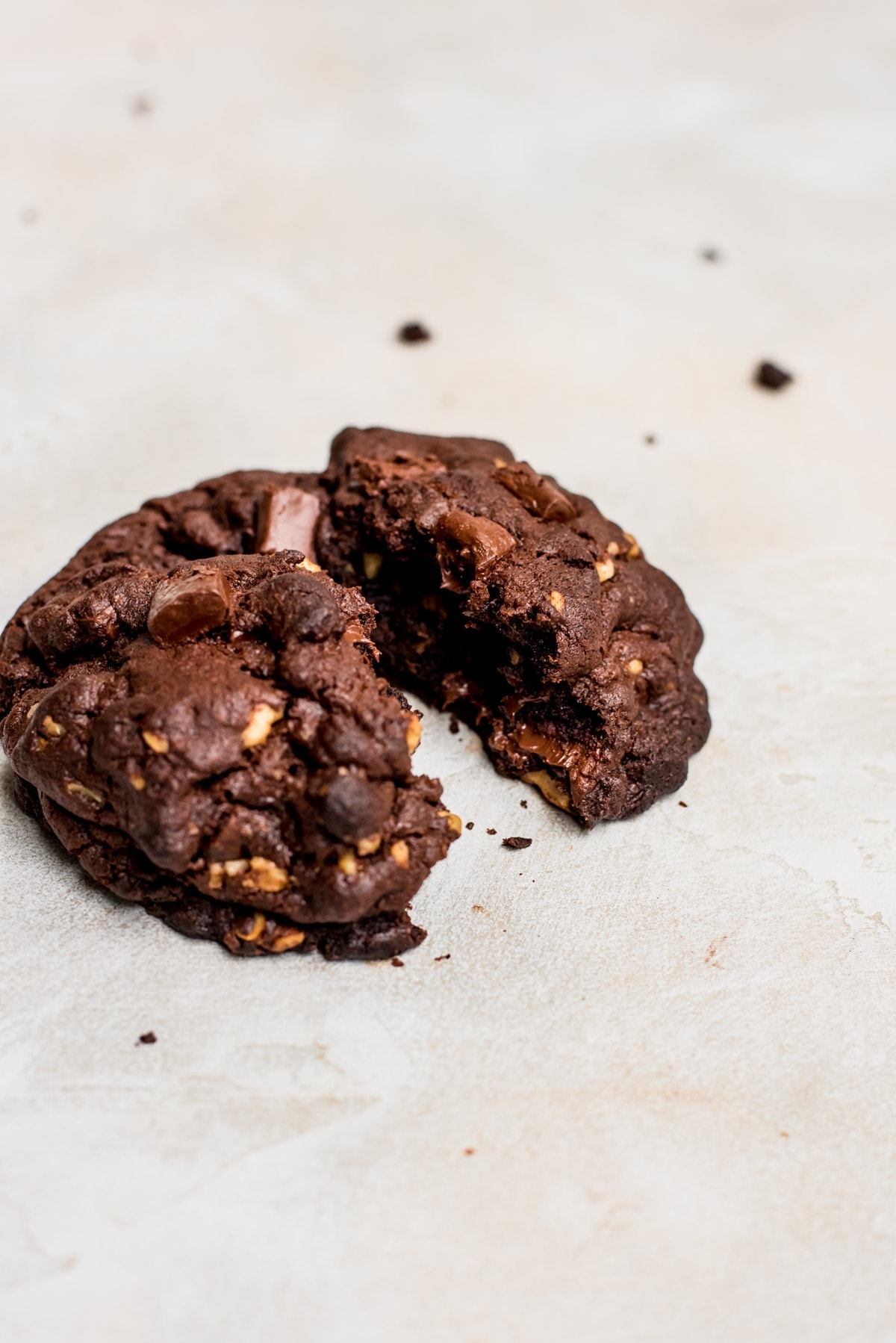 I firmly believe that these giant double chocolate cookies are better with chopped walnuts. But if you have an allergy, or just don't like them, then feel free to leave them out! If you are into the nuts but don't have walnuts around, chopped pecans or even pistachios would work, too.
I also recommend using a mix of chocolate chunks and chopped chocolate in your Levain Bakery-style giant double chocolate cookies. That way you get pools of melted chocolate throughout your cookies, especially when they are warm and perfect. Paired with a glass of ice-cold milk and you've just described my perfect weeknight.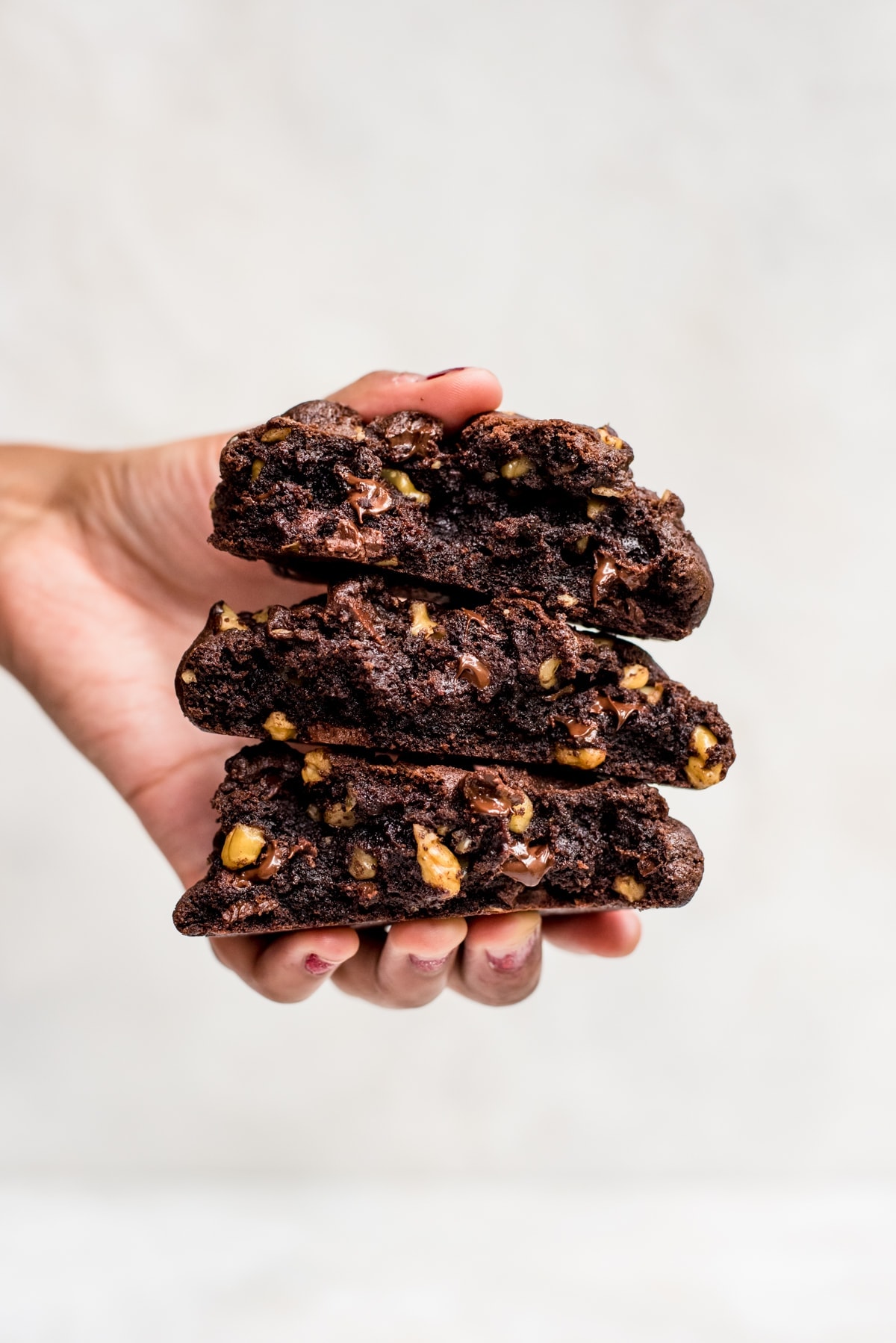 The cookie dough for these Levain Bakery-style giant double chocolate cookies does not need to be chilled which is the best part because who wants to wait longer than they need?
Saying that, you can chill or freeze the unbaked cookie dough to save for another time. I recommend dividing the dough into balls before storing them away in an airtight container.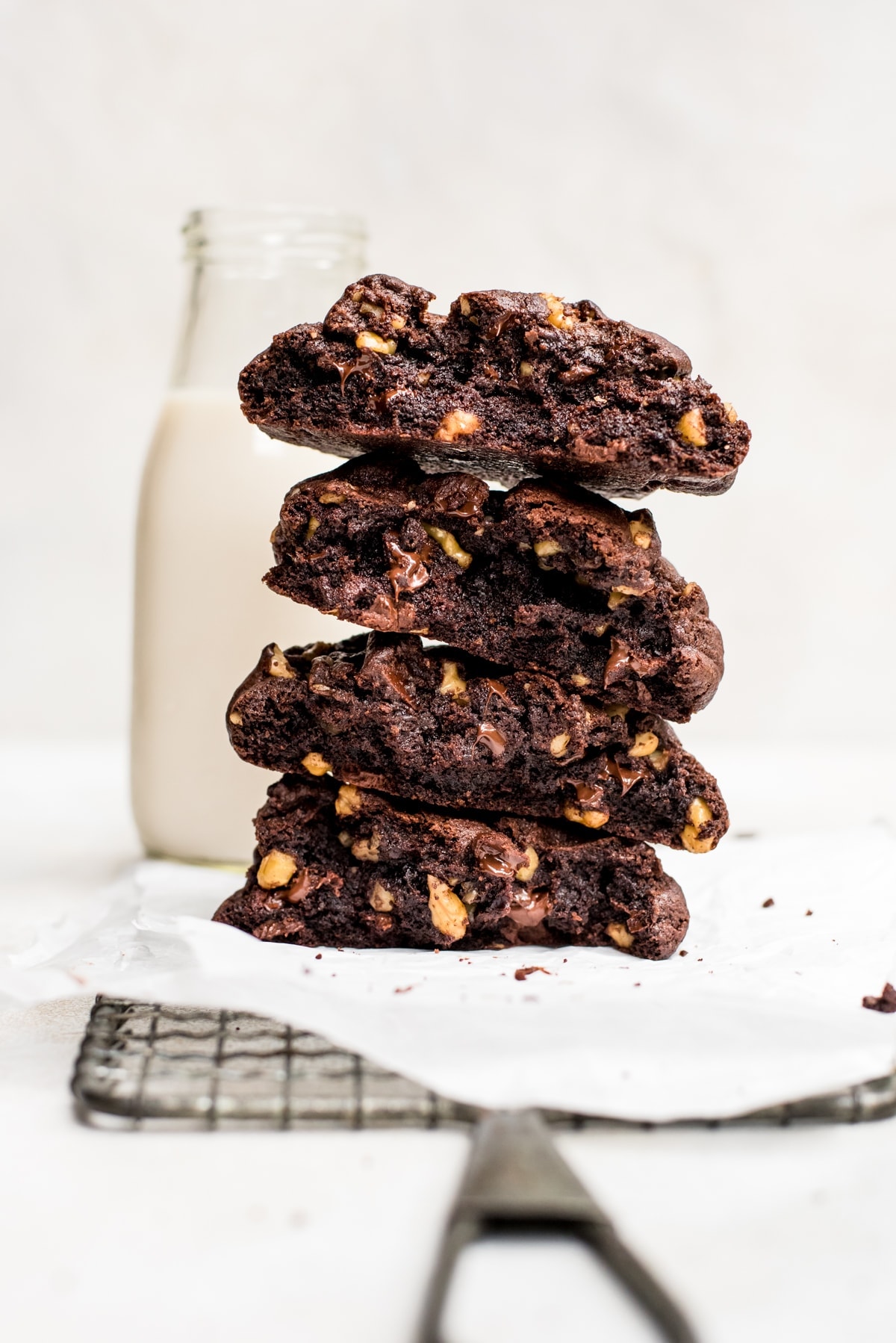 In Need of More Cookies?
You'll probably want to try my cookies and cream cookies or my s'mores stuffed cookies. These brown butter snickerdoodles and coconut chocolate chip cookies are personal favorites. If you are a peanut butter fan, you might enjoy my 3-ingredient peanut butter cookies or my no-bake chocolate peanut butter cookies. Don't forget you can check my archives for all the cookie recipes I've ever made!