These brown butter snickerdoodle cookies are nutty with an incredible depth of flavor. No one will be able to turn down one of these mouthwatering cookies.
Why you'll love them
Snickerdoodles are one of those cookies that never go out of style. Soft textures, a slight tang, and warm cinnamon make these cookies a crowd pleasing favorite. Adding browned butter takes them to a whole new delicious level.
It adds nuttiness and an incredible depth of flavor that complements the cinnamon sugar coating. Basically, brown butter snickerdoodle are the mouthwatering cookies of your dreams.
It is one of my favorite cookies and one that I make when I want to share with new people to show off some of my baking because it is one of those cookie recipes everyone can love. It has a delightfully chewy center with crisp edges. In fact, it helped inspire many cookies in my cookbook Cookie School.
These cookies prove just how a simple change of adding nutty brown butter to the tangy flavor of classic snickerdoodles makes a huge difference and takes things to the next level.
The importance of cream of tartar
A lot of people ask why you need to use cream or tartar in snickerdoodles and if you can skip this ingredient. (and yes, there is cream of tartar in these brown butter snickerdoodles). Cream of tartar actually does a lot in snickerdoodles. They activate the baking soda, add tanginess, and chew. Without the cream of tartar, these brown butter snickerdoodles would be sugar cookies. Still delicious, but not a snickerdoodle. Don't skip out on cream of tartar, please.
Key ingredients
The ingredients for the cookies are very simple and are what you'd expect from a classic snickerdoodle. Let's review a few of the key ingredients and any potential substitutions. You can get the full list of ingredients and measurements in the recipe card below.
Butter - You don't need to splurge on high quality butter for this recipe if you don't want to. Store brand butter works just as well here when making browned butter. I recommend unsalted butter that is softened so you can control the amount of salt and get faster, even browning.
Flour - All-purpose flour gives you the best texture for the cookies. If you want to make them a little more wholesome, you can use white whole wheat flour instead. A gluten-free 1 to 1 baking mix also works.
Cream of tartar - As mentioned, cream of tartar is an important part of making snickerdoodles. I don't recommend any substitutions for it in this recipe, but you can omit it if you don't mind a slightly different texture and flavor profile.
Sugar - I like using granulated sugar in this recipe, but if you want to create a more butterscotch flavor, you can substitute half the granulated sugar with brown sugar.
How to make
Making these incredible brown butter snickerdoodles is so simple. I recommend chilling the dough for at least an hour, preferably overnight (up to three days), so you do not need to preheat your oven, but when you do, make sure you line your baking sheet with parchment paper or a silicone baking mat.
Melt butter in a small saucepan on medium heat until you notice a nutty aroma and the milk solids begin to brown and caramelize. Scrape the bottom of the pan to prevent burning. Remove it from heat and leave it to cool and partially solidify. You can keep it in the freezer for about 15 - 20 minutes to speed up the process.
Mix together the dry ingredients in a small bowl, then set aside.
Beat the butter and sugar together until light and fluffy using a stand mixer fitted with a paddle attachment or a large mixing bowl and hand mixer. Add in the egg and beat well.
Mix in the flour mixture to the wet ingredients. Cover the dough with plastic wrap and chill.
Portion out using a large cookie scoop and roll in cinnamon sugar mixture.
Bake until the edges are a light golden brown. Transfer to a wire rack to cool and then enjoy!
The best part about these brown butter snickerdoodle cookies is they only get better over time. They keep soft, but get chewier and the brown butter flavor becomes more prominent. There is nothing better than sneaking down and having one or two in the morning as a pre-breakfast snack.
Expert baking tips
The most important way to ensure you get the best results is to make sure you are correctly measuring your ingredients, particularly the flour. You should fluff up the flour and then spoon it into your measuring cup then sweep of the excess. If you want to make sure you get consistent results, you can convert the recipe to metric and use a kitchen scale.
It is important to use all room temperature ingredients because it helps everything to incorporate well together. You can quickly bring your eggs to room temperature by leaving them in very warm water for five minutes before cracking them.
I recommend letting the brown butter partially solidify instead of using fully melted butter because it gives you a really nice and chewy snickerdoodle with crispy edges without feeling greasy.
Storage tips
It is important to store your brown butter snickerdoodles in an airtight container at room temperature. They should last for at least a week this way. You can also store your baked cookies in the freezer in an airtight container.
If you would like to store unbaked cookies, I recommend portioning them out with a cookie scoop and freezing them without the cinnamon-sugar mixture on your cookie sheet for an hour before transferring to an airtight container. When you are ready to bake, roll them in the sugar and bake, adding just another minute or two to the total baking time.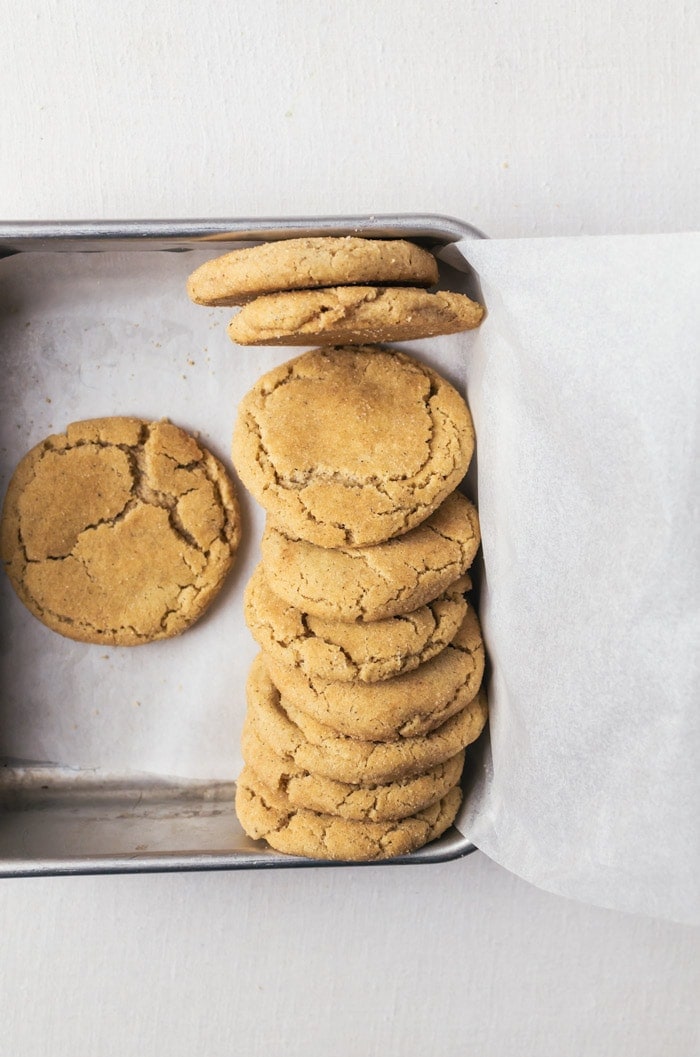 Recipe FAQs
Can I freeze the cookies?
Yes! You can freeze the pre-portioned cookie dough balls and bake them from frozen, they'll just need an extra 1 - 2 minutes baking time. You can also freeze baked cookies. Thaw at room temperature when ready to eat.
Can I add anything else to the recipe?
You can add a teaspoon of vanilla extract to add more dimension to the cookie dough. Other spices like cardamom and ginger also make great additions.
Related recipes
Recipe Card
Brown Butter Snickerdoodle Cookies
Simple, yet mouthwatering brown butter snickerdoodle cookies. These tasty treats will be a new favorite!
Ingredients
18

tablespoons

butter

2 ¾

cups

all-purpose flour

2

teaspoons

cream of tartar

1

teaspoon

baking soda

½

teaspoon

salt

1

teaspoon

gound cinnamon

1 ½

cups

granulated sugar

2

large eggs

room temperature
For the Coating
⅓

cup

granulated sugar

1

tablespoon

ground cinnamon
Instructions
Add the butter to a saucepan and heat on medium-high heat. Allow the butter to melt and then stir continuously until the butter begins to brown in color and smells nutty. Remove from heat and cool the butter in the refrigerator until the butter is solidified, but still soft. 

In medium bowl, mix together the flour, cream of tartar, baking soda, salt, and cinnamon. Set aside.

Add the butter and sugar to a mixing bowl and beat until light and fluffy. Add in the eggs and beat well for about 2 minutes.

Gently add in the flour mixture to the butter mixture and fold in until there are no streaks of flour.

Chill the cookie dough for at least an hour.

Mix together the sugar and cinnamon for the coating. Preheat the oven to 350 degrees F. Line two baking sheets with parchment paper or a silicone baking mat.

Make balls of cookie dough using two tablespoons of dough per ball. Roll each ball in the cinnamon sugar and place on your baking sheets at least two inches apart.

Bake for 10 - 12 minutes, or until a light golden brown.

Remove the cookies from the oven and allow to cool on a wire rack. Store in an airtight container for up to a week.
Nutrition
Serving:
1
cookie
Calories:
150
kcal
Tried this recipe?
Tag me on Instagram! @acookienameddesire #acookienameddesire