These pumpkin snickerdoodles embody everything good about fall. Nutty brown butter, sweet pumpkin, and warming spices meld together in an irresistibly soft snickerdoodle cookie.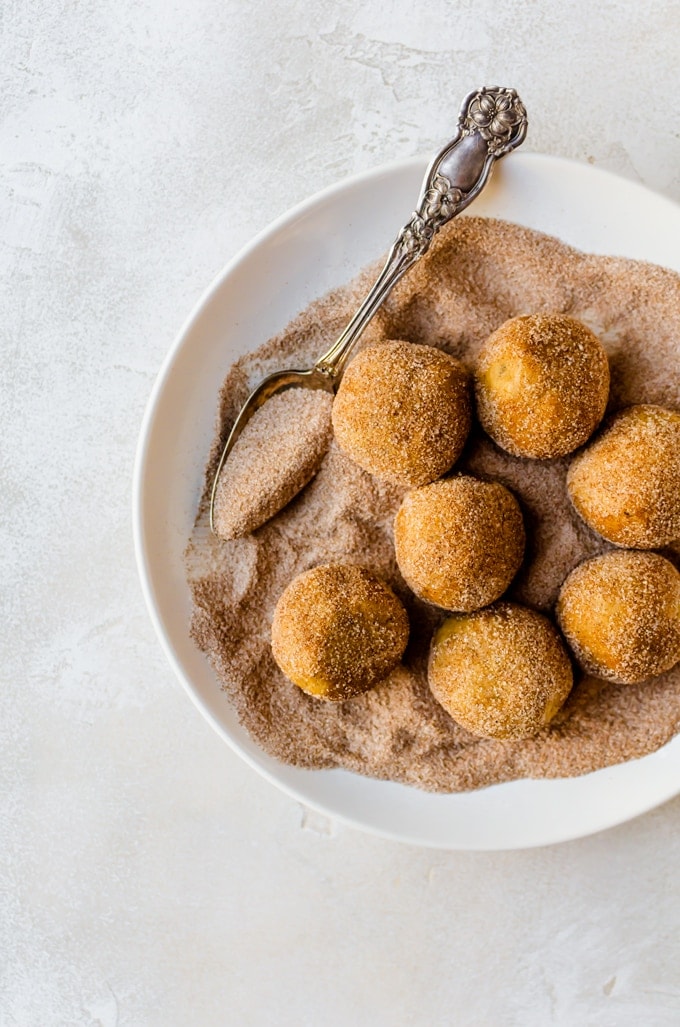 Why you'll love it
These pumpkin snickerdoodles are soft, buttery, with the perfect blend of warming spices. They are inspired by my pumpkin chocolate chip cookies and brown butter snickerdoodles, taking the best of both to create a cookie that begs to be shared with everyone you love.
Instead of being cakey like most pumpkin cookies, this recipe was tested and retested to ensure it keeps the same soft, chewy texture we love in a good snickerdoodle. Thanks to the use of brown butter and my special blend of pumpkin spices, it has a depth and warmth that embodies everything we love about autumn.
It is also a great way to use up any leftover pumpkin puree you might have from making any of the other pumpkin recipes on the site.
For most of my pumpkin cookies, I tend to replace all of the egg with the pumpkin puree, but I found the dough for these cookies to be a bit too dry so I kept an egg yolk to help bring everything together and keep the cookies nice and rich in flavor.
Key ingredients
Pumpkin - Pumpkin puree is the most important ingredient in this cookie. If you are using canned pumpkin puree, make sure it says that it is pure puree and not pumpkin pie mix. The mix is already sweetened and spiced. Some brands have a higher water content than others, so you may need to blot your puree.
Butter - For added depth of flavor we use brown butter which pairs beautifully with the pumpkin and the warm autumn spices.
Cream of tartar - And as I've mentioned in the past, you really can't skip the cream of tartar in these brown butter pumpkin snickerdoodles. It gives the cookies their signature tang and without it, they aren't really snickerdoodles. Just as delicious, but not a snickerdoodle.
Spices - The best part about pumpkin snickerdoodles is how wonderfully the spices blend together to create something that is utterly cozy and unforgettable. You can use the spices in the ratios I recommend below, or you can use my favorite pumpkin spice mix.
How to make
Like my favorite cookies like these brown butter chocolate chip cookies, these pumpkin snickerdoodles are very simple and easy to put together, but taste the best when you are patient.
Brown your butter and allow it to cool completely so that it is starting to solidify again.
Beat the butter and sugar together until light and fluffy. Add in the pumpkin puree and the egg yolk, then beat well.
Mix in the dry ingredients and stir until just combined.
Chill the dough and then preheat your oven.
Portion out the dough and roll in the cinnamon sugar mixture.
Bake until the edges are a light golden brown and transfer to a wire rack to cool completely.
Expert baking tips
The most important way to ensure you get the best results is to make sure you are correctly measuring your ingredients, particularly the flour. You should fluff up the flour and then spoon it into your measuring cup then sweep of the excess. If you want to make sure you get consistent results, you can convert the recipe to metric and use a kitchen scale.
Take the time to allow your butter to cool enough. You do not want to add the sugar to hot butter as it will encourage the sugar to dissolve too quickly and leave you with a greasy cookie.
Don't be afraid to leave your pumpkin snickerdoodle cookie dough to chill overnight or longer. The longer you let the dough chill - up to three days - the better the flavor development. I recommend making a large batch so you can have some sooner, and then leave the rest to chill for the next few days to bake later so you can taste the difference.
Use silicone baking mats or parchment paper. This helps with clean up and removing the cookies. The silicone baking mats specifically are great because they discourage spreading.
Allow your baking sheets to cool completely before adding your cookie dough between batches. Even adding cookie dough to baking sheets that are warm will make the butter in the dough to melt down too quickly which will make the cookies spread too much.
Let your cookies cool until they are easy to handle before eating them. It is tempting to eat them while they are still very warm from the oven, but the flavors actually taste better when you let them cool.
Storage tips
Unbaked cookie dough: You can keep the cookie dough stored in the refrigerator for up to three days before baking. Keep it in an airtight container. You can also freeze unbaked cookie dough. I recommend portioning out the cookie dough and freezing it on a baking sheet before transferring to an airtight container. Roll them in the cinnamon sugar mixture just before baking. I recommend thawing the cookie dough in the refrigerator for a few hours before baking.
Baked cookies: Baked cookies are best store in an airtight container for up to five days. Baked cookies can be frozen for up to two months in an airtight container.
Recipe FAQs
Can I skip the cream of tarter?
Technically, you can, but they will not be snickerdoodle cookies. I do not recommend skipping it.
Do I have to chill my dough?
I recommend a minimum of a 30 minute chill so the dough does not spread. For the best flavor, a 1 - 3 day chill is the best.
Can I double the recipe?
This recipe doubles perfectly if you plan on serving a crowd.
Recipe Card
Brown Butter Pumpkin Snickerdoodles
Brown butter pumpkin snickerdoodles, the quintessential autumn cookie.  
Ingredients
18

tablespoons

unsalted butter

2 ¾

cups

all-purpose flour

2

teaspoons

cream of tartar

1

teaspoon

baking soda

½

teaspoon

salt

1

teaspoon

ground cinnamon

½

teaspoon

ground ginger

¼

teaspoon

ground cloves

¼

teaspoon

ground nutmeg

1 ½

cups

granulated sugar

7

tablespoons

pumpkin puree

1

egg yolk

if needed *see note

1

teaspoon

vanilla extract
Cinnamon Sugar Mixture
½

cup

granulated sugar

1

tablespoon

ground cinnamon

½

teaspoon

ground ginger

⅛

teaspoon

of ground cloves

⅛

teaspoon

of ground nutmeg
Instructions
Add the butter to a small saucepan and heat on medium until the butter is melted. Continue to cook, stirring often, until the butter begins to turn brown and smell nutty. Remove from heat and allow to cool and partially solidify in the refrigerator. 

While the butter is cooling, mix together the flour, cream of tartar, baking soda, salt, cinnamon, ginger, cloves, and nutmeg together in a medium bowl. Set aside. 

Add the butter and sugar to a stand mixer and beat until light and fluffy. Beat in the pumpkin puree, and the egg yolk, if needed. Mix in the vanilla. 

Beat in the flour mixture and beat until just combined. 

Cover the bowl and chill in the refrigerator. While the dough is chilling, preheat the oven to 350 degrees F. Line two baking sheets with parchment paper. Mix together the ingredients for the coating in a shallow bowl. 

Roll balls of dough that are about two tablespoons big. Roll the dough in the coating mixture, then place them 2 inches apart on the baking sheets. 

Bake each sheet for about 8 - 10 minutes, or until a light golden brown. 

Store in an airtight container for up to a week. 
Notes
*If you find your pumpkin puree has low moisture, you may need to add an egg yolk to the cookie dough to keep it from being too dry to work with. 
Nutrition
Serving:
1
g
Calories:
183
kcal
Carbohydrates:
24
g
Protein:
2
g
Fat:
9
g
Saturated Fat:
5
g
Polyunsaturated Fat:
3
g
Cholesterol:
31
mg
Sodium:
99
mg
Fiber:
1
g
Sugar:
13
g
Tried this recipe?
Tag me on Instagram! @acookienameddesire #acookienameddesire