Soft, melt-in-your-mouth chocolate sugar cookies. These irresistible cookies have a lightly crisp exterior with a soft, deeply chocolaty interior. They're always an instant hit! 
Soft chocolate sugar cookies are the kind of cookie I dream about. They're right up there with my love of chocolate chip cookies. As an avid chocolate lover, I can't resist a deeply chocolaty treat that just melts in your mouth. These cookies are even better in that they're incredibly versatile with just a couple of changes. With just a little extra, you can turn these into a roll-out cookie you can use with cookie cutters during the holidays. For now, let's just focus on these super soft versions. 
Key ingredients
These cookies don't differ too much in ingredients from my favorite sugar cookies, but there are a few important things that should be noted.
Cocoa powder - You can use unsweetened natural cocoa powder or Dutch-processed cocoa powder. I typically use and recommend Dutch-processed.
Butter - You should always use unsalted softened butter. I recommend an American butter, or any butter that is about 80% butterfat.
Sugar - Typically, I like to use brown sugar with my chocolate, but I wanted a pure, clean cocoa flavor, so granulated sugar is highly recommended for this cookie. It still remains delightfully chewy without the addition of the molasses you find in brown sugar.
Cream cheese - Cream cheese adds dimension to the cookies, while also keeping them tender and chewy. Use room temperature full-fat cream cheese.
How to Make Chocolate Sugar Cookies
These sugar cookies are a soft kind that are rolled in sugar. They are very easy to make and don't take a ton of time to make, either.
Preheat your oven and prepare your pans.
Mix the dry ingredients together and set aside.
Beat together the wet ingredients.
Mix the dry into the wet and mix until just combined.
Roll the dough into balls, roll in sugar, and then flatten.
Bake.
These cookies do not spread. You need to flatten them to get their delicious cookie shape. Since they don't spread, this is also a great recipe to make chocolate snowball cookies, or even make them as a roll-out cookie. Just add a touch more flour and lessen the baking powder.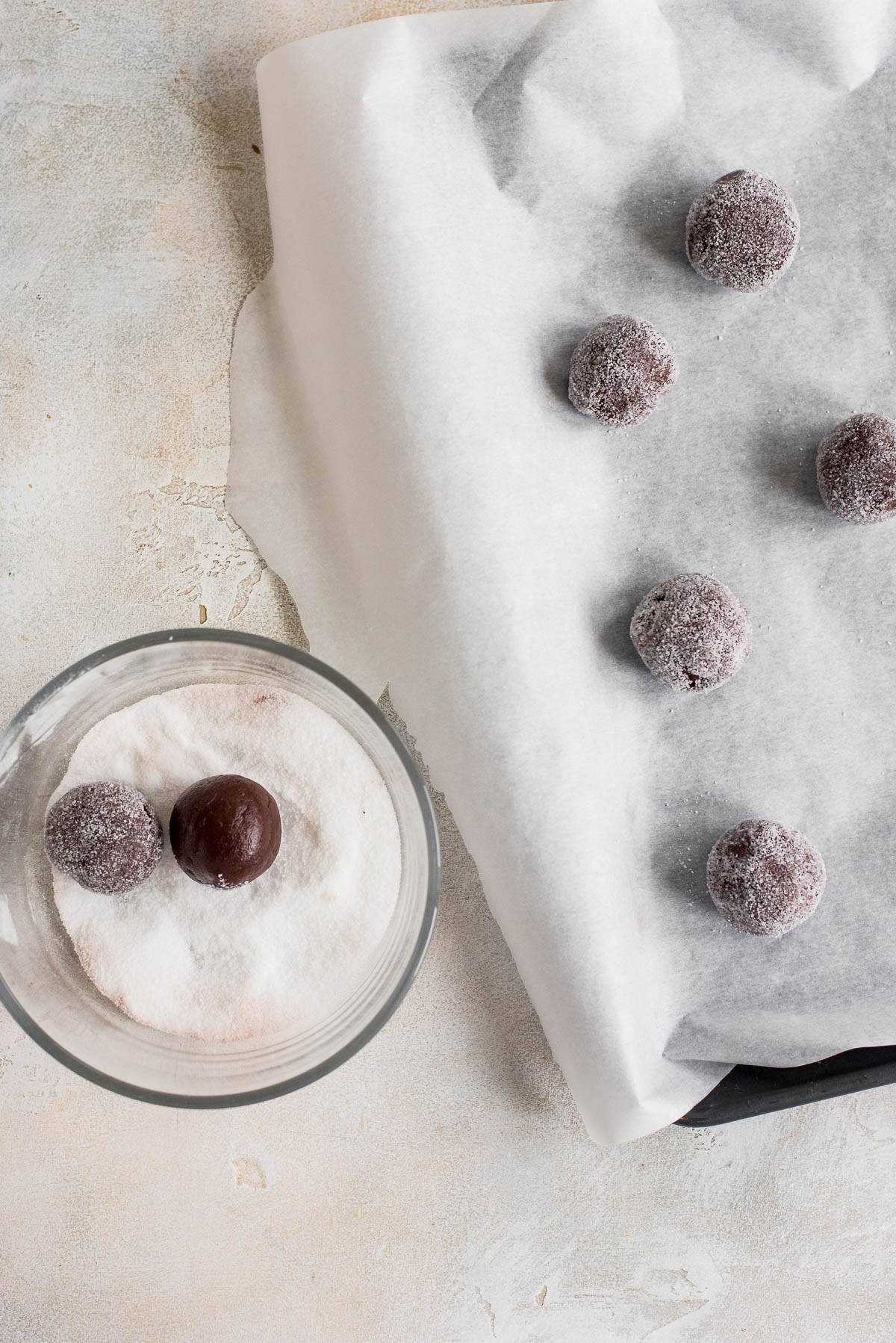 What Makes these Sugar Cookies So Soft
There are a couple of things at play with this recipe. The first is ensuring you are measuring your flour and cocoa powder correctly. You need to fluff your flour and then spoon it into your measuring cup. Sweep off the excess with a flat edge to ensure you are getting exactly the right amount of flour and cocoa powder.
If you don't follow these steps and aren't weighing your ingredients, then you are risking adding too much flour and/or cocoa powder which will leave you with dry, crumbly cookies.
Beyond correct measuring, the cream cheese does a lot for these cookies. They help make them tender, retain moisture, and keep them together. It also plays with the chocolate to give it a light tanginess.
How to Customize Your Cookies
I love changing up my chocolate sugar cookies by adding a little something to them.
For the holidays, I will add some peppermint extract. I will also drizzle them in white chocolate and finish with crushed peppermint.
For a bit more depth I will sometimes add a bit of espresso powder for a mocha flavor.
If I am craving something slightly fruity, I can resist adding orange zest and adding orange flavored icing.
You can also add spices such as cinnamon, cardamom, and chai spices. Anything you think goes with chocolate can probably be added. I always recommend experimentation!
How to Store Your Cookies
I recommend storing these cookies in airtight containers at room temperature for up to a week. You can freeze these cookies baked or unbaked in airtight containers for up to a month. For unbaked cookies, bring them to room temperature before baking. To thaw frozen baked cookies, leave them in the refrigerator overnight.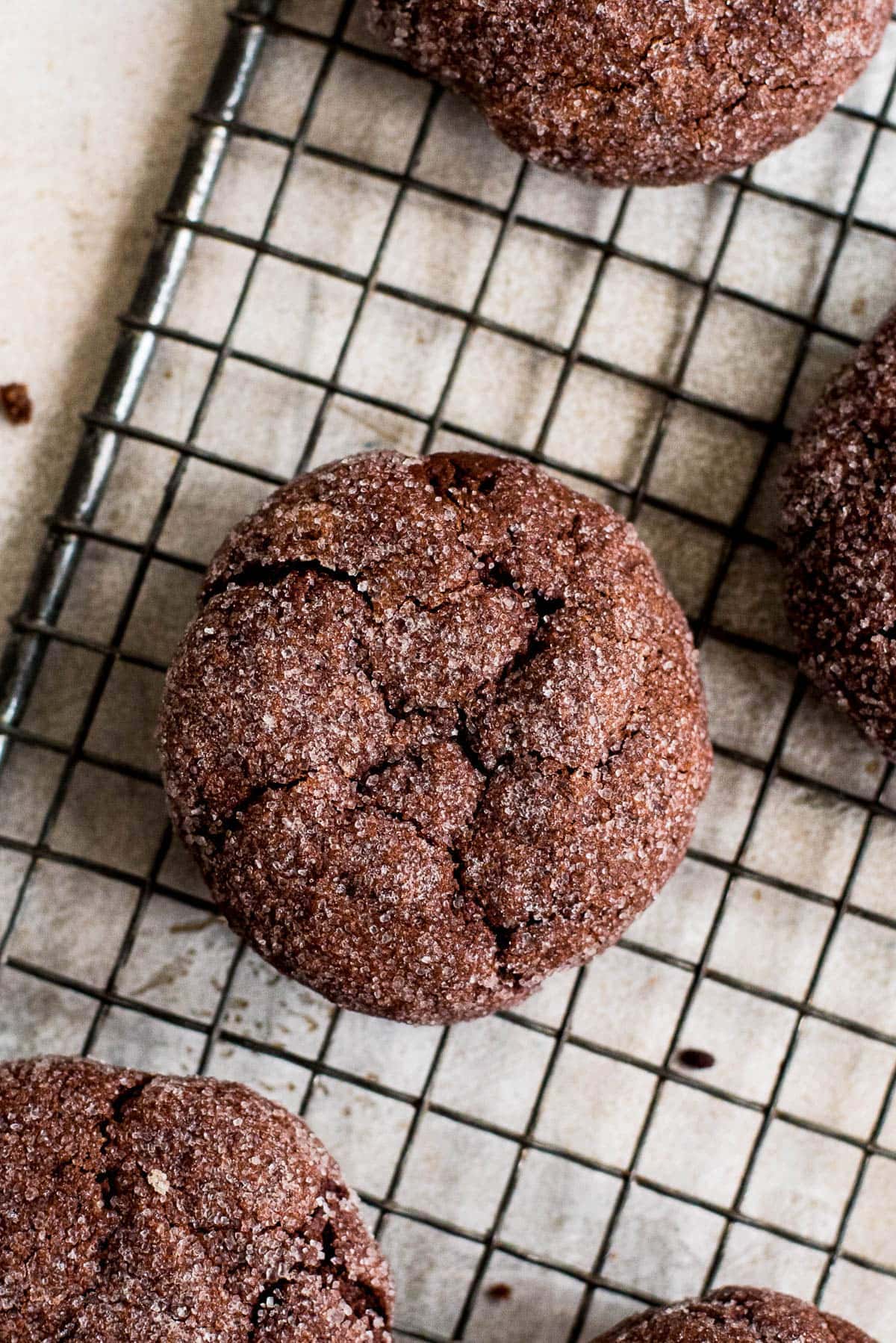 Recipe FAQs
Can I omit the cream cheese?
The cream cheese is integral to the final texture and flavor of the cookies. I do not recommend omitting it or substituting it.
Do these make good sandwich cookies?
Absolutely! They are soft and full of flavor. They pair wonderfully with a number of fillings.
Craving More Cookies?
You will love these chocolate peppermint cookies. My s'mores stuffed cookies and homemade milano cookies are a reader favorite. Sugar cookie fans will love these lemon sugar cookies and these Nutella-stuffed red velvet cookies. My personal favorite cookies are these brown butter sugar cookies.