Soft, chewy chocolate peppermint cookies are an essential part of any holiday cookie platter. These chocolaty favorites are easy to make ahead and share with family or friends.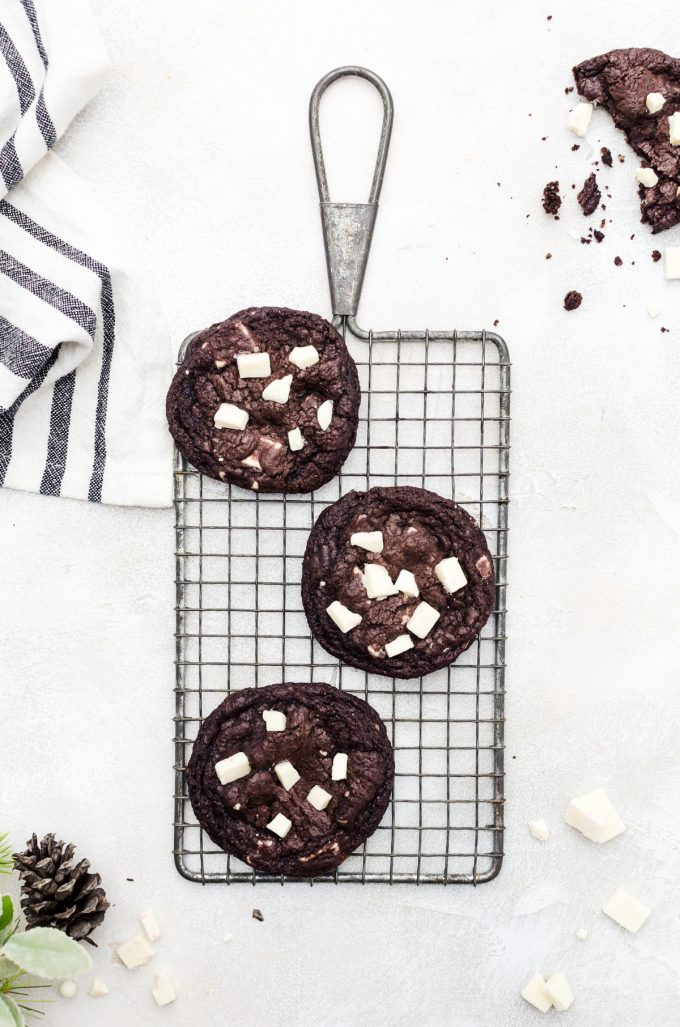 Okay, I just realized how little I post chocolate cookies on this site. What is wrong with me? Why you haven't been complaining nonstop about the lack of chocolate cookies is beyond me. In my opinion, a good chocolate cookie is right up there with a chocolate chip cookie.
And this chocolate peppermint cookie? Probably the best of the best, especially for the holidays.
And I'm only saying for the holidays because you can't really find peppermint chips outside of the holiday season. That doesn't mean you couldn't make these using regular white chocolate chips or chunks though.
These chocolate peppermint cookies hit all the perfect cookie marks. They are soft, with crisp, butter edges.
And so, so chewy. They have just the right amount of chocolate without being overwhelming, and the peppermint chunks add just enough holiday flair and the right amount of minty goodness.
If you can't find any peppermint chips, you can add about a half teaspoon of mint extract (more or less, depending on how strong your mint extract is - it tends to be on the strong side though!) into your cookie base and use regular white chocolate chips.
Can I Make These Chocolate Holiday Cookies Ahead of Time?
These chocolate peppermint cookies are perfect for making ahead.
Many readers prefer to make their cookies ahead of time and freeze them until they are ready to put together their cookie baskets and cookie platters. The finished cookies also stay good to eat for a while if they are stored in an airtight container. Many people enjoy them up to two weeks past baking them.
Can I Freeze These Chocolate Peppermint Cookies?
The cookie dough freezes very well, as does the finished cookie. I personally prefer to freeze the cookie dough which needs only about a minute of extra baking time.
Regardless of whether you are freezing the dough or the finished cookies, make sure they are stored in an airtight container to retain freshness.
When freezing the finished cookies, make sure they are completely cooled down, and for best results, leave a sheet of parchment between the layers of cookies (this is true for almost every type of finished cookie you freeze.)
How to Make Chocolate Peppermint Cookies
Making chocolate peppermint cookies is fairly simple.
Beat butter and sugar together. You want to do this until they become light and fluffy. If it all just comes together in a blob, that means your butter was still too cold. If you are using a microwave-safe bowl, pop it in the microwave for about 15 seconds to help warm it up. However, if the mixture resembles mush, your butter was too warm and a minute in the freezer will help.
Add eggs and extracts. Beat them in well to make sure it is all fully combined.
Mix in the dry ingredients (minus the chips). For the best results, mix your dry ingredients together first to make sure it all gets evenly dispersed in your dough. Don't over mix your dough or else you will end up with really tough cookies. You want to mix until they are just combined. I recommend even mixing it in by hand.
Fold in the chips. Again, do this by hand so you don't over mix the dough. You want to mix them in enough so you can get a good amount of chips in each cookie.
Bake. The cookies should be set, but look slightly underbaked in the middle when you remove them. Leave them on the baking sheet because they will continue to cook on the residual heat.
Cool, and enjoy. Transfer them to a wire rack and allow them to cool completely before enjoying. Or not, who doesn't love a freshly baked, warm cookie?
Why is Mint a Christmas Flavor?
Personally, I like to think it is a winter flavor because it mimics the crisp winter air and makes a lovely contrast to the hot and warm treats we put them in!
In reality, it stems from the invention of the candy cane which was originally given out to children to keep them occupied during their living Nativity scene at Cologne Cathedral in 1670. The candies were shaped like shepherd's canes and over the years, they began to add mint flavoring to it. But why add mint flavoring at all? Well, again, I think it was because it is a sweet reminder of precious winter days! (But don't quote me on this!)
More Holiday Fun
If you want more holiday treats, try my chocolate peppermint cupcakes, or my gingerbread cake. Everyone will be crazy impressed with this cookie wreath! In fact, if you love chocolate peppermint and gingerbread as much as I do, use the search bar to find all of my recipes featuring them! Don't forget to grab a mug of homemade hot chocolate to drink with your treat! You can check out all my cookie recipes here.