Soft, chewy chocolate peppermint cookies are an essential part of any holiday cookie platter. These chocolaty favorites are easy to make ahead and share with family or friends.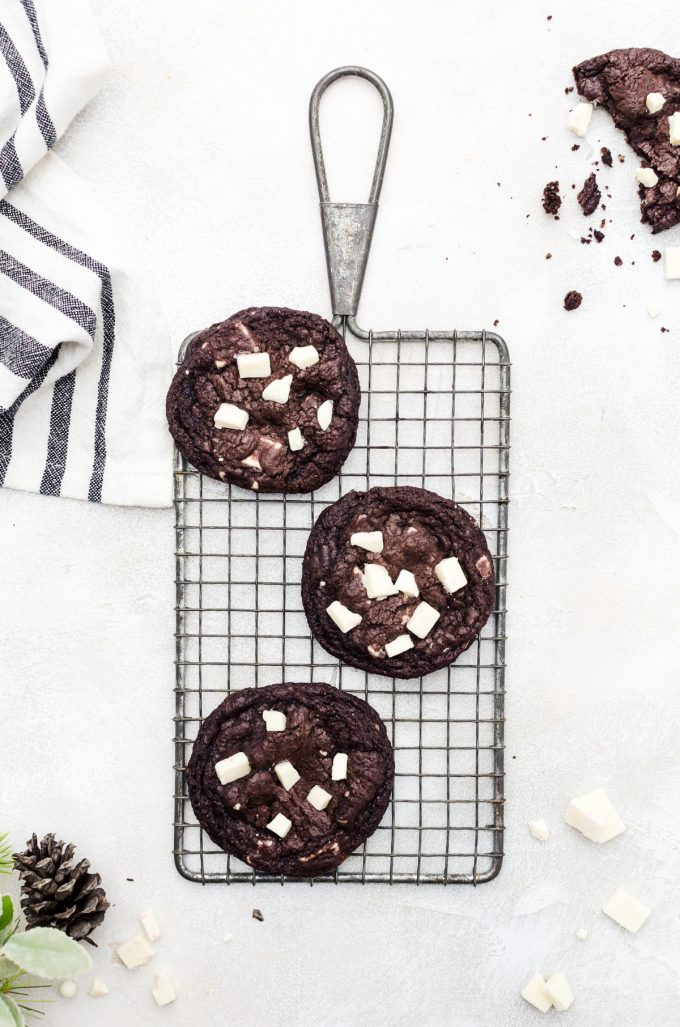 Okay, I just realized how little I post chocolate cookies on this site. What is wrong with me? Why you haven't been complaining nonstop about the lack of chocolate cookies is beyond me. In my opinion, a good chocolate cookie is right up there with a chocolate chip cookie.
And this chocolate peppermint cookie? Probably the best of the best, especially for the holidays.
And I'm only saying for the holidays because you can't really find peppermint chips outside of the holiday season. That doesn't mean you couldn't make these using regular white chocolate chips or chunks though.
These chocolate peppermint cookies hit all the perfect cookie marks. They are soft, with crisp, butter edges. And so, so chewy. They have just the right amount of chocolate without being overwhelming, and the peppermint chunks add just enough holiday flair and the right amount of minty goodness. If you can't find any peppermint chips, you can add about a teaspoon of mint extract into your cookie base and use regular white chocolate chips.
These chocolate peppermint cookies are perfect for making ahead. Many readers prefer to make their cookies ahead of time and freeze them until they are ready to put together their cookie baskets and cookie platters. The cookie dough freezes very well, as does the finished cookie. I personally prefer to freeze the cookie dough which needs only about a minute of extra baking time.
Regardless of whether you are freezing the dough or the finished cookies, make sure they are stored in an airtight container to retain freshness. When freezing the finished cookies, make sure they are completely cooled down, and for best results, leave a sheet of parchment between the layers of cookies (this is true for almost every type of finished cookie you freeze.)