Buttery soft sugar cookies with swirls of cinnamon and cream cheese frosting. There is nothing better than snacking on one of these cinnamon roll cookies.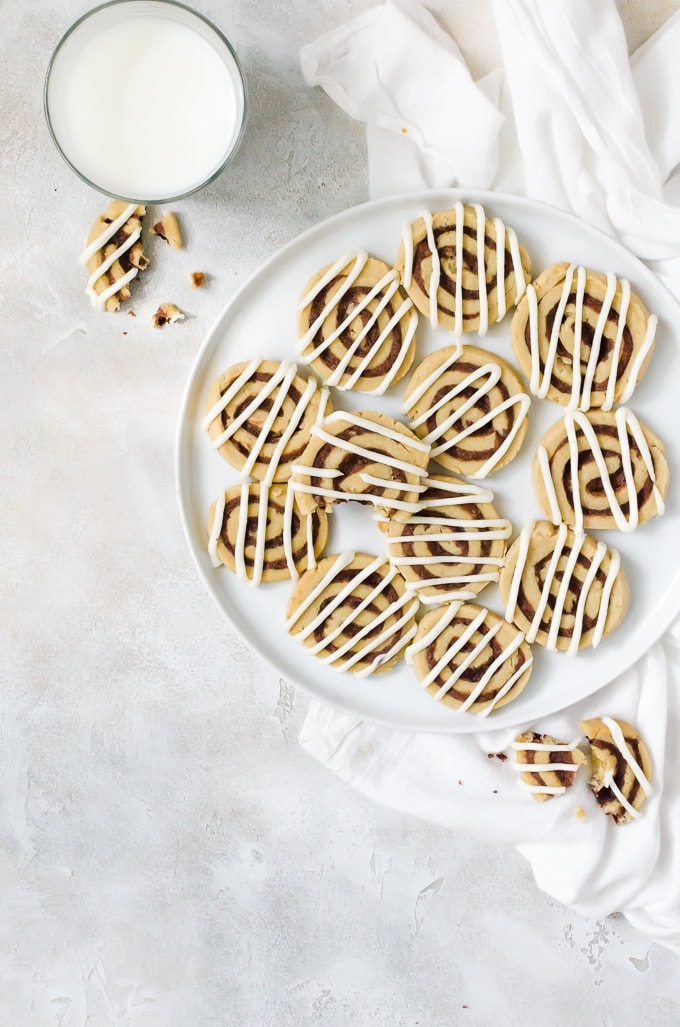 Have you seen cookies cuter than these cinnamon roll cookies? Not only do they taste like cinnamon rolls, but they look like mini versions of them too and they are just adorable!
This is my favorite slice and bake sugar cookie recipe. The cookie base bakes up super soft and buttery. You don't have to chill the dough, before baking which is great, but I highly recommend it as it does make it easier to work with. This is especially true if you are using it the way it is intended as a slice and bake instead of simply using the dough to roll and cut out shapes.
The base is great on its own or for adding different flavors to switch things up. I often like to add in chopped nuts into the dough. Pistachios, almond, and pecans are particular favorites. You can also add in herbs and spices like lavender and rosemary. Or try adding citrus zest.
Typically, when you are making slice and bake cookies, I strictly recommend turning your log of cookie dough by 45 degrees after every slice. This is to keep the dough from flattening on any one side and giving your semi circle cookies instead of round ones.
Due to the nature of rolling the cinnamon roll cookies, there tends to always be a side that is always flatter. I find that if you chill the dough enough (I like to do 20 minutes in the freezer), and slice leaving the log on that flat side, will not result in semicircle cookies. They do round out as they bake in the oven.
If you notice something familiar about the cinnamon swirl in these cinnamon roll cookies, that's because it's the same filling I used to make the cinnamon roll cake I recently posted on the site.
I try not to post things that are too similar close together, but sometimes I just get on a roll with something and can't seem to let it go. Right now, it's making everything cinnamon roll flavored. Hmmm, I am thinking of a few other recipes I can make right about now... Please let me know if you are tired of all things cinnamon roll yet!
My original idea was to finish these cookies with two types of glazes. One thinner one to coat the cookies completely, then this thicker glaze to ice the tops. But then I realized, ain't nobody got time for that. So.... this thicker glaze won out and it is so good.
It makes more than you need for the cookies, but it's great for topping pancakes, waffles, or even slathered on a toasted cinnamon raisin bagel instead of regular cream cheese. My sister and our kids likes spreading it on pretzel rods for a nice sweet/salty/crunchy snack.
Or you know, you can be like me and eat it by the spoonful in secret.
Want More Cookies in Your Life?
There are a few popular cookie recipes here! First, you need to check out my s'mores stuffed cookies. You might also fall in love with my cookie butter cookies or my brownie-stuffed chocolate chip cookies. These double chocolate cookies and cookies and cream cookies are perfect for the chocolate lover. German chocolate cookies are one of my favorite for a holiday cookie platter, but if you really want to impress, my cookie wreath will do the trick. Don't forget to check my archives for all my cookie recipes!