Cookie butter cookies are the cookies you've been waiting for your entire life. Who knew that the secret ingredient to perfect chocolate chip cookies was more cookie? Want to bake some later? Pin for later!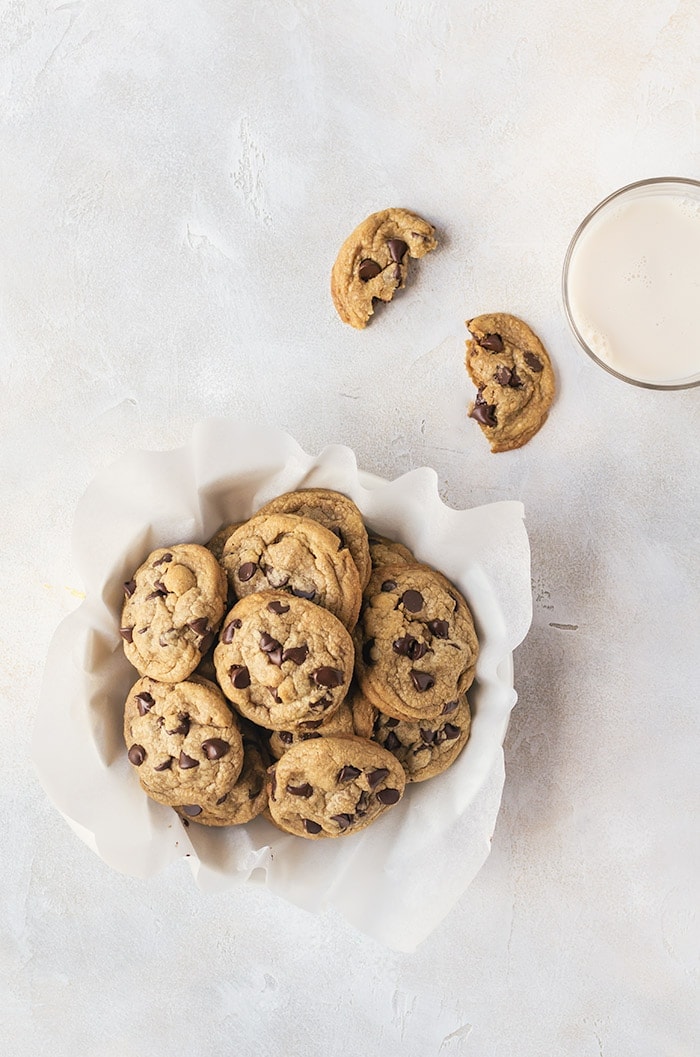 If you've ever wondered what my dreams are like, they are full of cookies. Do you remember that room at Willy Wonka's factory where everything was made from candy? It's like that, but with cookies. Tuille and biscotti grass, clouds made of light meringue cookies. little snowdrop sheep flock around while I pick all types of cookies from the trees. This might be the reason I named this blog A Cookie Named Desire.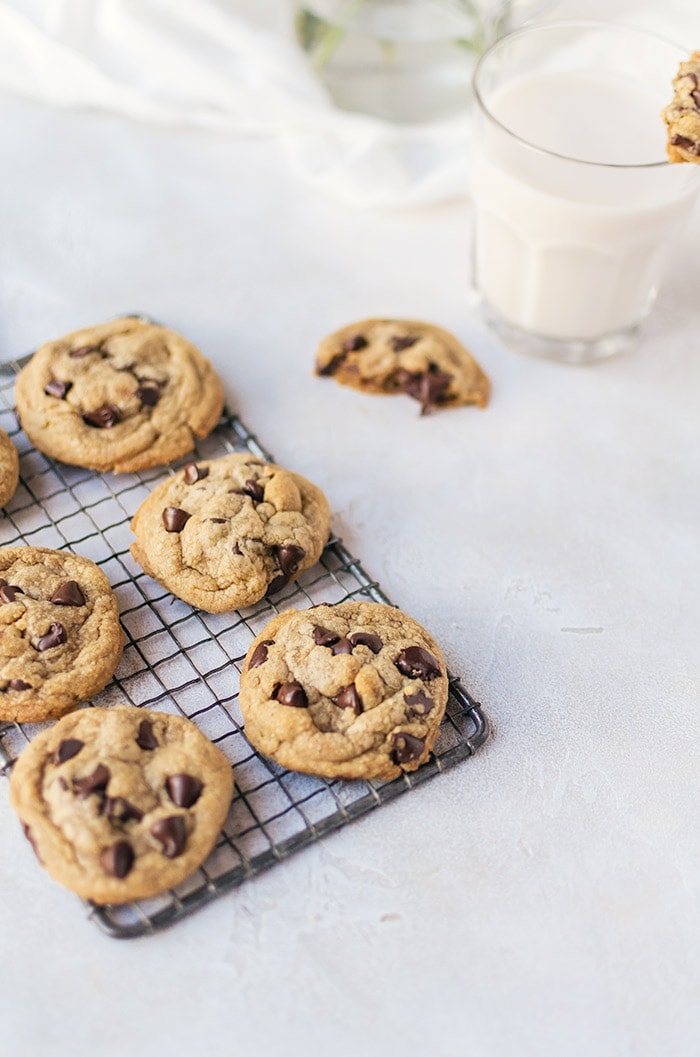 I am no stranger to putting a number of things in cookies, but when I discovered putting cookie butter in my cookies things were suddenly on a whole new level. Cookie butter cookies are wonderfully flavorful thanks to the spices in the cookie butter. They are brought out with a generous sprinkling of salt on top of the cookies and a healthy dose of chocolate chips.
The recipe calls for regular unsalted butter, but I also recommend trying these cookies with browned butter. Talk about an instant mouthgasm right there.
If you are one of those people who likes to hang out in the kitchen with a spoon and a jar of cookie butter (me!), these cookie butter cookies are for you. It's even better than eating straight cookie butter.
Heck, even if you aren't that big a fan of cookie butter, these cookies are for you. The only requirement to love these cookies is to enjoy eating cookies in general. There is nothing about these cookies you won't love.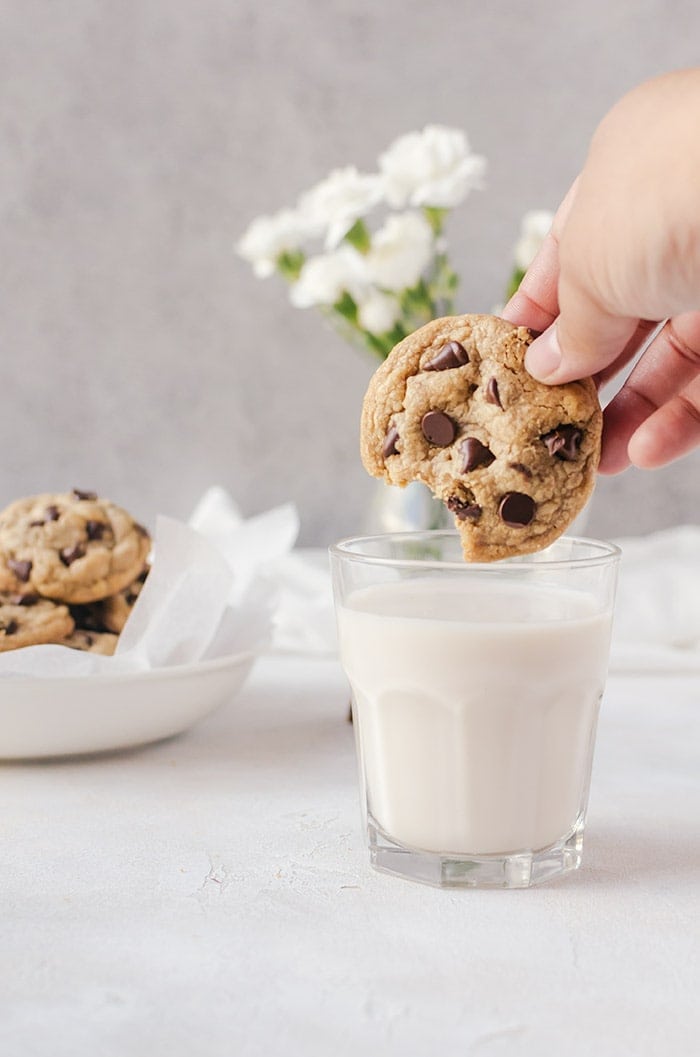 What is Cookie Butter?
I've had a few readers ask, so I wanted to share more about the heavenly deliciousness that is cookie butter.
Cookie butter is essentially pureed Speculoos cookies. Speculoos are a crunchy Belgian cookie with an incredible nutty/caramely/gingerbready flavor that is really irresistible. Once it is processed down, it becomes this smooth, creamy spread that you can use on sandwiches or as a dip. My favorite way to eat it is with pretzels or just by the spoon.
You can make your own cookie butter, and even experiment with different types of cookies. I have a snickerdoodle cookie butter here on the blog and I've experimented with using gingerbread cookies, Oreos, and my personal favorite is pecan graham cracker.
For this recipe, however, I recommend finding store-bought cookie butter. I usually find mine where the peanut butter and Nutella are kept.
Can't make cookie butter cookies today? Pin for later!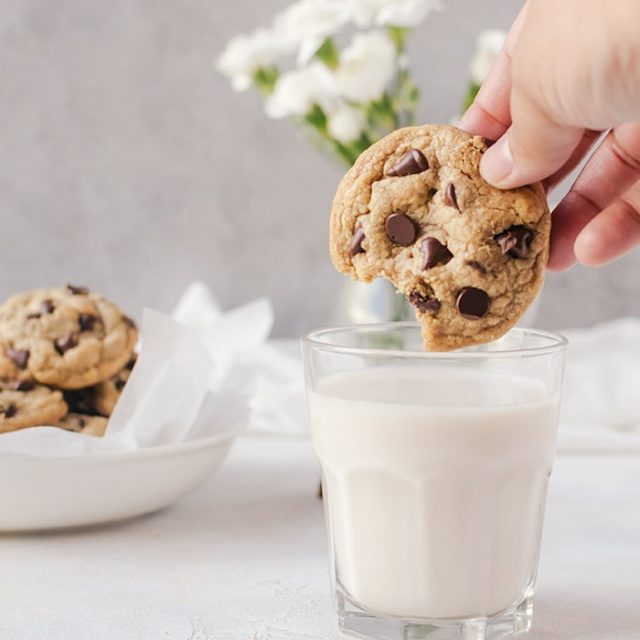 Cookie Butter Cookies
The perfect harmony of spice and chocolate meet in this unforgettable cookie
Ingredients
½

cup

1 stick unsalted butter, room temperature

½

cup

dark brown sugar

1

large egg

room temperature

1

large eggyolk

room temperature

¾

cup

cookie butter

1

teaspoon

vanilla extract

1 ¼

cups

all purpose flour

½

teaspoon

baking soda

½

teaspoon

salt

¾

cup

semi sweet chocolate chips

½

teaspoon

flaky salt

optional
Instructions
Preheat the oven to 350 degrees F. Line two baking sheets with parchment paper.

In a mixer, add the butter and sugar together and beat for about 3 - 4 minutes, or until light and fluffy.

Add in the egg and yolk, beat for another 2 minutes, or until light and fluffy.

Add in the cookie butter and vanilla, then beat until completely combined and light in color - another two minutes.

In a small bowl, mix together the flour, baking soda, and salt together. Stir into the butter mixture until just combined. Fold in the chocolate chips.

Cover and chill the dough in the refrigerator for about one hour. Create balls of dough that are about two tablespoons big, then top with the flaky sea salt if using.

Bake for about 8 - 10 minutes, or until the edges are a light golden brown.

Transfer to the wire rack to cool completely.
Notes
Store in an airtight container for up to a week.
Nutrition
Serving:
1
cookie
Calories:
138
kcal
Carbohydrates:
19
g
Protein:
2
g
Fat:
7
g
Saturated Fat:
2
g
Polyunsaturated Fat:
4
g
Cholesterol:
10
mg
Sodium:
168
mg
Fiber:
1
g
Sugar:
10
g
Tried this recipe?
Tag me on Instagram! @acookienameddesire #acookienameddesire