Warming and enticing spiced gingerbread man cookies that are easy to roll out and do not spread or puff during baking.
So earlier when I shared my plum linzer cookies, I shared that I wasn't too much of a fan of rolled dough. I think that is officially dashed after making about 40 or so spiced gingerbread man cookies in the past couple of days. I am a dough rolling queen. Watch out! I think it might also have to do with the fact that I got this beautiful rolling pin from Farmhouse Pottery that I love and my daughter's new rolling pin from Vermont Farm Table is also very nice to work with (and I sometimes borrow it for smaller scraps of dough when she is at school).
I made these cookies with my daughter. It was the first time she was able to use her rolling pin and she was so excited. We stood side by side and she would watch me to see how I rolled my dough and did her best to match me. She did really good for her first time - a lot better than what I would have done at her age! We each chose a couple of gingerbread man inprints from our new Tovolo cookie cutters which have gingerbread men in all different personality types which I thought was really fun! I wanted to try them all, but my ultra girly child insisted we do the nicest ones and gave them the most sophisticated names ever.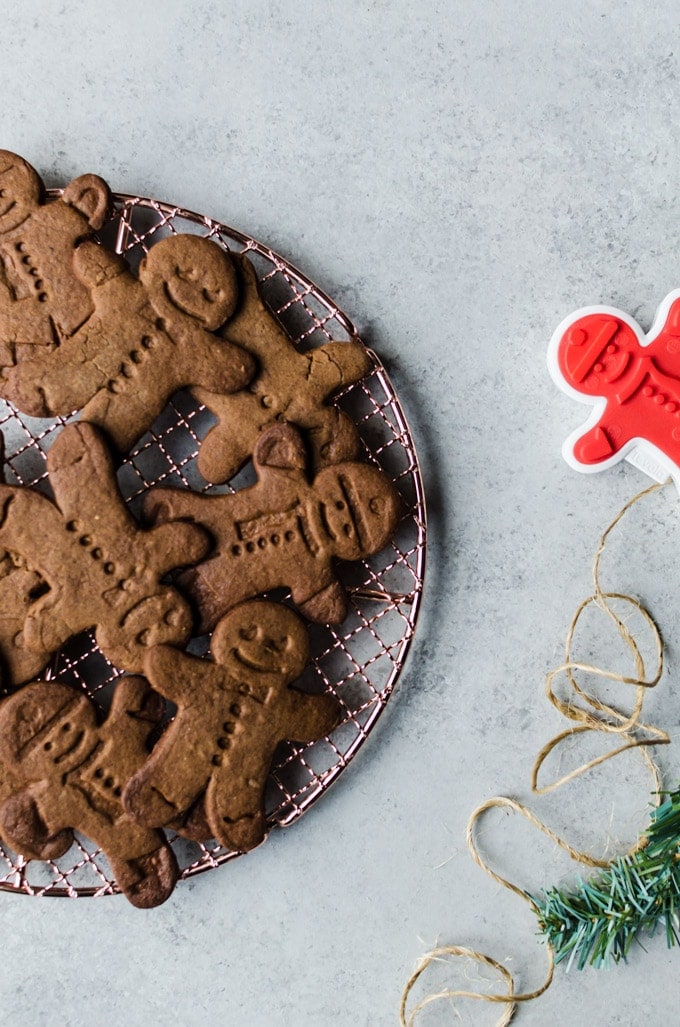 Well, the spiced gingerbread man cookies she liked got really nice names. the ones that came out less than perfect got silly names like "Joo-Haa." And somehow she was able to tell which cookie was which after naming them. She reminded everyone which ones they could eat and when someone accidentally ate her favorite one, named Olivia, she was devastated. We are talking huge crocodile tears.
Even the promise of making another Olivia wasn't enough for her. No, this time, she wanted to take control of the whole thing, including coming up with her own recipe. I don't know many 5 year old recipe developers, so I am sure I will have a heavy hand in influencing the ratios.
Besides the unfortunate demise of her favorite cookie, we have such an amazing time together. She is finally at the age where she can do so much more to help in the kitchen - and taking pictures. I love that we can create so many fun memories together. Of course, our favorite part was sitting down to a few warm gingerbread men and tall glasses of milk while we watched The Santa Clause.
Need More Gingerbread?
A small batch of these cookies is the perfect topping to my gingerbread cake. You may also want to pair them with a mug of gingerbread hot chocolate!
Recipe Card
Spiced Gingerbread Man Cookies
Wonderfully spiced gingerbread man cookies
Ingredients
14

tablespoons

unsalted butter

room temperature

zest of one orange

1

tablespoon

freshly grated ginger

1

cup

brown sugar

4

teaspoons

ground ginger

2

teaspoons

ground cinnamon

1

teaspoon

cardamom

¼

teaspoon

ground nutmeg

¼

teaspoon

ground cloves

¼

teaspoon

black pepper

⅓

cup

molasses

1

large egg

room temperature

4

cups

all-purpose flour

1

teaspoon

baking soda

1

teaspoon

salt
Instructions
Preheat the oven to 350 degrees F. Line two baking sheets with silicone baking mats (you can use parchment, but silicone mats work better).

In a mixing bowl, beat the butter, orange zest, fresh ginger, sugar, and spices together until light and fluffy.

Beat in the molasses and egg until well-combined.

In a separate bowl, mix together the flour, baking soda, and salt.

Add the flour mixture to the butter mixture and mix until completely combined.

Divide the dough in two and form into discs. The dough might be a little sticky, but do not add more flour.

Tightly wrap the discs in plastic wrap and chill for at least two hours, preferably overnight.

Take out one disc and allow to rest for about 10 minutes at room temperature.

Lightly flour your surface and gently flour the top of the dough and roll out until ¼-inch thick. Cut out cookie shapes using your cookie cutter. If you are using a Tovolo cutter, choose your gingerbread man look and gently add even pressure onto the cut out cookie to make the impression. Be sure not to press too hard so as not to flatten the dough.

Bake for about 10 - 14 minutes, or just until the edges turn a golden brown.

Allow to cool for about 3 minutes on the baking sheet before transferring to a wire rack.
Notes
Store in an airtight container for up to two weeks.
Nutrition
Serving:
1
g
Calories:
186
kcal
Carbohydrates:
28
g
Protein:
3
g
Fat:
7
g
Saturated Fat:
4
g
Polyunsaturated Fat:
2
g
Cholesterol:
26
mg
Sodium:
149
mg
Fiber:
1
g
Sugar:
11
g
Tried this recipe?
Tag me on Instagram! @acookienameddesire #acookienameddesire