Have you ever tried making your own crackers before? Homemade graham crackers may seem like a daunting task, but they are actually very easy and fun to make!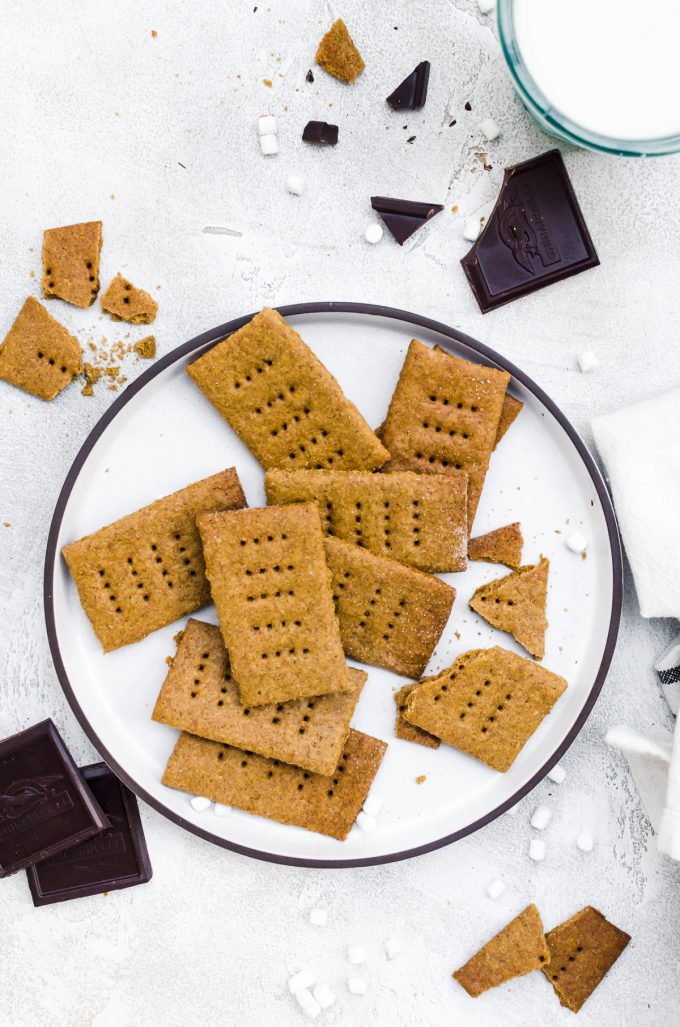 Why you'll love it
I am really into making as many things from scratch as possible. It's just something I think of as being really fun and incredibly satisfying. It's not something I would do on a regular basis, but as a weekend baking project, definitely. If you are like me, then you definitely want to give making homemade graham crackers a try. 
We use simple, wholesome ingredients you can recognize and aren't processed the way store-bought versions are. Plus, the flavor is by far more superior.
Why are they called graham crackers?
Graham crackers are named such because they are made using graham flour, which is made by grinding the whole wheat kernel, including the bran and germ, into a fine powder. Unlike typical refined all-purpose flour, which is made by removing the bran and germ, graham flour retains these nutritious components, making it a good source of fiber, protein, and essential vitamins and minerals.
It is named after Sylvester Graham, an 19th-century American Presbyterian minister who advocated for a vegetarian diet. He developed the flour in the 1830s because he believed that all-purpose flour and refined sugar were unhealthy, and he developed a coarser, unrefined flour made from the entire wheat grain.
Funnily enough, the crunchy whole wheat cracker provides depth and contrast to many delicious desserts like s'mores pie, s'mores ice cream, and banana coffee cake. In fact, a delicious graham cracker crust is the base for many no-bake pies and cheesecakes.
Essential Ingredients
Graham flour - For my recipe, we use a mix of graham flour and all-purpose flour to create a cracker that has the perfect texture. You can substitute the graham flour with whole wheat flour. You can also use all graham/whole wheat flour instead of mixing with all-purpose flour.
Sugar - Granulated sugar adds a bit of sweetness without changing the texture of the cracker, but you can use light brown sugar.
Butter - Unsalted butter adds flavor and aids in creating a delicious, crisp texture. Make sure your butter stays very cold.
Molasses - This adds for depth of flavor. You can substitute with more honey.
Honey - This is another way to add more flavor. You can substitute with more molasses.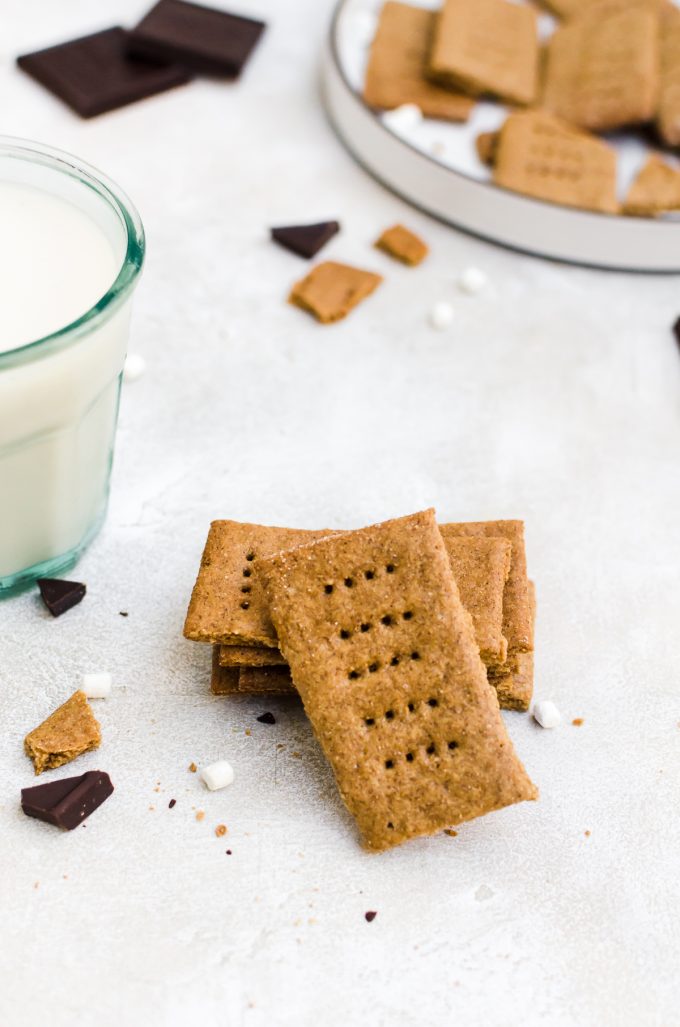 How to make
Making graham crackers is very similar to making pie crust, so if you've ever made a pie crust before, you are already halfway there to understanding how to make homemade graham crackers. 
For ease, I highly recommend using a food processor instead of trying to make the dough by hand. I find the dough comes together faster and helps cut down the graham flour a bit more so you get a texture more like what you are used to from store-bought graham crackers.
The dough for homemade graham crackers is more moist than you may be used to. In order to roll out the dough, you must place it between two sheets of parchment paper. It can be more difficult to get the best shape with this method, but it's the only way that works consistently every time. I recommend rolling out what you can, cutting the edges so they are straight and putting the scraps back together to keep rolling more crackers.
You cannot forget to prick the graham crackers with holes. You can make cute little score marks if you want to be creative, but the top of the crackers must be punctured to release the steam so the graham crackers do not puff. You can finish with a light sprinkling of sugar and/or cinnamon, but it isn't required.
Variations
You can experiment with flavors. I traditionally use a mix of molasses, honey, and cinnamon, but you can use other spices, or even replace some of the all-purpose flour with cocoa powder. I've never met a person who didn't love a good chocolate graham cracker (well, except people who just don't like chocolate, but that's a whole other thing).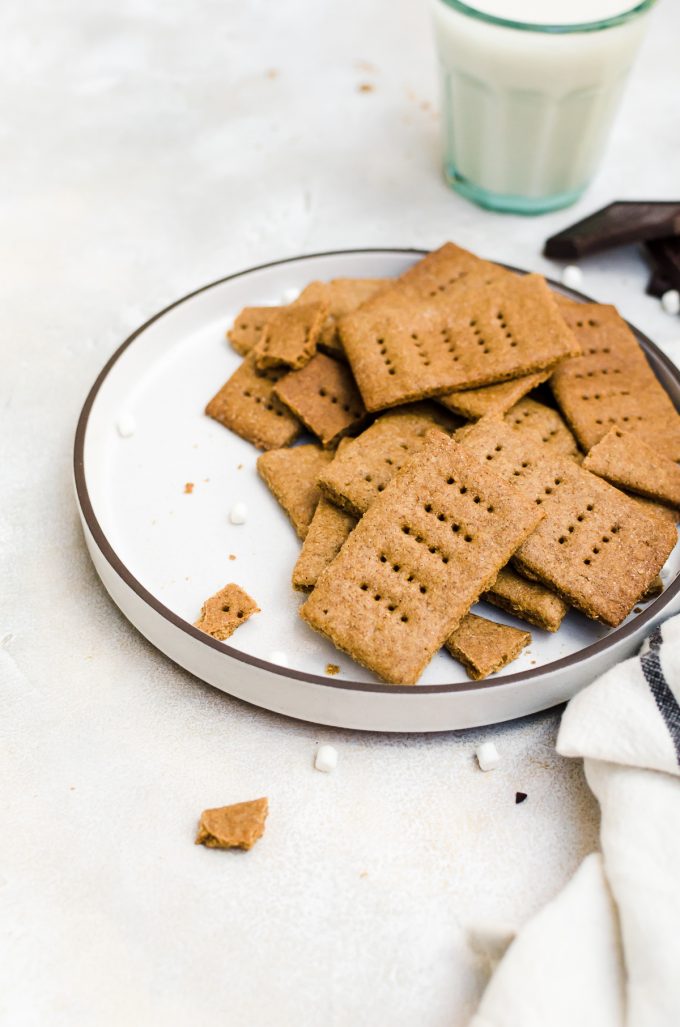 What to Make With Your Homemade Graham Crackers
Recipe Card
Homemade Graham Crackers Recipe
Learn how to make homemade graham crackers with a handful of ingredients and simple techniques
Ingredients
1

cup

graham flour

1

cup

all-purpose flour

¼

cup

granulated sugar

½

teaspoon

sea salt

1

teaspoon

ground cinnamon

optional

1

teaspoon

baking powder

⅓

cup

unsalted butter

cubed and cold

1

large egg

cold

2

tablespoons

molasses

2

tablespoons

honey

1 - 2

tablespoons

milk
Instructions
Add together both flours, sugar, salt, cinnamon, and baking powder in a food processor. Pulse 2 - 3 times to mix.

Add in the cubed butter and pulse about 5 - 6 times or until the mixture resembles coarse meal.

Add in the egg, molasses, and honey. Pulse until well-combined.

Drizzle in a tablespoon of the milk and pulse until the dough comes together in a ball. Add up to another tablespoon, if needed.

Turn out the dough onto plastic wrap. Form into a disc and wrap tightly.

Chill for about an hour, then divide the dough in half. Preheat the oven to 300F.

Roll out half the dough between two sheets of parchment paper so it forms a large rectangle. Trim the edges so they are straight, then cut rectangles about 2 x 3 inches, but do not separate them. Prick the rectangles with a fork a few times.

Repeat with the other half of the dough.

Take any trimmings and repeat until you've used up all the dough.

Bake the graham crackers for about 20 - 25 minutes, or until the crackers are slightly lighter in color.

Allow to cool completely on the baking sheets.

Break apart the graham crackers along where you cut.
Notes
Can store the dough in the refrigerator for up to three days before baking. 
Baked crackers can be stored in an airtight container for up to 2 weeks. 
Nutrition
Calories:
81
kcal
Carbohydrates:
13
g
Protein:
1
g
Fat:
3
g
Saturated Fat:
2
g
Polyunsaturated Fat:
0.2
g
Monounsaturated Fat:
1
g
Trans Fat:
0.1
g
Cholesterol:
14
mg
Sodium:
70
mg
Potassium:
36
mg
Fiber:
1
g
Sugar:
5
g
Vitamin A:
90
IU
Vitamin C:
0.01
mg
Calcium:
18
mg
Iron:
1
mg
Tried this recipe?
Tag me on Instagram! @acookienameddesire #acookienameddesire