If you love having fresh baked cookies whenever you want, knowing how to freeze cookie dough to bake whenever the mood strikes is important information. This guide teaches you everything you need to know on how to properly freeze your dough and how to bake from frozen!
Why you'll love it
This is perfect knowledge if you are on your own and don't want to bake a whole batch of cookies at once just for yourself. You can mix up the dough and bake what you want while freezing the rest for later.
Or if you are ever someone who has anyone unexpectedly stop by. It also makes prep to get a head start for the holiday baking season so much easier.
This guide will give you tips and tricks to make freezing and baking homemade cookies incredibly easy. It truly is a great way to ensure you can have fresh-baked cookies any time you want.
What kind of dough can you freeze?
You can free most types of cookie dough if you prep correctly. Here are a few examples:
If you are looking for more cookies to freeze and bake later, you should grab a copy of my book Cookie School for a ton of delicious and fun cookie recipes.
Things you'll need
You don't need a lot to freeze your cookie dough, and the exact things you'll need will depend on what you are freezing.
How to freeze
Freezing drop cookies and similar cookie dough
Make the cookie dough as directed. This includes the chill time, if applicable. The chill time is when the flavors develop, which will not happen once the dough is frozen.
Scoop out cookie dough balls into the size you plan on baking them.
Line your baking sheet with your parchment paper and place the cookie dough on in a single layer and freeze for 1 - 2 hours. If you plan on topping the cookies before baking with additional chocolate chips or other mix-ins, press them into the dough before freezing.
Remove them from the cookie sheet and store them in an airtight container in the back of the freezer.
For cookies rolled in sugar or other coatings
Make the cookie dough as directed, including any chilling time.
Portion out your dough using a cookie scoop. Do not roll in the sugar, spices, sprinkles, etc. Instead, place them on a lined baking sheet to freeze for 1 - 2 hours before transferring to an airtight container.
When ready to bake, let the cookies thaw for a few minutes before rolling in the coating to allow for better sticking.
How to freeze cut-out cookies
Make your cookie dough as directed, including any chilling time.
Roll out the dough and use cookie cutters to cut out the shapes as directed. I recommend to not use cutters with small points that can easily break off when handling the cookies.
Place the cut cookies on a lined cookie sheet and freeze for 1 - 2 hours.
Place them in single layers with parchment lining each layer in your airtight container.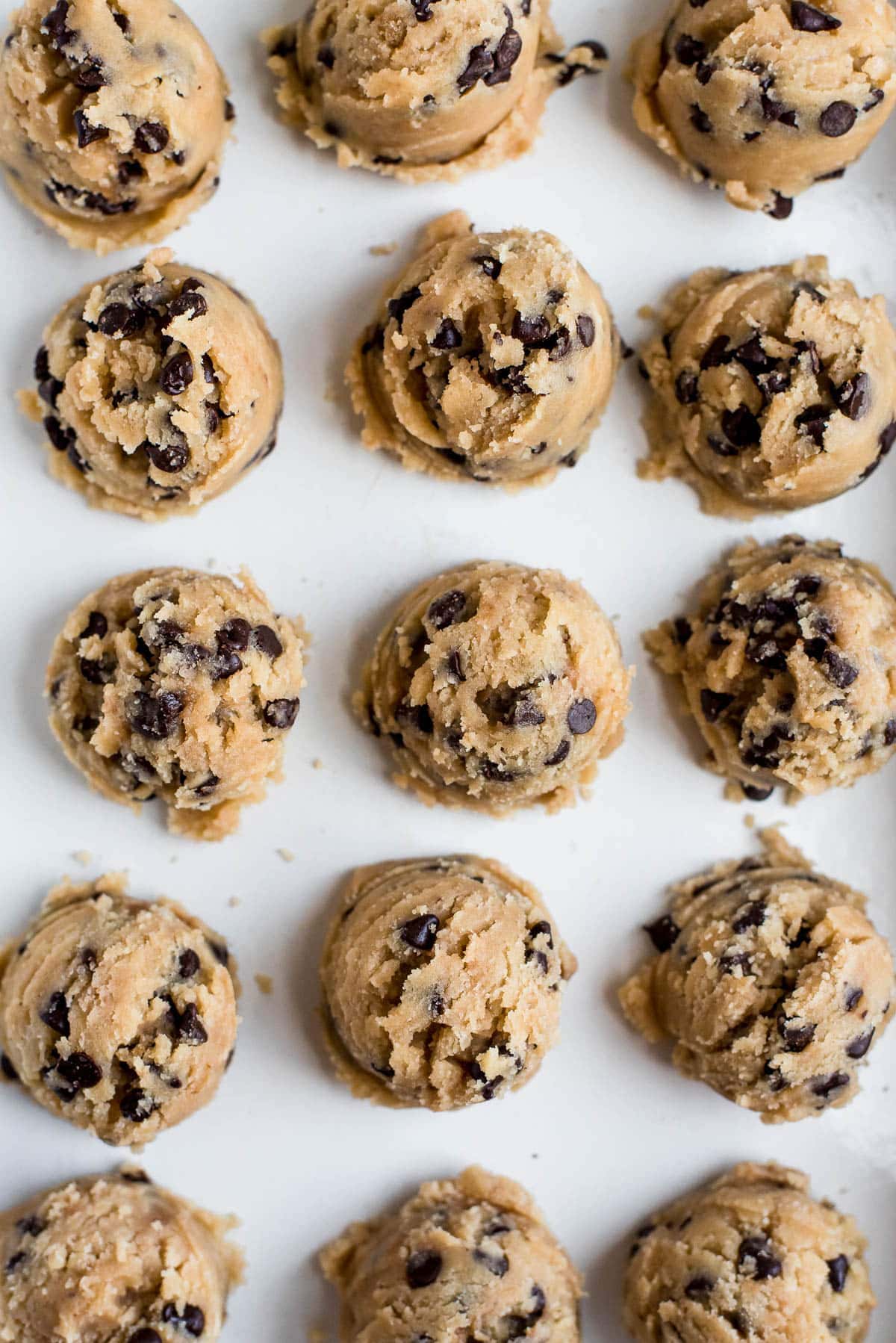 How to bake frozen cookie dough
There are different ways to bake your frozen dough balls, depending on what you personally prefer. The most important thing to note is that you do not need to thaw your cookie dough to room temperature and you can bake from frozen.
You can bake the cookies using the same oven temperature listed in the recipe instructions, but you may a few extra minutes of baking time. Keep in mind that the cookies will not have the time to spread as much. This will result in thicker and softer in the center, but the edges may be thinner and more browned.
For cookies that are closer to the same texture as baking cookies from room temperature, you can lower the baking temperature by 20F/15C and increase the baking time. This allows the cookies to have a bit more time to spread and give you the best final texture.
Both methods work great, and the differences aren't always noticeable. I recommend baking up a test cookie using each method to see which you prefer!
How to freeze baked cookies
You can freeze all baked cookies that aren't glazed or frosted. These types of cookies are also great reheated in the oven at 300F for about 5 minutes. After that they are like they've been freshly baked.
If you have cookies that need icing or to be glazed, I recommend letting them thaw completely and adding that topping before serving.
Baked cookies like macarons need to be stored carefully as the shells are delicate and print to breaking. I recommend wrapping them well with parchment paper in your airtight container to keep them from moving around too much.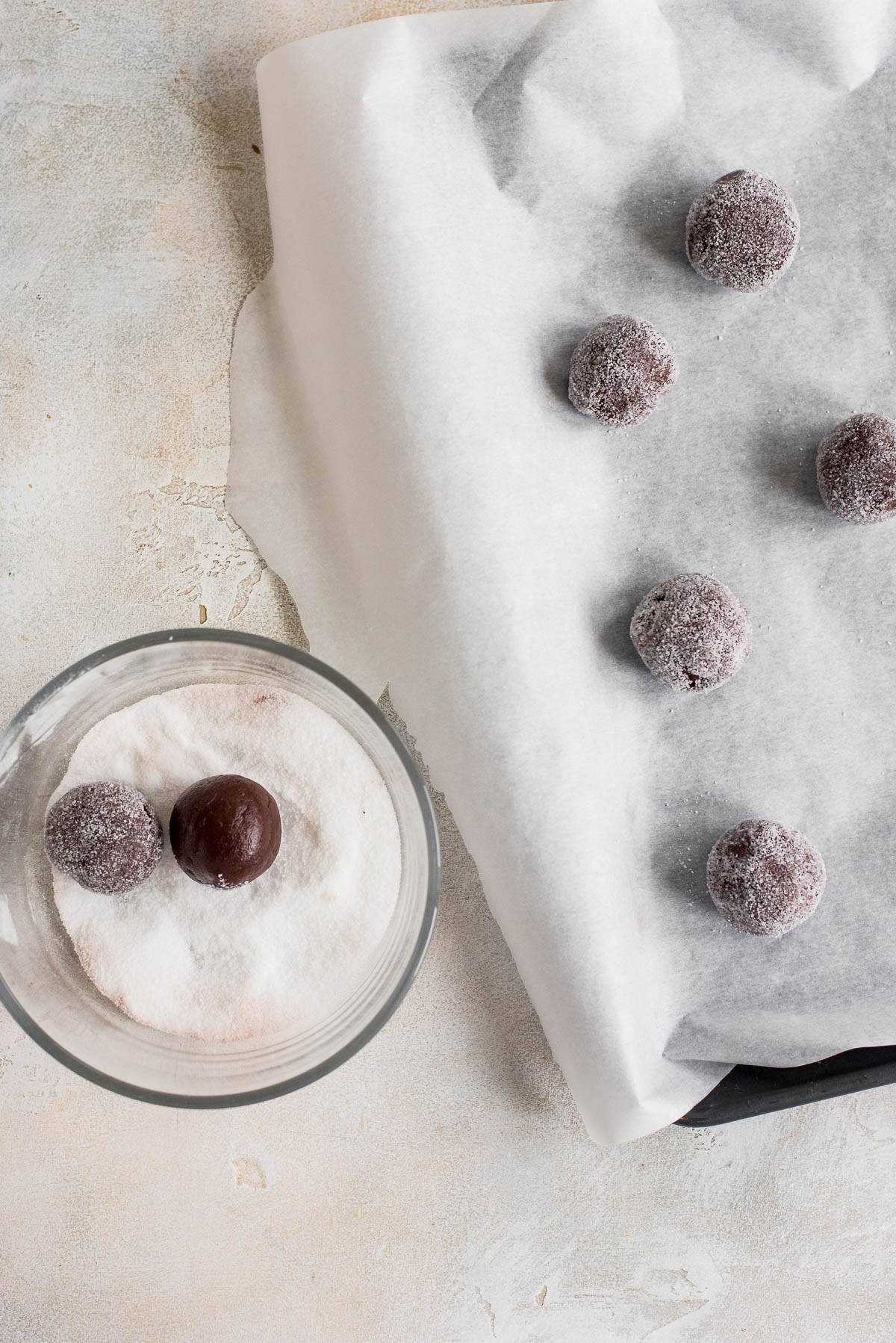 ​Frequently Asked Questions
Why can't I freeze glazed or iced cookies?
Freezing this type of cookie might seem like a good idea, but once they thaw, the glaze will get sticky and mushy. I recommend freezing the baked cookies just before glazing and adding the glaze only when they're thawed. 
Can I freeze filled or sandwiched cookies?
For the most part, most of these cookies do freeze well. Make sure the cookies are at room temperature before filling, then freeze on your baking tray before transferring to an airtight container. 
How long can baked and unbaked cookies be frozen?
For the best flavor, I recommend only freezing for up to a month, 6 weeks at the absolute maximum. Ensure your airtight container or storage bag has no extra air and is fully sealed so they don't get freezer burn. 
Recipe Card
How to Freeze Cookie Dough
Learn how to freeze cookie dough so that you can always have fresh-baked cookies any time you want.
Equipment
1 baking sheet

1 sheet parchment paper

1 cookie scoop

1 - 2 airtight containers
Instructions
Line your baking sheet with parchment paper.

Take your prepared cookie dough and portion out into equal-sized balls.

Place the cookie dough on the baking sheet close together, but not touching,

Freeze the cookie dough on the baking sheet for 1 - 2 hours, or until the outside is frozen and firm.

Place the frozen cookie dough in an airtight container and store in the back of your freezer for 4 - 6 weeks.

Take out as many cookies as you'd like to bake and bake them at 20F/15C lower than the original recipe states and add an additional 1 - 3 minutes to the baking time.
Notes
This method is particularly great for drop cookies like coconut chocolate chip cookies, pumpkin snickerdoodles, and white chocolate cranberry oatmeal cookies. 
If your recipe calls for chilling in the refrigerator before baking (and even if it doesn't), you should let your cookie dough chill before portioning out and freezing because this allows the dough to develop the flavors which cannot happen while the dough is frozen. 
Roll the cookies in any coating only before you are ready to bake. You may need to allow the dough to thaw for a few minutes to allow the coating to adhere to the dough. Conversely, if you want to top your cookies with more chocolate, nuts, etc. do so before you freeze the dough on the baking sheet. 
Slice and bake cookies are best when frozen in it's log form. Cover in plastic wrap and then store in an airtight container. It is easiest to slice them when they are a few minutes thawed. 
Nutrition
Tried this recipe?
Tag me on Instagram! @acookienameddesire #acookienameddesire