Absolutely everything you need to know about how to make French macarons. Here you'll find step-by-step photos and explanations as well as troubleshooting tips.
Macarons have been the one baked good I always wanted to master. It took years of trial and error to finally understand exactly how to make perfect French macarons. I even took classes on perfecting macarons. And now, I want to share everything I've learned with you now.
French Macaron Ingredients
All macarons have the same basic ingredients.
Egg Whites
When making French macarons, your egg whites must not have any trace of fat in them or else they will not rise and create stiff peaks.
Traditionally, recipes call for ages egg whites - egg whites that have been separated and left out at room temperature or in the refrigerator for a set period of time. The thought process behind this is to dehydrate your whites, which is supposed to help improve elasticity and give you a stiffer meringue.
Some say you should not age your egg whites, and it is in fact, not even necessary. I believe on erring on the side of caution and prefer to leave my egg whites at room temperature for at least a few hours.
Substitutions - Egg whites are often substituted using aquafaba - the liquid found in canned chickpeas. This acts as a vegan alternative when making macarons. I have never tried this method, but I do know it works.
Ground Almonds
Ground almonds are a big part of the base of the macarons beside the meringue. You want very finely ground almonds. My preference is Bob's Red Mill, but most blanched ground almonds will do. You can even make your own ground almonds.
Substitutions - Almonds are often substituted with other nuts such as pistachios, and there are even nut-free versions, such as with ground pepitas.
Powdered Sugar
This is the base for most of the sweetness in your shells. We blend it with ground almonds for a nice, fine mixture that easily mixes into your meringue.
There are no real suitable substitutions that I've found.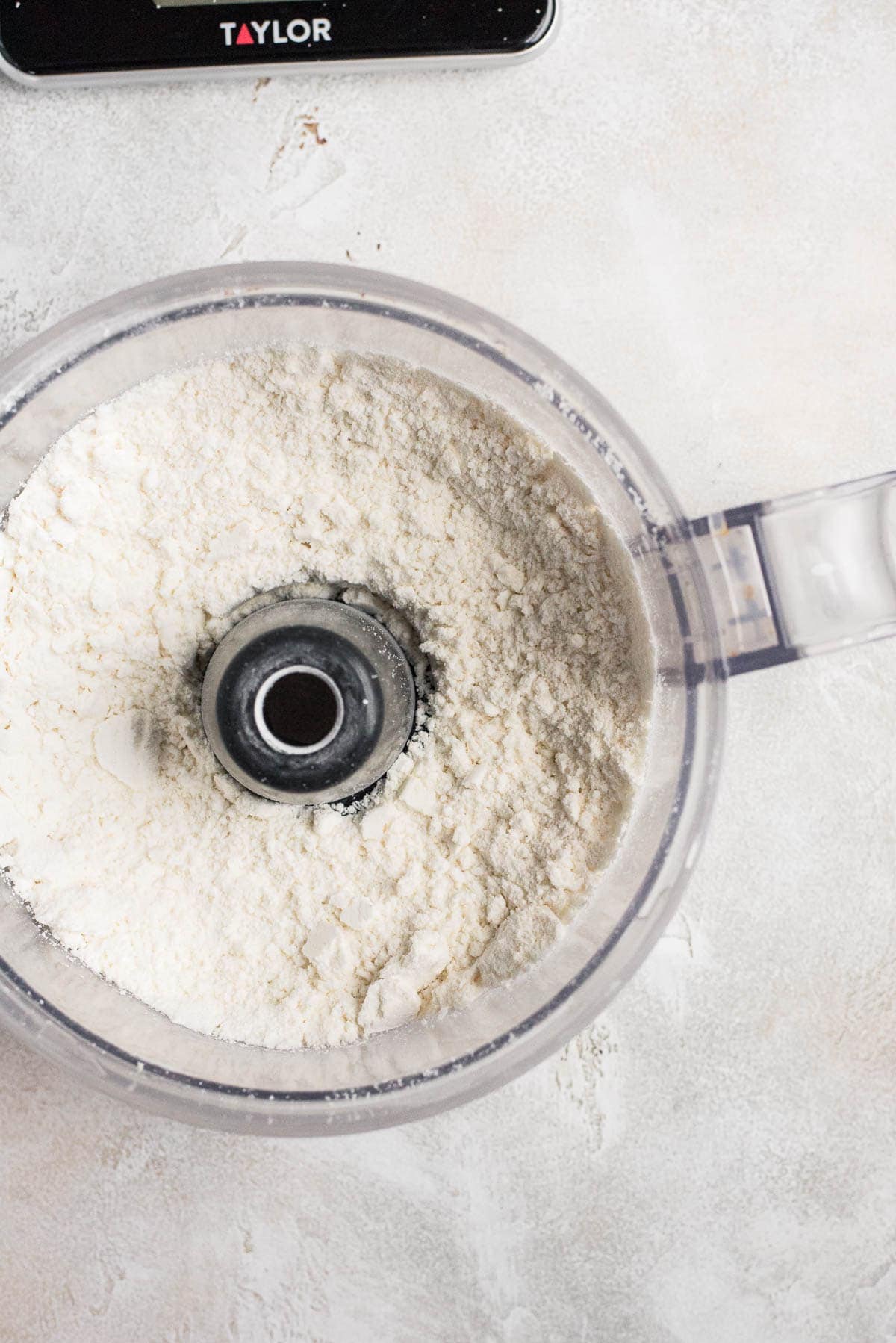 Granulated Sugar
We use a bit of granulated sugar to get nice, stiff peaks in our meringue. Much like powdered sugar, there isn't much in the way of good substitutions.
Salt
Salt acts to enhance the flavors in your shells, just like any baked goods. Don't skip it!
Flavoring
There is so much you can do to flavor your macarons! The easiest thing to do is to add a teaspoon or two or an extract. You can also add some spices such as cinnamon or cardamom.
When you become more comfortable with making macarons, you can adjust your recipe to include cocoa powder and powdered fruits such as freeze-dried raspberries.
Filling
The fillings are endless when it comes to macarons! I love using all types of frostings and jams. You can also use salted caramel or fresh fruit. In the summer, ice cream is a great filling!
Tools You Need to Make French Macarons
Macarons may be finicky, but they usually only require a few basic tools, many of which you probably already have in your kitchen, save for maybe one or two items.
Macarons are so hard to make, that we want to eliminate as many elements that can cause trouble mastering this cookie. You. Must. Use. A. Kitchen. Scale. It doesn't even need to be an expensive kitchen scale.
You also need a food processor and a fine-mesh strainer or sifter. This is used to blend your powdered sugar and almond flour together, which then needs to be sifted together.
A stand mixer or a hand mixer with a bowl is required for making your meringue.
Using a rubber spatula may seem as though it is a small detail, yet it is so important. It will knock out the air in the meringue, and also ensure the sides and bottoms are scraped.
A round piping tip is recommended for your piping bag. Without the tip, you have less control over your piping and can end up with wonky-shaped macarons.
I highly recommend using a silicone baking mat. I find they give the best results in terms of giving the macarons grip and even heat distribution. They even have mats with guides for macarons.
You also need heavy-duty rimmed baking sheets.
Steps to Make French Macarons
Weigh Your Ingredients
You will need 200 grams of powdered sugar, 120 grams of egg whites, 100 grams of almond flour, and 40 grams of granulated sugar. I do not include the volume amounts for these ingredients because the only way to make these macarons is to use a kitchen scale.
Prepare Ingredients
Process the powdered sugar and almond flour together so they are fully combined. Sift the ingredients to make it easier to mix together, and remove any large pieces of almond flour.
Whip the egg whites until they form light peaks, then add the salt. As they begin to form stiff peaks, slowly add the granulated sugar. Beat until the meringue forms stiff peaks. This happens when the tips of the meringue stand straight up when you remove the whisk from the meringue.
Mixing Your Batter
Pour the almond flour mixture into your meringue and carefully mix. This step is very important. You should scrape the sides and bottom of the bowl constantly as you mix and deflate the air in the meringue. Mix slowly, checking every few stirs to see if the mixture ribbons from the spoon.
The ribbons should then sit on top of the rest of the batter for a few seconds before it melds back into the batter. Overall, the movements of the batter should be slow like lava. This is what is called macaronage and is vital to the success of your macarons.
Too stiff and your macarons will be lumpy and uneven. Too loose and your batter will spread and be all over the place.
Piping Your Batter
Fit your piping bag with a plain tip. Fill your piping bag halfway with batter. If you fill it too much, it will make it difficult to pipe. Use the silicone baking mat, preferably one with guides to make sure your macaron shells are the same size - they are sandwich cookies after all!
Baking Your Macarons
To prepare for baking, you must knock out any air in the piped macarons, then allow it to sit for at least half an hour to help it to form a good shell.
When you bake your macarons, you should turn halfway through to help with even baking. The macarons should come off easily from the mat when finished.
Remove from the oven and allow it to cool on the baking mat.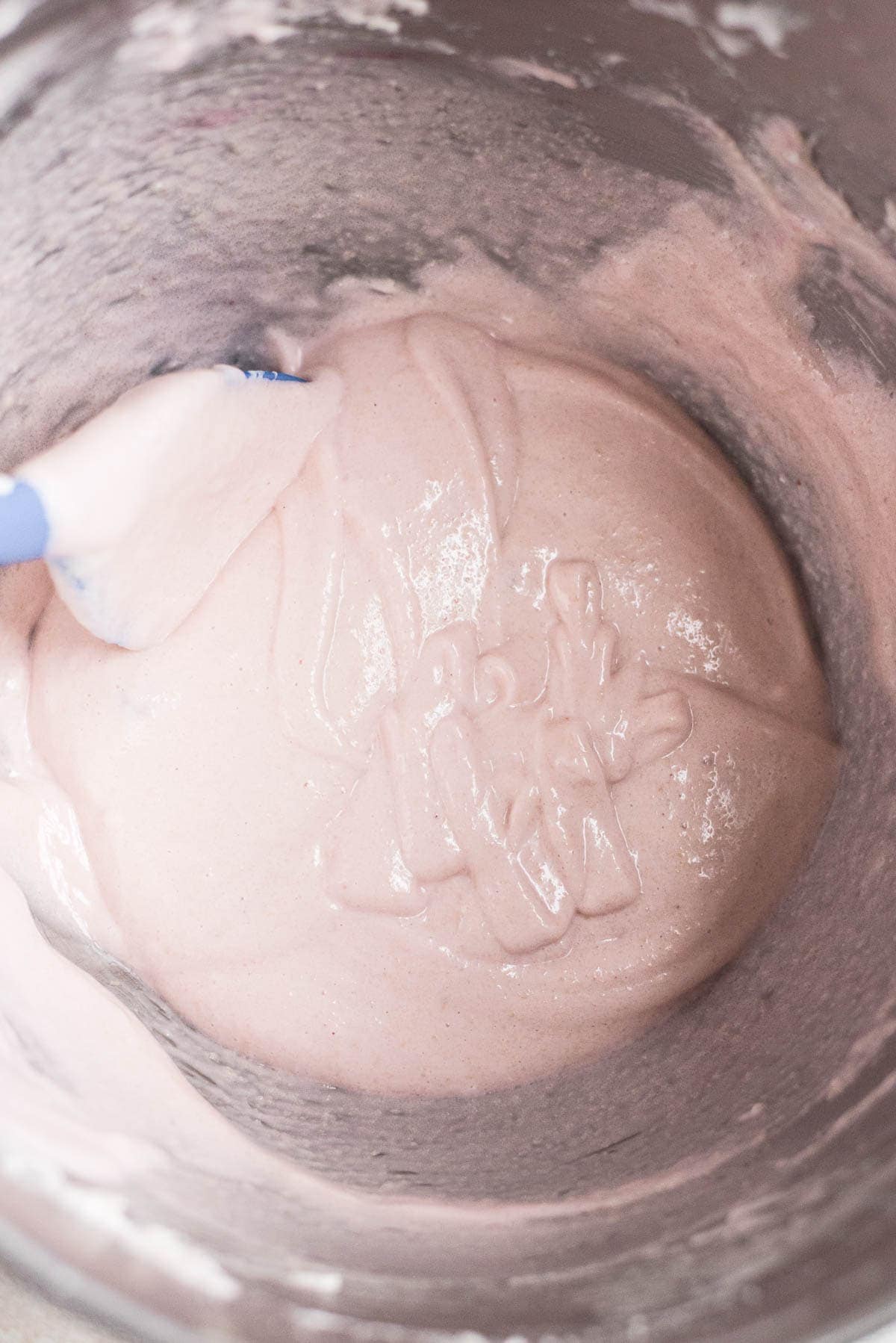 Adding Food Coloring - What You Should Know
Adding food coloring is a great way to add some whimsy to your macarons as well as enhance the natural color of any added ingredients you've added such as powdered raspberry.
Be aware that some food colors just don't work as well in macarons. They tend to brown faster and make you think your macarons are burnt. I use Americolor which is a good brand that I recommend, but it does still tend to brown a bit at the edges and bottoms of the macarons.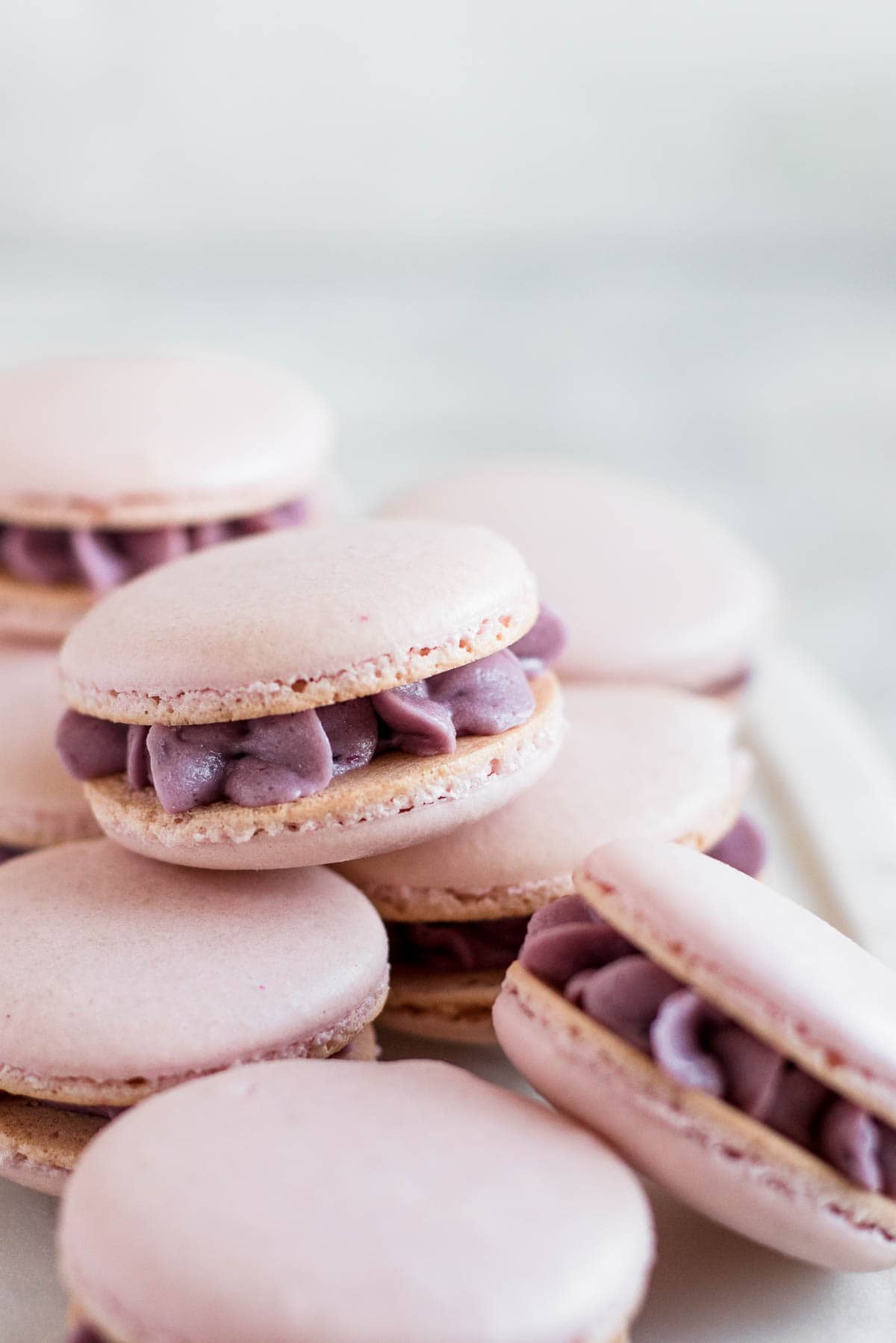 Storing Your French Macarons
How you store your macarons depends on the filling. Some fillings such as fresh fruit, creme patissiere, and no-bake cheesecake would always need to be refrigerated at the very least.
For many other fillings, such as frosting, you can leave your macarons at room temperature.
It is generally recommended that you refrigerate your macarons as it blooms the flavors and keeps that great texture in the shells.
French macarons are also great frozen, and it is recommended for long term storage (anything over a couple of days). The macarons are great when they've had time to freeze and thaw in the refrigerator. It helps the flavors meld.
Regardless of where you store your French macarons, you should always keep the macarons in a hard airtight container, packed in a way they won't get jumbled around and potentially crushed or cracked.
Troubleshooting
Hollow Shells - The batter can be overmixed, or they may be underbaked.
Cracked Tops - Batter overmixed or the oven was too hot.
No Feet - The oven was not hot enough, the macarons did not sit out long enough or for too long.
Uneven Shells - The batter was overmixed or not mixed well. Uneven heat in the oven.
Browned Shells - The oven was too hot, or the food coloring was meant for icing and not baking.
Spreading - The batter was overmixed or too wet.
The Most Important Thing About Macarons
It does not matter how they look. Lumpy, hollow, cracked, it's all good. What matters most is that they taste good!
Ready to Start Baking More Macarons?
Beyond the vanilla macarons you see below, I have a few other macaron recipes you can try. Some of them are Italian macarons, but if you follow the basic principles, you should be able to make them with ease by following the instructions! You may love my chocolate peppermint macarons, coffee cardamom macarons, and mulled cranberry macarons. The passion tea macarons and caramelized honey chamomile macarons are great for tea lovers. These raspberry macarons are one of my favorites as are these orange blossom macarons and lemon rhubarb macarons.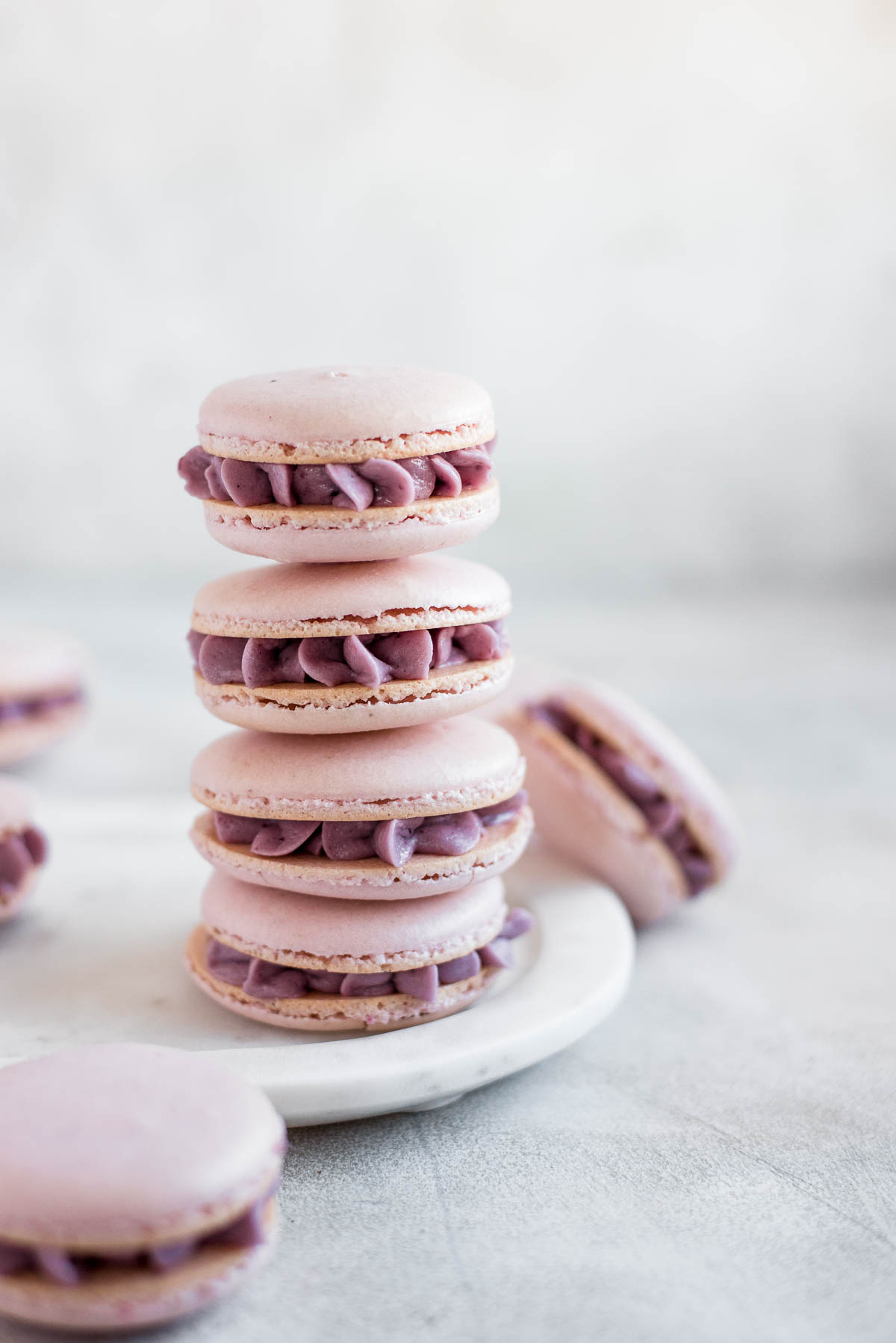 Recipe Card
How to Make French Macarons
A completely guide to making macarons
Ingredients
200

g

confectioners' sugar

100

g

almond flour

120

g

room temperature egg whites

⅛

teaspoon

salt

40

g

sifted granulated sugar

1 - 2

drops food coloring

1 - 2

teaspoons

vanilla extract
Instructions
Add the powdered sugar and almond flour to a food processor and process for about one minute, or until the mixture is well blended and the almond flour is ground down to a fine powder.

Sift the mixture into a bowl, discarding any pieces that don't go through the sift. Set aside.

Wash and completely dry your stand mixing bowl and whisk attachment. Briefly rub down both with lemon juice to ensure there is no fat or oily residue on the equipment.

Add the egg whites and begin to whip on medium-low for about a minute.

Add the pinch of salt when the egg whites get foamy and bring up the speed up to medium-high until the eggs reach soft peaks – this is when the meringue makes deep curls when you take out your whisk and point the whisk upward. This should take about 3 – 5 minutes.

Add the granulated sugar once it reaches soft peaks and beat for about 2 minutes longer, or just as it is about to reach stiff peaks (stiff peaks happen when the meringue points straight up and does not curve when the whisk is pointed upward).

Turn off the mixer and pour in the almond four mixture, food coloring, and vanilla.

Scrape the bottom and sides of the bowl, folding the mixture onto itself. As you do this, also pull up some of the batter into the air to see if it drizzles down in a ribbon.

Once it does this, check how long it takes for the ribbon to incorporate back into the batter. It should slowly flow back into the batter like magma. If the ribbon dissolves back into the batter within a few seconds, you've reached proper macronage.

As soon as you reach the desired consistency, immediately stop mixing and set the batter aside, uncovered, for 30 minutes.

While the batter rests, preheat the oven to 325°F.

Line two baking sheets with baking mats and fit a piping bag with a round piping tip. I do not recommend not using a tip as you will not have as much control.

Fill the piping bag halfway with the macaron batter and begin to pipe the batter, 

Once the macarons are piped, tap the baking sheets on your counter two or three times to remove air bubbles. Take a tooth pick to pop any small bubbles you may find.

Leave the macarons to rest for at least 45 – 60 minutes.

Bake the macarons one sheet at a time on the middle rack for five minutes, then turn the baking sheet 180 degrees and bake for another 5 minutes.

Allow the baked macarons to cool on the baking sheet for about 5 minutes before transferring to a wire rack to cool completely.

Once both sheets are baked and the macarons are cool, frost half of the shells and top with the remaining shells.

Store in an airtight container.
Notes
Make sure you don't let any yolk go into the egg whites as it will ruin the recipe.
Completely wash and dry your bowl and whisk you use to whip your egg whites. I like to rub mine down with lemon juice as well because it cuts out any remaining fat in the bowl or whisk.
If your ribbons meld back into the batter almost immediately, your batter is too thin.
Take your time, have fun, and remember, it will still probably take a few tries before your macarons are technically perfect, but they will still be delicious!
Nutrition
Serving:
1
g
Calories:
88
kcal
Carbohydrates:
14
g
Protein:
2
g
Fat:
3
g
Polyunsaturated Fat:
2
g
Sodium:
27
mg
Fiber:
1
g
Sugar:
13
g
Tried this recipe?
Tag me on Instagram! @acookienameddesire #acookienameddesire