These sweet, tart lemon rhubarb macarons are the ultimate summery treat. It tastes like pink lemonade only much, much better. This post is sponsored by Silpat. Thank you for supporting the blog and the brands I love!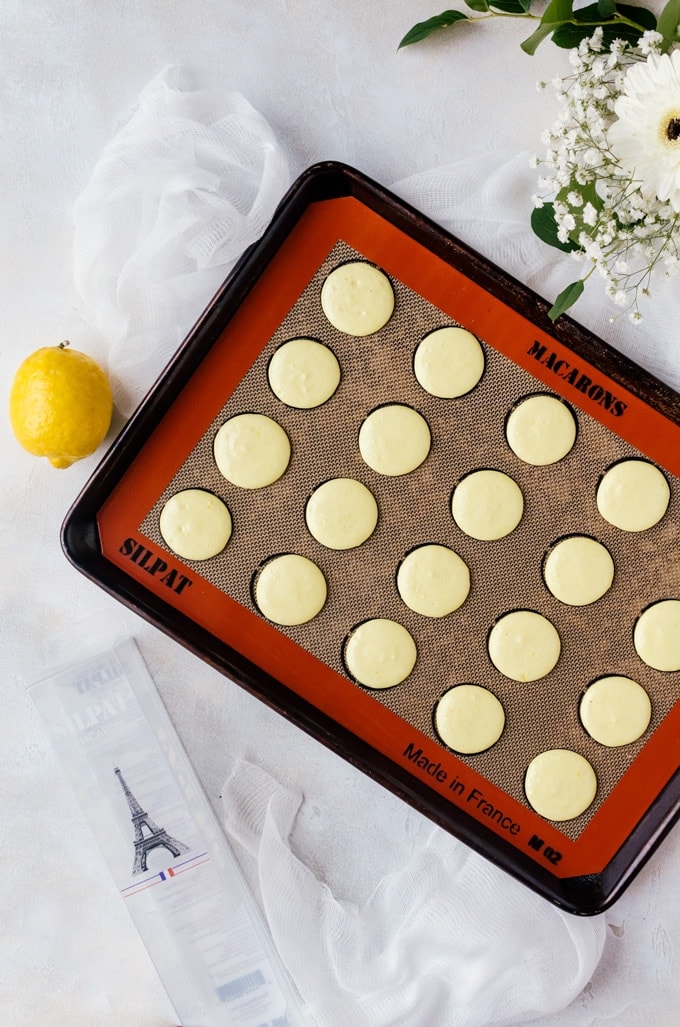 Macarons are probably my favorite cookie. I think I love them so much because I had to work so hard to master the technique and finally make perfect macarons. Two years, in fact. It took me two years to go from a runny, cracked mess to smooth shells with no cracks or hollows. Unlike most cookies, you have to work at it and even after making dozens of macarons, there is still the chance that there will be a mistake. It's the nature of the macaron. But despite how they may look, they always, always taste amazing.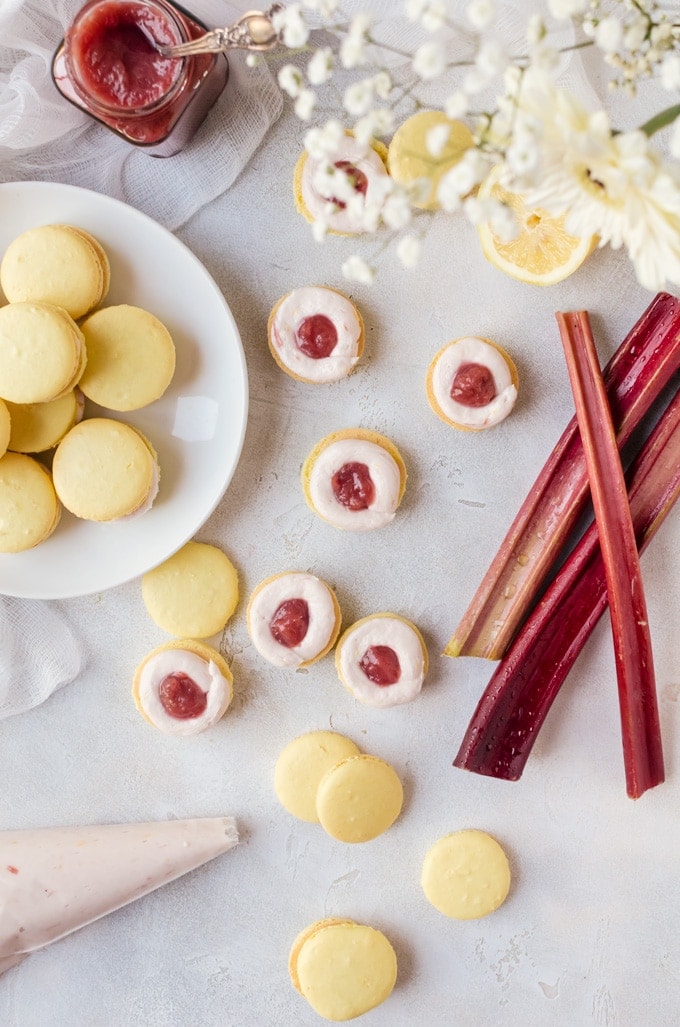 There are a few tips to making perfect macarons nearly every single time. After spending so much time learning the hard way, I think I may be just the gal to help you out a little.
Probably the most important thing to know is that no matter how your lemon rhubarb macarons look, they are still edible and will still probably taste amazing. Don't worry if they don't look the best, I am sure you will still love eating them.
Once you've remembered that taste is what matters most, you need patience. It takes a lot of patience with yourself and the recipe. You need to take time to read through the recipe plenty of times and stopping while you make the lemon rhubarb macarons to make sure you are following each step exactly. There is also plenty of waiting time between steps. So... patience.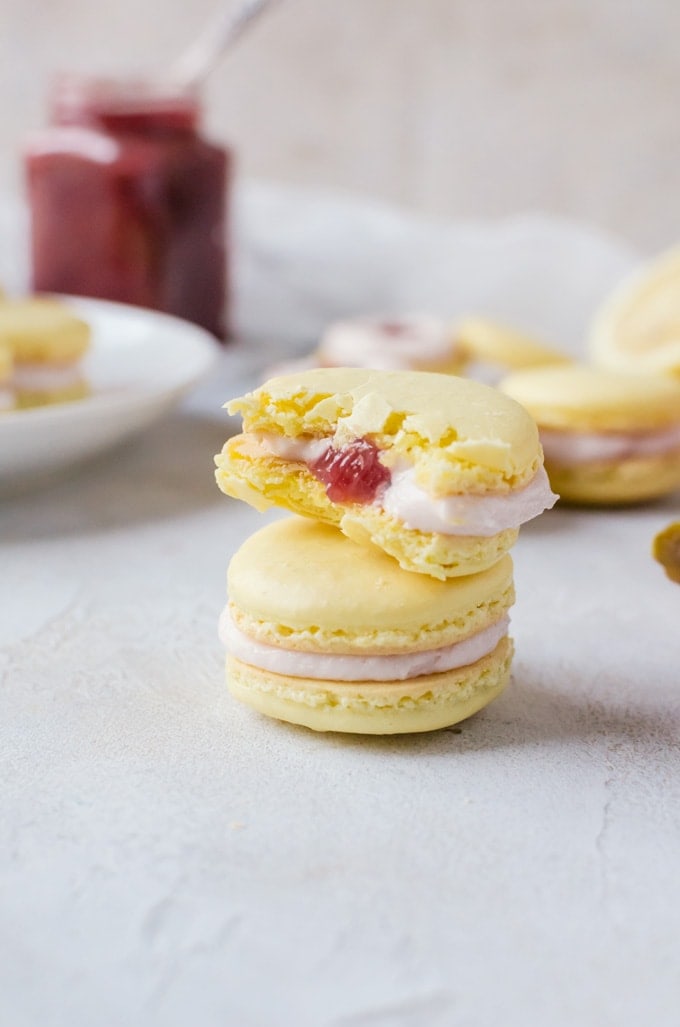 You also want to use the right equipment. I always use my food processor to blend the powdered sugar and almond flour. I always use my favorite stand mixer to beat my meringue. Most importantly, I rely on a Silpat macaron mat to shape and bake my macarons. The Silpat macaron mat has a fiberglass mesh inside that encourages even baking which helps you get even feet all around each macaron shell. The macaron guides create the perfect size lemon rhubarb macarons that aren't too small nor too big. They can also be used to make many other things such as whoopie pies. The texture of the Silpat macaron make means the lemon rhubarb macarons won't spread too much and will stick to the mat until they are completely baked through, minimizing hollows.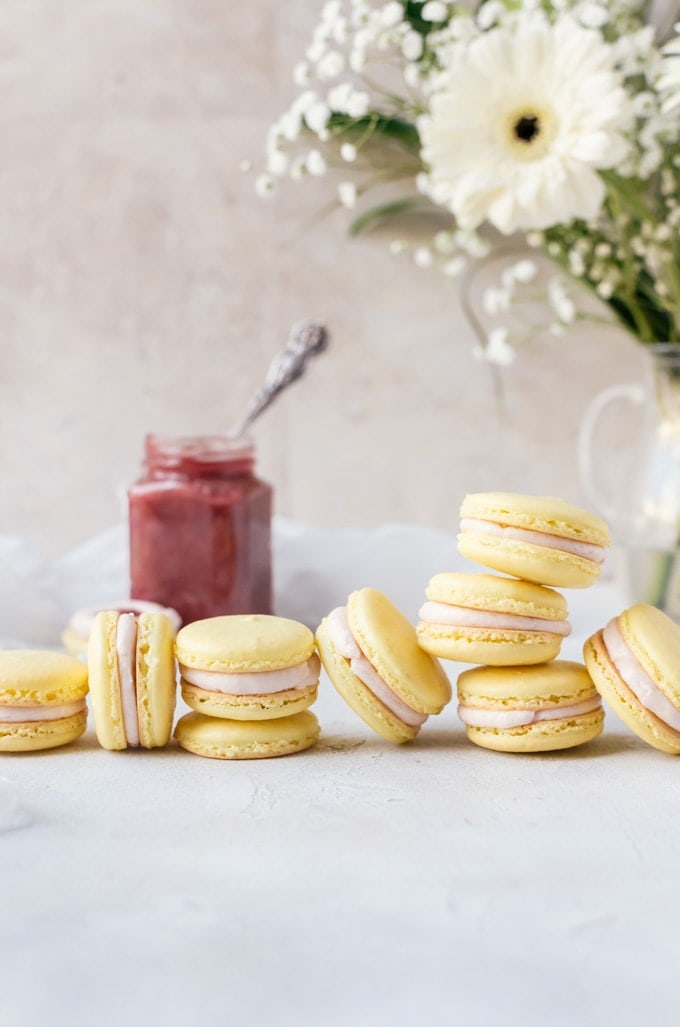 Follow these steps and you will end up with perfect (or nearly perfect) rhubarb lemon macarons.