These raspberry macarons with creamy chocolate ganache are completely irresistibly. They are naturally colored and completely foolproof - even for a beginner baker!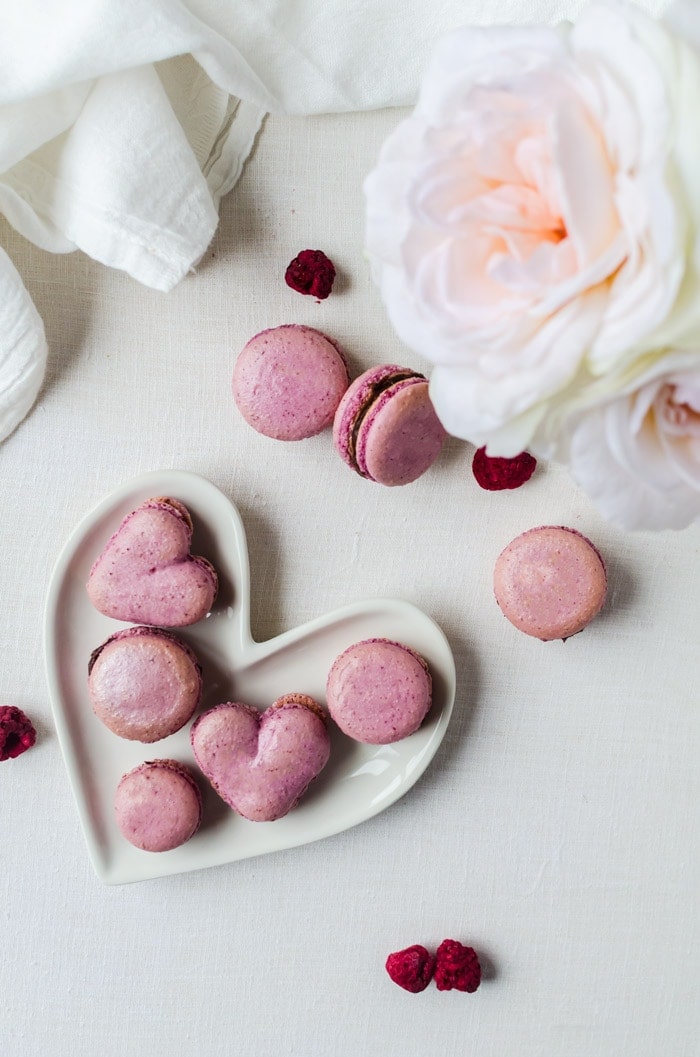 I don't spend a lot of time thinking about Valentine's Day. That's not unusual considering that I've been single for longer than I can remember. This year, however, my very smart, and incredibly loving five year old is very interested in Valentine's Day. Rumor has it that she even got someone to buy her a gift to give to me on Valentine's. (I got her the Trolls movie, but that stays between us, okay?) So she asks me about Love Day and how you celebrate and when I will bake things for Heart Day.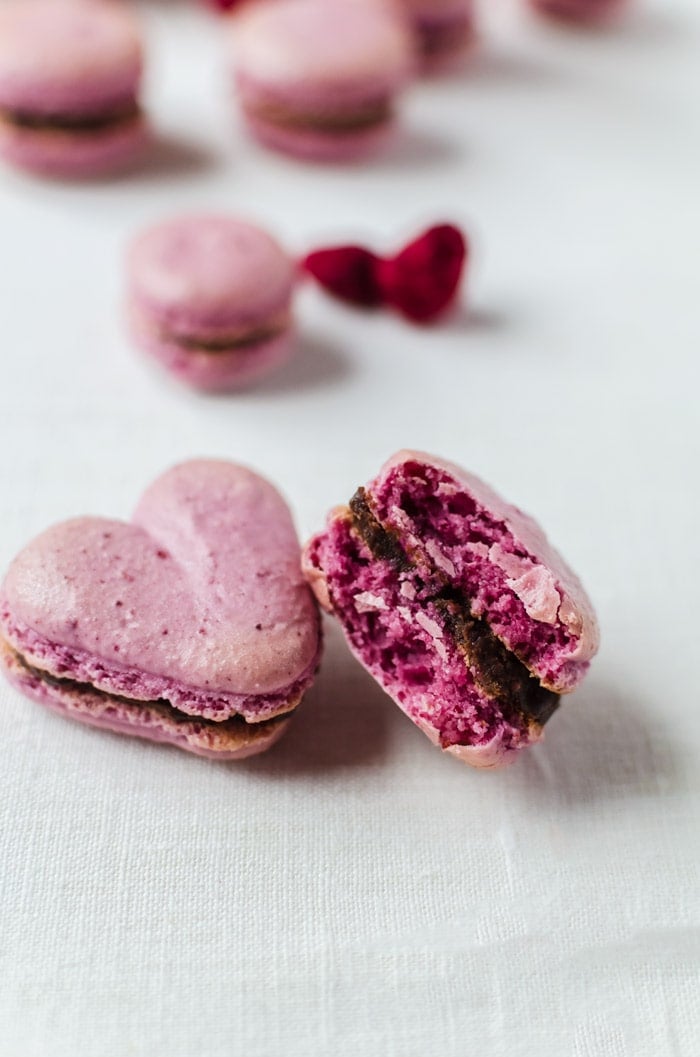 I made champagne cupcakes, but she couldn't have them, so I also made these raspberry macarons. If I'm honest with you though, I basically ate almost all the macarons myself - including an extra batch I made the very next day.
These raspberry macarons are probably the best macarons I've ever made. The tops are smooth and delicate. All the cookies have even feet all around. And there is not one crack of hollow. It is packed with raspberry flavor. Plus, it is naturally colored, but you can add a few drops of pink food coloring if you want a more intense color. I also recommend adding a few drops of food coloring if you want a really nice color throughout as the macarons do get a little brown on the edges even though they are not over baked.
In the spirit of Valentine's Day, I tried to pipe my macarons into hearts. It definitely requires a bit of patience to get right. Some people like to pipe two teardrops together, but I found it was better to do more of a "V" motion and rounding out the tops of the hearts. If you want to make your own hearts, I found a clipart photo of a heart and traced that on construction paper which I put under my baking mat.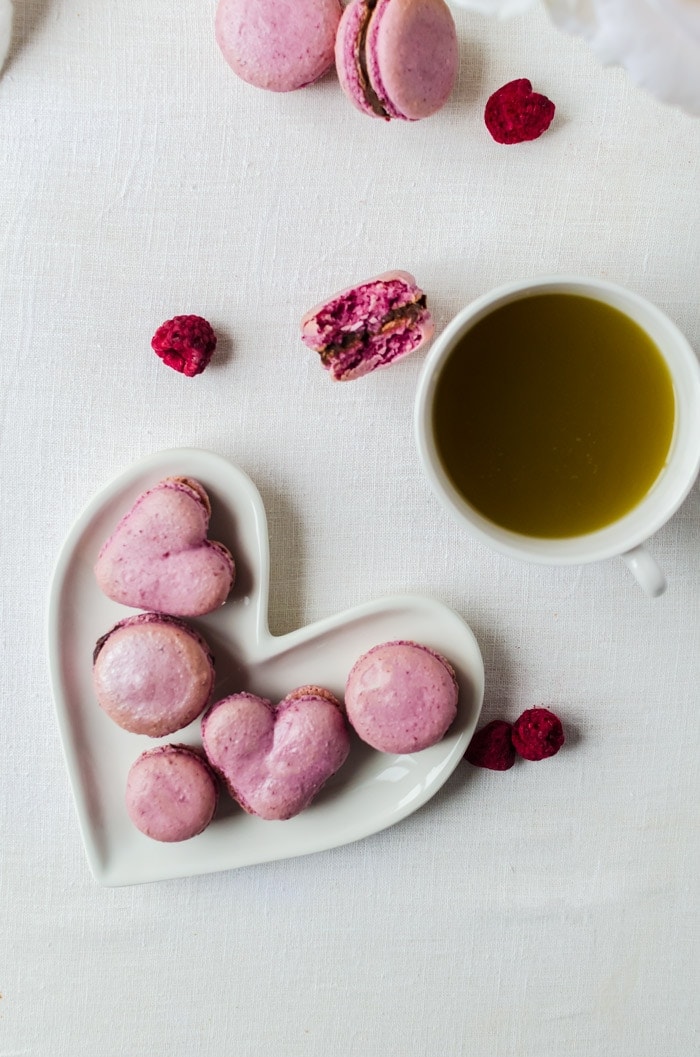 Recipe Card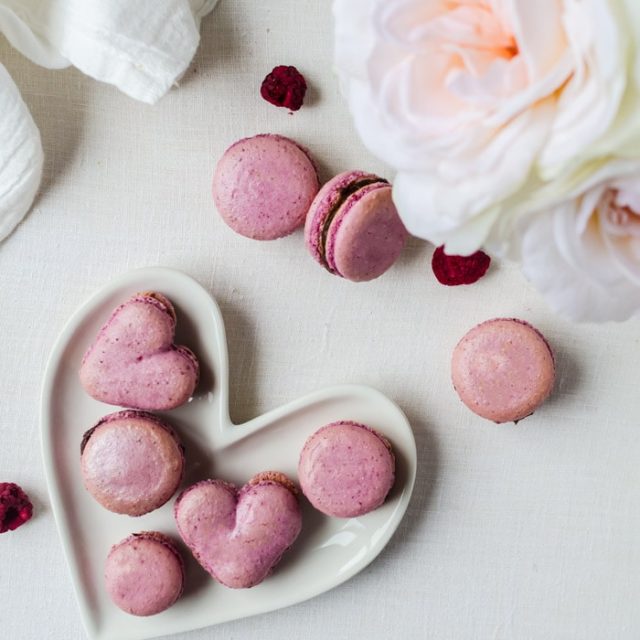 Raspberry Macarons with Chocolate Ganache
Delightful raspberry flavored macarons filled with chocolate ganache
Ingredients
120

grams

egg whites

190

grams

powdered sugar

100

grams

ground almond flour

15

grams

freeze dried raspberries

⅛

teaspoon

salt

40

grams

granulated sugar

1 - 2

drops pink food coloring

optional

4

ounces

dark chocolate

2

tablespoons

unsalted butter

2

tablespoons

heavy cream

1

teaspoon

vanilla extract

I prefer Rodelle
Instructions
Place the egg whites in a bowl and leave out overnight. This step is necessary and cannot be skipped.

The next day, place the powdered sugar, almond flour, and raspberries in a food processor. Pulse about 10 - 15 times or until the raspberries are completely powdered and the whole mixture is pink.

Beat the egg whites in a completely cleaned and dried mixer until it gets frothy. Then add the salt and granulated sugar and beat until it forms stiff peaks.

Add the almond flour mixture and the food coloring, if using, to the egg whites.

Mix in the almond flour mixture until completely combined using a rubber spatula. This will take a bit of time, be patient and go slowly. You want to deflate the air from the egg whites, not add more in.

As soon as the almond flour is incorporated into the egg whites, carefully mix by folding the macaron mixture over onto itself. After every three folds, use your spatula to lift and slowly drop the mixture back into the bowl. If the mixture leaves the spatula in a ribbon, then it is ready. Do not mix anymore.

Leave the mixture uncovered in the bowl for about 30 minutes. While it is sitting, fit a piping bag with a large round tip.

Pour the macaron batter into the piping bag in batches, ensuring there are no bubbles in the bag.

Pipe the macarons into circle or hearts onto baking sheets lined with baking mats.

Tap the baking sheets onto a hard surface to release any air bubbles. Leave to rest for an hour.

Preheat the oven to 325 degrees F, and bake for 10 minutes, turning halfway through. Only bake one sheet of macarons at a time.

Remove the macarons and allow to cool.

While the macaron shells are cooling, make the ganache.

In a double boiler, add the chocolate, butter, heavy cream, and vanilla together. Heat until the chocolate and butter melts and stir to combine. Remove from heat and allow to cool completely.

While the ganache is cooling, match the macaron shells together that are of similar size.

Add the cooled ganache to one half of the macaron shell pairs, then top with the matching macaron shell.

Store in a cool, dry airtight container for up to several weeks.
Nutrition
Calories:
126
kcal
Carbohydrates:
15
g
Protein:
2
g
Fat:
7
g
Saturated Fat:
3
g
Polyunsaturated Fat:
1
g
Monounsaturated Fat:
1
g
Trans Fat:
1
g
Cholesterol:
5
mg
Sodium:
27
mg
Potassium:
52
mg
Fiber:
1
g
Sugar:
13
g
Vitamin A:
59
IU
Vitamin C:
1
mg
Calcium:
17
mg
Iron:
1
mg
Tried this recipe?
Tag me on Instagram! @acookienameddesire #acookienameddesire