These chamomile and caramelized honey macarons are the perfect treat for all your spring gatherings. The macaron shells are delicately flavored with chamomile and filled with a lightly salted caramelized honey buttercream. It's Spring in a single bite.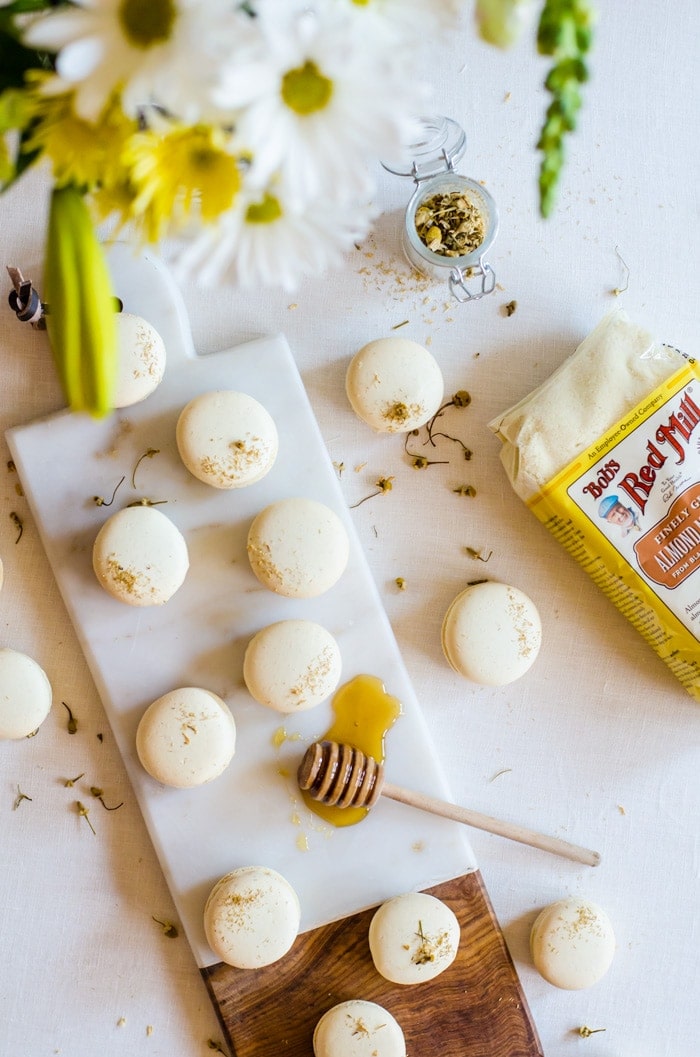 I will be making these chamomile and caramelized honey macarons again for Easter. Over time, our Easter traditions have changed and we typically opt for a nice brunch and spend the rest of the day with my grandmother dying eggs and eating small treats with one another. I admit I've never been much of a big church goer, but I usually make it to Easter mass. I don't even make that same commitment for Christmas, but for some reason Easter feels more important. Deep down, I think it's partially because I adore how the church is decorated with beautiful flowers and greenery everywhere. My daughter's birthday is near Easter, so we usually take that time for the extended family to bring her gifts then, too. Overall, we keep it pretty simple and relaxed. As long as we are together, that is what matters most to us.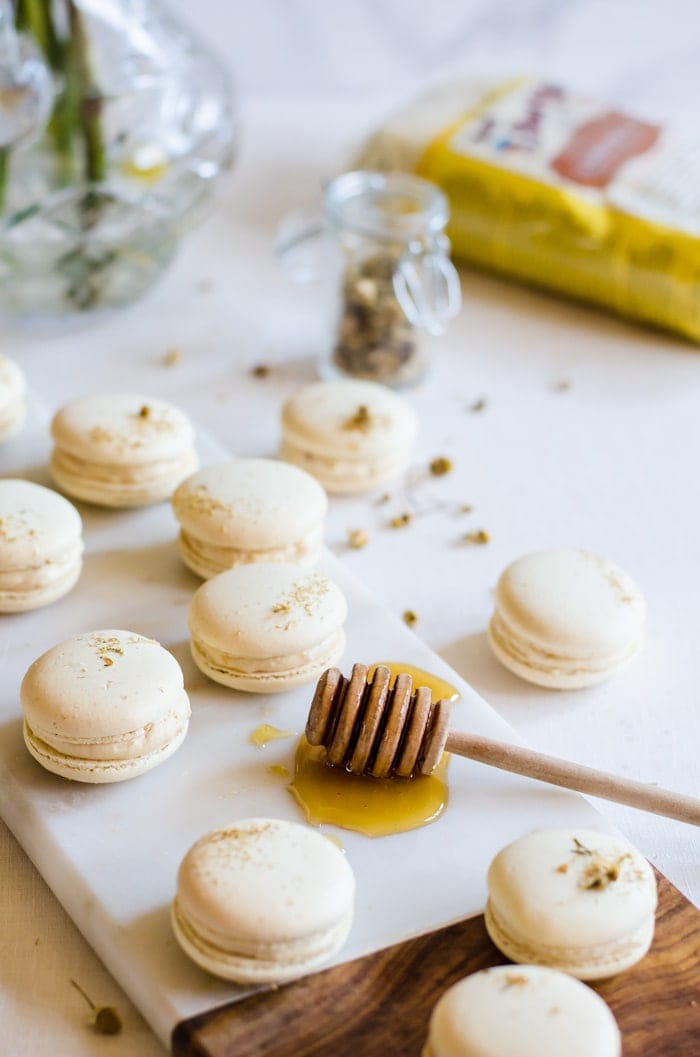 And the desserts.
I know I kind of wrote it off at first "oh we have a few small treats while we dye eggs…." But really, there's usually a few pies and cake and now that I mastered macarons, they are a part of the tradition now. And what better way to celebrate Easter (and all things Spring) than something like chamomile and caramelized honey macarons? I'll tell you. There is no better way. Nope. Nope, nope, nope.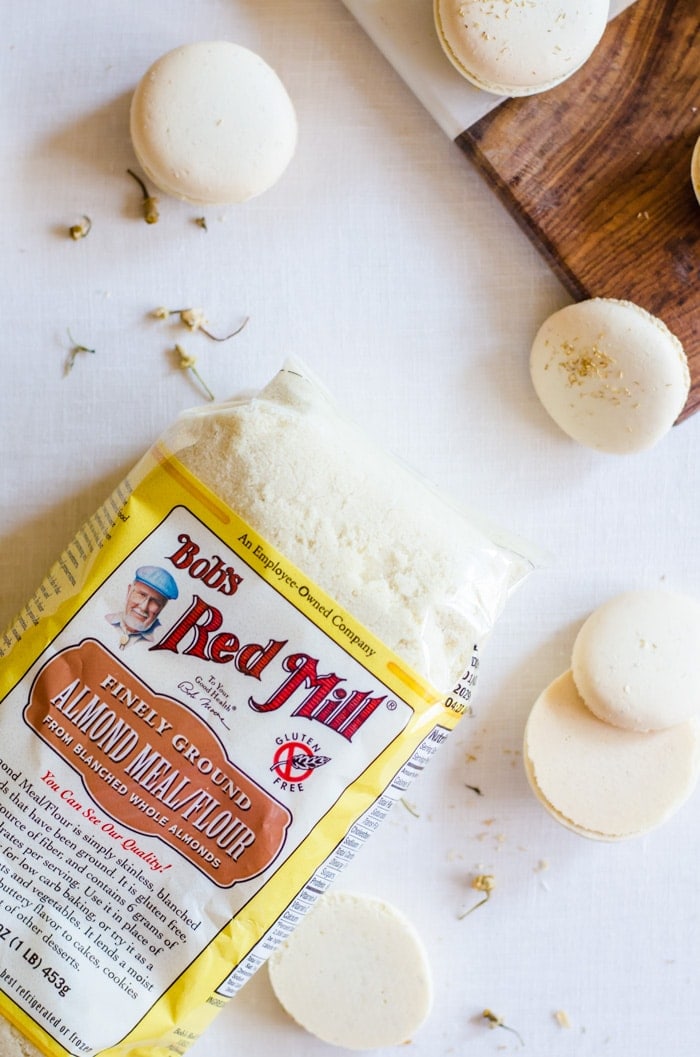 I am a huge fan of chamomile (I tried without success to grow my own), but I do not bake with it often because the flavor is subtler and can easily be overpowered. So when I decided I wanted to make a chamomile flavored macaron for Easter, I knew the easiest way would be to make an Italian macaron so that I may infuse the chamomile flavor right into the simple syrup I make for the eggs. For insurance, and aesthetic appeal, I also topped the macarons with bits of dried chamomile. The end result is a delicately flavored chamomile macaron. It isn't overpowering, but certainly noticeable. They chamomile also gives the macarons a very light yellow color, which you can choose to intensify with a few drops of natural food coloring.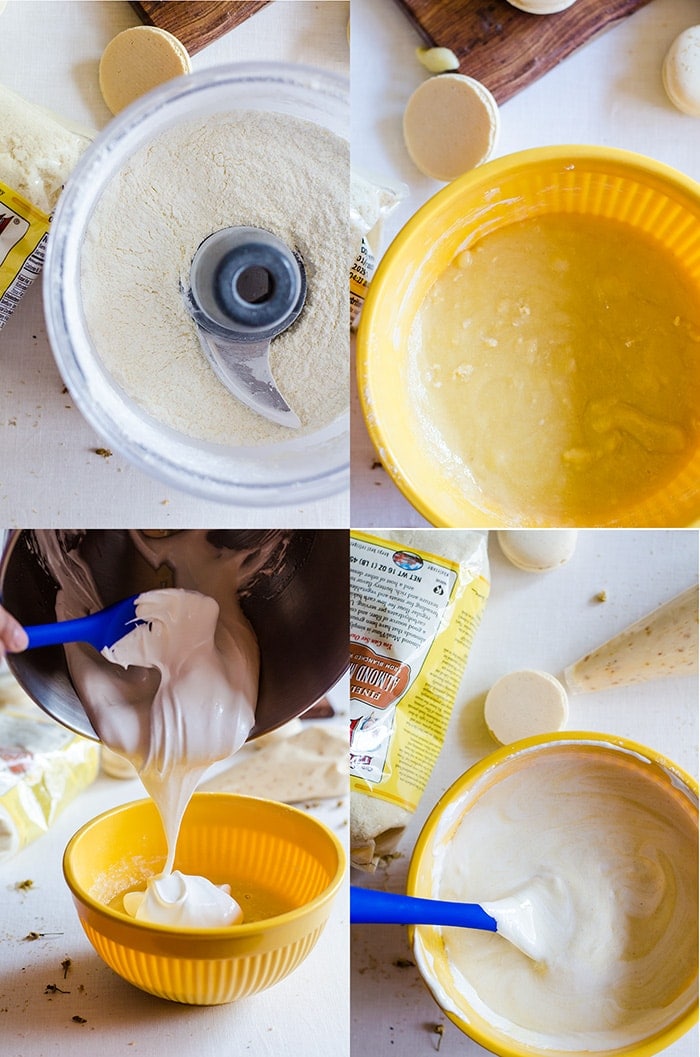 Then there is the caramelized honey buttercream. I can basically live off this buttercream. It kind of came together by accident. I knew I wanted caramelized honey buttercream, but I didn't remember to add heavy cream to the finished honey and started drizzling it into the buttercream. This resulted in bits of caramelized honey that didn't incorporated into the frosting and instead left flecks of chewy honey amazingness. I then added the heavy cream to the remaining caramelized honey so it would incorporate and just about died when I tasted it. The caramelized honey has a deeper, nuttier flavor which I emphasized with a touch of salt. And the bits of chewy caramel create a fun, unexpected texture and eating experience. Yes, I can definitely live off this buttercream.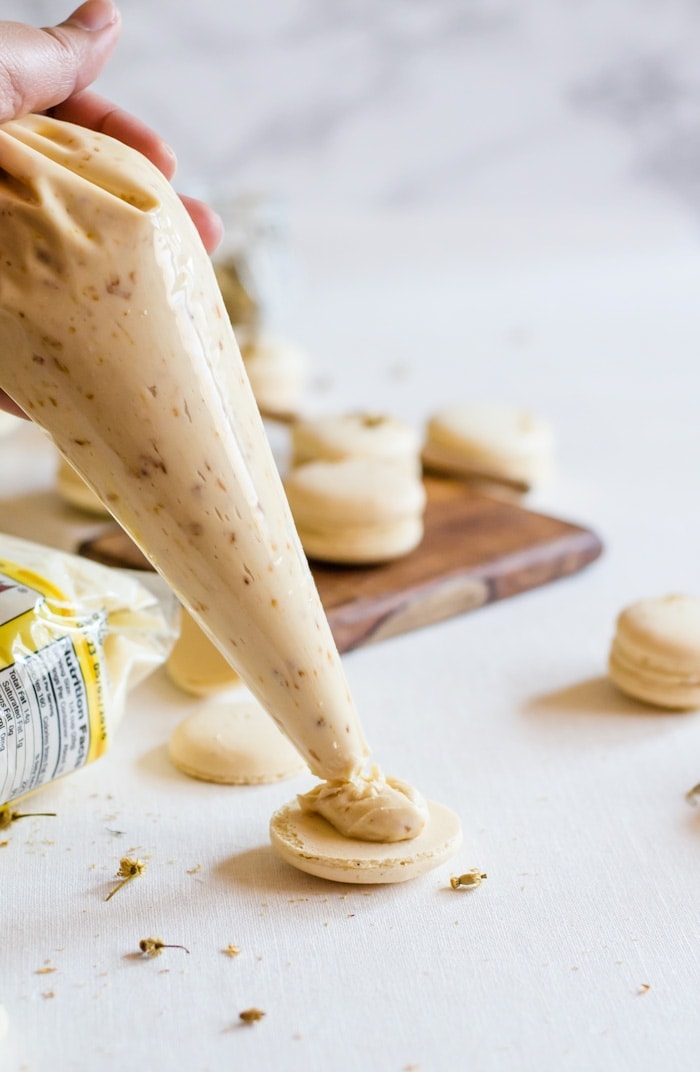 What is great about these chamomile and caramelized honey macarons is that the batter is harder to overmix, which tends to be my issue. You also don't need to age your egg whites and they tend to need a shorter drying time before you bake them. What more could a girl want? If you are new at making macarons, recommend giving these a try! I used Bob's Red Mill in my macarons, and they happen to be the only brand I use for my almond flour. I love them because they use whole, blanched sweet almonds which are full of vitamin E, and manganese. They are also inherently gluten-free, so macarons are my dessert of choice when serving friends with Celiac's disease. You can get a coupon for almond flour, or any other Bob's Red Mill products with this link.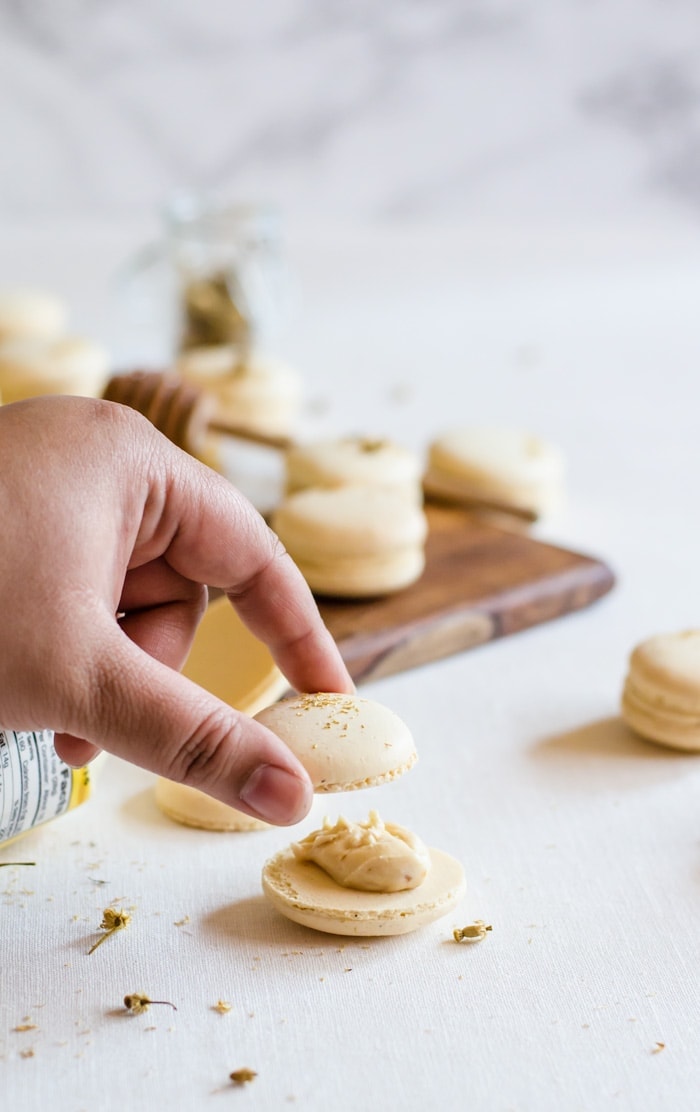 Notes: I used the base recipe from Bouchon Bakery. When I made the macaron shells, I weighed everything and highly recommend you do the same. I found that although the recipe asks for ⅔ cup of water for the simple syrup, the amount is actually weighed and is slightly more than ⅔ cup. It is closer to ⅔ cup plus a tablespoon and a bit. I used organic chamomile tea that was pure ground chamomile. This helped infuse the flavor better and allowed me to not have to worry about straining out the chamomile before drizzling it into the egg whites. You aren't supposed to mix the simple syrup when it is boiling, but you will need to be sure to scrape the sides and especially the bottom of your saucepan every so often to keep the chamomile from burning into the bottom of your pan.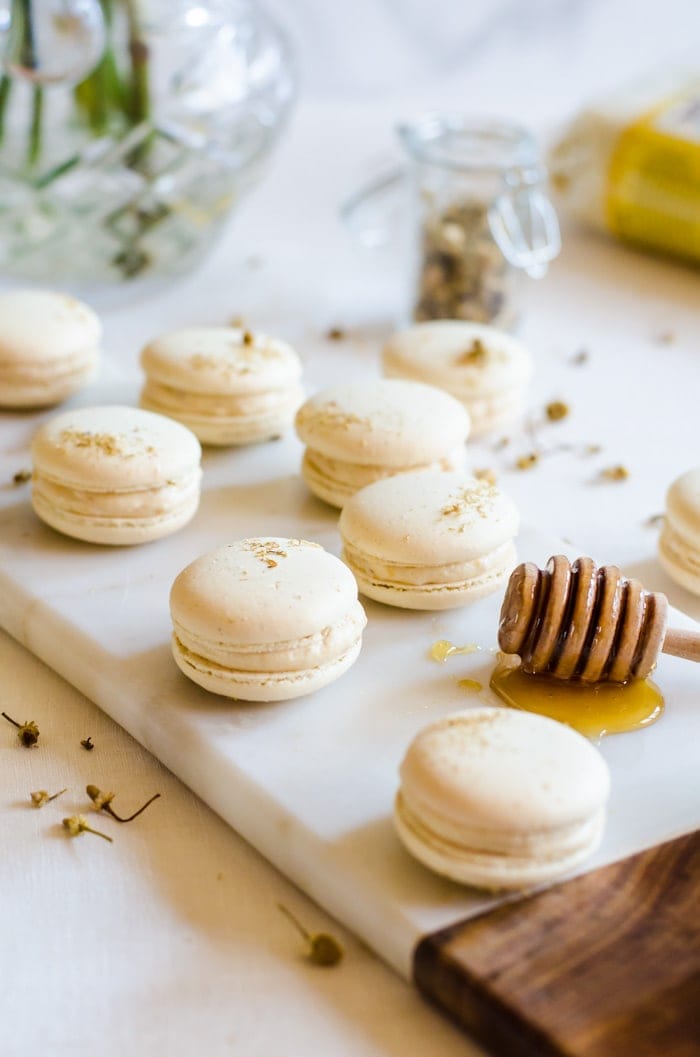 Recipe Card
Chamomile and Caramelized Honey Macarons
Ingredients
1 ¾

cup

2 ½ tablespoons

212 grams Bob's Red Mill almond flour

1 ¾

cup

1 tablespoon 2 teaspoons

212 grams powdered sugar

¼

cup

1 ½ tablespoons

82 grams egg whites

¼

cup

2 tablespoons

90 grams egg whites

1

cup

3 tablespoons

236 grams granulated sugar, plus a pinch for egg whites

⅔

cup

158 grams water

1

tablespoon

finely ground chamomile

plus more for decorating
For the buttercream
⅓

cup

honey

½

cup

1 stick unsalted butter, room temperature

3

cups

powdered sugar

¼

teaspoon

salt

¼

teaspoon

vanilla extract

2

– 2 ½ tablespoons heavy cream

room temperature
Special Equipment
Instructions
In a food processor, mix together the almond flour and powdered sugar. Pulse until combined and the almond flour is a bit more ground. Sift the mixture through a fine mesh sieve into a large bowl. Create a well in the almond flour mixture and add the ¼ cup plus 1 ½ tablespoons (82 grams) of egg whites. Mix until it is combined and forms a thick, sticky dough. Set aside.

Add the ¼ cup plus 2 tablespoons (90 grams) egg whites into a clean, dry mixing bowl. Add a pinch of sugar.

In a small saucepan, add the granulated sugar, water, and chamomile. Stir well over medium heat. Once the sugar is dissolved, allow to come to a boil, occasionally scraping the sides and bottom of the pan, and cleaning the sides of the saucepan with a wet pastry brush to remove and crystals. Cook the sugar until it reaches 248 degrees F (120 degrees C). Keep an eye on the temperature, because once the temperature reaches about 200 degrees F, start beating the egg whites with a whisk attachment that are in the mixing bowl.

Continue to beat the egg whites until soft peaks form. If the soft peaks form before the sugar reaches its final temperature of 248 degrees F, mix on low.

Once the sugar reaches 248 degrees F, immediately remove from heat. Give it once last stir to mix up the chamomile. Turn up the speed on the egg whites to medium-high and slowly drizzle in the sugar between the bowl and the whisk. Continue to beat until stiff, glossy peaks form.

Slowly begin adding the glossy egg whites to the bowl with the almond flour mixture. Mix in a couple of spoonfuls at a time until the mixture forms ribbons when you lift your spatula up from the batter. The ribbons should slowly spread out like lava and take several seconds to incorporate. If the ribbons just pile up and don't mix in, keep mixing and adding a bit more of the beaten egg whites. If the ribbon incorporates within just a couple of seconds, it is overbeaten and will likely crack and become misshapen when baked. Try not to overbeat. You may not need all of the beaten egg whites.

Fit a piping bag with a round piping tip and fill with the macaron batter. Pipe even rounds onto your silicone baking mat or parchment paper lined baking sheets. Tap the baking sheets on a table a few times to remove any bubbles. Go back with a toothpick to pop any other bubbles you may find. Sprinkle dried chamomile on a corner of the macarons.

Leave the macaron shells to dry out as you preheat the oven to 350 degrees F. Bake for 8 – 10 minutes, turning halfway through. Allow to cool completely before removing the shells from the baking sheets.

Make the buttercream. In a small skillet, add the honey and heat on medium high until the honey turns dark in color and smells nutty, even slightly burnt. Turn off the heat.

While the honey is cooking, beat the butter until smooth. Add the powdered sugar half a cup at a time, mixing well between each addition. Add the salt and the vanilla extract.

Take two tablespoons of the caramelized honey and drizzle the honey into the buttercream, while the buttercream is beating on low.

Mix the heavy cream into the remaining honey until it is fully incorporated. Slowly drizzle the honey in while the buttercream is being mixed on low. Taste frequently until you reach the desired intensity of flavor. Keep in mind the flavors will become more prominent as the macarons age. Once you've added the honey, beat on high for about a minute, then chill for about 5 minutes.

Fit a piping bag with a round tip and fill with the buttercream. Top half the macarons with the buttercream, and top with the remaining macaron shells.
Tried this recipe?
Tag me on Instagram! @acookienameddesire #acookienameddesire
I was selected for this opportunity as a member of Clever Girls and the content and opinions expressed here are all my own.