Your morning coffee just got better with these delightful coffee cardamom macarons. Light and crisp shell breaks way to a chewy and playful cardamom macaron which sandwiches an ultra creamy coffee buttercream.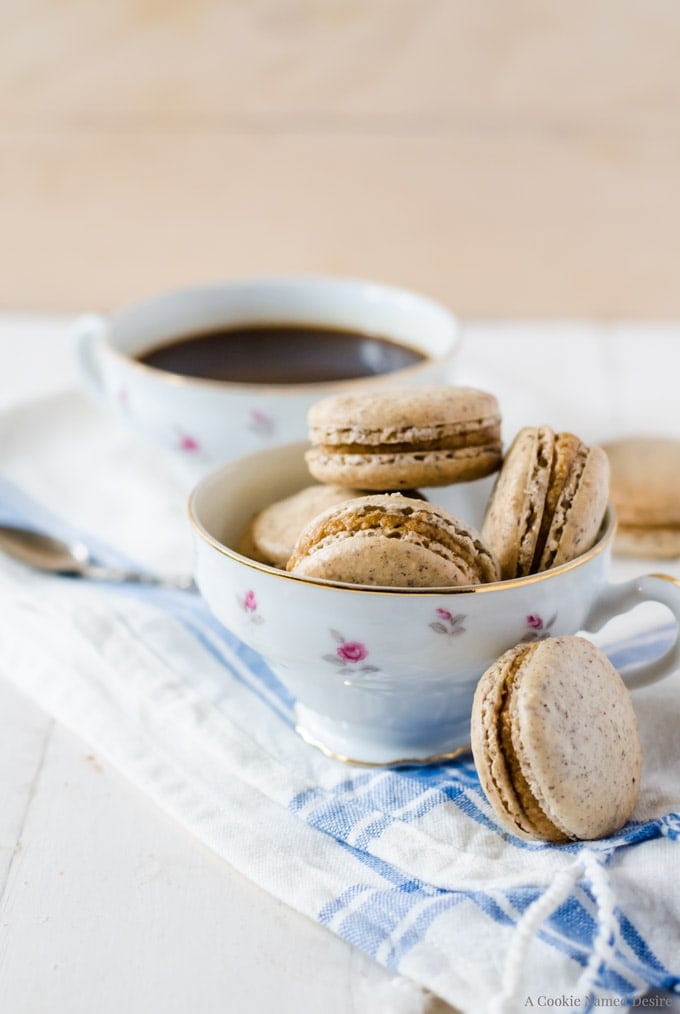 How was Thanksgiving?? What did you eat? Did you do any shopping? Mine was good. We had a ton of food and I decided last minute to make rolls and honey butter, a Dutch apple pie, and my green bean casserole. I ate pretty much all of the green bean casserole on my own. It's my favorite and I wait for every Thanksgiving to gorge myself on huge helpings of it because it just doesn't feel right to have it any other time of the year, you know? And of course I had about 10 rolls and most of the honey butter to myself.
After dinner the family watched Inside Out which made me cry as much as it did the first time I saw it. But before we could even have dinner, I had to drop my mom off at work and there was already a huge line outside her store when we got there. Apparently the store was a madhouse and a couple of her co-workers actually got punched in the face by customers. What is wrong with people?? When I went to pick her up at midnight I had to bring my daughter because no one was around to watch her and she was still awake anyway. The place was still crowded and looked even busier. I love getting good deals and shopping as much as the next person, but it just feels so pointless to me to spend my day fighting with people over an extra 30% off. What do you think?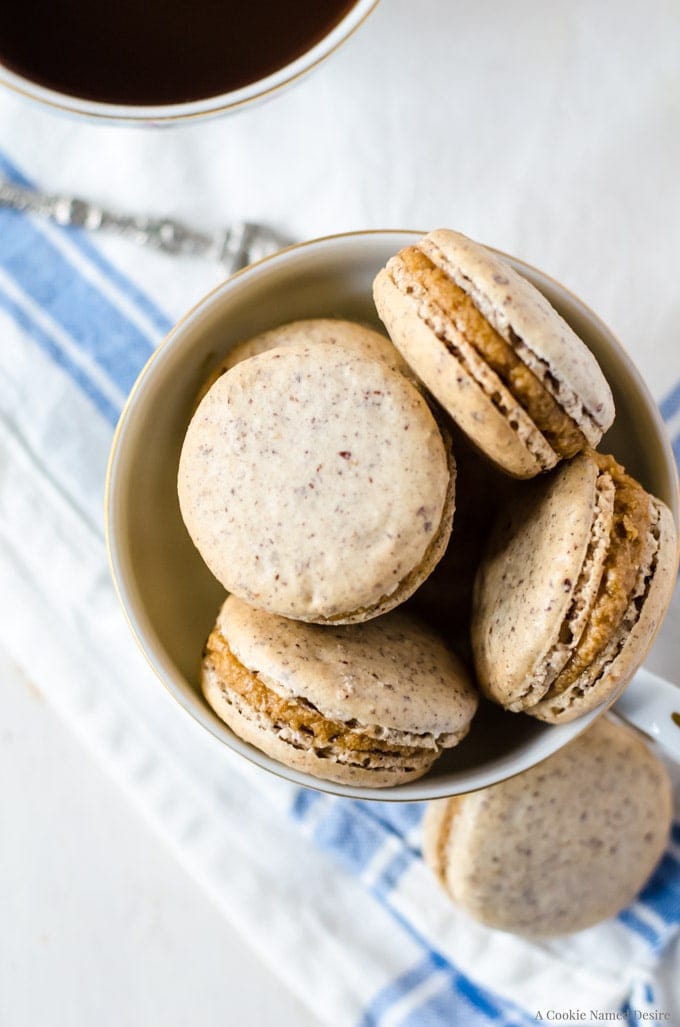 Anyway, as you can tell, I am macaron obsessed now. I seriously cannot stop making them. I feel like I am a master baker now every time I make them and they actually turn out. I am 2 for 2! Holla!
For a while now, I've been obsessing over the coffee cardamom flavor combination (I have a roulade with this combo I will share soon) and thought this coffee cardamom macaron would be a wonderful way to showcase them, especially with the hazelnut flour I had. The balance between the coffee and the cardamom is blissful. They meld together to make this macaron truly addictive.
Recipe Card
Coffee Cardamom Macarons
Ingredients
Cardamom Macarons
120

g

egg whites

pinch

of salt

200

g

powdered sugar

100

g

hazelnut flour

1

teaspoon

ground cardamom

3

tablespoons

sifted granulated sugar
Coffee Buttercream
½

cup

1 stick unsalted butter, room temperature

1

tablespoon

instant coffee granules

200

g

powdered sugar

1 - 2

tablespoons

heavy cream
Instructions
Beat the eggs with cleaned and dried beaters. Just before it reaches soft peaks, add a pinch of salt and continue to beat.

Mix together the powdered sugar, hazelnut flour, and ground cardamom in a food processor and process until the mixture is finely ground and completely mixed together. Set aside.

Once the egg whites reach soft peaks, add the granulated sugar and beat until it just reaches stiff peaks. Stop beating.

Pour the hazelnut mixture into the egg whites and slowly start mixing it in using a spatula. Once it starts to look as though it is becoming fully incorporated, begin lifting up the spatula with the mixture to see if it reaches the ribbon stage. Once it starts to ribbon down off the spatula back into the bowl, watch how soon the ribbons mix back into the rest of the mixture. It should take only a few seconds for it to mix back in. If it takes too long, you need to mix more. If it mixes back in too quickly, you have overmixed. It should be a semi-thick lava-like consistency.

Fit a piping bag with a large round piping tip and fill with the batter. Pipe small rounds onto a silicone mat on a baking sheet (I recommend

this macaron mat

). Quickly drop the baking sheet onto your counter to help pop any bubbles. Allow to sit and dry out for an hour.

Preheat the oven to 325 degrees F. Bake the macarons for 10 minutes, turning halfway through. Allow to cool completely before removing from the mat.

Beat the butter for the buttercream until smooth. Add in the coffee granules and powdered sugar and mix well. Add in the heavy cream one tablespoon at a time until you reach your desired consistency. Fit a piping bag with a round tip and fill with the buttercream. Pipe buttercream on half the macarons and top with the other half.
Tried this recipe?
Tag me on Instagram! @acookienameddesire #acookienameddesire