This post brought to you by Tazo® Tea. The content and opinions expressed below are that of A Cookie Named Desire.
Sweet vanilla bean macarons case a fruity and wonderfully flavorful passion tea buttercream for the perfect anytime treat. Pair with Tazo Passion Tea for an unforgettable experience. 
I am a certified "bev head." (that's a term I recently picked up from one of my favorite podcasts). I am all about my drinks and hydration. Tea happens to be a regular feature in my beverage profile, and I usually have a cup at least once a day.
This habit started when I was dating my ex-fiancee in England. The stereotype of the British drinking a lot of tea is more than that. It is very true. There are many people who can't do anything without first having a cup of tea. My ex would even bring tea with him in the shower! Thankfully, I never got to that point, and please stop me if I ever get that bad. But I do enjoy a nice cup of tea when possible. Emphasis on nice. I can't be bothered with a low quality tea anymore.
While I do appreciate a nice black tea, my tastes heavily lean toward lighter teas with floral and fruity notes. Above all, it has to embrace blending quality tea with bold flavors. So when I first discovered Tazo® Tea and their line of tea blends, I was in love. Obviously, I am very much in love with their Passion® Tea, but their Zen™ tea is also incredible. And for those moments I do want a black tea, Awake™ English Breakfast (but don't let that name fool you, I will drink it any time of day) is my choice every.single.time. All of these teas are perfect for anytime of day when I want to embrace those six years of living as a Brit.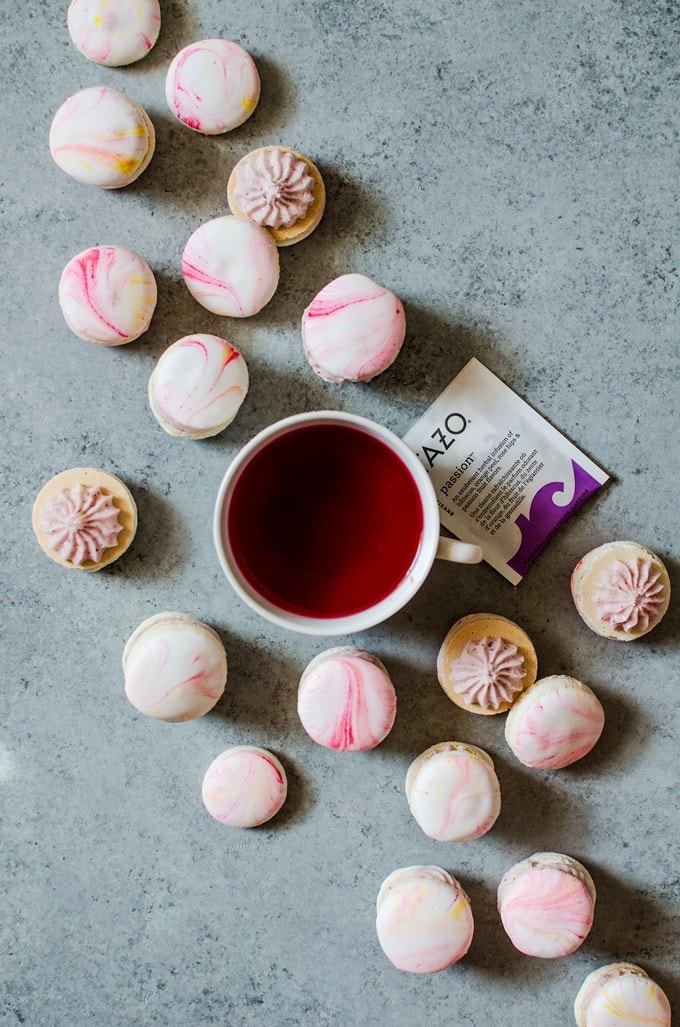 While you can totally wake up to these teas, you'd seriously be missing out. If you ask me, these teas are too great to reserve for certain times of day. I like to think of them as "anytime" teas you can enjoy when the mood strikes, or when you want to have something fun and flavorful without any guilt. For me, there is nothing better than whipping up a mug of Tazo Passion Tea and hanging out with friends, or when I come back home from a workout!
Pro tip: try one of these vanilla bean macarons with passion tea with your favorite Tazo tea blend (you can find more blends, plus where to find them on their website).
For these vanilla bean macarons, I used Tazo's passion tea to flavor the buttercream and it makes a great treat to enjoy with any of their teas (you can actually replace the passion tea with any of your favorite Tazo teas). I was inspired by Tessa's macarons for the swirl. It was just so beautiful that I had to try it. I was surprised at how easy it was. Well, at least after a bit of practice. Definitely trying this again very soon.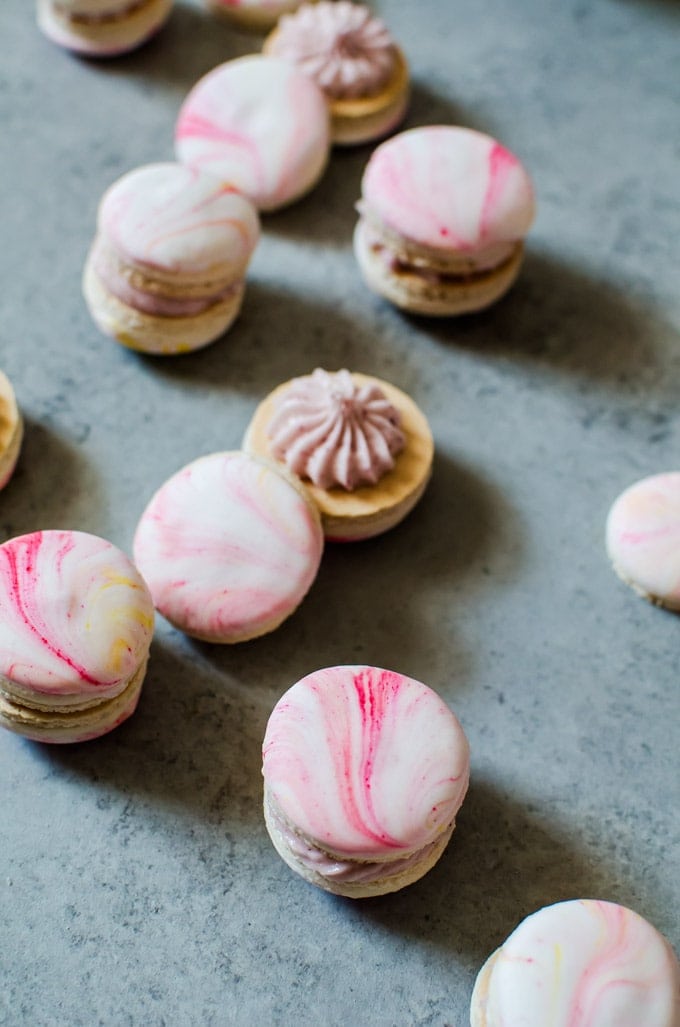 Vanilla Bean Macarons Recipe
Recipe Card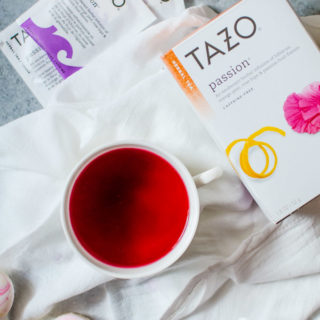 Sip Joyfully with Tazo Tea and Vanilla Bean Macarons
Ingredients
For Vanilla Macarons
1 ¾

cup

2 ½ tablespoons

212 grams Bob's Red Mill almond flour

1 ¾

cup

1 tablespoon 2 teaspoons

212 grams powdered sugar

¼

cup

1 ½ tablespoons

82 grams egg whites

¼

cup

2 tablespoons

90 grams egg whites

1

cup

3 tablespoons

236 grams granulated sugar, plus a pinch for egg whites

⅔

cup

158 grams water

1

tablespoon

vanilla extract
For Top Decoration
1

egg white

1 ½

cups

confections sugar

1

teaspoon

lemon juice

water

food coloring
For Passion® Tea Buttercream
11

tablespoons

unsalted butter

16 ½

tablespoons

Passion® Tea

removed from tea bags

3 ½

cups

powdered sugar

pinch

of salt

2

tablespoons

heavy cream
Instructions
Add the almond flour and powdered sugar to your food processor and process until finely ground and well combined. Sift through a fine mesh strainer. Add the 82 grams of egg whites to the almond flour mixture and mix well until it forms a thick dough.

Add the 90 grams of egg whites to a thoroughly cleaned and dried mixing bowl.

Add the sugar and water to a small saucepan and heat on medium-high until it reaches 200 degrees F.

Once the sugar mixture reaches 200 degrees F, beat the egg whites to soft peaks. Continue to cook the sugar mixture until it reaches 248 degrees F. If the egg whites reach soft peaks before the sugar reaches 248 degrees F, turn down the speed of your mixer to low just to keep the whites moving.

As soon as the sugar reaches 248 degrees F, remove the sugar from heat. Turn up the speed on the egg whites to high. Slowly drizzle the sugar between the bowl and the beater. Beat the whites until they are stiff and glossy and the bowl is room temperature.

Add the vanilla and beat just until mixed in.

Slowly add the egg whites to the almond flour mixture. Be sure to mix very well. Mix until the mixture is ribbony and falls from your spatula in ribbons. You may not need all the beaten egg whites.

Pipe small rounds about an inch in diameter onto silicone baking mats. Use a toothpick to carefully remove and air bubbles you may find. Leave to rest for an hour.

Preheat the oven to 325 degrees F. Bake for 10 minutes, turning halfway.

Beat the egg whites for the decoration until it forms soft peaks. Add the sugar and beat well. Add the lemon and 2 teaspoons of water and mix. Slowly add more water until it is about the consistency as glue.

Pour into a bowl and add a drop or two of your favorite food coloring. Use a toothpick to swirl.

Dip the top of the macaron shells into the mixture and allow the excess to drip. Leave the macaron shells on baking mats to dry completely - at least 2 - 3 hours.

In a small saucepan, add the butter and Passion® tea. Simmer on low for 5 minutes, then turn off the heat and allow to seep for 20 minutes. Stir occasionally. Strain the butter from the tea using a fine mesh strainer. Squeeze out as much of the butter as possible. It is okay if a couple of small tea particles make it through.

Chill the butter until firm again - about an hour. Beat until smooth, then add the powdered sugar one cup at a time. Add a pinch of salt, then add the heavy cream 1 tablespoon at a time until it reaches your desired consistency. Fill a piping bag fitted with your favorite tip with the buttercream.

Match the macaron shells with pairs that are the same in size. Pipe buttercream onto one of the shells in each pair, then top with the other. Store for at least 24 hours, then consume (or eat them right away!)
Tried this recipe?
Tag me on Instagram! @acookienameddesire #acookienameddesire