Enjoy the holidays with this beautifully festive chocolate peppermint macarons. Perfect with your hot cocoa or as a delicious gift for that one person on your Christmas list!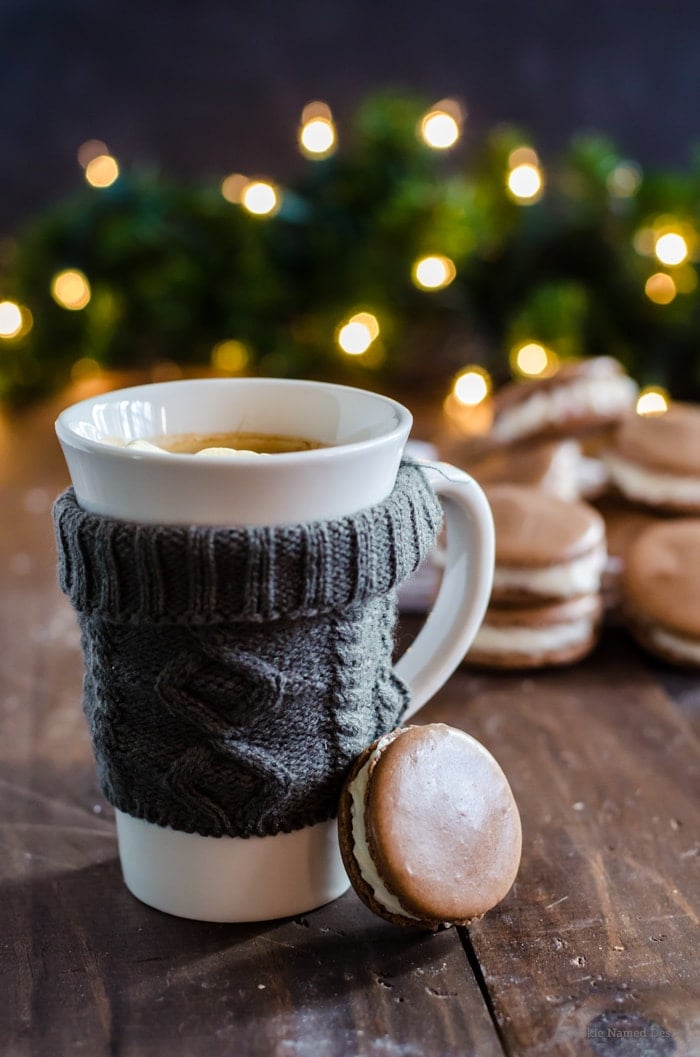 Yes, more macarons because they are the best! I seriously cannot get enough of them. I had to try my hand at chocolate macarons and this ended up being trickier than the macarons I've made before because I had to balance getting enough chocolate flavor and keeping the integrity of this very finicky batter.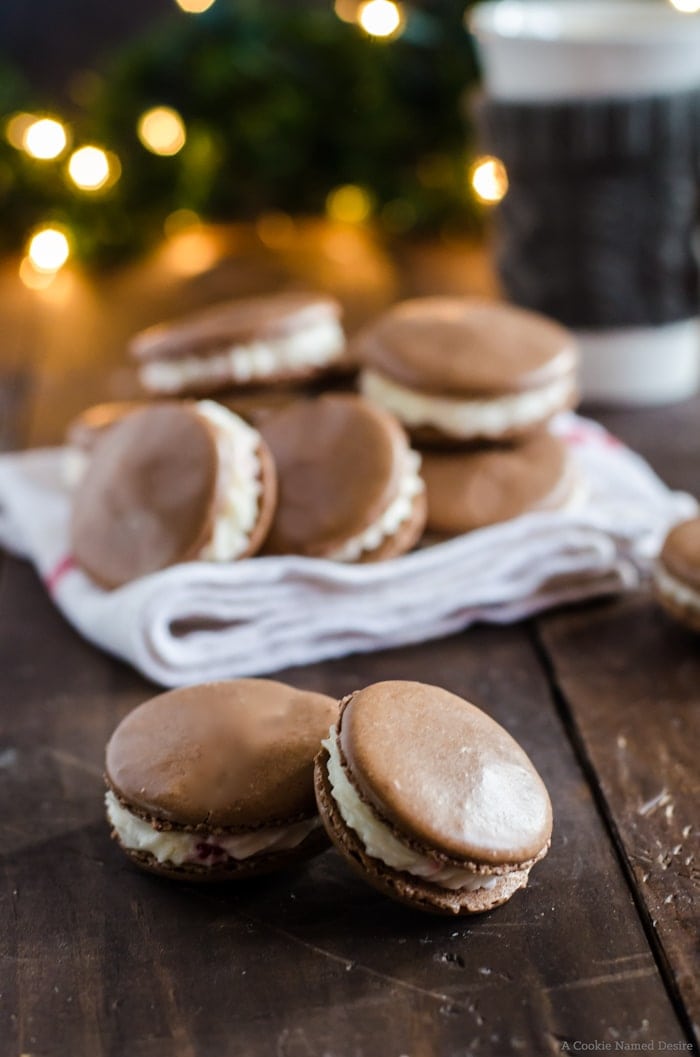 As you know, I am an ambassador for Rodelle because I love their products. One product in particular, (besides their rich and super chocolaty Dutch processed cocoa) the chocolate extract, really helped t o emphasize that chocolate flavor without really altering the batter in a big way. Seriously guys, chocolate extract is a must-have and I swear I'm not just saying that. It doesn't make anything you add it to a chocolate-flavored treat, but instead supports and emphasizes the chocolate flavors that are already there by bringing back those top flavore notes that are lost in the chocolate-making process.
I've been in full-on Christmas mode the past few weeks. My radio doesn't leave that one station that's been playing nothing but Chrismas muic. I've been slowsly Christmas shopping for my daughter (which is getting so hard since she never leaves my side and knows all the hiding spots in this house) and getting together some really nice homemade gifts for the rest of the family. So of course when making these chocolate macarons I knew I had to add a bit more Christmas spirit by pairing it with peppermint buttercream. Instead of using peppermint extract in the buttercream, I folded in crushed peppermint which not only gave you a really nice peppermint flavor, but the red in the canes dissolved to create some really nice swirls in the buttercream.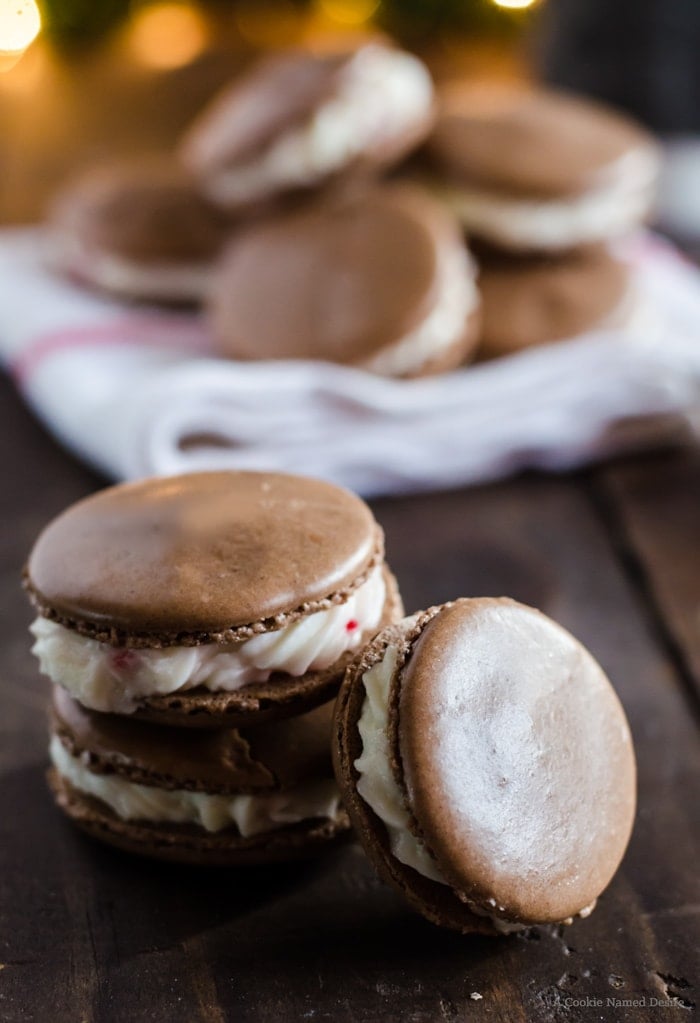 These chocolate peppermint macarons are the perfect holiday cookie. They are wonderfully delicate and full of bold Christmas flavor. It is surprisingly simple to make these chocolate peppermint macarons as long as you work with a delicate hand and really pay attention to what you are doing. Regardless if your macarons crack or don't form feet, you will still end up with a delicious tasty treat everyone will love. And if you do happen to have a few aesthetic flaws, they are easily covered with powdered sugar!

Recipe Card
Chocolate Peppermint Macarons
Ingredients
120

grams

egg whites

200

grams

powdered sugar

100

grams

almond flour

13

grams

Rodelle Dutch-processed cocoa powder

pinch

of salt

40

grams

sifted granulated sugar

½

teaspoon

Rodelle chocolate extract

½

cup

1 stick unsalted butter, room temperature

2 ½

cups

powdered sugar

1 -2

tablespoons

heavy cream

⅓

cup

crushed candy canes
Instructions
Weigh your egg whites the night before and leave them uncovered overnight.

Mix together the powdered sugar, almond flour, and cocoa powder in a food processor and blend until the almonds are a fine powder and well blended into the sugar.

Beat the egg whites until they form soft peaks, then add the salt and granulated sugar and beat just until stiff peaks form. Stir in the chocolate extract.

Pour the powdered sugar mixture into the egg whites and fold in. Once the dry ingredients begin to mix into the egg whites, start checking the consistency of the batter by lifting up a spoonful of batter with your spatula. The batter should ribbon down back onto itself and then slowly mix back into the rest of the batter. it should move like lava and take a few seconds to mix back in.

Leave your batter uncovered in the bowl for about 30 minutes.

Fit a piping bag with a large (½ inch) tip and prepare your baking sheets with silicone mats (I find they work beter to prevent too much spreading). I prefer mats with circles drawn on for accuracy.

Fill the piping bag halfway with the batter and pipe circles onto your baking sheets that are about an inch in diameter (they will spread a bit). Leave uncovered for an hour.

Preheat the oven to 325 degrees F.

Bake the sheets for 10 - 12 minutes, turning halfway.

Allow to fully cool before removing from the sheets. Meanwhile, make your buttercream.

Beat the butter until creamy. Add in the powdered sugar half a cup at a time, then add your heavy cream one tablespoon at a time to check for your desired consistency. Fold in the crushed peppermint.

Fit another piping bag with a tip of your choice then fill with the buttercream. Top half of the macaron shells with the buttercream and top with the other half.

Macarons taste best when they've "aged". I recommend leaving them in the freezer in an airtight container overnight.
Tried this recipe?
Tag me on Instagram! @acookienameddesire #acookienameddesire