Your taste buds will rejoice once you bite into these delicately flavored orange blossom macarons with raspberry rose jam. These little macarons have a wonderfully floral attribute that reminds you of the first days of Spring without being overwhelming.
I love Spring. It's my favorite season of the year next to Autumn. I love feeling the first hints of warmth on my face after a long winter. I love seeing flowers starting to slowly peek their heads out of the dirt and my rhubarb confidently sprout three large sprouts at a time. I love seeing the produce come in season and coming up with a million ways to use them. Spring is happiness.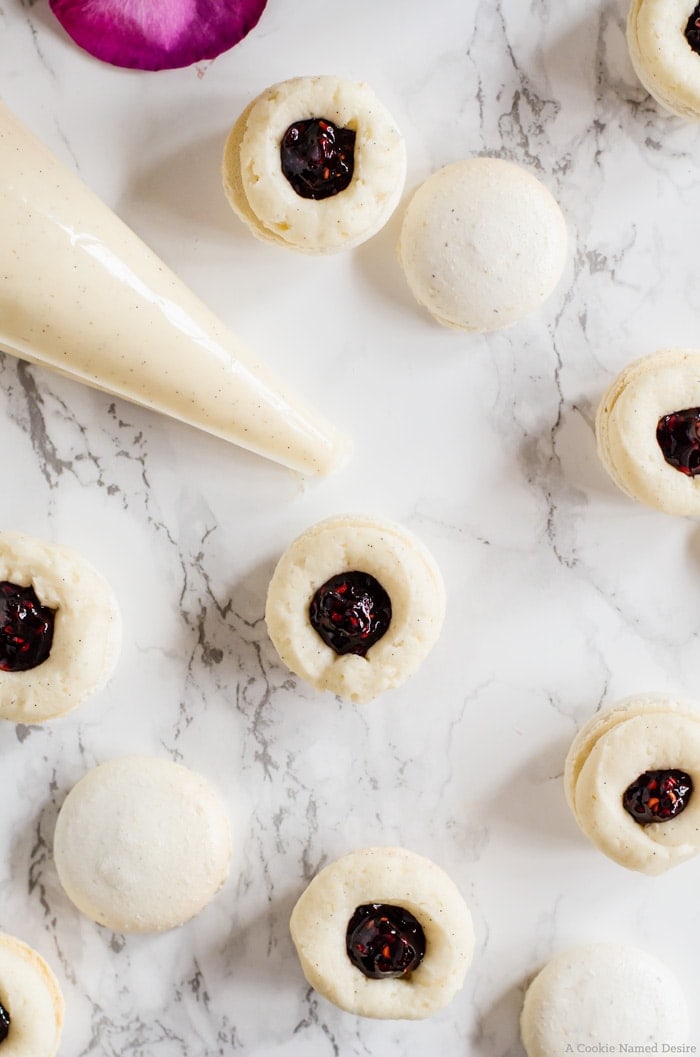 Spring also happens to be when we do a lot of entertaining. We usually do something for Easter, Mother's Day, and even Women's Day. For more elegant get-togethers, like what we do for Mother's Day, I like to make sure we have good wine and of course, great desserts. I've been a huge fan of Gloria Ferrer wines for quite a while now and think they are perfect for a Springtime gathering. What I did not know about them is that they were the very first sparkling wine home in Sonomo Caneros and were the first to bring back clones from France to grow in their own vineyards. Today, Gloria Ferrer is known as the experts in Pinot Noir and Chardonnay. I love a good Chardonnay during the spring and these orange blossom macarons with raspberry rose jam are perfect with their Chardonnay.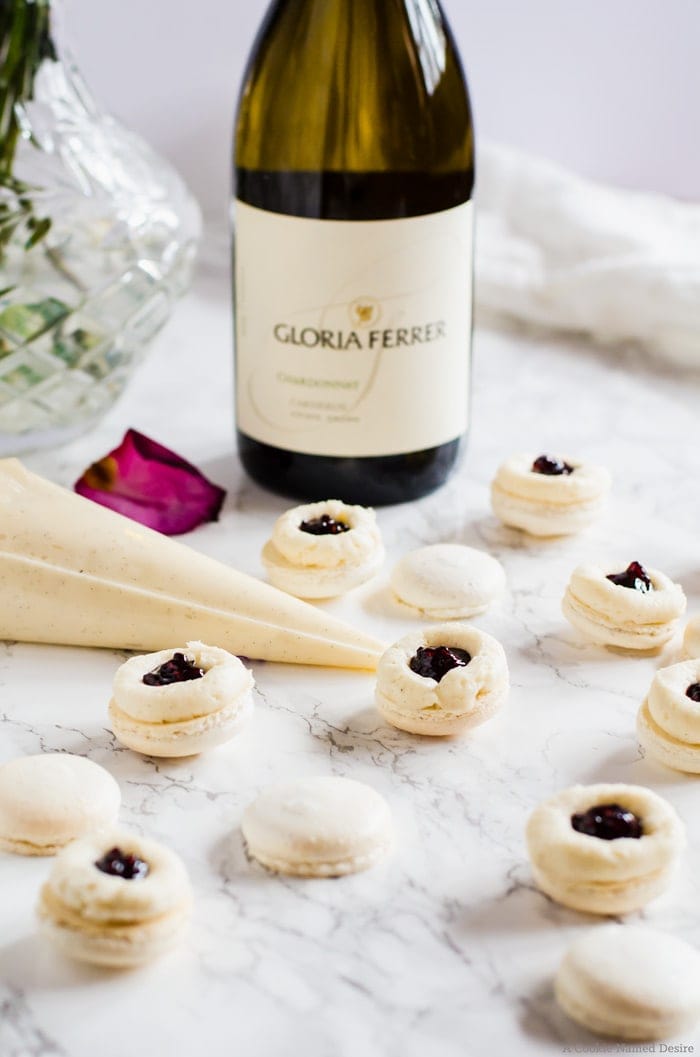 I've been craving macarons for a long time now and finally caved after deciding to try making Italian macarons again. The first time I tried making Italian macarons was my very first time making macarons. They were actually quite nice and were not hollow and had nice feet, but I didn't mix the batter properly so after the first batch, the rest was too runny and came out misshapen. After that, I decided to master French macarons before I moved on to the Italian version even though French macarons tend to be harder to master. I made this decision because it took me 6 hours to make the Italian macarons. SIX. HOURS. I don't know why. It didn't take me anywhere near that long to make these macarons. And it shouldn't take you that long to make these orange blossom macarons with raspberry rose jam even if it's your first time making them.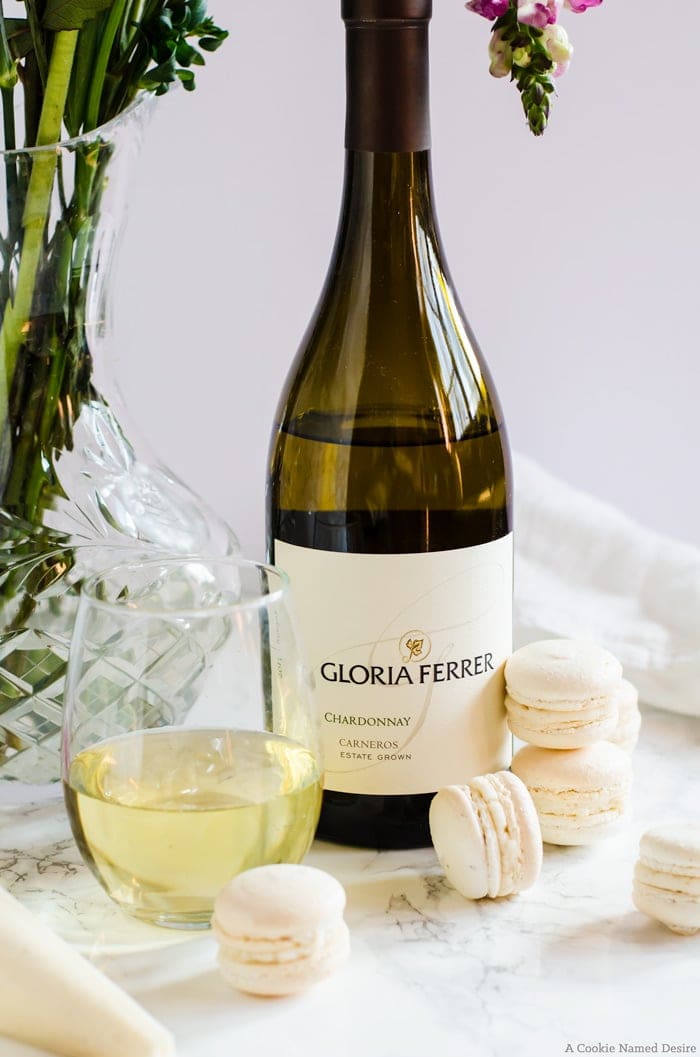 What I love about this recipe for orange blossom macarons with raspberry rose jam (which is based off the Bouchon Bakery macaron recipe) is that you don't have to age the egg whites so if you decide one morning to make them, you can. I did make the raspberry rose jam ahead of time, but you certainly don't have to. It would be easy enough to have another pot going to make the jam as you cook the simple syrup.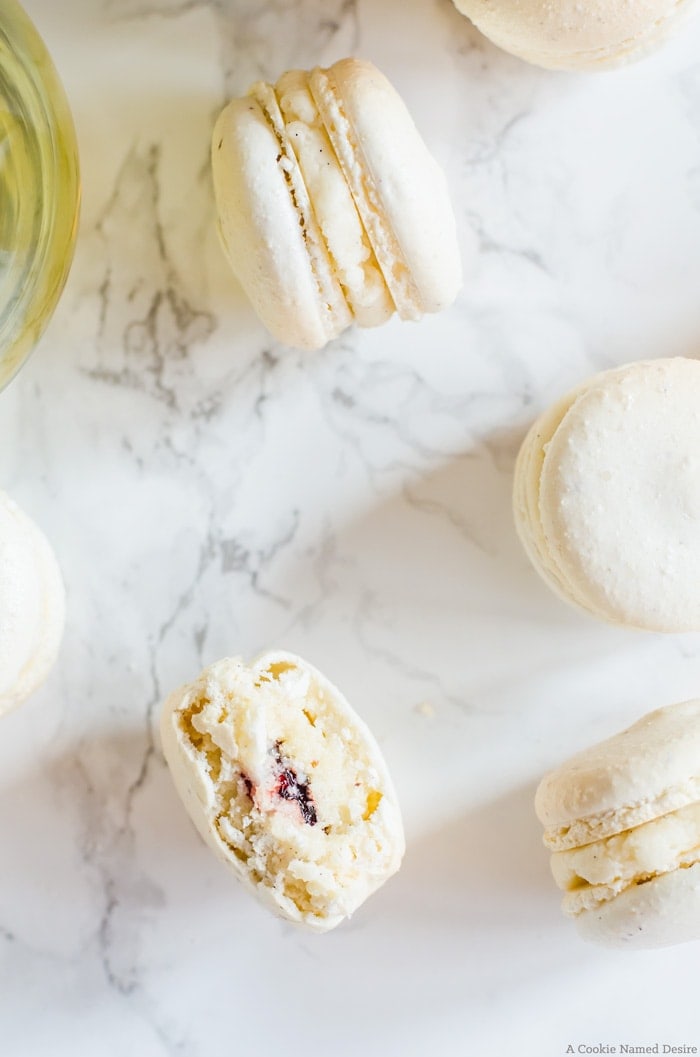 Light with wonderfully floral notes, these orange blossom macarons with raspberry rose jam are a perfect Spring gathering dessert your guests will love. In fact, I recommend making two batches.
Orange blossom macarons with raspberry rose jam for all!
Orange Blossom Macarons with Raspberry Rose Jam
Ingredients
1 ¾

cup

2 ½ tablespoons

212 grams almond flour

1 ¾

cup

1 tablespoon 2 teaspoons

212 grams powdered sugar

¼

cup

1 ½ tablespoons

82 grams egg whites

¼

cup

2 tablespoons

90 grams egg whites

1

cup

3 tablespoons

236 grams granulated sugar, plus a pinch for egg whites

⅔

cup

158 grams water

2 ½

teaspoons

orange blossom water

Orange Blossom Buttercream

recipe below

Raspberry Rose Jam

recipe below
Instructions
Mix together the almond flour and powdered sugar then place in a food processor. Pulse until combined and the almond flour is a finely ground. Sift the mixture through a fine mesh sieve into a large bowl. Process the larger pieces of almond flour again and put through the sieve once more. Discard any remaining larger pieces of almond flour.

Create a well in the almond flour mixture then add the ¼ cup plus 1 ½ tablespoons (82 grams) of egg whites. Mix until it forms a thick, sticky dough. Set aside.

Add the ¼ cup plus 2 tablespoons (90 grams) egg whites into a clean, dry mixing bowl. Add a pinch of sugar.

In a small saucepan, add the granulated sugar and water. Stir well over medium heat until the sugar dissolves. Once the sugar is dissolved, allow to come to a boil, occasionally cleaning the sides of the saucepan with a wet pastry brush to remove and crystals.

Cook the sugar until it reaches 248 degrees F (120 degrees C). Keep an eye on the temperature, because once the temperature reaches about 200 degrees F, start beating the egg whites with a clean whisk attachment.

Continue to beat the egg whites until soft peaks form. If the soft peaks form before the sugar reaches its final temperature of 248 degrees F, beat the egg whites on low.

Once the sugar reaches 248 degrees F, immediately remove from heat. Turn up the speed on the egg whites to medium-high and slowly drizzle in the sugar between the bowl and the whisk. Continue to beat until stiff, glossy peaks form. About another 5 minutes. Add the orange blossom water and beat for one more minute to incorporate.

Slowly begin adding the glossy egg whites to the bowl with the almond flour mixture. Mix in a couple of spoonfuls at a time until the mixture forms ribbons when you lift your spatula up from the batter. The ribbons should slowly spread out like lava and take several seconds to incorporate, perhaps leaving a faint line where the ribbon fell. If the ribbons just pile up and don't mix in, keep mixing and adding a bit more of the beaten egg whites. If the ribbon incorporates within just a couple of seconds, it is overbeaten and will likely crack and become misshapen when baked. Try not to overbeat, but if you get to that point, it will still be yummy when you bake! You may not need all of the beaten egg whites (I usually do).

Fit a piping bag with a round piping tip and fill with the macaron batter. Pipe even rounds onto your silicone baking mat or parchment paper lined baking sheets. Tap the baking sheets on a table a few times to remove any bubbles. Go back with a toothpick to pop any other bubbles you may find.

Leave the macaron shells to dry out as you preheat the oven to 350 degrees F. Bake for 8 – 10 minutes, turning halfway through. Allow to cool completely before removing the shells from the baking sheets.

Fit one piping bag with a small round tip and fill with the buttercream. Pipe circles on half the macarons shells. Fill the circles with the raspberry rose jam, then top with the remaining macaron shells.

Serve with Gloria Ferrer wines.
Orange Blossom Buttercream
Ingredients
½

cup

1 stick unsalted butter, room temperature

2 ½

cups

powdered sugar

2 ½

teaspoons

orange blossom water

1

teaspoon

vanilla bean paste

2

tablespoons

heavy cream

Pinch

of salt
Instructions
Beat the butter until very smooth. Add the powdered sugar one cup at a time and mix on low. Add in the orange blossom water, vanilla, heavy cream, and salt, then beat on low until combined.
Raspberry Rose Jam
Ingredients
⅓

cup

raspberries

I used frozen

¼

cup

granulated sugar

1

tablespoon

water

1

teaspoon

rose water

Pinch

of salt
Instructions
In a saucepan add the raspberries, sugar, and water together and heat on medium. Mash the raspberries as they cook.

Continue to cook until it becomes thick and like a loose jam. Add the rosewater and salt and mix well.

Remove from heat and allow to cool. It will thicken as it cools.
I was selected for this opportunity as a member of Clever Girls and the content and opinions expressed here are all my own.