A buttery, flakey crust, brown butter, maple syrup, and pecans meet to create this absolutely irresistible maple pecan pie. Made with no corn syrup! Guaranteed to be your new favorite pie.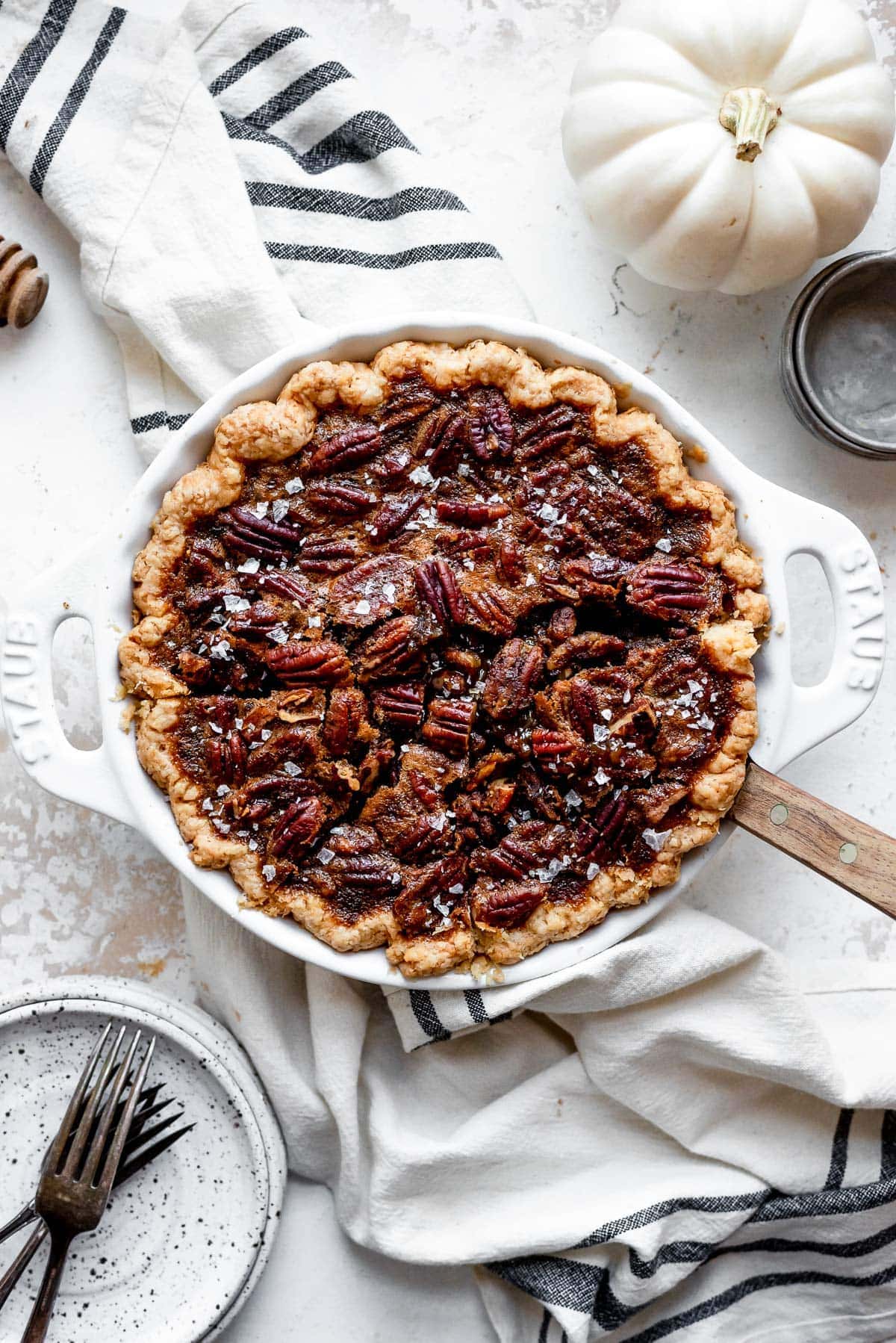 Why it works
A lot of people wonder, "Can I make pecan pie without corn syrup" and this pie is exactly that - a delicious pie with no corn syrup, and is also packed with so much flavor. For that reason, it is one of the best pecan pies I've had.
Thanks to brown butter, maple syrup, and honey, the flavor of the pie is complex and deeply satisfying.
The crust is simple, flaky, and delightfully buttery. You'll want to keep it in your bck pocket for all your pie recipes.
The recipe comes from the amazing Petee's Pie - a pie shop in New York. You can find the recipe, plus so many other amazing pies in the cookbook Pie for Everyone.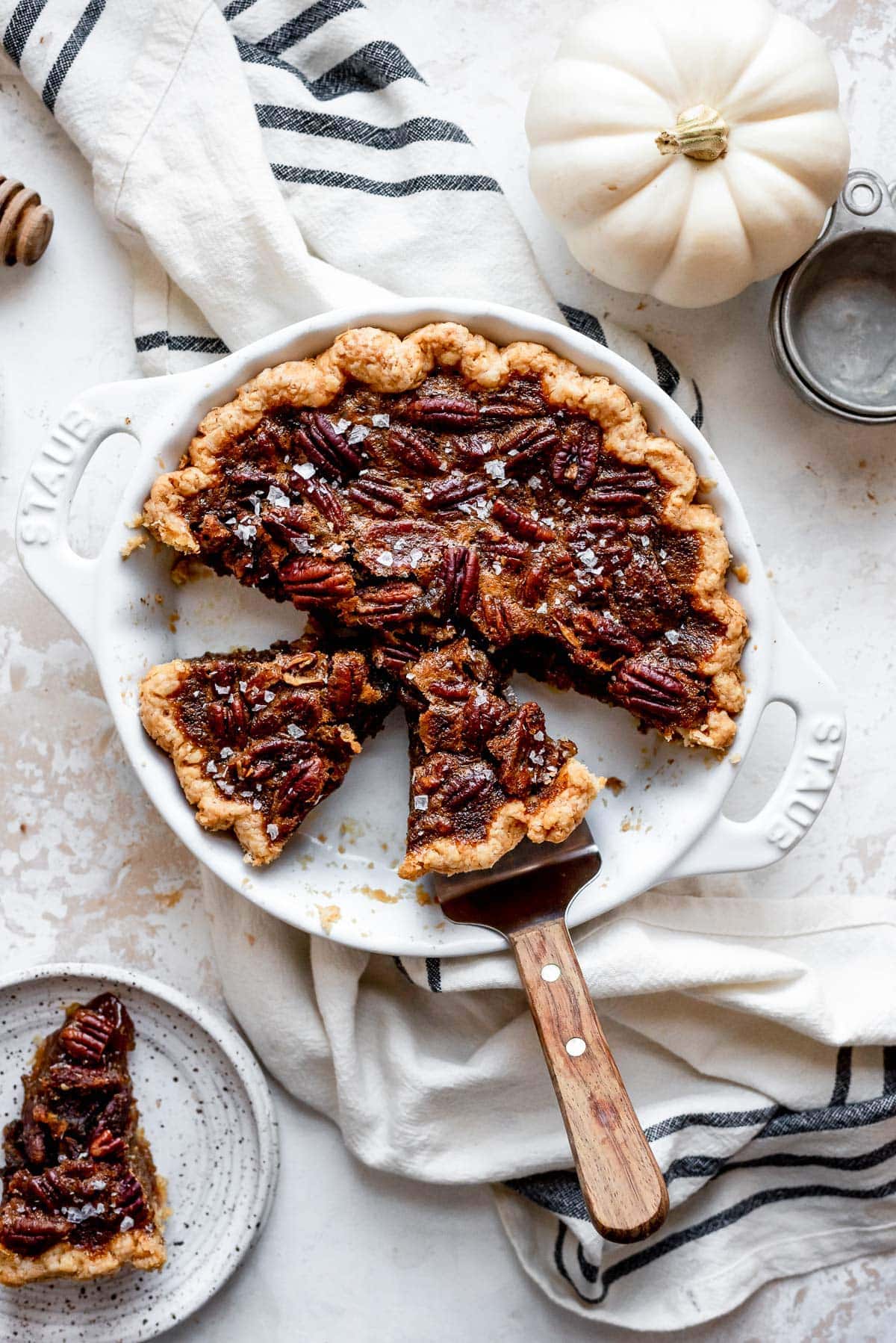 Ingredients
The pie requires a few key ingredients. Fortunately, since we use maple syrup and a touch of boney, corn syrup is not one of them.
Butter - To add depth and dimension, we brown the butter. It complements the pecans and adds to the nearly caramely notes in the filling.
Sugar - Light brown sugar is absolutely necessary for adding depth and a nice molasses note.
Maple syrup - The recipe originally called for all honey, but I love maple with pecan and the combination is absolutely perfect.
Honey - Originally, the recipe called for all honey to add complexity to the pie when combined with brown butter. It is great if you want to try it that way. I keep some honey for that complexity and to keep the mixture from thinning too much.
Pecans - Chopped roasted pecans are the best. I sometimes like to add sliced pecans on top of the pie to decorate, but it is completely optional.
Vanilla - Round out the flavors and help them shine with a good splash of vanilla. I recommend pure vanilla extract instead of the imitation version.
Eggs - The eggs bind and set the pie. It keeps it from becoming a soupy mess.
Salt - Maple pecan pie is notoriously sweet, so I like to add a sprinkling of flaky sea salt on top before serving.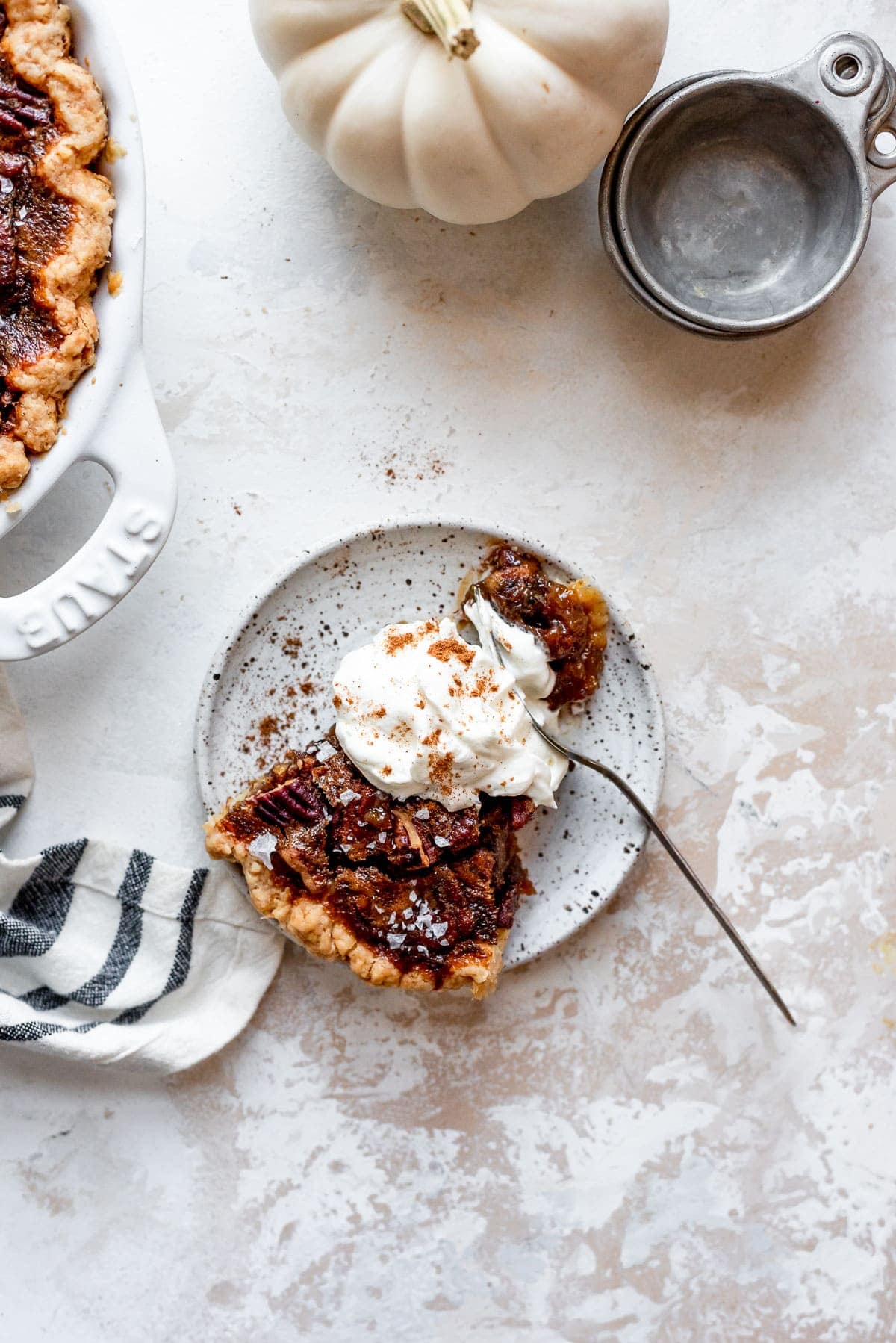 Method
We start with the crust. The original instructions have us dissolve our sugar and salt in the water and then freeze it. It requires a lot more waiting time and isn't my favorite, and I don't find it 100% necessary. I skip that and add the sugar and salt into the flour.
Chill the pie crust dough, and roll it out. Add it into the pie dish and freeze until needed.
Make the filling. (You can brown the butter while the crust dough is chilling.) Whip together the butter, sugar, eggs, salt, vanilla, maple syrup, and honey together. Add the pecans
Pour into crust, and bake. The filling should be set at the edges and only slightly jiggly at the center.
Cool completely before slicing.
Storage
Leave the pie in its pie dish and cover well. I recommend a few layers of plastic wrap and/or aluminum foil. You can also pre-slice the pie and store in an airtight container. I like to wrap each slice well and then store in a container.
Frozen maple pecan pie will last for up to three months in the freezer. Thaw in the refrigerator overnight, then allow it to come fully to room temperature.
You may also freeze the unbaked pie. Fill the pie crust with the filling, then freeze uncovered until solid. Wrap well in a few layers of aluminum foil or plastic wrap and keep in the freezer for up to one month. To bake, remove from the freezer and bake for approximately an additional 20 minutes.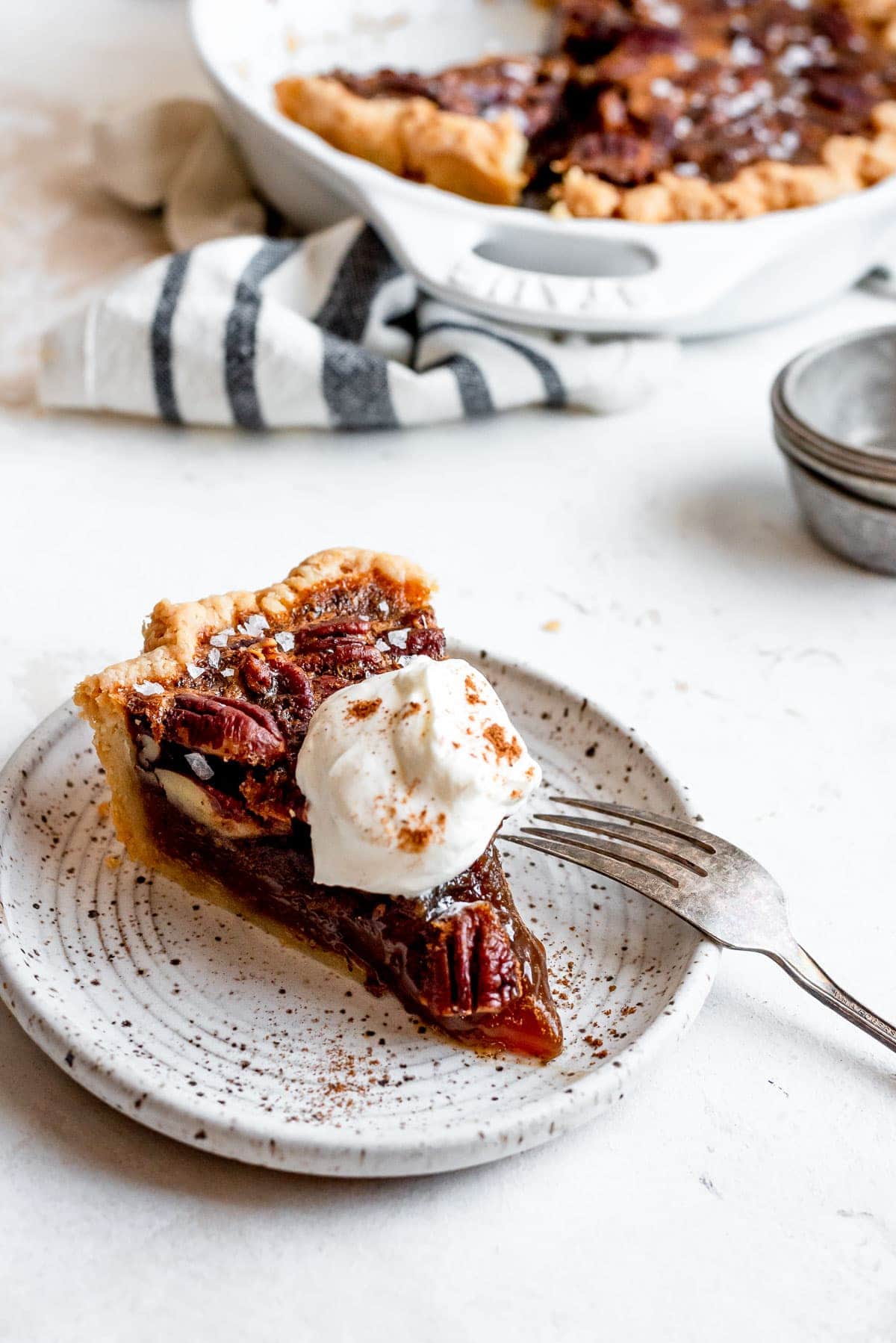 Pecan pie F.A.Q.s
Why would a pecan pie be runny?
The filling of pecan pie is normally runny before you bake. It is basically a custard pie in that way. The filling should not be too thick when you are pouring it into your pie crust to bake. If your filling is still too runny when baking, it is most likely due to underbaking. Put the pie back in the oven and bake for longer!
How do you thicken pecan pie filling?
If you've baked your pecan pie and the center is still runny, the best thing you can do is bake the pie for longer. This can be tricky, especially if you've already cut into the pie. If this does not help, you can turn your pie into something else, like a deconstructed dessert, or use the filling as a topping for ice cream. If you want to thicken the filling before you bake, you can add a tablespoon or two of all-purpose flour or cornstarch. This will also help the filling to set during baking.
How do you check the doneness of a pecan pie?
The easiest way to check if you pie is done is to give it a little shake. The edges should be set and the center should have some jiggle, but not move so much that it seems liquidy. The center should wiggle more like set jello.
Can you overbake pecan pie?
The edges of the crust and the pecans can overbrown. One of the hardest things to gauge is doneness for pecan pie. If the center is still too jiggly, but the crust or pecans are browning too much, do not lower the temperature or cut baking short. Instead, cover the top of the pie with aluminum foil.
Related recipes
If you love pie, you will need to try my pumpkin pecan pie, black forest pie, and s'mores pie. You may also want to take a look at this cheddar apple pie, pecan pie brownies, maple sweet potato pie, pop tart pie, skillet apple pie, bruleed butternut squash pie, bite-sized apple pies, and no-bake peanut butter pie.
Recipe Card
Maple Pecan Pie
A comforting and nutty maple pecan pie
Ingredients
Pie Crust
1

tablespoon

granulated sugar

1

teaspoon

salt

2

cups

all-purpose flour

1

cup

unsalted butter

cubed and frozen

¼

cup

ice water
Pie Filling
½

cup

unsalted butter

1

cup

light brown sugar

3

large eggs

room temperature

1

large egg yolk

½

teaspoon

salt

1

teaspoon

vanilla extract

¼

cup

pure maple syrup

¼

cup

honey

1

cup

chopped pecans
Instructions
Make the Crust

Add the sugar, salt, and flour together in a food processor. Pulse 4 - 5 times to combine.

Add the cubed butter and pulse for 6 - 7 times, or until the mixture comes together like large lentils.

Drizzle in 2 tablespoons of ice water and pulse another 3 times. Press the mixture together and if it comes together, it is ready, otherwise, if it is too dry, add another 1 - 2 tablespoons.

Turn out the mixture onto plastic wrap and press together into a disc. Wrap tightly and place in the refrigerator for at least 30 mins.

Unwrap and place o a lightly floured surface. Roll out into a large circle about ¼-inch thick.

Place the crust into your 9-inch pie tin. Cut off the excess crust, and crimp the edges.

Freeze until needed.

Make the Filling

Preheat the oven to 400°F.

Add the butter to a saucepan and cook on medium heat until the mixture begins to brown and smell nutty. Allow to cool to room temperature. I recommend doing this step while the pie crust disc is chilling.

In a large bowl stir together the brown sugar, eggs, yolk, salt, vanilla, maple syrup, honey.

Drizzle in the brown butter, making sure you get all the bits that sunk to the bottom.

Take out the pie crust and add the chopped pecans.

Pour over the pecans.

Place the pie on a baking sheet. Place on the middle rack and bake for 10 minutes. Without opening the oven, reduce the heat to 350°F, and bake for an additional 45 - 55 minutes, or until the edges are set and the center is only a little jiggly and slightly puffed.
Notes
If the pie browns too fast before it is finished, you can place aluminum foil over the top of the pie.
Nutrition
Serving:
1
g
Calories:
472
kcal
Carbohydrates:
44
g
Protein:
6
g
Fat:
32
g
Saturated Fat:
16
g
Polyunsaturated Fat:
14
g
Cholesterol:
138
mg
Sodium:
298
mg
Fiber:
1
g
Sugar:
26
g
Tried this recipe?
Tag me on Instagram! @acookienameddesire #acookienameddesire