A rich and decadent no-bake peanut butter pie with pretzel crust. This showstopping dessert is sweet, salty, and completely irresistible. 
Summer is unofficially over and everyone is obsessing over pumpkin and apple everything right now, but it is like 90 degrees F out still and I am not in the mood to be messing around with my oven at the moment. But I did a bit. Because when I said this was a no-bake pie, I lied a little bit. Just hear me out, okay? We bake the pie crust, but only for 10 minutes, and the oven is off again and everything is back to cool easy breezy ovenlessness.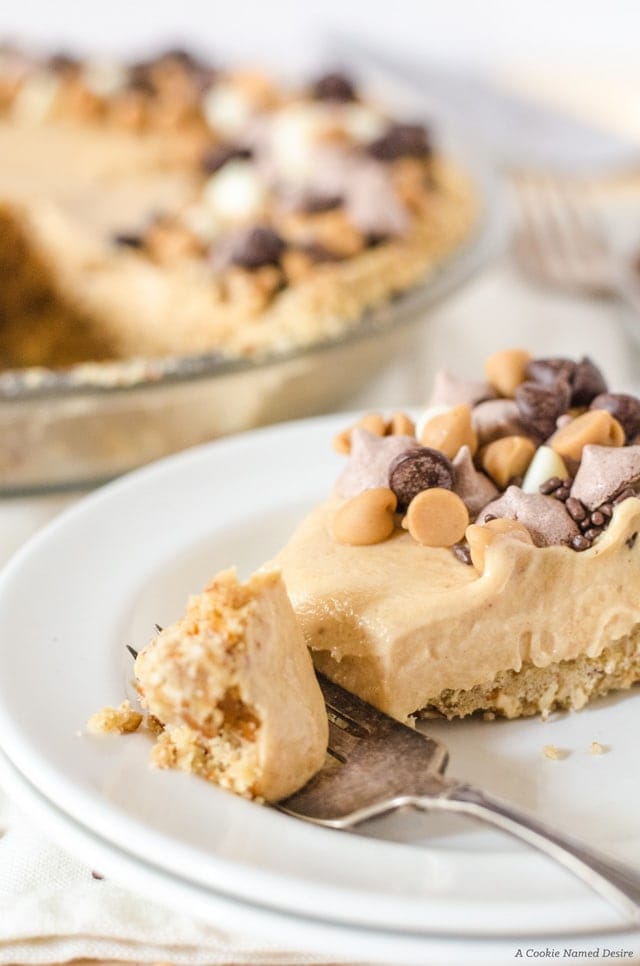 Phew. I'm glad I got that off my chest.
When I went to visit friends in New York City, my friend, Erin, and I went to visit the Peanut Butter & Co shop and have a sandwich. I was already a huge fan of their peanut butter (and even made a couple of recipes using their peanut butter ages ago, but I will leave it to you to find them cause I made them during my first months of food blogging it's kind of embarrassing) so I was so excited to actually be in their shop. I wish I thought to take a few pictures of the experience, but trust me when I say it was the best. That pretty much solidified my love for their awesome peanut butter flavors. I reached out to them to see if they were interested in working together and they send me a box of their peanut butter flavors. Suh-weet! I used the white chocolate peanut butter because it's my favorite. The beauty of this recipe is that you can use any of their peanut butter flavors with no problem – even their dark chocolate peanut butter!
I want to take a moment to talk about how awesome this pie is. It is so quick and easy to throw together. I know a lot of recipes claim that, but this really is. And you only really need to set the pie for about an hour and a half before it is set enough for you to slice (but of course, waiting longer does help the flavors meld together even better and you can get cleaner pie slices if you care about such things.) It's sweet and salty and I added some really yummy decorations that also adds to how beautiful the pie is. By the way, I made chocolate meringue kisses for this, for which I will give you the recipe, but they are totalllllly optional, and if you do decide to make them, you can make them the night before or even two nights before. Otherwise a mix of white, peanut butter, and chocolate chips will be more than enough to impress everyone.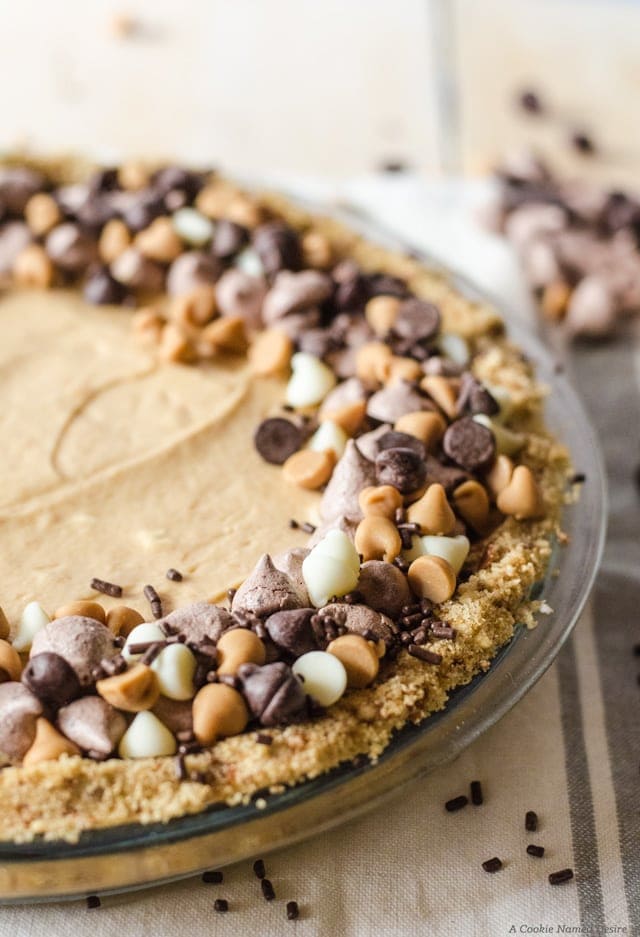 Thanks to the blog, my family is used to freshly made desserts every night. I will be making a trip out to Boston soon for a few days, so I am making another of these no-bake peanut butter pies for them to snack on while I am away. They finished this pie in less than a day and were already asking when I will be making it again, so I know they will be more than happy to see that they didn't have to wait too long!
Anyway, I will be going to an event in Boston and hopefully have time to look around the city and have a couple of good meals there. If you are from Boston, where do you recommend I go to eat? I don't remember the last time I was in Boston. I must have been about 7 or 8, so I basically know nothing about the city and desperately need your suggestions! I am open to anything, but a place that serves some awesome breakfast and a bakery are definite requirements. I need some kid-friendly suggestions thrown in as well because I –might- be bringing my daughter with me. Not sure yet.
No-bake Peanut Butter Pie with Pretzel Crust
Author:
Prep time:
Cook time:
Total time:
Ingredients
Crust
1 ½ cups finely crushed pretzels
¼ cup lightly packed brown sugar
4 tablespoons unsalted butter, melted
Filling
6 oz cream cheese, room temperature
½ cup white chocolate peanut butter
½ cup powdered sugar
1 cup whipped cream
⅓ cup mixed white chocolate chips, peanut butter chips, and chocolate chips
1 cup chocolate meringue kisses
Instructions
Preheat the oven to 350 degrees F. Blend together the pretzel crumbs, brown sugar and melted butter until well-combined. Firmly pack the crumbs into a 9-inch pie pan. I found using the bottom of a cup or measuring cup works well. Bake for 10 minutes, then allow to cool before placing in the refrigerator until needed.
Beat the cream cheese until smooth. Add in the white chocolate peanut butter and mix well. Add in the powdered sugar and mix until thoroughly combined. Fold in the fresh whipped cream. Be sure not to over mix. Pour the filling into the crust and chill in the fridge for at least one hour, preferably about 3 hours.
Top with a mix of meringue kisses, white chocolate chips, peanut butter chips, and chocolate chips.
Notes
Recipe inspired by [url href="http://www.foodnetwork.com/recipes/food-network-kitchens/peanut-butter-no-bake-cheesecake-recipe.html" target="_blank"]Food Network Kitchen[/url]
Recipe Card
Meringue Kisses
Airy chocolate meringue kisses perfect for your pie
Ingredients
2

egg whites

Pinch

cream of tartar

¼

cup

sugar

2

tablespoons

cocoa powder

¼

cup

powdered sugar
Instructions
Preheat the oven to 275 degrees F. Line a baking pan with parchment paper. Beat the egg whites and the cream of tartar until they reach soft peaks.

Add in the sugar and beat until stiff and glossy. Carefully add the cocoa powder and powdered sugar and mix well.

Put the meringue in a piping bag fitted with a round tip. Make kisses all around the baking sheet. Bake for about 1 hour, turning the pan halfway through. Turn off the heat and leave the pan inside until the oven cools. You will have more kisses than needed for the pie, but I love adding them to ice cream, cereal, or even snacking on them on their own!
Notes
Its best to use room temperature egg whites.
Thoroughly clean and dry all your tools that will touch the egg whites and lightly brush with fresh lemon juice. This is to remove any traces of oil or fat which can stop the egg whites from whipping properly. If any yolk gets into the egg white, discard and start over.
Nutrition
Serving:
1
g
Calories:
38
kcal
Carbohydrates:
8
g
Protein:
1
g
Sodium:
11
mg
Sugar:
8
g
Tried this recipe?
Tag me on Instagram! @acookienameddesire #acookienameddesire