S'mores lovers won't be able to resist this incredible no-bake s'mores pie. Buttery graham cracker crust, luscious chocolate filling, and cloud-like meringue meet to make the ultimate chocolate dessert.
What goes into the pie
There are three main things we need to make this a s'mores pie: graham crackers, chocolate, and marshmallow. So to make this luscious pie, I used those three elements to make an incredible no-bake pie you will love serving throughout summer and beyond.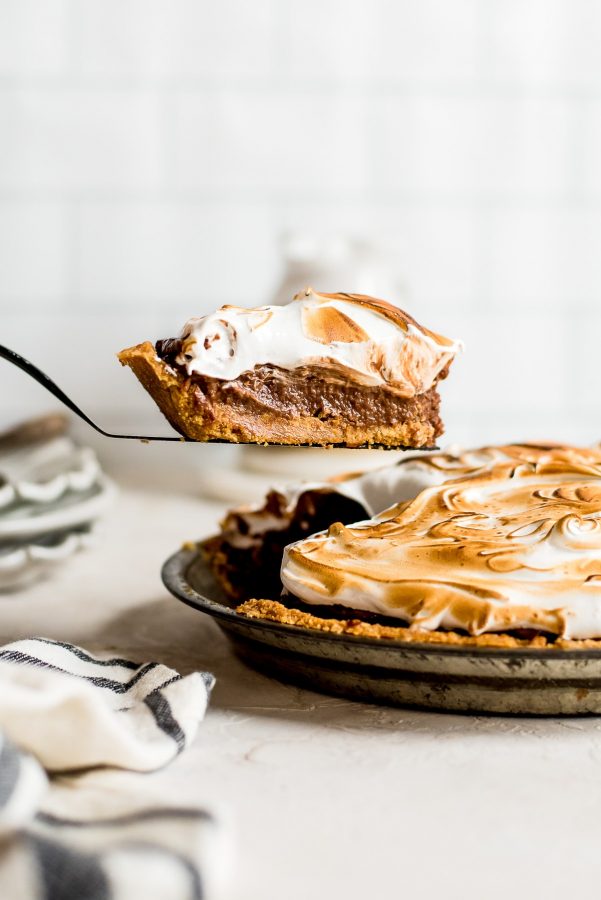 Buttery graham cracker crust. This crust is guaranteed to not fall apart or get crumbly on you.
A rich chocolate pudding. This pudding is not only deeply chocolaty, but sets enough that you can get nice slices that do not lose its shape while still giving you a velvety mouthfeel.
Meringue light as a cloud. The meringue not only completes the s'mores feel, but also balances the chocolate. It is light as a cloud and so delicious.
Making the pie
Putting the pie together is very easy. You can make the crust and the pudding well in advance. In fact, I highly recommend making both well in advance from when you want to serve the pie. The chocolate filling needs to be completely chilled in order for you to slice it, so you will need at least a few hours for this to happen.
I recommend chilling the pudding in a container with plastic wrap over it to prevent skin from forming, then add the filling to your crust and allow it to chill for at least 30 minutes more.
Whether you add the meringue before or after the 30-minute chilling is up to you. I do want to note that if you need to use your broiler to toast the meringue, it is better for you to chill the pie after you add the meringue.
Why you'll love this pie
This delicious s'mores pie has a lot going for it that makes it an instant winner.
The crust is buttery and sturdy. It's a dream to cut through and will not crumble up and leave you with a mess.
Chocolate lovers have everything they need in this flavor-packed filling.
It is thick enough that you can easily slice it without it losing its shape.
You don't have a lot of waste making the pie. We need 4 egg yolks and 3 egg whites which means you are completely using up three of the eggs you'll need.
There is no baking involved in this recipe. We need the stove for a few minutes, but that is it. No need to worry about heating up your whole oven (and the whole kitchen) in the middle of summer.
S'mores Pie F.A.Q.
How far in advance do I need to start making this pie?
You need a few hours chilling time at least. If you plan to serve the pie the same day, I recommend starting the pie at least 4 - 5 hours ahead of time so you are not rushed with the chilling time. If you are crunched for time, once the filling is at least cool enough to touch, you can pour it into the pie shell and freeze it while you work on the meringue.
Do I HAVE to make a meringue?
No! I like making a meringue because it uses up some of the leftover egg whites you have from making the filling. You are more than welcome to top your pie with regular marshmallows and toast them.
Can I use a premade graham cracker crust?
Technically, yes. But I honestly feel that my homemade crust tastes so much better, and it isn't hard to make.
My filling is lumpy, what happened?
There are a few things that could have happened, and since I am unable to be in the kitchen with you, I cannot say what the cause was, but here are some of the most frequent causes: your cornstarch was not thoroughly mixed with the cold cream before you added it to the saucepan, your egg yolks cooked and you were not able to strain all the cooked yolk out, your filling needs a good stir. I like to give my filling a good whip by hand before it goes in the refrigerator to chill. You can also give it a good stir before you put it in your pie pan.
Why didn't my filling set?
The main reason the filling wouldn't have set is if you did not cook the filling enough on the stove. The end mixture should be relatively thick - like pudding before it even gets chilled.
Storage tips
You'll need to keep this s'mores pie chilled in the refrigerator in an airtight container. For ease of storage, I recommend slicing your pie and putting the slices in containers. It should last about a week.
You can freeze this pie for up to a month. To thaw, leave it in the refrigerator for several hours. Do not leave it to thaw on your counter as condensation will not be friendly to the pie, and especially the crust.
Other recipes you may like
If you love s'mores, you will love these s'mores cookies, boozy s'mores milkshakes, s'mores cheesecake, s'mores brownies, s'mores pudding, and s'mores ice cream. For the best crust for this recipe, try this never crumbly easy graham cracker crust.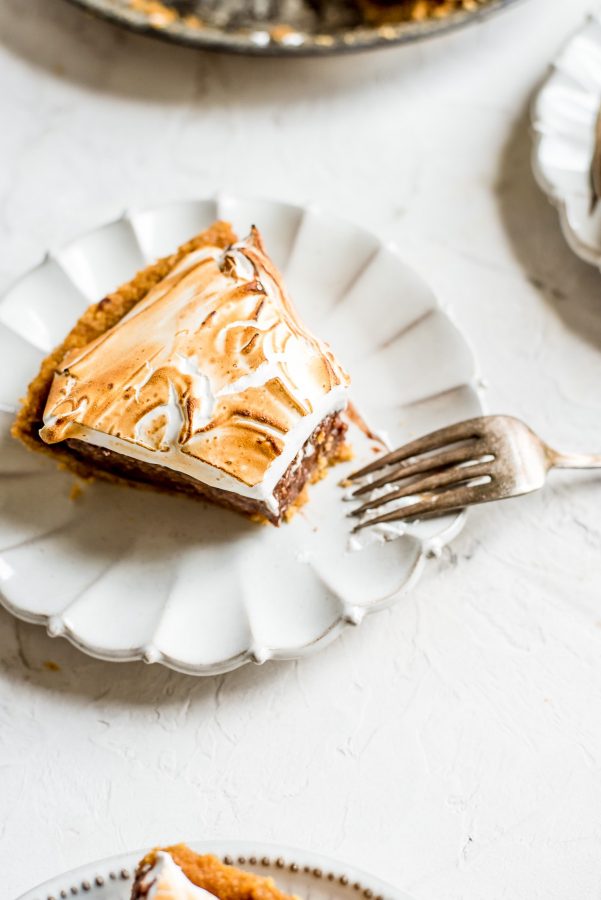 Recipe Card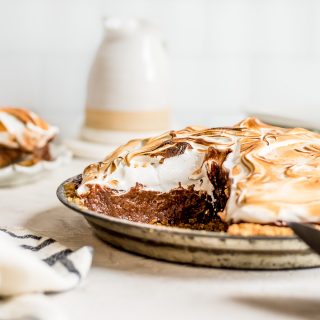 S'mores Pie
An unforgettable s'mores pieeveryone will love!
Ingredients
Graham Cracker Crust
1 ½

cups

graham cracker crumbs

¼

cup

packed brown sugar

¼

teaspoon

sea salt

½

cup

unsalted butter

melted
Chocolate Filling
¼

cup

cornstarch

2

cups

heavy cream

divided

1

cup

milk

¾

cup

granulated sugar

½

teaspoon

sea salt

4

large egg yolks

room temperature

7

ounces

dark chocolate*

2

tablespoons

unsalted butter

1

teaspoon

vanilla extract
Meringue Topping
3

large eggs whites

room temperature

⅔

cup

granulated sugar

⅛

teaspoon

cream of tartar

1

teaspoon

vanilla extract
Instructions
Make the crust. Mix the dry ingredients together so it is all evenly distributed.

Drizzle in the melted butter, then stir well.

Press the crumbs into a 9-inch pie pan. Start with the sides and edges, then the bottom of the plate. Freeze until needed.

Make the filling. In a small bowl, stir together the cornstarch and ⅓ cup of the heavy cream together until well-combined.

Add in the milk, sugar, sea salt. and the remaining heavy cream in a large saucepan. Heat on medium until it is steaming and is very hot. Stir well, scraping the bottom and sides to prevent burning.

Stir the cornstarch mixture into the egg yolks.

Take 1 cup of the hot cream and milk mixture and slowly drizzle into the egg yolks while whisking the egg yolks.

Slowly add the egg mixture into the saucepan and whisk constantly until the mixture thickens.

Turn off the heat once the mixture begins to thicken to a pudding consistency.

Add the chocolate and butter. Stir until the butter and chocolate are melted and well-combined.

Stir in the vanilla.

Strain the mixture through a fine-mesh strainer into a bowl.

Give the mixture a quick whisk. Cover the top of the bowl with plastic wrap. Make sure the plastic wrap directly touches the filling. This helps to prevent skin from forming.

Allow to cool completely.

Make the meringue. Freshly wash your heatproof mixing bowl and whisk, rub down with lemon juice and dry.

Add the egg whites and the granulated sugar into your clean mixing bowl. Place the bowl over a small saucepan with an inch of boiling water to create a double boiler.

Whisk the egg whites constantly for about 5 minutes, or until the granulated sugar has fully dissolved.

Take your mixing bowl off the smaller saucepan and beat the egg whites to soft peaks.

Add in the cream of tartar, then continue to beat until it reaches stiff peaks.

Beat in the vanilla.

Assemble your pie. Pour the chocolate filling into the pie pan. Spread smooth on top. Top with the meringue. Use a kitchen torch to toast the meringue. If you do not have a kitchen torn, you may use your oven broiler, just remember you will need to chill the pie to re-set the filling.

Serve. Please see notes for my tip on getting clean slices.
Notes
*Experiment with different chocolate if you'd like! Milk chocolate is too sweet to use in this pie along, but if you aren't a huge fan of dark chocolate, you can use a mix of milk and dark or milk and semi-sweet.
Tip: To ensure clean slices I recommend chilling the pie for at least an hour after you've assembled. When cutting, wipe your knife clean after each slice.
Nutrition
Serving:
1
g
Calories:
636
kcal
Carbohydrates:
61
g
Protein:
9
g
Fat:
40
g
Saturated Fat:
24
g
Polyunsaturated Fat:
14
g
Trans Fat:
1
g
Cholesterol:
236
mg
Sodium:
301
mg
Fiber:
2
g
Sugar:
47
g
Tried this recipe?
Tag me on Instagram! @acookienameddesire #acookienameddesire