There is nothing like eating a spoonful of creamy edible peanut butter cookie dough. This fun and indulgent treat is the perfect way to enjoy your favorite late-night treat without any risk!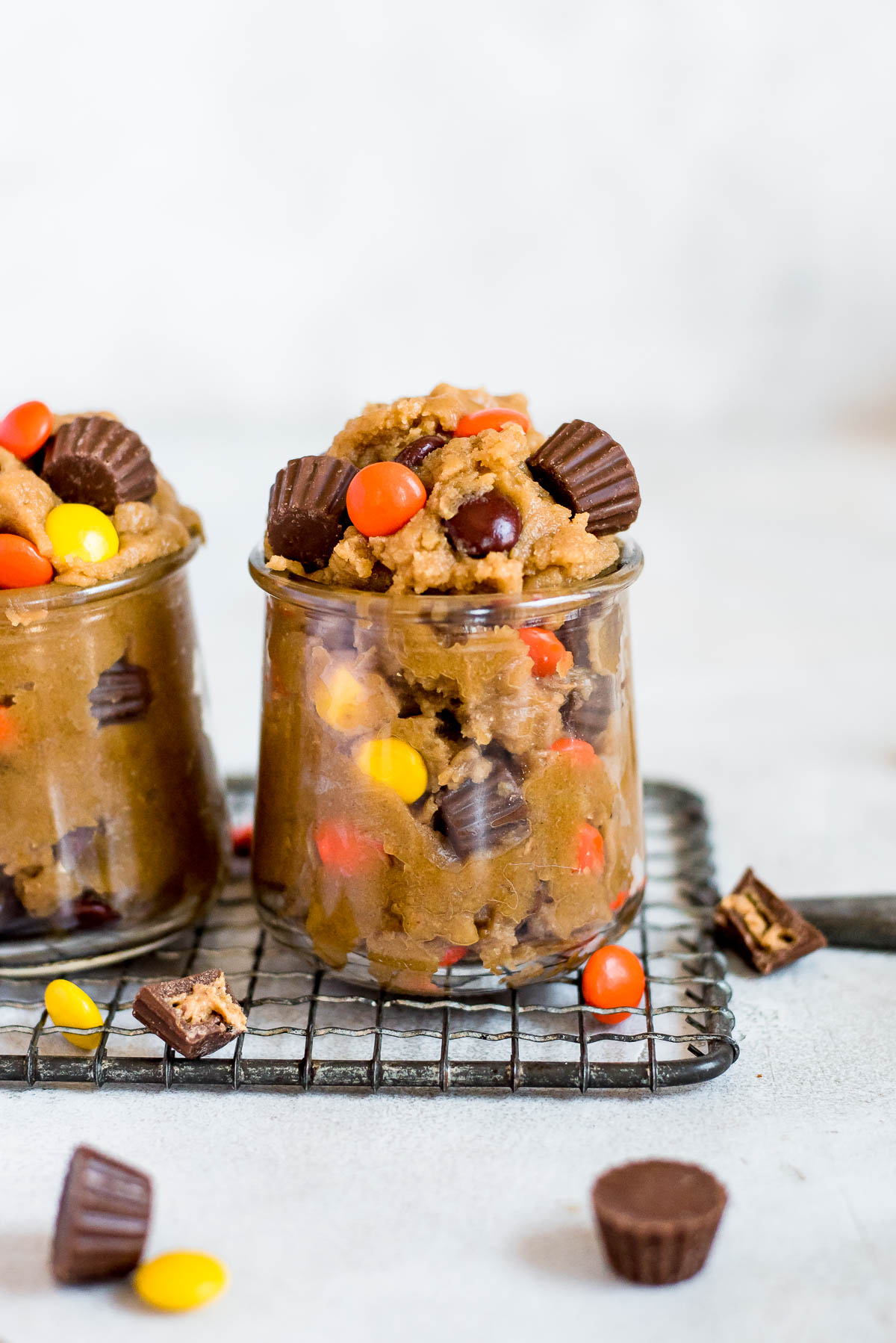 Eating raw cookie dough
I think everyone has a fond memory of baking cookies with their family and getting a few tastes of the cookie dough before it goes into the oven. I think that's why edible cookie dough is so popular these days. We all love indulging in nostalgia. Plus, let's admit it, sometimes the cookie dough is even better than the actual baked cookie!
But there are risks to eating raw cookie dough, so I've formulated this edible peanut butter cookie dough specifically to be safe to eat.
Can you eat raw peanut butter cookie dough
In typical cases it is not entirely safe to eat raw cookie dough because you can get salmonella and/or e. coli from the raw eggs and the raw flour. This recipe is specifically made to be safe to eat raw because we don't use eggs, and we heat-treat the flour.
Heating treating flour
Interestingly, there is more risk involved in eating raw flour than there is in raw eggs. The flour goes from field to mill to bags in our grocery stores, so whatever happened to the wheat in the field is still in the flour. Luckily, it is very easy to heat-treat your flour so it is safe to eat raw! There are a few different options you have:
Buy heat-treated flour. This is the most convenient, but the most expensive option. Most grocery stores do not stock heat-treated flour, so you usually have to buy it online. If you go this route, I recommend setting this flour aside only to make edible cookie dough recipes.
Microwave your flour. I prefer this method because I can quickly and easily treat the flour that I need to make any given recipe. You need to microwave the flour in a bowl for about 2 - 3 minutes in 30-second intervals. Stir the flour well between each interval to prevent burning, then leave it to cool completely. Once cooled, sift the flour to make it fluffy again.
Bake the flour in the oven. This is great if you want to make a big batch of the heat-treated flour at once to store for later use. Spread the flour in a layer and bake for 300ºF for about 5 minutes, stirring every 2 minutes.
Tips for heat-treating flour
If any of the flour starts to turn brown, you can no longer use it as it will taste burnt.
The flour tends to clump, which is why we need to sift the flour. If any of the clumps won't come apart, discard it.
Only sift and use the flour when it is cooled completely otherwise the end result will not turn out right.
Peanut butter cookie dough tips
Beat the butter and sugar well. This helps to prevent the end product from being grainy. It takes a little elbow grease if you do it by hand, but you can use a mixer to make quick work of it.
Do not overmix once you add the flour. It will activate the gluten and your cookie dough will end up like play-dough.
I prefer to use regular peanut butter as opposed to natural peanut butter. Natural peanut butter tends to be too greasy.
Variations and customizing your cookie dough
There is a lot you can do to make your edible peanut butter cookie dough just how you love it. Here are a few of my favorite customizations I think you will love!
Add mini peanut butter cups and peanut butter candies. This is my favorite for really emphasizing that peanut butter flavor and adding chocolate!
Fold in fluff and graham crackers. It gives it a really nice fluffernutter flavor, but even better with the graham crackers!
Add dried fruit or even a swirl of jam. It is like the best peanut butter and jelly ever!
Use Oreos. Ever since The Parent Trap, Oreos and peanut butter together have become a delicious flavor combo everyone loves!
Storage tips
You should store your cookie dough in the refrigerator. It will last about a week.
Typically, I store my dough in the freezer. I recommend portioning out the dough, the same way you would if you were to bake them (an ice cream scoop works the best for this!). Place them on a baking sheet and freeze. Once they are frozen, store them in an airtight container. It will last in the freezer for at least two months and be ready in single-serving portions!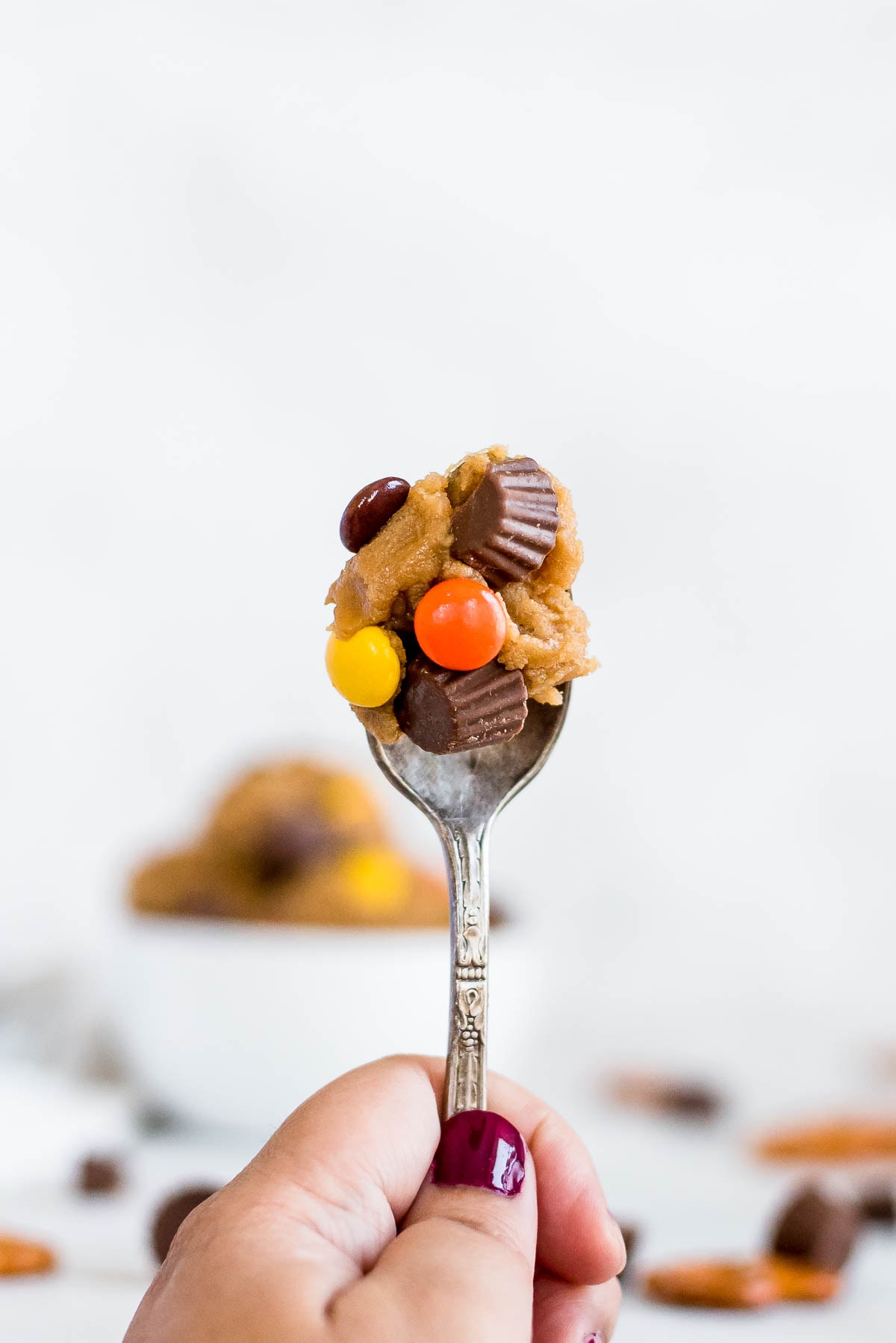 Other recipes you may love!
Edible cookie dough is super popular on the blog, so I have a few different recipes that you will want to check out! First, let's get back to basics with my classic edible chocolate chip cookie dough. We bump things up with this pretty, yet simple edible sugar cookie dough. For something more indulgent and fun, you need to try this edible brownie batter and edible cake batter. For something unique, try this edible red velvet cookie dough. If you want more unique recipes, you need to check out my edible cookie dough ebook!
Recipe Card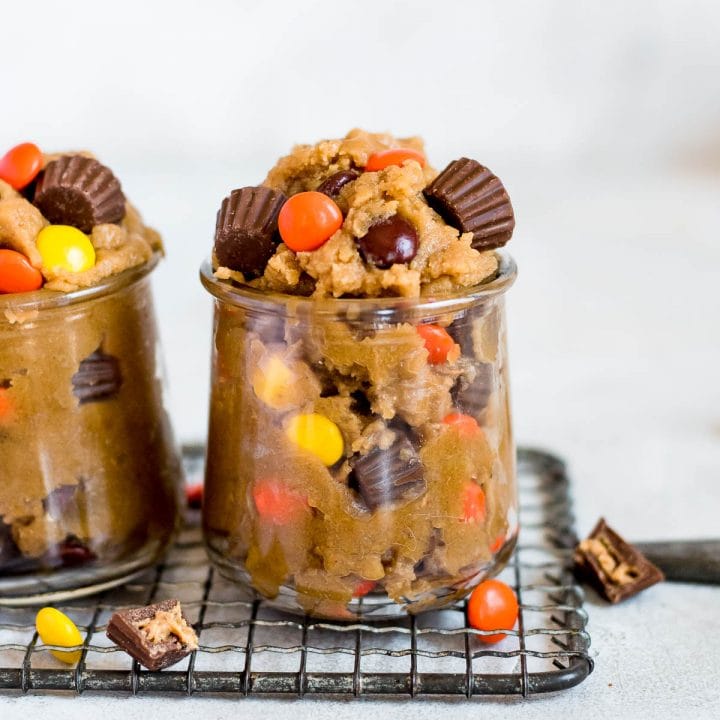 Edible Peanut Butter Cookie Dough
A decadent and fun edible peanut butter cookie dough made with no egg so it is completely safe to eat!
Ingredients
1 ½

cup

all-purpose flour

½

teaspoon

salt

½

cup

unsalted butter

melted

½

cup

granulated sugar

1

cup

lightly packed brown sugar

¾

cup

creamy peanut butter

2

teaspoons

vanilla extract

5 - 6

tablespoons

heavy cream

1 ½

cups

add-ins
Instructions
Mix together the flour and salt. Set aside.

Add the melted butter and both sugars into a large bowl. Stir well to combine.

Add in the peanut butter and mix well until thoroughly combined.

Stir in the vanilla and heavy cream.

Beat in the flour mixture and mix until just combined.

Fold in your mix-ins.
Notes
Use heat-treated flour that's been cooled and sifted.
The exact amount of heavy cream will depend on how soft you like your cookie dough.
You cannot use this recipe to make baked peanut butter cookies as it does not contain any leavener or egg. It will simply become gooey like an underbaked peanut butter blondie.
Nutrition
Serving:
1
g
Calories:
225
kcal
Carbohydrates:
26
g
Protein:
4
g
Fat:
12
g
Saturated Fat:
5
g
Polyunsaturated Fat:
6
g
Cholesterol:
19
mg
Sodium:
115
mg
Fiber:
1
g
Sugar:
16
g
Tried this recipe?
Tag me on Instagram! @acookienameddesire #acookienameddesire