Deeply flavorful pecan pie cobbler is a family favorite for those times you are craving homemade pecan pie, but want none of the hassle. Use quality ingredients like Watkins to ensure your cobbler comes out perfect every time. This post is sponsored by Watkins, thank you for supporting the brands I love!
Why you'll love it
This pecan pie cobbler is a family favorite passed down through generations, so it has years of recipe testing and tasting behind it. It has all the flavors of a pecan pie without being as cloying sweet and it takes a lot less time and effort to whip up. And unlike a pie where there are several components and areas where things can go wrong, you make the cobbler in your baking pan and it is very forgiving to all baking experience levels.
One of my favorite memories as a child was spending time with my great-grandmother. She always let me help her bake, and I always got to make my own mini treat just for myself. One of my favorites was this pecan cobbler which was easy enough for me to make almost entirely on my own. It's a recipe she made since she was young and it is one that always reminds me of our time together.
What really stands out are the ingredients we use. The recipe calls for a few very simple pantry-staple ingredients, so the quality is so important.
I love using Watkins organic spices and extracts in recipes like this to add a better, richer flavor. Watkins Organic Original Gourmet Baking Vanilla has a beautiful and robust flavor with sweet floral notes that really elevates the caramel notes in the cobbler and enhances the nuttiness of the pecans.The Watkins Organic Ground Cinnamon and Organic Ground Ginger are also favorites because they add so much dimension to the cobbler. It helps distinguish it from your typical very sweet pecan pies by adding more to the flavor profile for your tastebuds to explore and enjoy.
Ingredients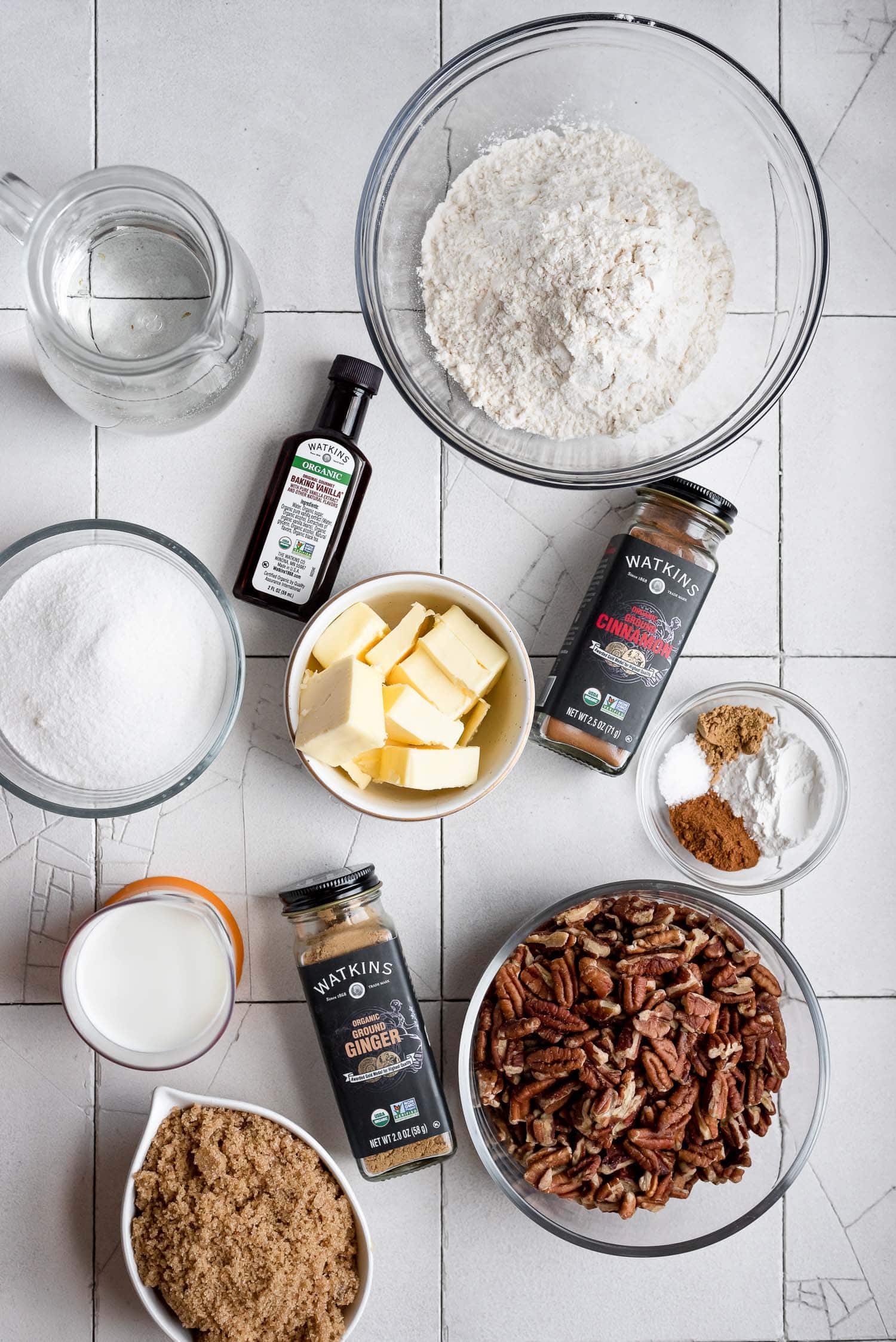 Butter - You should only use unsalted butter for this recipe. You can add another 4 tablespoons and brown the butter before using it for added flavor. I do not recommend substituting the butter for alternatives like margarine, however, ghee may work.
Flour - This recipe works best using all-purpose flour. You can use a 1:1 gluten flour baking mix or white whole wheat flour without changing the amount of flour you use. Do not use cake flour or any other low protein flours.
Sugar - Granulated and light brown sugar are used in this recipe. You can use dark brown sugar, just know the molasses flavor will be more prominent.
Spices - This recipe calls for Watkins Organic Ground Cinnamon and Watkins Organic Ground Ginger to add more dimension to the flavor profile. They're both USDA Organic Certified and Non-GMO Project Verified and elevate this pecan cobbler to a whole new level, you'll be wanting to make it all the time!
Milk - For added richness, whole milk works the best. You can also use buttermilk for a tangy hint. If you want something ultra decadent, you can use heavy cream.
Pecans - You should use chopped pecans for easier eating. You can also use pecan halves, but it will be harder to eat. You can substitute some of the pecans with other nuts like walnuts for added flavor and dimension.
Vanilla - For this cobbler, I highly recommend Watkins Organic Original Gourmet Baking Vanilla Extract. It is a low alcohol extract that retains its delicious flavor during the baking process. It's made using all Non-GMO Certified ingredients and is completely free from high-fructose corn syrup, added MSG, and other artificial ingredients. It adds unbelievable flavor and depth like no other.
Method
The reason this pecan pie cobbler is so amazing is how easy it is to make. It is great for first time bakers, but delicious enough that experienced bakers will love making it, too.
Place your butter in your baking pan and place it in the oven while it preheats so the butter can melt. Boil water in a small saucepan.
While the butter is melting, grab your remaining ingredients. 
Mix together the flour, baking powder, granulated sugar, ground cinnamon, ground ginger, and salt in a medium bowl.
Stir in the milk and vanilla into the flour and stir until just combined to make a batter.
Take out the baking pan with the melted butter and top with pecans. Spread the batter evenly across the pan. 
Top with the brown sugar. Slowly pour the boiling water over everything. Do not stir.
Bake until golden brown and bubbling. Everything will thicken as it cools. 
Serve with ice cream!
Variations
There are so many ways you can switch things up with this pecan pie cobbler to make it interesting.
Chocolate - Add two tablespoons of natural cocoa powder to the flour for the batter. You can also sprinkling in chocolate chips with the pecans.
Pumpkin - Add about ⅓ cup of pure pumpkin puree to the batter along with a tablespoon of pumpkin spice.
Chai - Stir in a tablespoon of chai spice into the batter.
Nutty - Replace some of the pecans with chopped walnuts, peanuts, or pistachios.
Brown Butter - Add another 3 tablespoons of butter and cook the butter until it is nutty and lightly browned.
Cake Mix - Replace the dry ingredients for the batter with yellow or white cake mix. You can also use chocolate cake mix.
Gluten-free - Use a 1:1 gluten-free baking mix in place of the flour.
FAQs
Can I make this cobbler in a slow cooker or as individual servings?
Absolutely! Follow the instructions, melting the butter directly in the warming slow cooker, and cook the cobbler on high for about 1 hour and 30 minutes. Allow the cobbler to cool before serving. You can evenly divide the ingredients into smaller ramekins and bake them on a baking sheet to make individual servings, however it would be easier to bake it as one and serve them up in ramekins instead.
What else can I serve with my pecan cobbler?
Vanilla ice cream is a popular choice to balance the heavier flavors of the caramel and pecans. You can also use whipped cream, chocolate ice cream, or even some cooked fruits like grilled apples and/or peaches.
How do I store my cobbler?
Allow the cobbler to reach room temperature. Store it in an airtight container and refrigerate for up to four days. Alternatively, you can store in the freezer for up to a month. Allow frozen cobbler to thaw in the refrigerator overnight. Reheat the cobbler in the oven at 300F for about 20 minutes.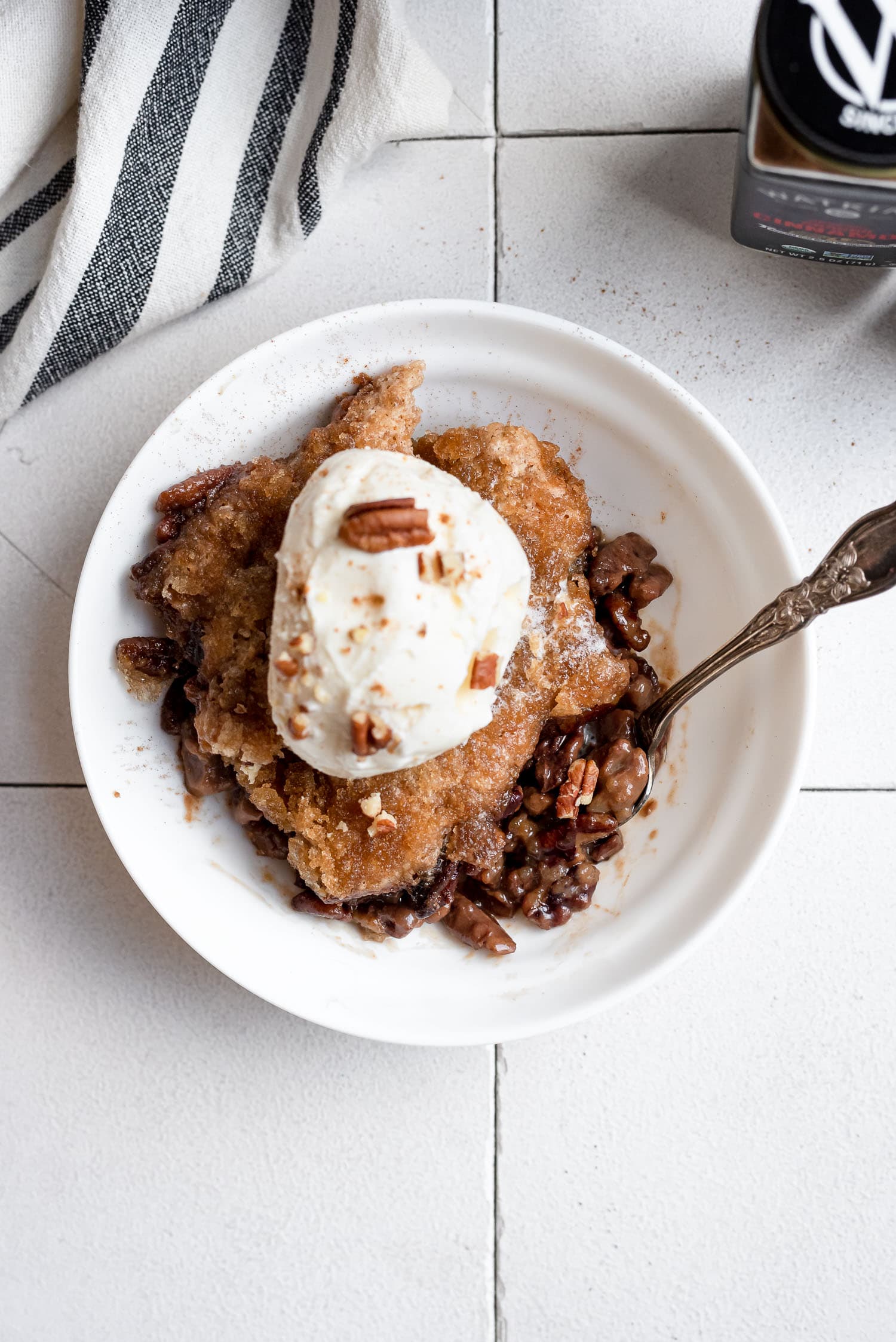 Recipe Card
Pecan Pie Cobbler
An easy and delicious pecan pie cobbler. This is a great alternative to the pecan pie which is more advanced.
Ingredients
½

cup

butter

cubed

1

cup

plus 2 tablespoons all-purpose flour

¾

cup

granulated sugar

3

teaspoons

baking powder

1

teaspoon

Watkins Organic Ground Cinnamon

½

teaspoon

Watkins Organic Ground Ginger

¼

teaspoon

salt

⅔

cup

milk

1

teaspoon

Watkins Organic Original Gourmet Baking Vanilla.

1-½

cups

coarsely chopped pecans

1

cup

packed light brown sugar

1-½

cups

boiling water

Vanilla ice cream

optional
Instructions
Preheat the oven to 350°. Place butter in a

13x9-in. baking pan

; heat pan until butter is melted, 3-5 minutes. 

Combine the flour, sugar, baking powder, cinnamon, ginger, and salt in a medium bowl.

1 cup plus 2 tablespoons all-purpose flour,

¾ cup granulated sugar,

3 teaspoons baking powder,

1 teaspoon Watkins Organic Ground Cinnamon,

½ teaspoon Watkins Organic Ground Ginger,

¼ teaspoon salt

Stir in milk and vanilla until just combined.

⅔ cup milk,

1 teaspoon Watkins Organic Original Gourmet Baking Vanilla.

Remove the baking pan from the oven; add the pecans. 

1-½ cups coarsely chopped pecans

Top with the batter.

Pour boiling water over top slowly, do not stir. 

Top with the brown sugar.

1 cup packed light brown sugar

Bake, uncovered, until golden brown, 30-35 minutes. Cool on a wire rack for 30 minutes (cobbler will thicken upon cooling). 

Serve warm, with ice cream, if desired
Notes
You can make variations by adding different spices. Add 2 tablespoons of cocoa powder to the flour for the batter to make a chocolate variation. Use chai spices for a delicious autumn twist. Pumpkin puree in the batter plus pumpkin spice is a great fall treat.
Nutrition
Serving:
1
g
Calories:
404
kcal
Carbohydrates:
42
g
Protein:
3
g
Fat:
27
g
Saturated Fat:
8
g
Polyunsaturated Fat:
17
g
Cholesterol:
32
mg
Sodium:
299
mg
Fiber:
2
g
Sugar:
36
g
Tried this recipe?
Tag me on Instagram! @acookienameddesire #acookienameddesire