Thick, creamy coffee smoothie perfect for waking you up and getting you started in the morning.
Why it works
This coffee smoothie is thick and creamy, and packed with protein and healthy fats to keep you satisfied. With the added caffeine, it makes the perfect drink for busy mornings or mid-afternoon pick-me-ups.
It is a great way to use up any leftover coffee which makes it a great option for coffee lovers who want to use up all their morning drink. Plus we pair it with some chocolate for a delicious mocha twist.
The smoothie comes from the It's Not Complicated cookbook by Katie Lee Biegel. It is super simple to make and uses common ingredients you find in your kitchen.
I did make a few changes to the smoothie to make it even better. First, I replaced the whole almonds with almond butter for a smoother and creamier texture. I also added a bit of Greek yogurt for added thickness and protein.
Ingredients
The recipe is very simple and uses what you have available. There is a lot of room for flexibility, and I did take some liberties to switch up a couple of things about the recipe to make it even better for my needs.
Coffee - This recipe is great to use up any leftover cold coffee you may have brewed. Keep it in a container in the fridge and use it later for this smoothie! You can also use cold brew coffee. No matter what you use, make sure the coffee is at least room temperature, preferably chilled.
Yogurt - I added plain Greek yogurt for added protein and nutrients. It'll keep you feeling satisfied for longer. You can skip it, if you'd like.
Almond butter- The recipe calls for using raw almonds, but I found that in order to get a nice, velvety smoothie, it's better to use almond butter. Peanut butter is also a delicious alternative. 
Unsweetened almond milk - You can use any of your favorite milk alternatives, like oat milk, coconut milk, cashew milk, or regular milk, if you'd like.
Cocoa powder - The recipe notes you can use chocolate chips or cocoa powder. I prefer the cocoa powder for the best consistency and chocolate flavor.
Banana - The banana lends natural sweetness, thickens the smoothie, and a creamy texture. For the best results, use frozen banana. I like to keep chopped frozen bananas in the freezer all the time for any last minute smoothie cravings.
Ice - The recipe calls for ice to help keep the smoothie thick and cold. I like to make coffee ice cubes for extra coffee flavor.
Mix-ins
​There are a lot of different ways you can pump up your smoothie to make it even better.
Use protein powder or chia seeds for the perfect way to give the drink more satiety and keep you feeling fuller for longer.
If you enjoy a sweeter smoothie, add vanilla extract and/or maple syrup.
Add in hemp seeds, collagen peptides, or cacao powder as great additions that give your smoothie some extra nutrition benefits.
Tips
Putting together a coffee smoothie is one of the easiest things you can do, and doesn't require much knowledge in how to put it together. There are a couple of tips that will ensure you have the best smoothie experience though!
Have ingredients prepped ahead of time, when possible. I like to chop up a bunch of bananas and keep the in an airtight container in the freezer so they're always ready to go for a smoothie. You can also keep leftover coffee on standby.
Make coffee ice! Instead of freezing water, you can freeze your coffee in an ice cube tray to up the flavor and much needed caffeine.
Make it extra creamy. I love a thick, creamy smoothie. Adding something like half an avocado will make the smoothie creamy and also add some essential nutrients to your smoothie. Don't worry, you won't be able to taste the avocado!
Instant is okay, too! If you don't have any leftover coffee or want to make/buy cold brew, you can use instant espresso powder or instant coffee instead. You will need roughly 1-2 tablespoons, depending on how strong you like your smoothie.
Start off slow, even if you are using a high-speed blender. For the best smoothies, you want to start on the lowest speed and gradually work your way up until you see a vortex in the middle of the mixture. That is when you know everything is getting blended up to a creamy consistency. 
Recipe Card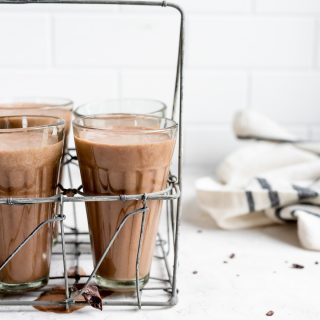 Coffee Smoothie
A thick and creamy coffee smoothie to get your day started the right way
Ingredients
1

sliced frozen banana

½

cup

unsweetened almond milk

½

cup

plain nonfat Greek yogurt

⅓

cup

brewed espresso

cooled

1

tablespoon

almond butter

1

tablespoon

cocoa powder

1

cup

ice
Instructions
Add all ingredients to a high-speed blender.

Blend on low for about 30 seconds, then gradually bring up the speed to the highest setting.

Blend for about 1 - 2 minutes, then gradually bring the speed down.

Serve immediately.
Notes
You can use any milk or milk alternative you enjoy.
Any plain or vanilla-flavored yogurt should work, as long as it is not too sweet.
You can use cold brew or instant coffee instead of the cooled espresso.
The almond butter can be replaced with 2 tablespoons raw almonds.
Cocoa powder may be substituted with 1 tablespoon chocolate chips.
You can freeze coffee to make ice for more caffeine.
Add avocado for extra creaminess.
Nutrition
Serving:
1
g
Calories:
207
kcal
Carbohydrates:
38
g
Protein:
18
g
Fat:
11
g
Saturated Fat:
1
g
Polyunsaturated Fat:
9
g
Cholesterol:
6
mg
Sodium:
51
mg
Fiber:
6
g
Sugar:
19
g
Tried this recipe?
Tag me on Instagram! @acookienameddesire #acookienameddesire