Ditch that expensive coffee house habit and learn how to make cold brew coffee at home. This simple tutorial teaches you exactly how to make the perfect cold brew coffee at home with no special equipment.
Why you'll love it
There are so many reasons to love cold brew, if you don't already. You can batch make it so you always have some ready to go in the morning or whenever you need a caffeine boost. It has a smoother taste that really celebrates the flavor profile of the coffee beans you are using. It makes it easier and faster to make fun things like coffee ice cubes. Not to mention that is requires zero special equipment, not even a coffee maker.
The slow infusion pulls all the great coffee flavor and caffeine from the beans while also leaving behind most of the compounds that can make coffee taste bitter and sour. It is also lower in acidity. This leaves you with a cold brewed coffee that is incredibly smooth and almost sweet-tasting. Perfect for iced coffee.
Making your cold brew
There are a few things you need to know before prepping your own cold brew to ensure you get the best cup of coffee in the morning.
Use coarse ground coffee. You cannot use the pre-ground coffee at the stores, and if you are grinding your own, you don't want to grind to a fine powder. You can use a coffee grinder if you have one, but you don't need to buy one.
If you purchase your coffee at a local coffee shop or roaster, you can request they grind them for you at the coarsest setting available. Some grocery stores still allow you to buy coffee beans in bulk and have a coffee grinder you can use there. You can use that to grind it at the coarsest setting yourself. I have had plenty of luck using a food processor at home - while it may not be the method you would use if you are brewing hot coffee, it is perfect for cold brew.
Adjust the strength of your coffee. This is easy to do depending on the ratio of coffee and water you use, as well as the length of time you let the coffee steep. I prefer making a stronger brew, so my ratio of coffee to water is a lot higher than what you'd typically find. This is because you can more easily dilute your coffee once it's already been filtered of the grounds than it is to make your coffee stronger.
As for the timing of allowing the coffee to steep, I recommend a minimum of 12 hours, but no more than 24 hours, otherwise the bitterness that you find in brewed coffee can start to be absorbed in the water. Roughly 18 hours tends to be the best time in my experience.
Step by step instructions
All you need is a bit of patience to make your cold brew,
Coarsely grind your coffee using your preferred method.
Place the coffee and the water in a large container with a lid.
Cover and allow to steep at room temperature or the refrigerator for 12 - 24 hours.
Filter out the coffee using a cheesecloth and fine mesh strainer.
Store the strained cold brew in the refrigerator until ready to use.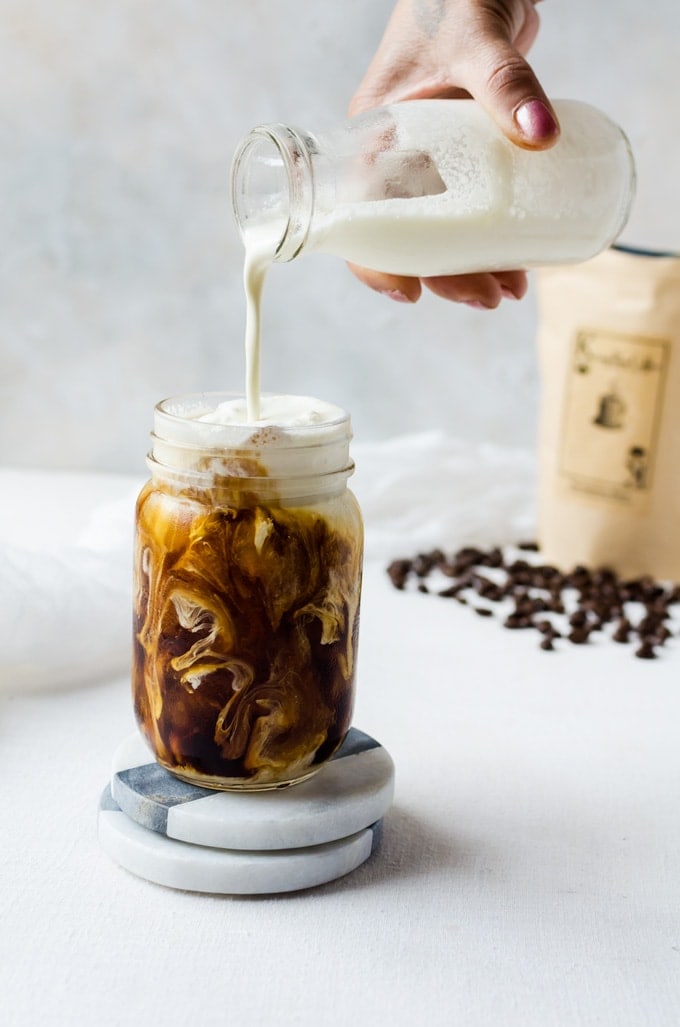 Expert tips
Use freshly ground coffee. This is because grinding the coffee releases its oils. It is those oils that add complexity and depth to your coffee.
Use a higher ratio of grounds and water. It is easier to dilute your cold brew with creamer or water than it is to make it stronger.
Use cold brew to make ice cubes. If you prefer a strong coffee that isn't too diluted by the time you reach the end of your glass, this is an easy way to keep your coffee cold without diluting it.
Serving inspiration
There are so many delicious ways you can dress up your cold brew. Adding a splash of cashew milk is a great way to add creaminess. You can also try using a creamer like a chunky monkey coffee creamer or mocha creamer. Adding a stick of cinnamon while you are steeping the grounds in water is also a fun way to add flavor. You can sweeten your coffee with a tasty simple syrup like this brown sugar syrup.
Cold brew faqs
Is cold brew the same as iced coffee?
While they're both served cold, they are made differently and have a different tasting profile. Cold brew coffee is made steeping your coffee in cold water for hours, whereas iced coffee is made with hot brewed coffee that is then chilled.
Can I adjust the strength of the coffee?
Absolutely. You can add more or less water. More water will give you a weaker brew and less water will give you a stronger brew. You can also add more or less coffee grounds. More ground giving you a stronger brew and less giving you a weaker brew. If you've already made and strained your coffee and it is too strong, add more water or creamer to dilute.
Can I use cold brew to make a hot coffee?
Yes, you can, and it will taste amazing! You only need to heat the cold brew to your desired temperature.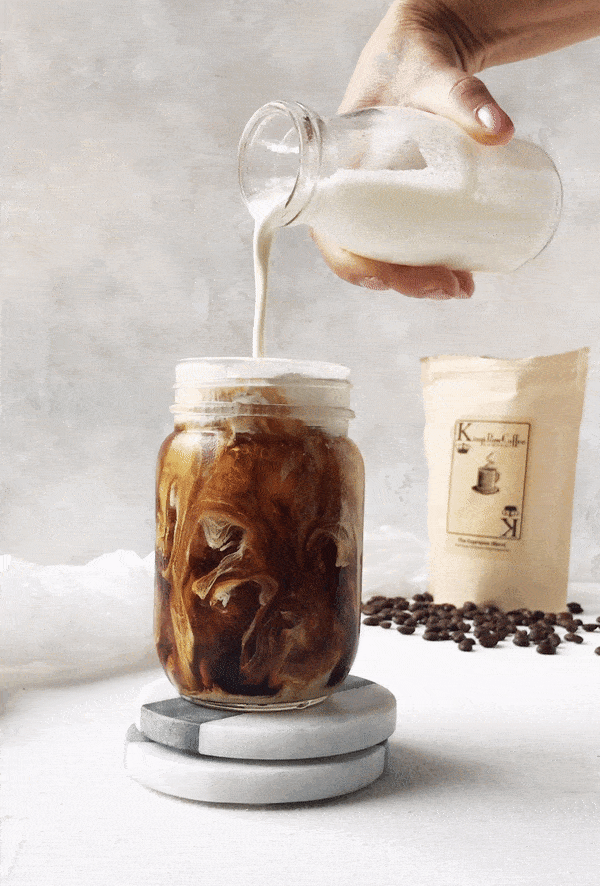 Recipe Card
How to Make Cold Brew Coffee At Home
An easy guide on how to cold brew coffee at home without any special equipment.
Ingredients
1

package dark roast coffee beans

About 10oz

10

cups

cold water
Instructions
Coarsely grind the coffee beans using your preferred method. I used a food processor on high for about 1 - 2 minutes.

Pour the water and the coffee into a large, air-tight container and stir to mix in the coffee grounds. Cover and place in a cool, dry place for at least 12 hours, and up to 24 hours. The longer it brews, the stronger it will be, but don't exceed 24 hours.

Strain out the coffee beans using a fine mesh strainer double lined with coffee filters.
Nutrition
Serving:
1
g
Calories:
55
kcal
Carbohydrates:
6
g
Protein:
4
g
Fat:
2
g
Saturated Fat:
1
g
Polyunsaturated Fat:
1
g
Cholesterol:
11
mg
Sodium:
13
mg
Fiber:
1
g
Sugar:
2
g
Tried this recipe?
Tag me on Instagram! @acookienameddesire #acookienameddesire