Ditch that expensive coffee house habit and learn how to cold brew coffee at home. This simple tutorial teaches you exactly how to make the perfect cold brew coffee at home with no special equipment.
I was going to take the day off today. Take a breather and enjoy the summer. It's been hard to do work when I am in the kitchen with the hot oven air blowing in my face in 100 degree weather. But I couldn't leave you empty-handed either. So, instead I am leaving you with the simplest, no-heat-necessary, non-recipe ever. Yet, it is the most handy and delicious recipe I could ever offer you in this heat. Today, we are learning how to cold brew coffee at home.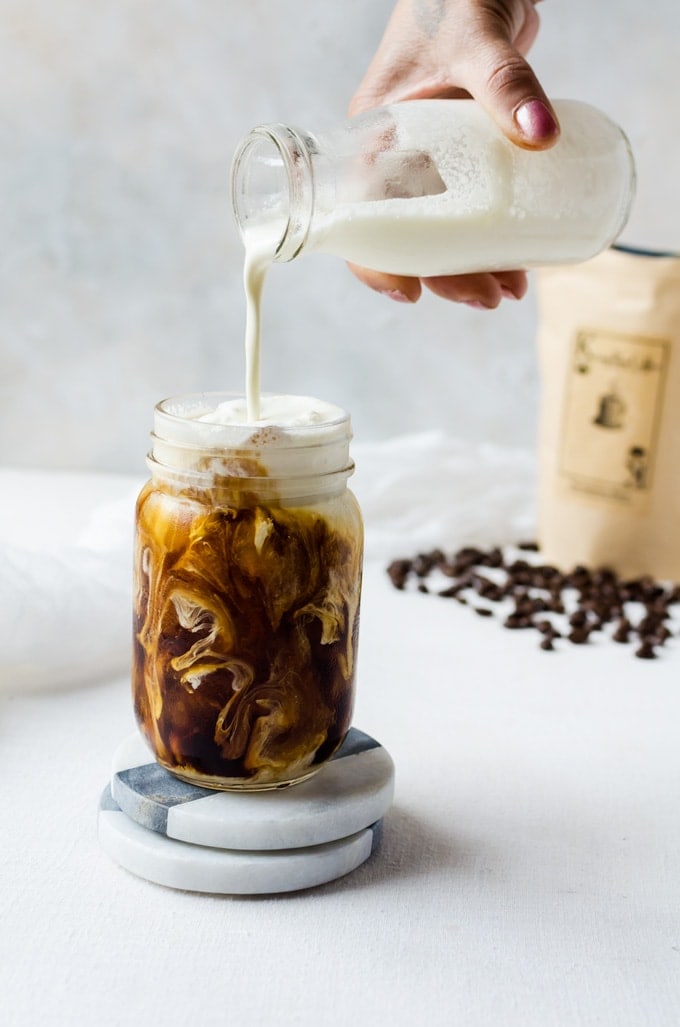 As you may know, I am not a huge fan of hot coffee. Except the PSL, but that's in a class of its own. I love coffee in desserts like my coffee oreo ice cream and I love it iced. Last year a friend of mine introduced me to the concept of cold brewing your coffee so that you have iced coffee whenever the mood strikes. Not only that, but it lowers the acidity levels and gives you a smoother flavor. The caffeine levels are a little lower, but what you make is a concentrated amount of coffee, so you still get more bang for your buck.
I was blown away by this. Needless to say, I learned how to cold brew coffee at home and started making it regularly. Up to the point where I was drinking so much coffee that I went a liiiiiitle bit crazy from all the caffeine. Lesson learned (maybe).
I prefer to make my cold brew with fresh, coarsely ground coffee, so I grind up my coffee beans in my food processor. It gives the cold brew a better flavor, plus makes it easier for you to drain out the coffee. Some people prefer to leave their brew in the refrigerator, but I find I get better results when I leave mine at room temperature.
So, go. Take a break from your computer. Take your lunch break out the office, or just poke your head out for a bit and let's try and enjoy summer together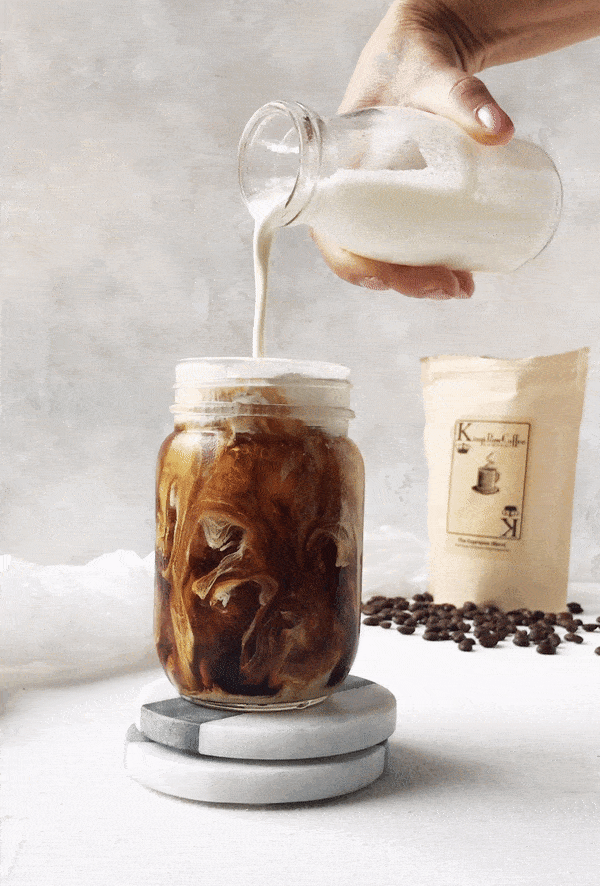 How to Make Cold Brew Coffee At Home
An easy guide on how to cold brew coffee at home without any special equipment.
Ingredients
1

package dark roast coffee beans

About 10oz

10

cups

cold water
Instructions
Coarsely grind the coffee beans using your preferred method. I used a food processor on high for about 1 - 2 minutes.

Pour the water and the coffee into a large, air-tight container and stir to mix in the coffee grounds. Cover and place in a cool, dry place for at least 12 hours, and up to 24 hours. The longer it brews, the stronger it will be, but don't exceed 24 hours.

Strain out the coffee beans using a fine mesh strainer double lined with coffee filters.
Nutrition
Serving:
1
g
Calories:
55
kcal
Carbohydrates:
6
g
Protein:
4
g
Fat:
2
g
Saturated Fat:
1
g
Polyunsaturated Fat:
1
g
Cholesterol:
11
mg
Sodium:
13
mg
Fiber:
1
g
Sugar:
2
g
Tried this recipe?
Tag me on Instagram! @acookienameddesire #acookienameddesire
Updated: 4/13/2017