Whipped coffee, otherwise known as dalgona coffee is a popular way to make your coffee that is becoming very popular online! The best part is it is easy to make and takes only a few ingredients!
What is dalgona coffee?
This drink is made from coffee that is whipped to a light foamy mixture that resembles whipped cream.
Where did the name come from?
The name originates from Korea - it is named after dalgona candy because the whipped coffee looks like the way the candy does while it is being made.
Why this recipe works
When you mix together your coffee and milk, it almost becomes like a latte - just made in reverse. The ratio of coffee to sugar to milk is spot on. It is also strong, which is much needed, especially if you are homeschooling!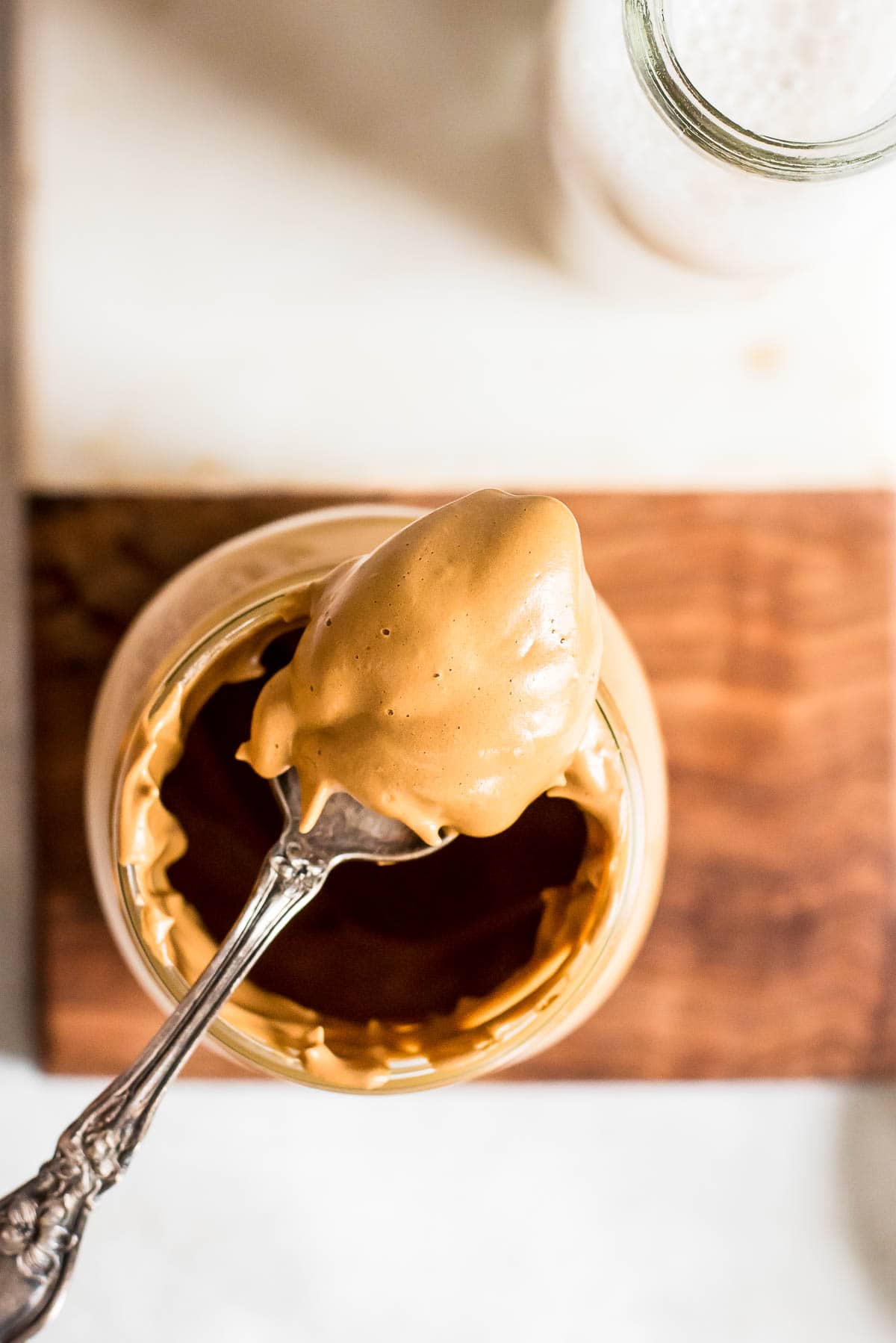 What ingredients do you need?
There are only a few ingredients needed to make whipped coffee:
Instant coffee - I know most people turn their noses up at instant coffee, but this is the only way to make dalgona coffee. I recommend picking one that you really like, but is not too strong because the finished coffee is pretty intense.
Sugar - You can use just about any granulated sugar here. Just remember if you are using a sugar alternative like stevia, you should use half the amount. You can not use a liquid sweetener.
Water - You need just enough water to dissolve the coffee and the sugar. You can use both hot or cold water, but you get better results faster by using hot water.
Milk - Use any milk that you prefer - hot or iced.
How to make it
Here is what I love about most about this recipe! Just add the coffee, sugar, and water together, then whip. Please also note that I am trying my best not to break into a certain song from the 80's.
I prefer to whip it using a stand mixer because it is the fastest, but a hand mixer or even a frother will work. If you are truly dedicated, you can also whip it by hand, but it will take approximately 20 minutes.
Customizations
You can use instant coffee or instant espresso. A lot of people have tried using matcha powder, but it does not whip up the same. The best way to customize your drink is by adding syrups and extracts. I love adding vanilla simple syrup, caramel sauce, or chocolate syrup to the final product. You can even use chocolate milk instead of regular milk!
How long will it stay frothy
The whipped coffee should stay frothy for a while. It will last in an airtight container for up to a day and still be nice and frothy.
Recipes you may like
If you love coffee, you might able want to try making your own cold brew coffee. You may also like to try these coffee cupcakes or this coffee-flavored cake. These caramel macchiato popsicles are also amazing.
Recipe Card
Whipped Coffee (Dalgona)
This whipped coffee is a new internet craze for a reason!
Ingredients
2

tablespoons

instant coffee

2

tablespoons

granulated sugar

2

tablespoons

water

10

ounces

milk
Instructions
Add the coffee, sugar, and water together.

Whip constantly until the mixture thickens and resembles whipped cream.

Pour the milk into a glass and top with the coffee.

Stir to combine and enjoy.
Notes
I recommend using hot water to make it easier to foam the coffee. If you want iced coffee, use cold milk, and add a few ice cubes.
Add extras like vanilla, chocolatete, or caramel to your milk to customize your coffee!
Nutrition
Serving:
1
g
Calories:
254
kcal
Carbohydrates:
40
g
Protein:
11
g
Fat:
6
g
Saturated Fat:
4
g
Polyunsaturated Fat:
2
g
Cholesterol:
25
mg
Sodium:
162
mg
Sugar:
25
g
Tried this recipe?
Tag me on Instagram! @acookienameddesire #acookienameddesire