This beautiful skillet apple pie is a simple and rich caramel apple pie that everyone will fall in love with after a single bite.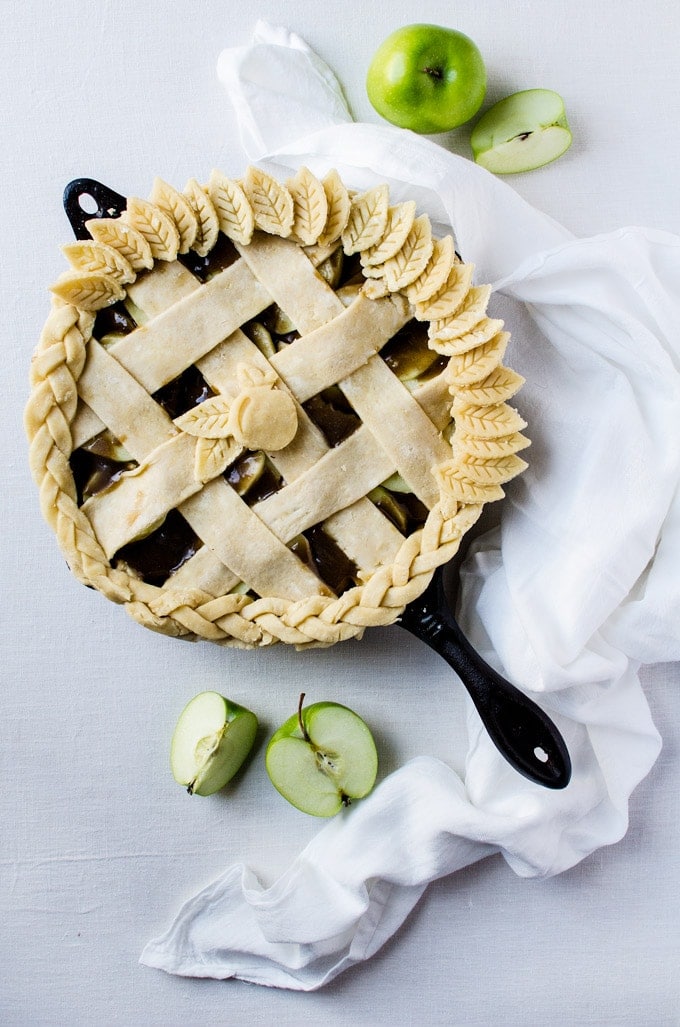 At one point I wanted to share a story with you about how I was watering plants in the garden when a hummingbird stopped by my ear and I looked over then we stared at one another for a few seconds before it fluttered away. I wanted to share how loudly the beating of its wings was and how it was so close I could feel the air moving.  I thought I'd share how those brief moments completely changed my perspective on life while I thought about the incredible journeys these small birds make just to survive. But then I realized how cheesy that all sounds and how overly "bloggy" that all was. I saw a hummingbird. We looked at each other and it flew away. It was kind of neat, but let's not make it anything more special than what it really was. I am just not that kind of girl. Sometimes I wish I could be, but I'm not.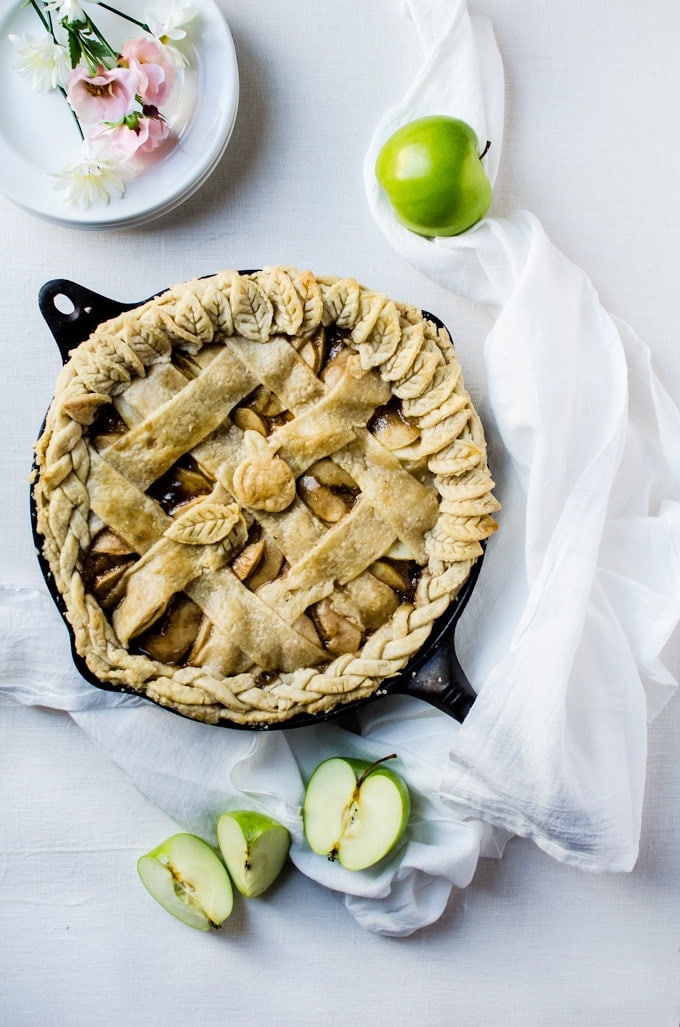 When it comes to autumn flavors, I am definitely one of the people who goes crazy for pumpkin everything. I may sneak into a Starbucks a few miles away where no one knows me and order a Venti PSL. I may or may not be wearing Ugg boots at the time. I may or may not have been on a hunt for a sweater that says "Freaky for Fall." Lately, I've been craving all things apple. Perhaps because the part of me that understands that it is still technically summer wants to stick to sweet fruit.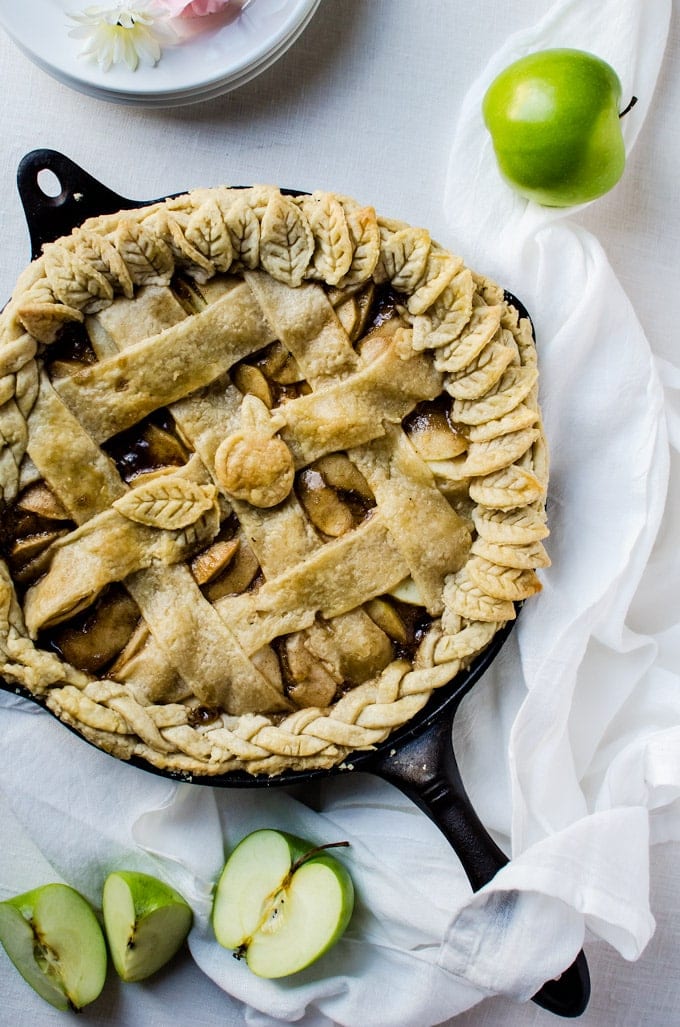 I love a simple pie and while this skillet apple pie might not seem terribly simple, but trust me it is. Despite all the decoration on top, you can get as fancy or simple as you want. I don't recommend a full second top crust because you need a lot of steam to escape the pie to prevent a soupy filling. If you don't know how to do a lattice pie crust, it is easy! Simple lay strips going one way, then add them going the second way. Lift up every other strip that was going the first direction to create the weaving pattern. I've been loving the braid in pies and as long as you go slowly, it is easier than braiding your own hair. As for the leaves and apple cut outs? I got this pie crust set from William-Sonoma and it makes this skillet apple pie - and any other pie - look super fancy with practically no effort!
Recipe Card
Skillet Apple Pie
A delicious and irresistible caramel skillet apple pie recipe.
Ingredients
For the Crust
2 ½

cups

all-purpose flour

¼

teaspoon

salt

3

tablespoons

sugar

10

tablespoons

unsalted butter cut in cubes

cold

4

tablespoons

shortening

4

– 8 tablespoons ice water
For the Filling
6

tablespoons

unsalted butter

¾

cup

packed brown sugar

¼

cup

granulated sugar

1

teaspoon

ground cinnamon

¼

teaspoon

ground ginger

¼

teaspoon

ground cardamom

¼

teaspoon

salt

¼

cup

water

2

teaspoons

vanilla extract

2

teaspoons

fresh lemon juice

6

– 7 Granny Smith apples

peeled and sliced thinly

⅓

cup

cornstarch

Egg wash*
Instructions
Make the pie crust. Mix together the flour, salt, and sugar together. Cut in the butter and shortening until the mixture resembles large bread crumbs. Slowly add in the water, one tablespoon at a time, gently mixing it in and adding more water as necessary for the dough to just come together. Turn the dough onto plastic wrap and shape into a disc. Refrigerate for at least 1 hour.

Start the filling. Add the butter, both sugars, spices, salt. water, and vanilla together in a small saucepan. Heat on medium-high. Stir until the butter is melted and heat until bubbling. Boil for about 3 minutes undisturbed, then remove from heat and allow to cool completely.

Toss the apples into a bowl and add the lemon juice over the apples. Coat in the cornstarch. Set aside.

Turn a little over half the pie dough onto a lightly floured surface and roll out until it is about ¼ inches thick. Place the dough into a 12-inch cast iron skillet. Tuck the edges of the dough under the crust, leaving a centimeter or so overhang. Freeze for 30 minutes.

Mix the apples with the caramel mixture, Pour into the pie crust. Freeze.

While the filling is freezing, roll out the remaining pie crust to top. Choose any method you wish.

To make the design I created: Cut 6 strips that are about 1 ½ inches wide. Lay the longest two on the middle point of the pie to look like a plus sign. Spaced evenly, add a second lattice crust on one side, then the other, lifting the opposite lattice piece as necessary. Repeat on the other side. Cut a long strip of crust, leaving a centimeter of the dough still attached to the rest of the crust, cut another strip the same width, again still attached. Cut a third strip, but going through to separate the three strands. Braid as normal. (I find chilling my hands with an ice cube, then drying before touching the dough helps when braiding). Take out the pie and add the braid to the edge of the pie, leaving most of the braid inside instead of hanging over the edge of the crust. Create another braid as needed to cover the pie in the braid. Roll out the dough and cut out leaves and the apple, arrange the leaves on the side of the crust. Freeze again for at least 30 minutes.

Leave the pie freezing as you preheat the oven to 350 degrees F.

Take out the pie and Brush the crust with egg wash.

Bake for about 15 minutes, then cover the edges with aluminum foil. Bake again for 55 – 65 minutes, or until the filling is bubbling and steaming.
Notes
*I use an egg white and water egg wash for a lighter crust. If you prefer a darker crust, I recommend using a whole egg plus water
Tried this recipe?
Tag me on Instagram! @acookienameddesire #acookienameddesire
*Recipe and photos updated 9/5/16