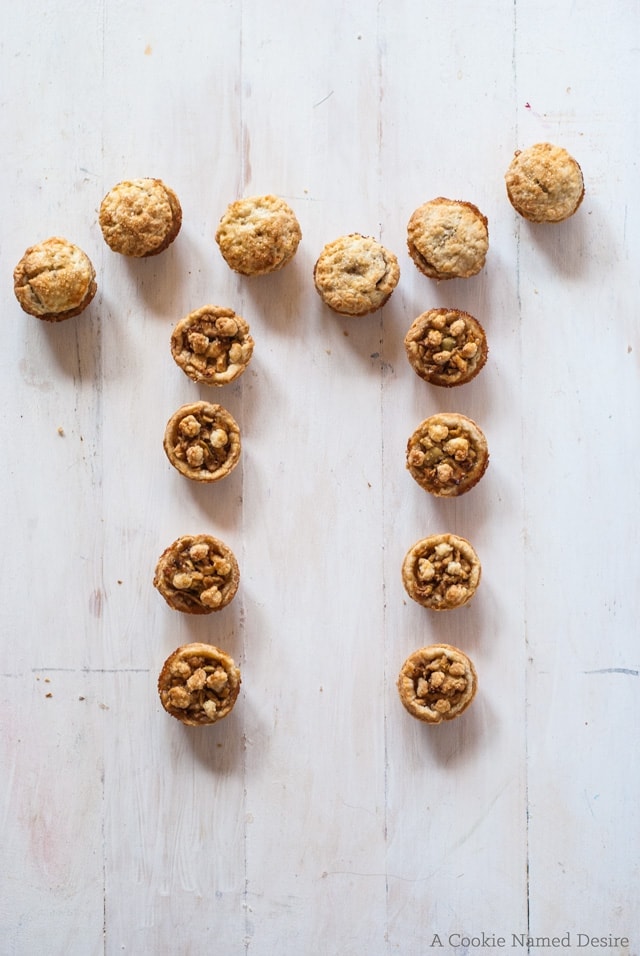 I had plans to make a few awesome pies for you to share throughout the week, but with my hospital stay, that ended up not happening. Still, I was determined to make you a pie, so I bought a few very large apples and thought I'd make you my favorite salted caramel apple pies. Later that night, I rushed to the grocery store and bought some heavy cream and bourbon for the caramel and made the most luscious batch of honey bourbon salted caramel EVER. I made my pie crusts and decided I'd work on the actual pie in the morning.
Well.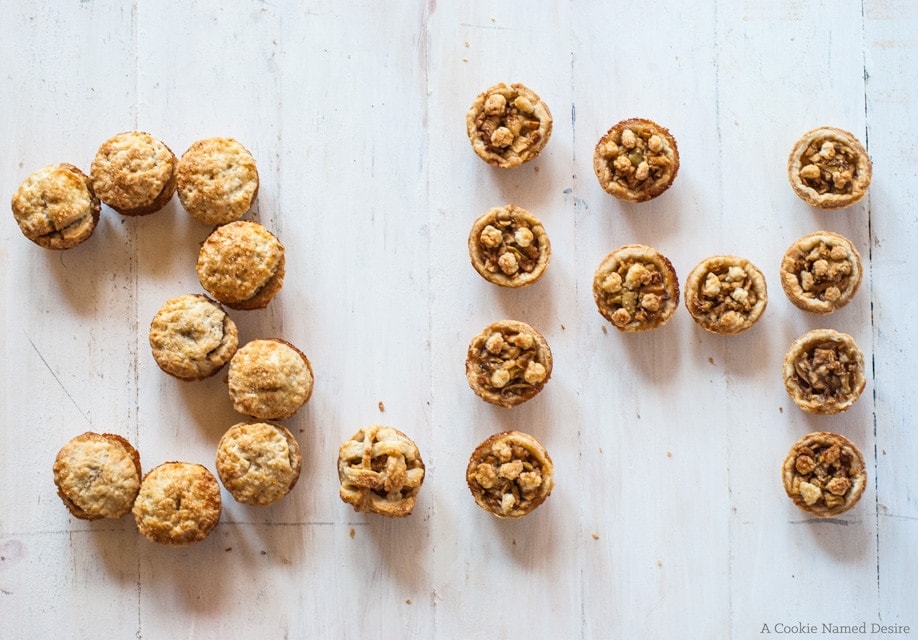 I woke up, ran a few errands and got back around 10 am and almost all the apples were gone!! Worst yet, I lent my mother my car so I had no way to get to the grocery store and pick up more apples. I was so mad. But I'm stubborn and wanted to make some pie anyway and thought what better way to work with what I've got and make bite-size apple pie instead. I've got to tell you, it ended up being a pretty taste (and cute) decision.
You already know how I feel about making pie crust. It's not my favorite thing to do, but I figured that this would be a good time to give it a try since these are minis and that must be easier for my clumsy hands.
Yes and no.
It was definitely easier to work with the crust and the pre-baked pies looked gorgeous, but my pie crust is so flaky, that it puffed too much to keep the beautiful designs I did on the pies. I love this rustic look of the finished pies though. Everything is better in mini!
These bite-size apple pies are more than just adorable though. They boast a lovely flaky, buttery bourbon crust and have my special blend of spices that give it a wonderfully homey flavor. Top the pies with a drizzle of the caramel and a touch of whipped cream and you will be in apple pie heaven.
Recipe Card
Bite-Size Apple Pie
Ingredients
For Crust
11/4

cups

all-purpose flour

1

tablespoon

sugar

½

teaspoon

sea salt

1

stick

½ cup unsalted butter, cut in cubes and chilled

¼

cup

ice cold bourbon
For Filling
1 ½

large Granny Smith apples

¼

cup

packed brown sugar

1 ½

tablespoons

corn starch

⅛

teaspoon

salt

½

teaspoon

ground cinnamon

⅛

teaspoon

nutmeg

⅛

teaspoon

ground ginger

1

teaspoon

vanilla paste

egg wash

1 egg + 1 tablespoon water

turbinado sugar
Instructions
In a food processor, mix the flour, sugar, and salt together. Pulse once or twice to combine.

Add the butter and pulse until the mixture resembles large nearly pea-sized crumbs. Add in the bourbon and pulse until the mixture is moist and just begins to come together. Turn out onto plastic wrap and press the dough together. Form into a disc and wrap tightly. Chill for about an hour.

Preheat the oven to 350 degrees F and take out a mini muffin pan that can hold 24 muffins.

Roll out the dough until it is a little less than ¼ inch thick. Use a 2 ½ inch diameter biscuit cutter (or something similar) to cut out 24 rounds. Gently stretch them out so they are about another 2 centimeters in diameter and line the mini muffin tins with the crust. there should be just the slightest overhang. If it is not big enough, gently stretch it out again. Prick the bottom of the crusts with the tip of a sharp knife or a small fork.

Dice the apples finely. You can take the skins off before slicing, but I like to keep them for texture and a little bit of nutrition, Mix with the sugar,corn starch, salt, spices, and vanilla.

Fill the crusts with the pie filling. I was able to fit a heaping tablespoon into each pie. (Optional: drizzle a small amount of the caramel sauce over the filling before adding the top crust)

Use the remaining crust to cover the pies in a design of your choosing. A plain top with a center cut is the simplest.

Lightly brush the tops of the crusts with the egg wash and top with turbinado sugar. Bake for about 25 minutes, or until the tops are golden brown.
Tried this recipe?
Tag me on Instagram! @acookienameddesire #acookienameddesire
Recipe Card
Salted Bourbon Caramel Sauce
Ingredients
1

cup

sugar

1

tablespoon

agave nectar

or corn syrup

4

tablespoons

bourbon

divided

1

cup

heavy cream

1

teaspoon

vanilla bean paste

½

teaspoon

salt

4

tablespoons

unsalted butter

2

teaspoons

fleur de sel
Instructions
In a heavy-bottom saucepan, mix the sugar, agave, and three tablespoons of bourbon together. Let it sit for a moment so the sugar absorbs the liquid. Heat the pan on medium high and swirl once or twice before leaving it to boil. Let the mixture boil untouched until the mixture reaches a dark amber color. It should just begin to smoke once it reaches this stage.

While the sugar is boiling (but before it reaches that dark amber stage), mix together the heavy cream, vanilla, and salt together. Heat in the microwave for about 30 - 40 seconds, or until it becomes very warm to the touch.

Once the mixture reaches that dark amber point, slowly add the heavy cream mixture and mix well. Be careful as the sugar will begin to bubble a lot once you add in this liquid.

Remove from heat and stir in the butter, fleur de sel, and remaining 1 tablespoon of bourbon.

Make an ice bath with extra ice. Pour the caramel in a jar and allow the jar to sit in the ice bath until it becomes nice and cool.

Store in the refrigerator for up to a month.
Tried this recipe?
Tag me on Instagram! @acookienameddesire #acookienameddesire