A strawberry slab pie that looks and taste just like a giant pop tart. Everyone will want to break off a piece of this tasty pop tart pie!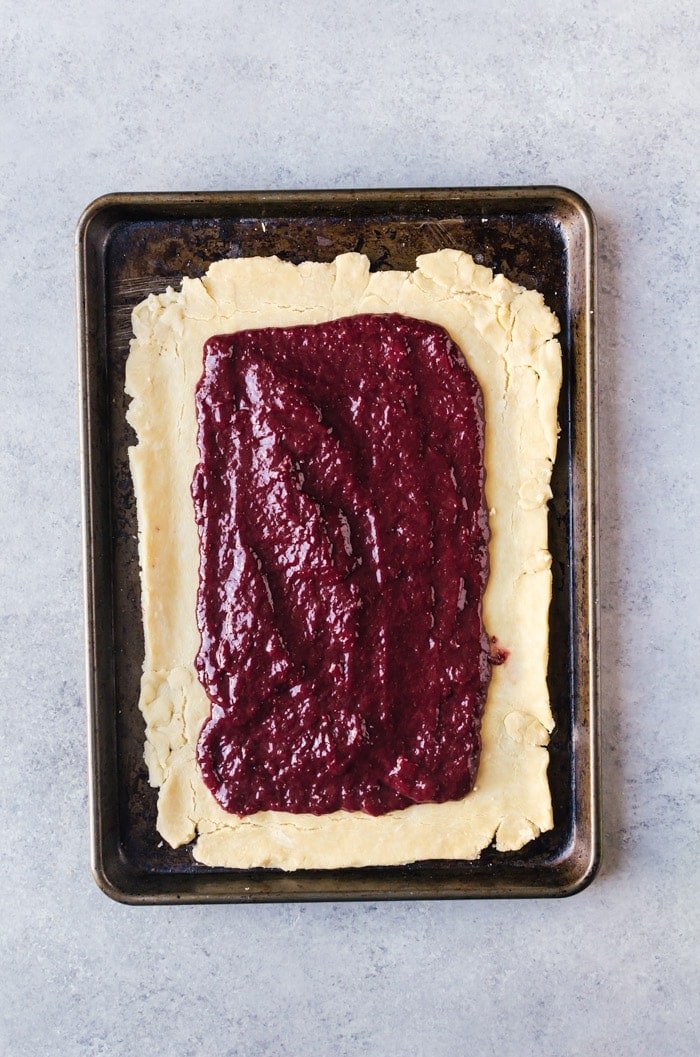 Look at me all prepared with a pie ready for you for Pi Day. Get it? Pi 3.14. Today is 3/14. Pi = Pie. It tickles me and there is nothing I love more than mixing math with food which is why I am a baker. Ironically, math was my least favorite subject, especially fractions. Who knew all they had to do to get me interested was to put it in terms of food? Can we start a petition that all math should now focus on real world situations? I don't care how many more apples Johnny has unless you tell me he needs it for pie. I don't care how fast Sue and Jim are driving to a destination unless they are racing to pick up the last of the season's rhubarb to make cake. I don't need to know anything regarding the radius of my pizza to know that you are eating too much of it and need to get your own pizza.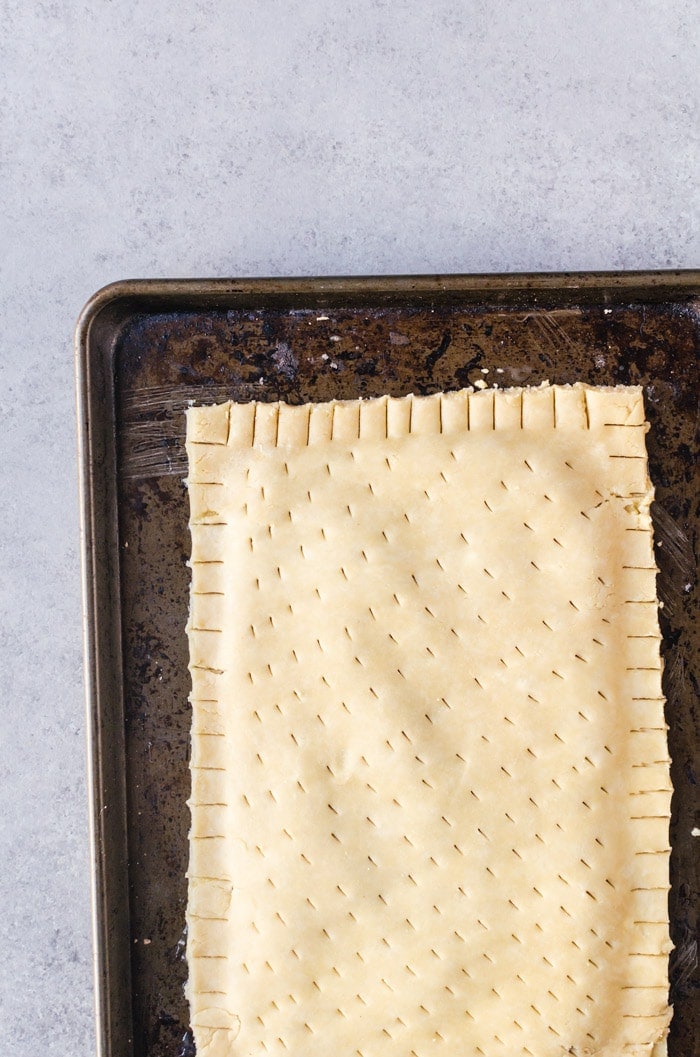 Look at me getting all worked up.
Let's focus.
Pi Day.
I brought you a pop tart pie to celebrate one of my favorite non-holidays.
If I'm honest with you, I was never a huge fan of pop tarts when I was younger. First, I think they are too many calories and not filling enough to justify those calories. Second, they weren't really that tasty. Sure the edges were amazing when you toasted them, but I wasn't about to miss the bus so I could toast my pop tart every morning. Third, back when I was a kid, they didn't have nearly as many flavors as they do now.
Instead I was a toaster struedel kinda girl. I loved the flaky crust and how much filling there was. I would take great pleasure creating designs with the glaze on my streudel. They were a delight and so much better than pop tarts.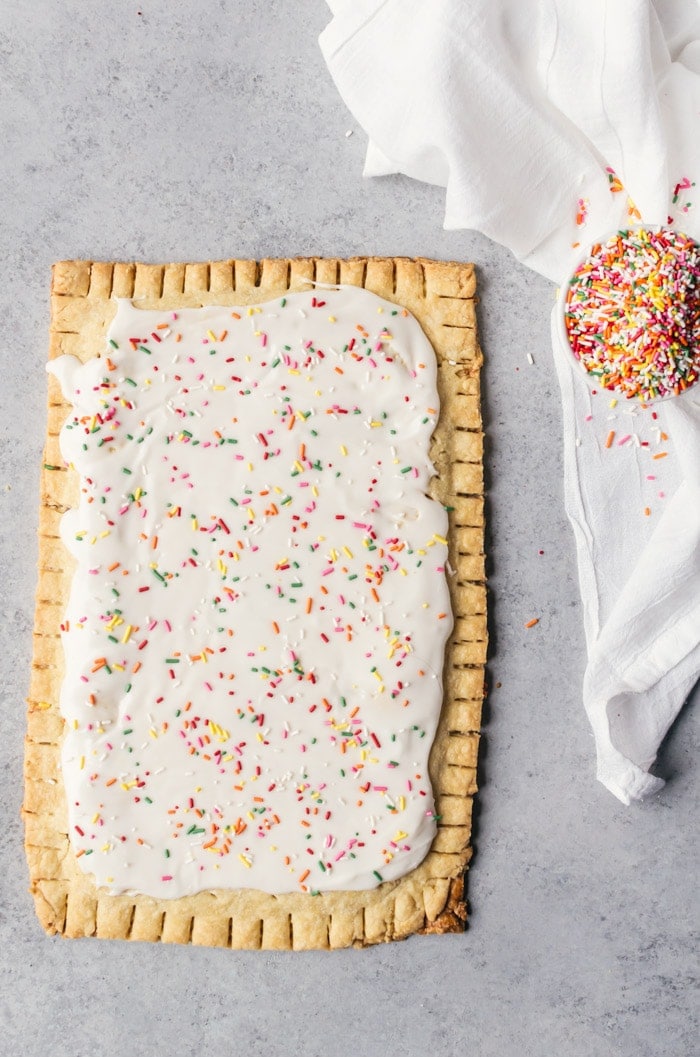 Saying that, this strawberry pop tart pie defies everything about a traditional pop tart. It's giant nature means there is plenty of filling. The buttery crust also has a ton of flavor without an extra trip through the toaster.
It's what all pop tarts should be only magnified into giant proportions so you can share with your favorite people on Pi Day. Or keep it all to yourself. I don't judge.
There are a couple of things I want to mention about this pop tart pie before you make it. Some of it may seem obvious, but just in case...
First, to get that true pop tart consistency of the filling, you have to cook down the strawberries a lot. You are essentially making your own strawberry jam and making it a little thicker so it doesn't spread and seep out through any stray crevasses in the pop tart or over the top which can make glazing a little harder. If you are making this giant pop tart pie when it isn't off season, I highly recommend using frozen strawberries for the best taste. That's what I used here in this recipe. When the jam is cool, it should be thick and slowly start to pour out of your bowl when you tip it over. It shouldn't be so thick that it is practically solid, but not so thin that you get some of it that runs out of a tipped bowl freely.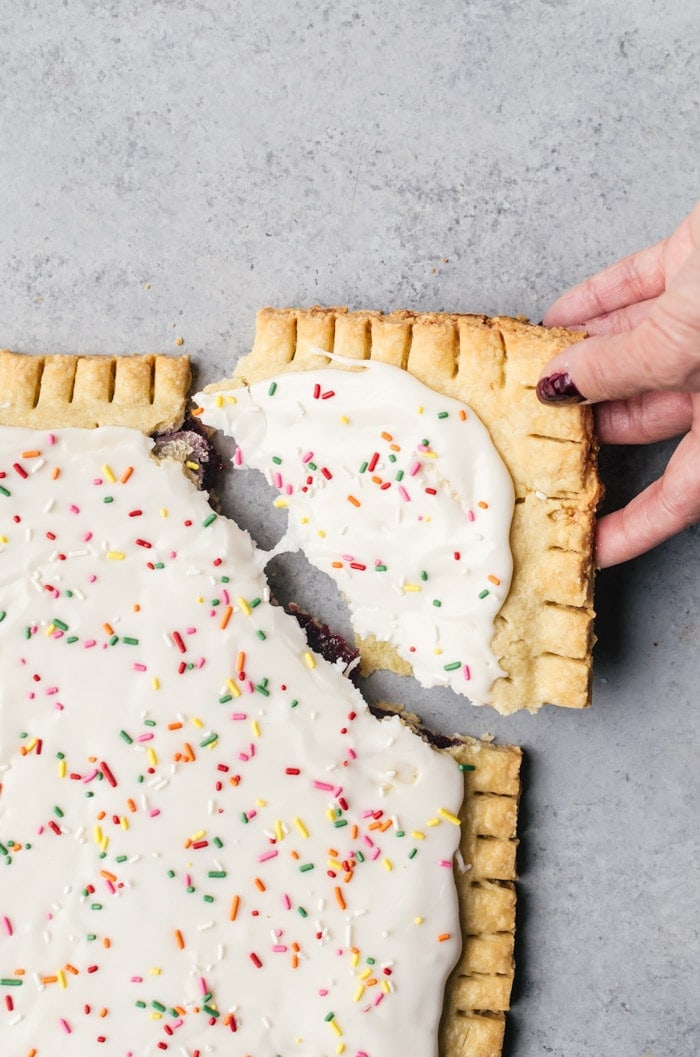 Second, if you want to do something like try and toast a piece of the pop tart pie (I have not tried this and cannot speak to its success being toasted), you need to make sure you let the glaze harden on the pop tart. I recommend putting the pop tart pie on a wire rack for a few hours.
Third, you need to use a mix of shortening and butter. The shortening makes the crust easier to handle when it is so big, and means the crust will keep its shape more like a pop tart when baked instead of puffing up a lot like an all-butter crust does. There is still some butter in this recipe to give it a nice flavor.
Lastly, I do recommend using a pizza stone under your baking sheet if you have one. I find it gets the bottom crust nice and crisp which makes it easier to handle the pop tart pie. If you dont have a pizza stone, don't worry. You can use another baking sheet that you leave in the oven to heat up and place the baking sheet with the pie on top of that one. As for removing the pie from the baking sheet, it is tricky. I prefer not to use parchment paper here and did not when I tested the recipe, but you can try it. Just be quick so you don't crack the crust.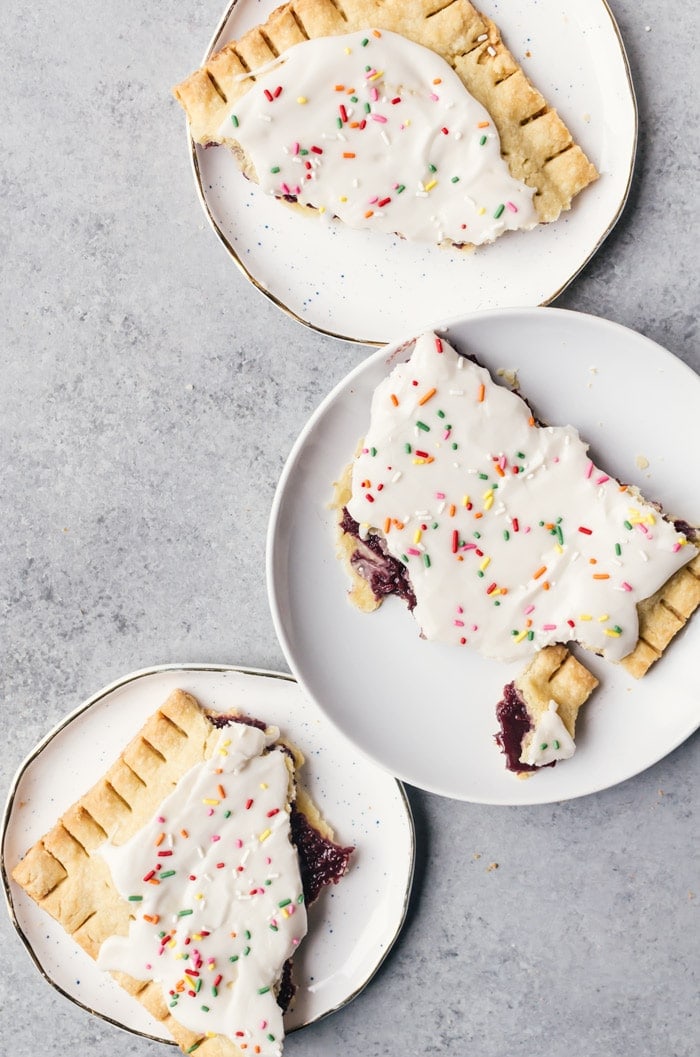 My favorite way to serve this strawberry pop tart pie? Leave it on the table and let everyone take pieces as they please!
Need more pie in your life?
Recipe Card
Pop Tart Pie (Happy Pi Day!!)
For anyone who thought one packet of pop tarts is just not enough... pop tart pie is here to save the day! 
Ingredients
For the Crust
3 ¾

cups

all-purpose flour

1 ½

teaspoon

salt

3

tablespoons

granulated sugar

10

tablespoons

vegetable shortening

frozen & cut in cubes

11

tablespoons

unsalted butter

frozen & cut in cubes

9 - 15

tablespoons

ice water

1

large egg

lightly beaten
For the Filling
1 ½

lbs

frozen strawberries

juice of one lemon

½

teaspoon

salt

¼

cup

cornstarch

½

cup

granulated sugar

1

tablespoon

[Rodelle ]vanilla extract
For the Glaze
3 ½

cups

powdered sugar

1

teaspoon

vanilla extract

2 - 4

tablespoons

milk

sprinkles
Instructions
In a food processor, add the flour, salt, and sugar together. Pulse three times to combine the ingredients.

Add the shortening and butter to the flour mixture and pulse until the mixture resembles large crumbs.

Slowly add the ice water one tablespoon at a time, pulsing after each addition of water. Add enough water until you can press against the mixture and it sticks together without it crumbling. The amount of water you need will change each time you make the crust, depending on the humidity of the environment. 

Divide the dough in half and form into discs without overworking the dough. Wrap tightly and chill in the refrigerator for at least four hours or overnight.

While the dough is chilling, make the filling. Add the ingredients except for the vanilla together in a large pot and cook until it is thick and jam-like. Stir and mash the strawberries as it cooks. When done cooking, stir in the vanilla extract. Allow to cool completely to room temperature and chill in the refrigerator for about 30 minutes.

Preheat the oven to 350 degrees F.

Take out the pie dough and allow to warm for about 15 minutes to make it easier to roll out. Roll out the larger disc of pie dough into a large rectangle on top of a well-floured surface. It is okay if the edges are not perfectly straight. Transfer to a baking sheet.

Spread the jam over the bottom crust, leaving a 1 ½ - 2 inch border around the crust. You may or may not need all of the jam. 

Roll out the other pie crust until it is as close to the same size of the bottom crust as possible. I recommend making it slightly larger just to be on the safe side, but you do not want this layer to be much thinner than the bottom crust. 

Brush the beaten egg over the border of the bottom crust and carefully place the top crust over the pie so that is is about flush with the bottom crust. Press the edges down to stick the top crust to the bottom and trim the edges so that the pie crust edges are straight. Cut slits over the top crust and crimp the edges with a fork. 

Bake for about 35 - 40 minutes, or until the crust is a light golden brown. Remove from the oven and allow to cool completely.

Once completely cool, make the glaze. Add the powdered sugar in a small bowl and add the vanilla and a tablespoon of the milk. Mix until completely combined. Add more milk one tablespoon at a time until it forms a thick paste. It should run down a spoon in a thick ribbon. 

Spread the glaze over the top crust and top with sprinkles. Enjoy immediately or allow the glaze to harden. You can toast the pop tart using a countertop oven and cutting squares of the pie (just be careful of the filling running).
Tried this recipe?
Tag me on Instagram! @acookienameddesire #acookienameddesire