Mini profiteroles are an essential to any get together with your favorite people!

Profiteroles are one of my favorite desserts. I could probably eat them every day and not get bored of them. Why I haven't made any in months is a wonder.
A few of my friends and I are getting together next weekend and I've been planning out a few snacks and drinks to serve. To be honest, I am a little nervous. I haven't seen many of these friends in years and I want everything to come out perfectly. One of the downsides of being a former traveler is that most of your friends end up living in another state, or even country, from you.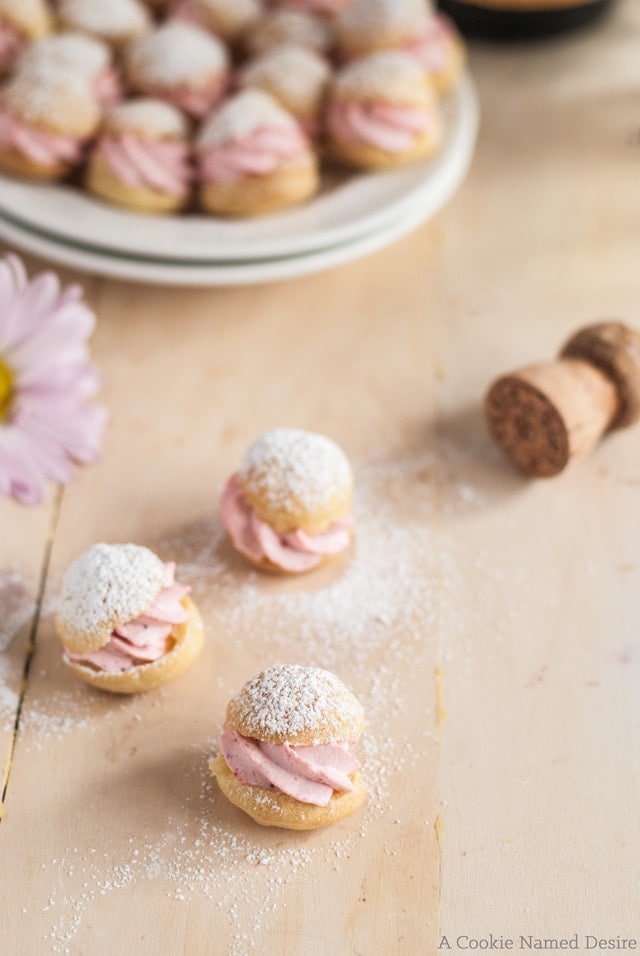 Since I want everything simple and elegant, I am making everything bite-size. Everything is better bite-sized, right? so these mini profiteroles with strawberry cream will be perfect. Look at how tiny they are? These are small enough that you can easily pop one into your mouth. Okay, maybe putting it that way isn't so elegant, but it's true.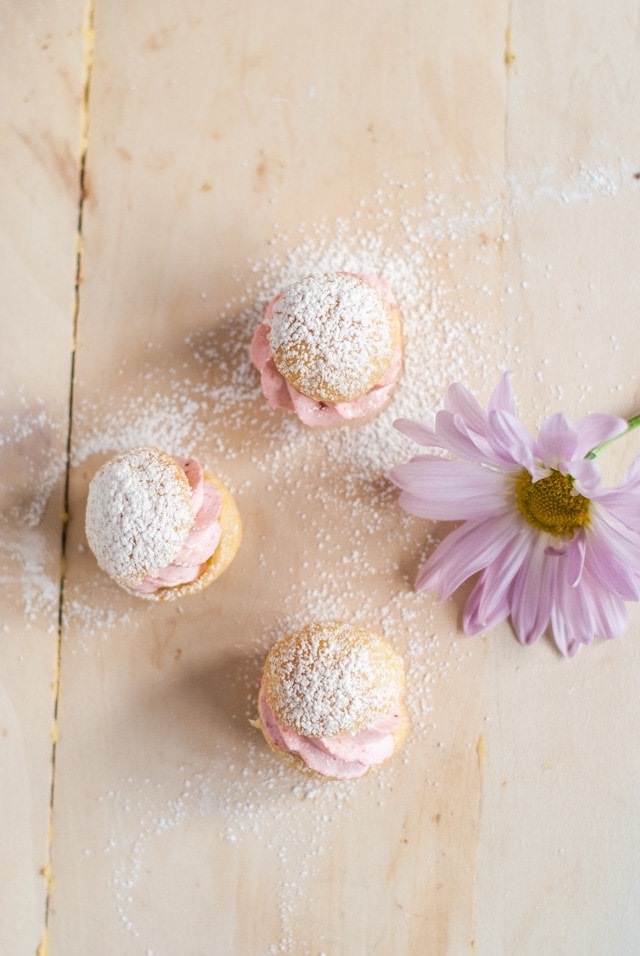 When I want to have a really nice relaxing Girl's Day, I like to splurge on a nice wine since I don't have days like that often. One of the brands I recently tried and am definitely putting on my Girl's Day wine list is Gloria Ferrer (by the way, Gloria Ferrer is having a Spring Photo Contest - you should go check it out and enter!) What I love about these wines is that they are so light and crisp, with a wonderful blend of fruity flavors. It's feminine, but not overly girly.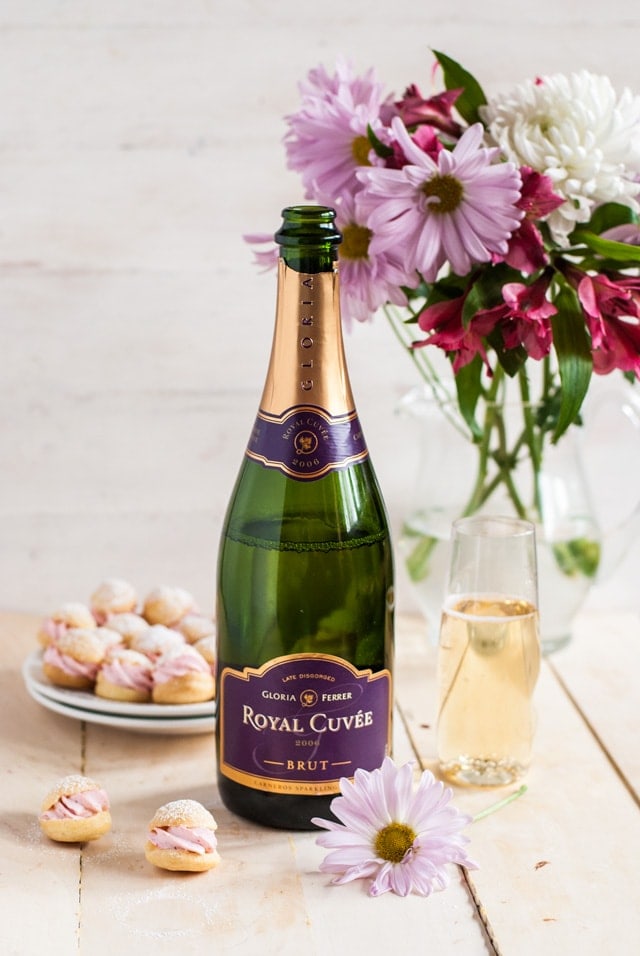 Did you know Gloria Ferrer Caves & Vineyards is Carneros' original sparkling wine house, owned and founded by the Ferrer family of Spain? Named for José Ferrer's wife, Gloria, the winery opened in 1986 in the breezy, now-famous region in southernmost Sonoma County. Gloria Ferrer Caves & Vineyards was the fulfillment of a longtime family dream: to make world-class méthode champenoise sparkling wines in an exceptional New World terroir. Their wines have earned over 400 gold medals and 50 90+ scores in the last 5 years.
My favorite is their Royal Cuvée. It is fruity, with hints of citrus and brioche, which pair perfectly with my mini profiteroles with strawberry cream. I just hope my friends enjoy the pairing as much as I do!
Recipe Card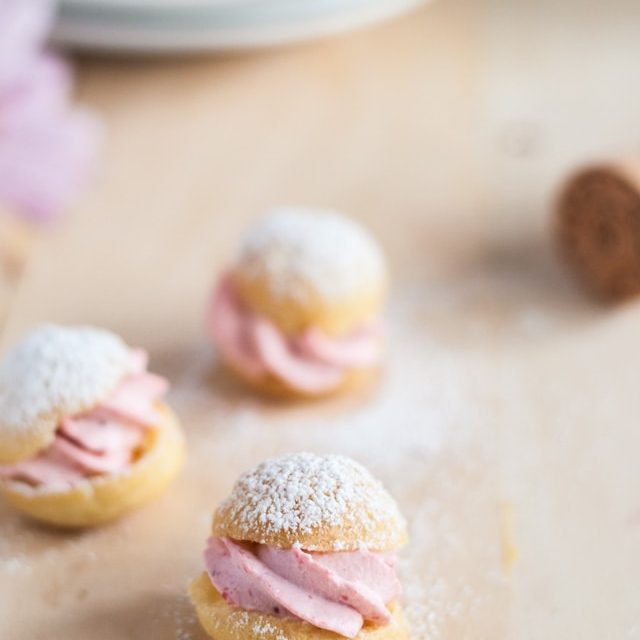 Mini Profiteroles with Strawberry Cream
Ingredients
For the Profiteroles
½

cup

water

4

tablespoons

unsalted butter

½

tablespoon

sugar

½

cup

flour

2

large eggs
For the Filling
10

strawberries

hulled

3

tablespoons

powdered sugar

plus extra for dusting

2

tablespoons

fresh lemon juice

1

cup

heavy cream
Instructions
Preheat the oven to 400 degrees F. Line a baking sheet with parchment paper or silicone mat.

In a medium saucepan, heat the water and butter together until the butter is melted and the mixture begins to simmer. Remove from heat.

Mix together the flour and sugar and then add to the saucepan, stirring well to form a dough. This may be tricky, but keep working at it! Allow the mixture to cool a bit for about 5 minutes.

Add in the eggs, one at a time, fully incorporating the first before adding the second. It may seem as though the eggs won't mix in, but if you keep mixing, it will eventually incorporate.

Fit a piping bag with a plain tip and pipe small rounds, about the size of a quarter onto the baking sheet. Use a moistened finger to at down any parts of the dough that point out from the pipe.

Bake for about 16 - 18 minutes, turning after the first 10 minutes (do not open the oven during the first 10 minutes). The profiteroles should look puffed and a light golden brown. Remove from the oven and allow to cool completely on a wire rack. Cut each mini profiterole horizontally.

In a food processor, add the strawberries, powdered sugar, and lemon juice together. Blend for about 1 - 2 minutes, or until it has the consistency of sauce. Set aside.

Beat the heavy cream with a chilled bowl and whisk until soft peaks form. Slowly add the strawberry sauce one tablespoon at a time until it reaches the desired strawberry flavor (it took about 9 tablespoons until I was satisfied). Fully mix in each tablespoon of the strawberry sauce before adding in more. You should have strawberry sauce remaining.

Fit a piping bag with a large star tip and fill with the strawberry cream. Pipe the cream into the bottom halves of the profiteroles and place the tops of the profiteroles over the cream. If you do not want to pipe the cream, you may use a small spoon.

Top each profiterole with a dusting of powdered sugar. Use the remaining strawberry sauce as a dip for the profiteroles.
Tried this recipe?
Tag me on Instagram! @acookienameddesire #acookienameddesire