This showstopping chocolate pumpkin pecan pie is the ultimate fall pie that will be a favorite on your dessert table.
Pies. Fall....Fall. Pies. Yeah, I think we can all agree that fall and pies go together like peanut butter and chocolate or like me and a chocolate chip cookie. My sister loves a good pie. She's more of a fruity pie kind of person, but when I made this chocolate pumpkin pecan pie, she nearly lost her mind at how good it was.
You can't fault her though. There's chocolate... pumpkin... and pecans. All in one beautiful pie. It's not a pie for the weak. It is a pie for people who love a party in their mouth. It's for someone who just had a big Thanksgiving dinner and is ready to tackle desserts, but can't choose which pie to eat, but doesn't want to get two slices cause Aunt Carol's already been making comments about your eating habits (again). This pie allows you to have multiple pie in a single slice and in one bit. Take that Aunt Carol.
We like to have a selection of pies, even with this turducken of a pie on the table. Mostly because my daughter only eats lemon chess pie and everyone loves a classic caramel apple pie. So we usually have some leftover pie that I like to give out to everyone. I love those cute little pie slice containers, but they really aren't realistic for our family because those slices tend to be tiny, and there is no way it can fit this chocolate pumpkin pecan pie in it.
Instead, I like to use my FoodSaver® FM5200 Vacuum Sealing System I got at Walmart. It's the number one vacuum sealer in the US and keeps food (not just pie) fresh 5x longer. It also prevents freezer burn if I use it for our meats, or when I want to freeze slices of pie to enjoy after the holidays. Plus, it's handy for when I need to store my leftover ingredients from making the pie - like all the extra pecan halves I have laying around.
Pro tip: buy the 2-pack vacuum seal rolls when you pick up your FoodSaver. You won't believe how much you will end up using it when you realize how much it saves you in time and money the long run. (P.S. both the FoodSaver and the rolls are on rollback at Walmart until 12/22, so it's also the perfect time to get one as a gift).
How to Make a Chocolate Pumpkin Pecan Pie
The name is a mouthful (and so is the pie!), but it is easier than you may think to make! Both the chocolate pumpkin and the pecan parts are simple to make and only takes a few minutes to put together.
The chocolate pumpkin part starts with a simple and not too sweet pumpkin pie recipe. From that, we separate a cup of the filling and add melted chocolate to it. And that's it. You alternate adding both to your pie shell and give it a little swirl.
As for the pecan pie part, we make a simple pecan pie filling, chock full of pecans (because YUM), then top it all with a beautiful layer of pecans. Honestly, the longest part about making the pie was making sure the top layer of pecans looked pretty, but it isn't necessary.
How to Make the Perfect Pie Crust
I was careful in picking out a type of crust for this chocolate pumpkin pecan pie. I wanted to have the perfect pie crust that was all butter and flaky while maintaining its shape, strong enough to hold up to such a heavy pie, and be enough to fill the entire pie dish.
In the end, I decided to go for a pie crust that has an egg in it instead of just ice water. This makes the crust more sturdy without compromising flakiness. Plus, it gives the crust this beautifully warm color before you even bake it.
You need a deep-dish pie dish for this chocolate pumpkin pecan pie, and this pie crust is the perfect amount to fit one, plus give you a little extra to make some decorative leaves if you are so inclined! (by the way, if you don't want to make decorative pie leaves, but don't want to waste leftover crust, I use my FoodSaver to vacuum seal it and freeze)
How to Use the FoodSaver
Using the FoodSaver is so quick and easy. It's just a few simple steps before you are vacuum sealing all the things.
Once you load the FoodSaver with a roll, select how big you need your bag... I love this because you can ensure you use just the amount you need without a ton of excess. Swipe the lever to cut off your bag and fill it.
Stick it in the vacuum seal area and press the sealing bar... the FoodSaver does the rest!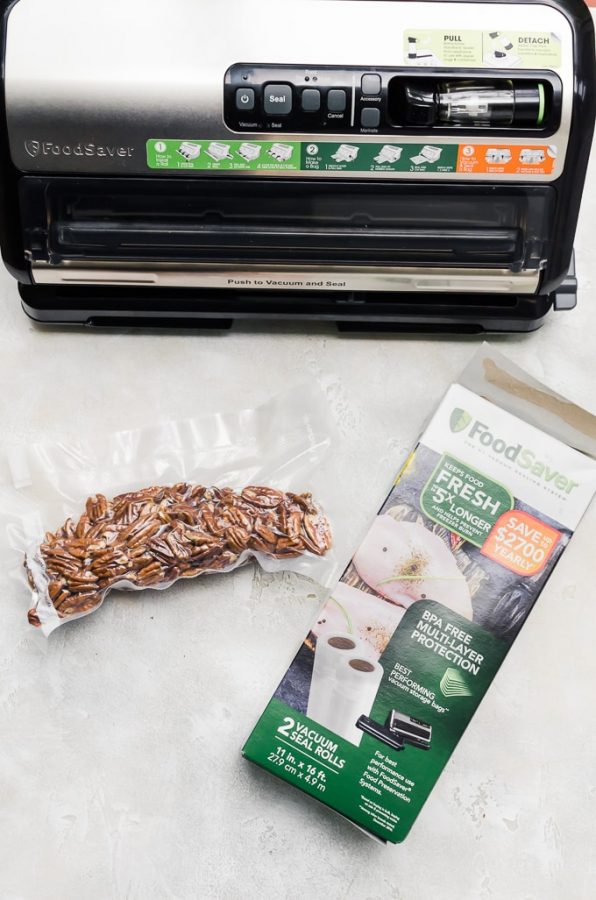 Looking for more delicious recipes?
You might love these pecan pie brownies. This maple sweet potato pie with mile-high meringue is great for the holidays. You will also love this bruleed butternut squash pie. These all go so well with my homemade hot chocolate!
Recipe Card
Chocolate Pumpkin Pecan Pie
The ultimate Thanksgiving pie... everyone will love this chocolae pumpkin pecan pie.
Ingredients
Pie Crust
1 ¾

cups

all-purpose flour

⅔

cup

unsalted butter

cut in cubes and frozen

1

teaspoon

sea salt

1

tablespoon

granulated sugar

1

large egg

cold and beaten

1 -2

tablespoons

ice water

as needed
Chocolate & Pumpkin Layer
15

oz

pure pumpkin puree

3

large eggs

room temperature

½

cup

granulated sugar

2

tablespoons

cornstarch

2

teaspoons

ground cinnamon

½

teaspoon

ground ginger

½

teaspoon

sea salt

2

teaspoons

vanilla extract

3

oz

semisweet chocolate
Pecan Layer
3

tablespoon

melted butter

½

cup

brown sugar

½

cup

dark karo*

2

teaspoons

vanilla extract

¼

teaspoon

salt

2

large eggs

beaten

2

cups

chopped pecans

1

cup

pecan halves
Instructions
Start with your pie crust. Add the flour, butter, salt, and sugar to a food processor. Pulse about 6 times, or until the mixture resembles large crumbs the size of lentils.

Add in the egg and pulse until just combined. Add in the water one tablespoon at a time as needed. The mixture should resemble gritty sand, but hold together when pressed.

Turn out the mixture onto a flat surface and press together. Form into a disc and wrap tightly in plastic wrap. Place in the refrigerator for at least an hour.

While the pie is chilling, make the fillings.

Start the chocolate pumpkin layer. Mix together the ingredients, except the chocolate. Mix until well combined.

Add the chocolate to a small microwave-safe bowl and heat on 50% power for 30 seconds. Mix well. If the chocolate isn't fully melted, heat for another 30 seconds. Repeat until the chocolate is fully melted.

Take one cup of the pumpkin filling and add it to the chocolate. Mix until well-combined. Set aside.

Make the Pecan layer. Mix together all the ingredients, except for the pecans. Make sure the mixture is well-combined, but not over-mixed. Fold in the chopped pecans.

Preheat the oven to 350 degrees F, Roll out the dough once it's chilled for an hour. . Place the dough on a lightly floured surface and roll into a large circle about ¼ inches thick and wide enough to extend far beyond the diameter of your pie dish. Place the crust in the pie dish and trim the edges of the crust so it is only about an inch over the pie dish all around. Tuck under the excess left on the crust and crimp. Roll out any leftover crust and shape into leaves if desired.

Assemble. Alternate adding the chocolate pumpkin and the regular pumpkin into the pie dish. Lightly swirl. Top with the pecan pie layer. Top with the leaves, if using, then decoratively add the pecan halves.

Brush the edges of the pie crust and the leaves with the egg wash.

Bake for 55 - 60 minutes, or until the edges of the pie is set and the middle is only slightly jiggly. Please be careful as this as it is easy for the pecan layer to become underbaked. If the middle still feels too jiggly, but the pecans are getting too dark, cover in aluminum foil and continue baking, checking ever 5 minutes.

Allow to cool completely before cutting and serving.
Notes
*You can also use light/regular if you can't find dark
If you use the FoodSaver to save slices of pie, I recommend chilling the pie first for best results.
Nutrition
Serving:
1
g
Calories:
399
kcal
Carbohydrates:
33
g
Protein:
7
g
Fat:
28
g
Saturated Fat:
9
g
Polyunsaturated Fat:
18
g
Cholesterol:
108
mg
Sodium:
285
mg
Fiber:
4
g
Sugar:
17
g
Tried this recipe?
Tag me on Instagram! @acookienameddesire #acookienameddesire