Learn how to melt chocolate easily with the best method for you! This easy how-to guide will have you making perfectly melted chocolate in no time!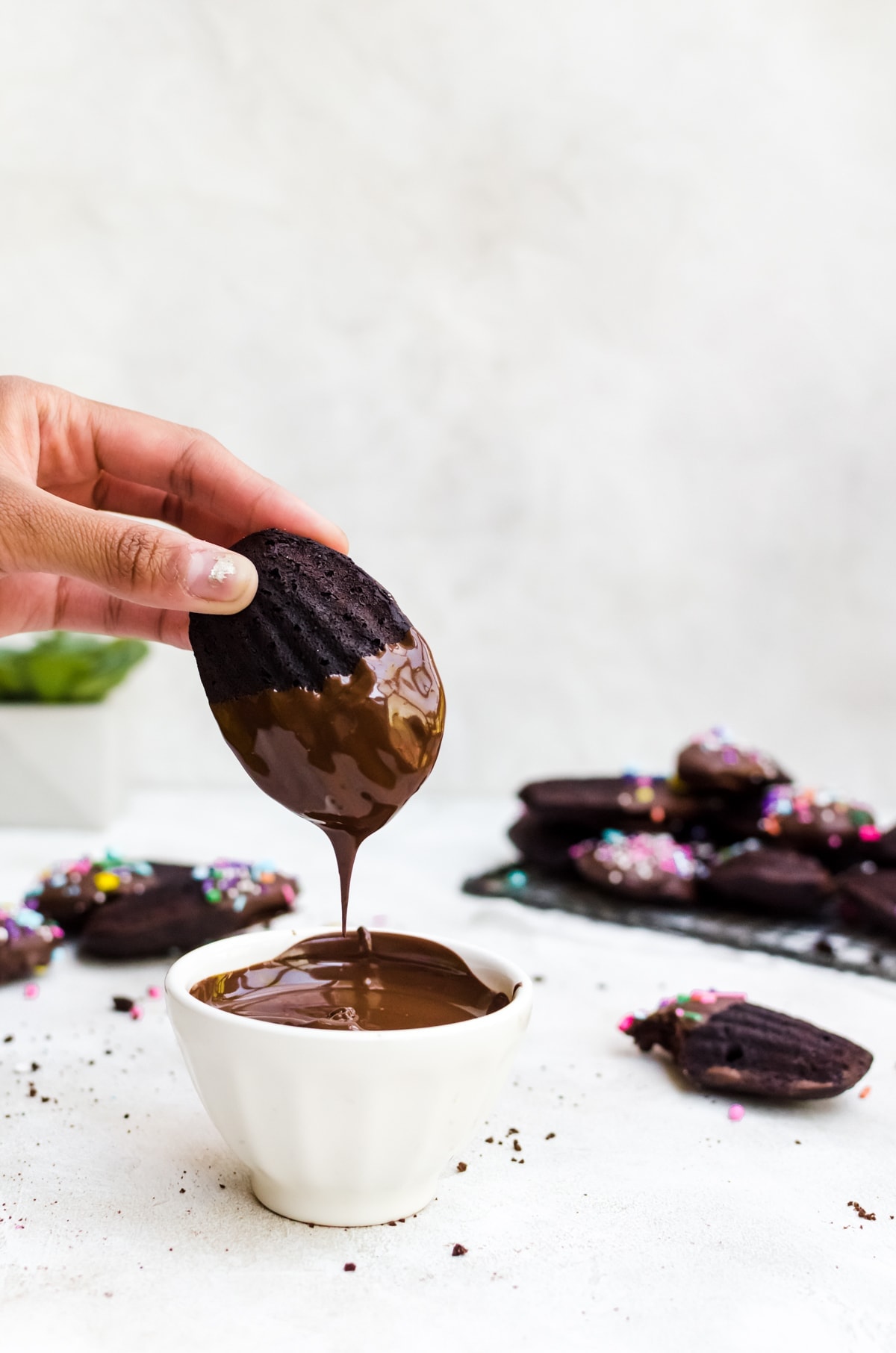 Tips
Before we get into the details, we need to discuss the broad strokes to ensure success every time.
Use chocolate with high cocoa butter percentages. This doesn't matter so much if you are making fondue or using it in a sandwich cookie. If you are using it to dip strawberries or other things in, hither cocoa butter percentages (at least 32%) will give you the best results. Semisweet, bittersweet, and dark chocolates work very well. I like using Lindt, Valrhona, and Ghiradelli.
Use chocolate bars or wafers whenever possible. Chocolate chips can work, but some brands are better than others. The reason chocolate chips are not ideal is because they are typically low in cocoa butter and usually have stabilizers and emulsifiers like soy lecithin to help them hold their shape. Basically, they were created to hold their shape when introduced to heat! They can melt, but they are more temperamental and require more love and attention.
Break up the chocolate. Chopping the chocolate in small, even amounts allows for even melting and prevents any chocolate from overheating and burning.
Remove the chocolate from heat asap. I usually recommend removing the chocolate when it is about 98% melted. Let the residual heat melt the remaining chocolate as you stir. Chocolate burns easily and once that happens, it cannot be fixed. If the chocolate begins to harden, you can easily reheat it quickly to melt it again.
Do not introduce water to the chocolate. Chocolate will seize once introduced to water, and it can be difficult - and sometimes impossible - to recover. Instead, if you need to add liquid, use something high fat such as butter, shortening, or heavy cream.
Add shortening or coconut oil for shine. If you want a nice shine to your chocolate, you can add about a tablespoon of shortening or coconut oil to the melted chocolate to give it an even shine.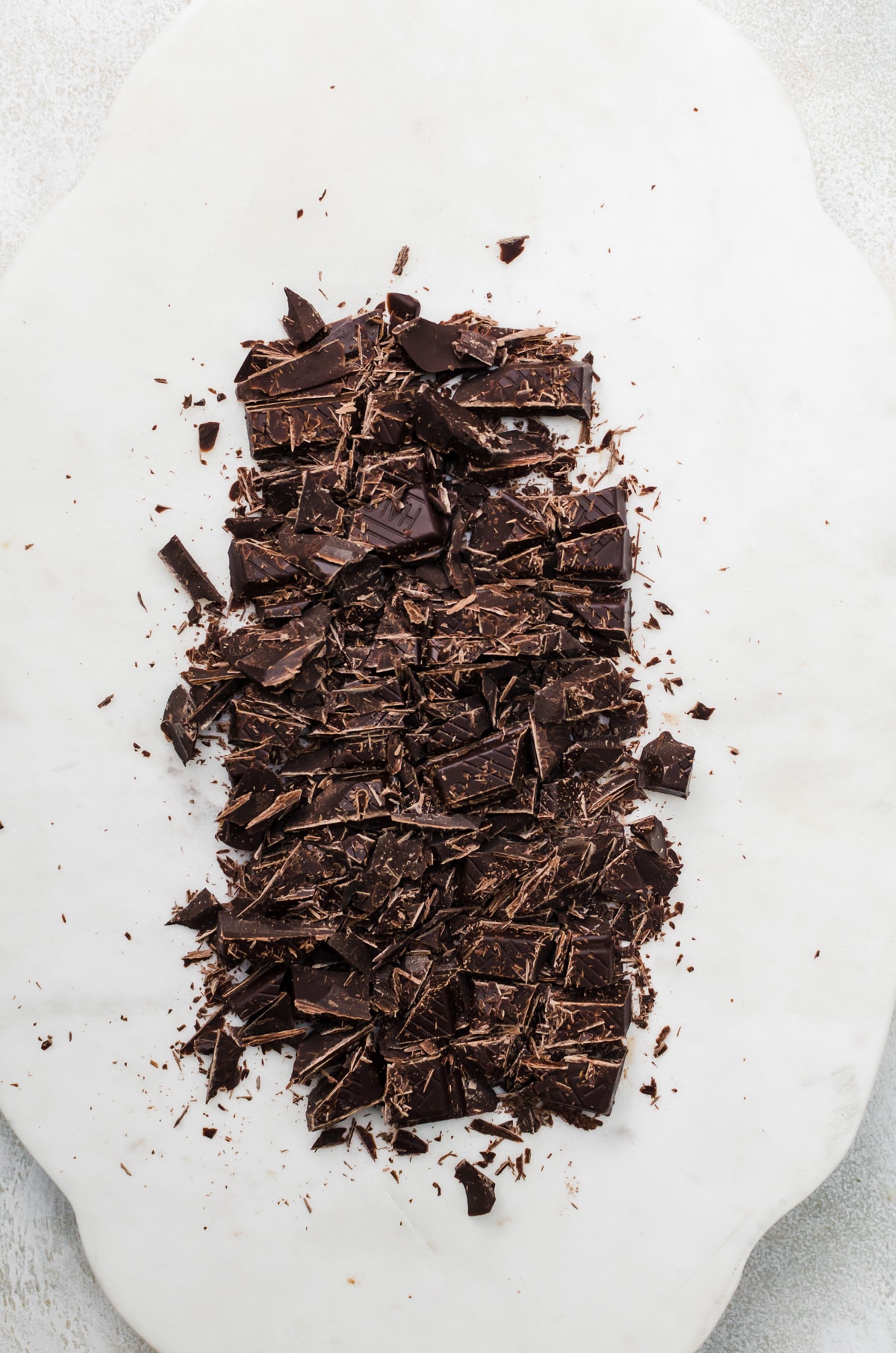 Methods
There are a few different ways to melt chocolate. The best one for you will depend on how much chocolate you need to melt, and why. Each one has its own benefits and drawbacks. Let's go into the details now.
Double boiler method
This is by far my favorite method for keeping my eye on the chocolate. You can melt a decent amount of chocolate, and it doesn't take very long, either.
We use the steam from heated water to gently melt the chocolate. Since it is so delicate, it makes it very difficult to burn the chocolate.
You can buy a double boiler, but I prefer making my own double boiler with what I have in the kitchen! To make a double boiler, you'll need two things: a saucepan and a heatproof bowl.
Add a small amount of water to the saucepan - about an inch. Place your heatproof bowl on top of the saucepan. It is very important that the bottom of your bowl does not touch the water to prevent overheating.
Add your water to your saucepan and heat the pan on medium-low.
Chop your chocolate and add it to your bowl.
Once your water reaches a simmer, turn off the heat and place the bowl over the saucepan.
Stir frequently until the chocolate is mostly melted. Remove from heat and stir until the chocolate is fully melted.
Using the microwave
This is one of the fastest methods for melting chocolate, but it is a little tricky as it is prone to overheating your container and then burning your chocolate. This is why it is absolutely important to use only 50% power.
Find a microwave-safe bowl. This is very important to avoid any incidents!
Chop the chocolate into even pieces.
Heat the chocolate in your bowl for 30 seconds, then stir well.
Repeat until most of the chocolate is melted. Stop microwaving and continue to stir until all the chocolate is melted
Melting chocolate in the slow cooker
Using the slow cooker is perfect for big batch melting. This is great if you need to use a lot of melted chocolate, like as a makeshift fondue station.
If you need to keep the chocolate melted, you also have the option of setting the slow cooker to warm. Just be sure to occasionally give it a good stir.
The downfall of this method is that it is the longest, especially if you are melting a significant amount of chocolate at once.
Make sure the slow cooker is fully dry. Heat on high.
Chop your chocolate in even pieces.
Place chocolate in the slow cooker
Cover and let it heat for an hour, stirring every 15 minutes.
Bring the temperature to low and continue heating and checking every 15 minutes until the chocolate is mostly melted.
Melting white chocolate
Real white chocolate has very little cocoa butter. Most white chocolate you find in stores don't have cocoa butter at all! This means that white chocolate - especially white chocolate chips - is more difficult to melt.
For this reason, I recommend steering clear of using the microwave method and instead use the double boiler method on low heat. This way you can keep a close eye on the chocolate so it doesn't burn or seize.
My favorite white chocolate to melt is Lindt. It contains real cocoa butter, tastes the best, and melts very well - even if you need to use the microwave in a pinch.
Melting chocolate for dipping
Luckily, melting chocolate for dipping isn't that different than other reasons. I do recommend using a double boiler with a deep heat-proof bowl.
Once you've melted the chocolate, you need to set up your dipping station. Line a baking sheet with wax or parchment paper and grab your dipping tools or forks.
If your chocolate begins to harden, I recommend microwaving it (if the bowl an fit in the microwave) at 50% power for 30 seconds. Stir well until the chocolate is fully melted again. Repeat as necessary.
F.A.Q.s
My chocolate seized, can I save it?
Sometimes. Often, you will need to try again. Water can save seized chocolate (even though it is often the culprit!). Add a teaspoon of boiling water at a time and whisk vigorously. You can also try a tablespoon of melted shortening at a time.
Can I use different types of chocolate when melting?
Yes, you can combine chocolate types when melting. This can be helpful to get the right flavor and depth you need in your chocolate.
Recipes using melted chocolate
I have a few delicious recipes you can use with your melted chocolate! These peppermint bark Oreo balls, white chocolate bark, milano cookies, white chocolate cranberry orange oatmeal cookies, chocolate madeleines, and homemade moose munch are great! You may also like these chocolate coconut macaroons, s'mores pie, salted chocolate almond bark, and white chocolate covered Oreos.
Recipe Card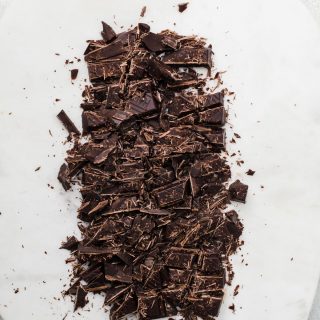 How to Melt Chocolate
An easy way to melt chocolate perfectly every time!
Ingredients
2

cups

240g chocolate (semisweet, dark, etc)
Instructions
Chop the chocolate into even pieces. Set aside.

Add about an inch of water in a saucepan.

Heat on medium until the water begins to simmer. Turn down the heat to low.

Add the chocolate to a heatproof bowl that fits on top of the saucepan without touching the water.

Place the bowl on the saucepan.

Use a whisk or silicone spatula to stir the chocolate frequently.

Remove the bowl from the heat once the chocolate is roughly 98% melted.

Stir until the chocolate is fully melted.
Notes
You can use this method for varying amounts of chocolate.
It works best with chocolate bars and wafer, but you can also use it for chocolate chips.
Be careful to not introduce water or steam into the chocolate as it melts, otherwise it may seize.
Nutrition
Serving:
1
g
Calories:
75
kcal
Carbohydrates:
8
g
Protein:
1
g
Fat:
4
g
Saturated Fat:
3
g
Polyunsaturated Fat:
1
g
Cholesterol:
3
mg
Sodium:
11
mg
Sugar:
7
g
Tried this recipe?
Tag me on Instagram! @acookienameddesire #acookienameddesire