A delightfully simple and irresistible salty-sweet chocolate almond bark. Swirled with antioxidant-rich dark chocolate and white chocolate, then topped with dried cherries, almonds, and a pinch of sea salt.
Two batteries. Two little AA batteries.
I never knew how much power two stinking little batteries could have over my life. Maybe I'm still a little cranky and over exaggerating it. Maybe not.
Last night I noticed my bedroom was getting a little warm. I turned on the fan, but it didn't seem to help much, so I turned it higher. Then higher again. But I was still hot and sweaty and cringed every time my daughter went to rest her head on my arm. Someone knocks on my door and tells me the air conditioning isn't working and to open up the windows for the night.
It was about 85 degrees out at 11pm and according to the news, it wasn't going to get any cooler than 75 during the night. Not fun.
We slept without covers and woke up every few hours to replace the cold water bottles we kept by our heads. On top of that, I already stayed up late to change up the look of the blog (what do you think by the way??) so I was already working on little sleep.
In the morning, I ran to the thermostat just to see if there was anything I could do to fix it so we didn't have to pay someone to come over.
Luckily it said right on the screen "replace batt." So I ran and replaced those batteries in 2 minutes flat. I don't know why no one saw that before bed. I wish I went to check it that night instead of suffering and trusting they would know when the battery needs to be changed. Beyond that, I am just pissed that two batteries just ruined my night.
Yeah, definitely still cranky. Thank you for putting up with my little rant.
If you happen to not be able to be in a place that is also unbearably hot, but want to get together a sweet treat, I cannot recommend this salty-sweet chocolate almond bark. It is relatively healthy with the antioxidant-rich dark chocolate and the almonds.
The white chocolate is minimal and is there to add a bit of sweetness for anyone who isn't that much of a dark chocolate fan. Plus it makes it pretty. Skip it if you want to keep it on the healthier side.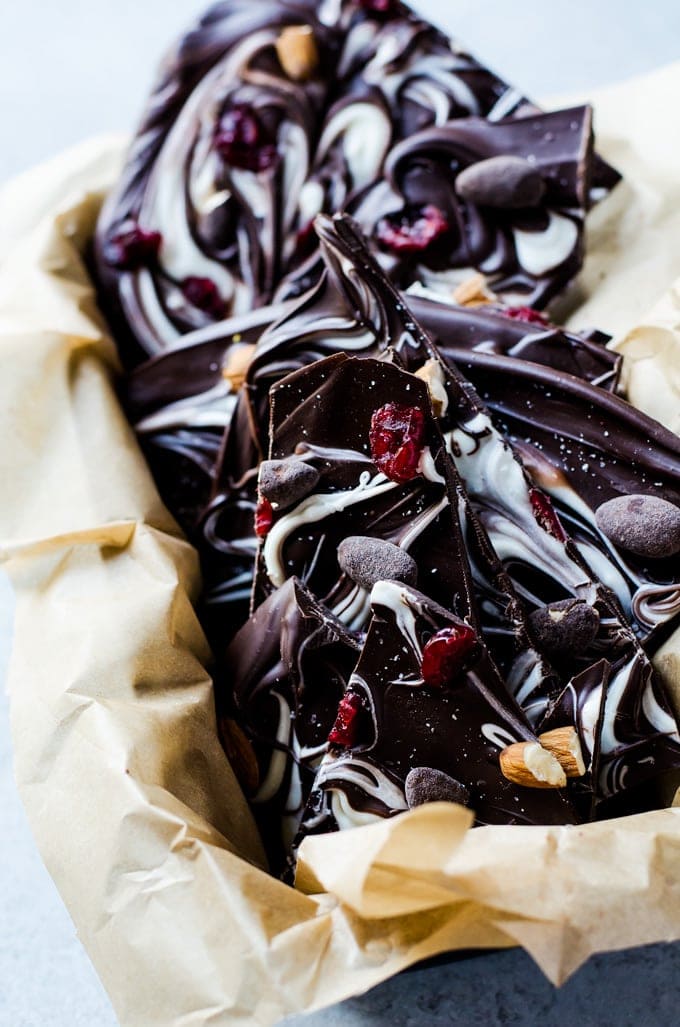 My favorite part of this chocolate almond bark is the mix of almonds. I used whole almonds and chocolate almonds for contrast. You can use one type of almond, but using both just does it for me. (Though to be honest, if I'm going to have to choose, the chocolate almonds would win!)
Want to Munch on More Bark?
Same. I think you might love trying out this cute white chocolate bark. My pretzel toffee bark and sweet and salty holiday bark are perfect if you're into that sweet/salty combo. Munchie bark is great for any late-night movie watching.
Chocolate Almond Bark Recipe
Recipe Card
Salty Sweet Chocolate Almond Bark
Super easy and fun salted chocolate almond bark
Ingredients
12

oz

dark chocolate

2 - 3

oz

white chocolate

¼

cup

Blue Diamond chocolate almonds

3

tablespoons

Blue Diamond whole almonds

3 - 4

tablespoons

unsweetened dried cherries

chopped

pinch

of salt
Instructions
Lay out a sheet of parchment paper or a silicone mat.

Melt the dark chocolate in one bowl by heating it on 50% power in the microwave for 30 second increments, mixing well between each increment until melted.

Melt the white chocolate in a separate bowl using the same method as the dark chocolate.

Pour the dark chocolate on your paper and spread out until it is an even layer that is a little thicker than ¼-inch thick.

Dollop the white chocolate over the dark chocolate. and swirl using a butter knife or skewer.

Top with both types or almonds and the dried cherries. Very gently press down to adhere.

Top with a generous pinch of sea salt.

Leave to harden at least an hour. You can speed the process by placing in a refrigerator for 10 - 15 minutes.
Notes
Store in an airtight container.
Nutrition
Serving:
1
g
Calories:
268
kcal
Carbohydrates:
30
g
Protein:
3
g
Fat:
16
g
Saturated Fat:
9
g
Polyunsaturated Fat:
6
g
Cholesterol:
5
mg
Sodium:
35
mg
Fiber:
3
g
Sugar:
24
g
Tried this recipe?
Tag me on Instagram! @acookienameddesire #acookienameddesire