This post is a sponsored conversation with Orville Redenbacher's Popcorn. All thoughts and opinions are always 100% my own. Thank you for supporting the blog and the brands I love!

So after going to the movie event hosted by Orville Redenbacher's Popcorn in Boston, I was inspired to throw my own backyard movie party for my daughter and her friends. She couldn't wait for the party and spent a lot of time picking out the perfect movie and making her own invitations to the party which were pictures of her and her friends and big heart next to them. It was so cute.

I decided it was also the perfect time to share the personal favorite treats that I made for Orville Redenbacher's Popcorn previously: my brown butter caramel and popcorn cupcakes and my baked red velvet doughnuts with marshmallow and popcorn. I also made some munchie bark that I've been wanting to make forever. (look at the bottom of the post for the recipe!) Obviously, we needed lots and lots of Orville Redenbacher's Popcorn because we love the light and fluffy texture. Plus, their Movie Theater Butter flavored popcorn in the movie theater-styled buckets were perfect for our party!

Unfortunately, it decided to rain on the day our party was planned, which meant no movies in the backyard. That didn't stop us, though and we decided to have the party inside. I set up the dining room as a popcorn snack bar station so the kids could make a popcorn mix with pretzels and chocolates and other fun things or grab one of my treat, then grab some water (I don't do juice at kid parties, ironically) Then, in the livingroom, I laid down blankets so that everyone could cuddle while we watched our movie! (Sadly, the movie was in the evening and the lighting was so bad, I wasn't able to get any good pictures).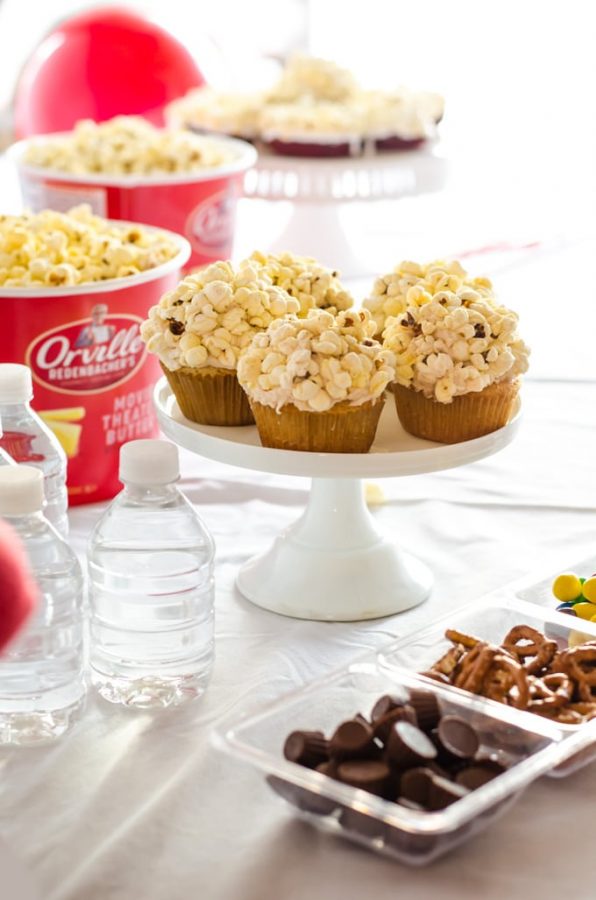 We had such a blast and it reminded me of the movie parties my mom would throw us when we were little, as well as the times when we'd go to the park and watch movies there, except we got to stay warm indoors while it rained. Nadia and all her friends ate three whole buckets of popcorn (seriously, kids are like bottomless pits sometimes) during the movie. Luckily, Orville Redenbacher's Popcorn pops in minutes, so it was easy enough to make sure the adults got to have some popcorn too!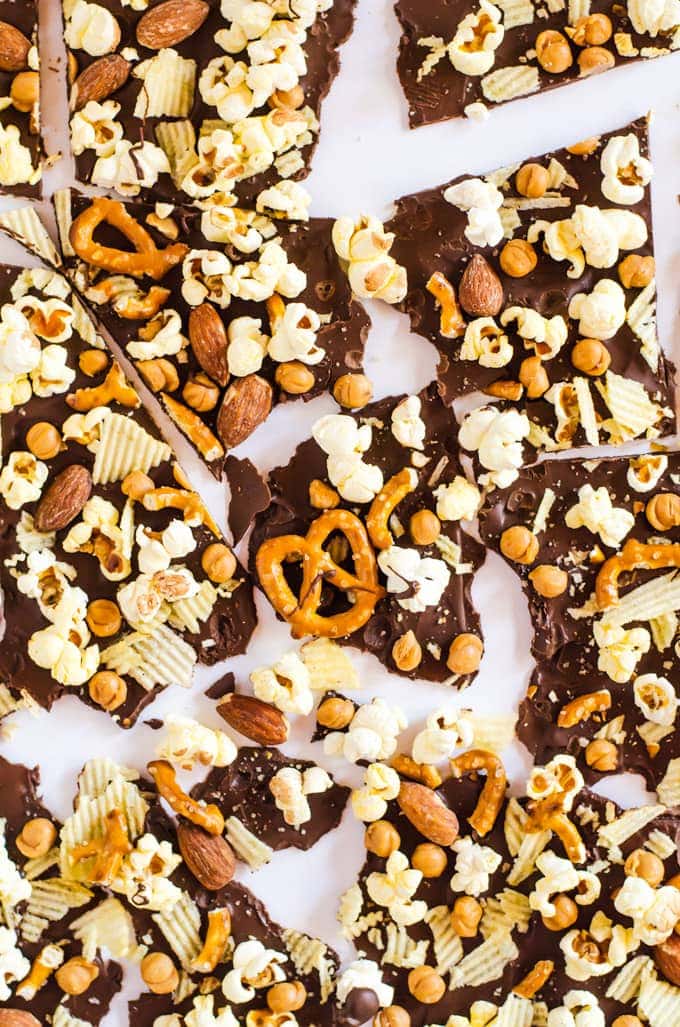 What is your favorite way to have a movie night and what kind of snacks do you like to serve?
Munchies Bark
Ingredients
14

oz

dark chocolate

1 ½

cups

Orville Redenbacher's popcorn

1

oz

ruffled potato chips

½

cup

lightly crushed mini pretzels

¼

cup

salted almond

2

tablespoons

caramel bits

pinch

of salt
Instructions
Line a baking sheet with parchment paper. Set aside.

Melt the chocolate in the microwave at half power using 30 second intervals and mixing between each interval.

Pour the chocolate on the baking sheet and spread out so that it is about ¼ inch in thickness.

Sprinkle the top with the remaining ingredients and allow to harden - about 2 hours.

Break part with a knife of your hands.
Tried this recipe?
Tag me on Instagram! @acookienameddesire #acookienameddesire
Orville Gives You More www.facebook.com/orvilleredenbachers