Crunchy, butter toffee popcorn with cashews, almonds, and peanuts all coated in a light drizzling of chocolate. This moose munch recipe is perfect for creating holiday gifts, or to keep as a snack! 
We are obsessed with popcorn in our house. We will go through one of those big boxes of popcorn in about a week. To be fair, we have pretty regular movie nights at our house too. Even on school night, we just be sure to time it so it ends close to bedtime (or finish the movie after school the next day).
I would say about 90% of the time, we have regular popcorn with just butter and salt, but then we need to switch things up a little. One of my favorite ways is to make a sweet version. My daughter isn't a fan of caramel, but she does like butter toffee, so I usually make this moose munch recipe.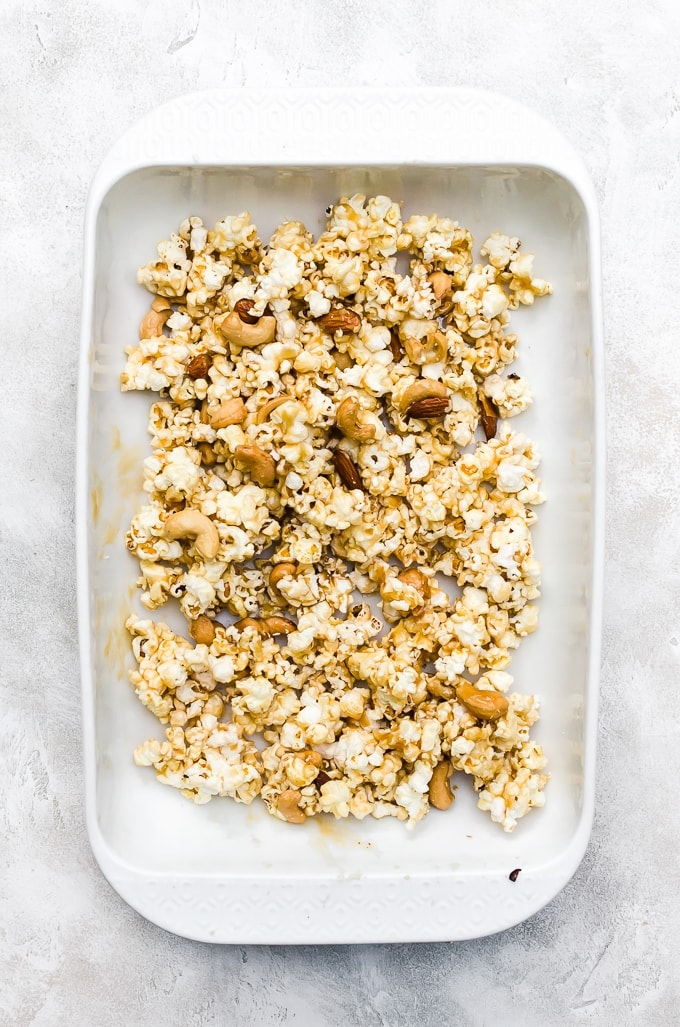 Moose munch is caramel popcorn's blonde sister. Instead of taking the caramel to that darker, more robust color, we keep it lighter which is sweeter with a more delicate and buttery flavor. It's so good just on its own, but the nuts are what really make moose munch special. You can use any nuts you have around - and I encourage trying new things! My personal favorite mix is one of cashews, almonds, and just a sprinkling of peanuts.
What I love about this moose munch recipe is that it makes a LOT. It's enough for you to have around the house, and also to share with anyone you want. My daughter's school doesn't allow food gifts from home to the students, but it would be perfect for that (just check for nut allergies and make a batch without any nuts). I do gift little bags of moose munch to her teachers though and they all love it!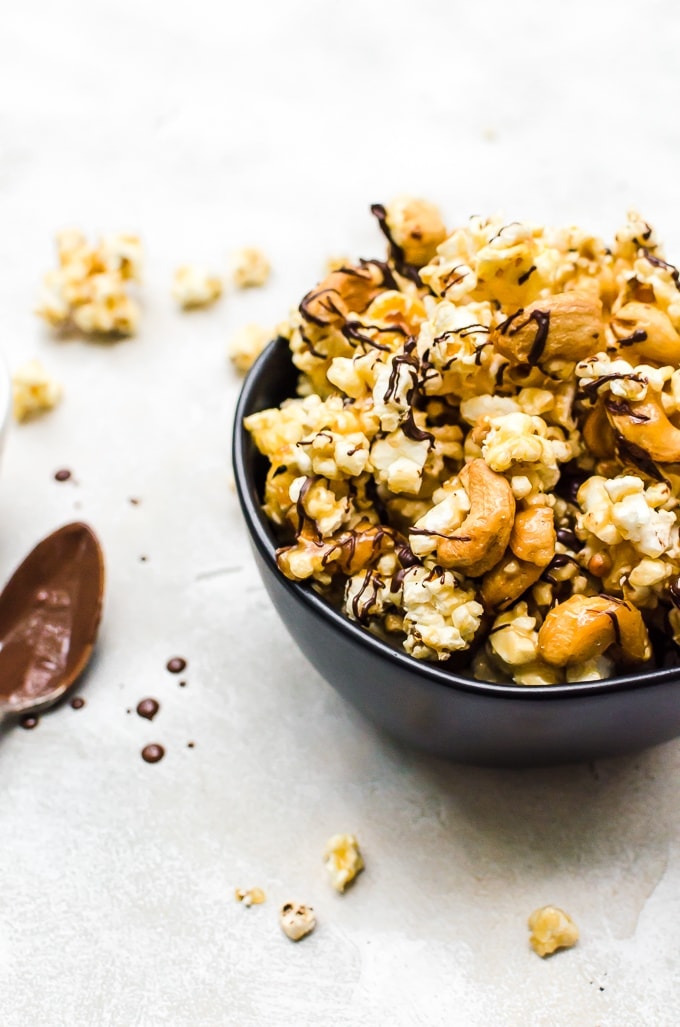 Is Moose Munch Gluten-Free?
Yes, moose munch is gluten-free, but if you have any other allergies, intolerances, or dietary restrictions, this may not be the snack for you. There is dairy found in the butter and chocolate, and there are nuts. Of course, you can always omit the nuts. While I have never tried using a dairy-free alternative to butter, I do think it is worth testing out. Keep in mind, this recipe is originally written using microwave popcorn. You can use fresh popcorn kernels cooked on the stove, if desired. You may, however, want to add another pinch of salt to the toffee.
How Long Does Moose Munch Last?
This moose munch recipe lasts as long as any homemade caramel popcorn. As long as it is kept in an airtight container, it should be good to eat for about a week (although it never lasts that long in my house.) If the popcorn is left out, the toffee tends to get sticky and the popcorn becomes chewy, so be careful about ensuring the container is completely airtight.
Can You Freeze Moose Munch?
Yes, kind of. I know people who swear you can freeze moose munch without any issues, but I have never tried it myself. I imagine that it would end up a lot like leaving the popcorn out overnight - chewy and a little stale.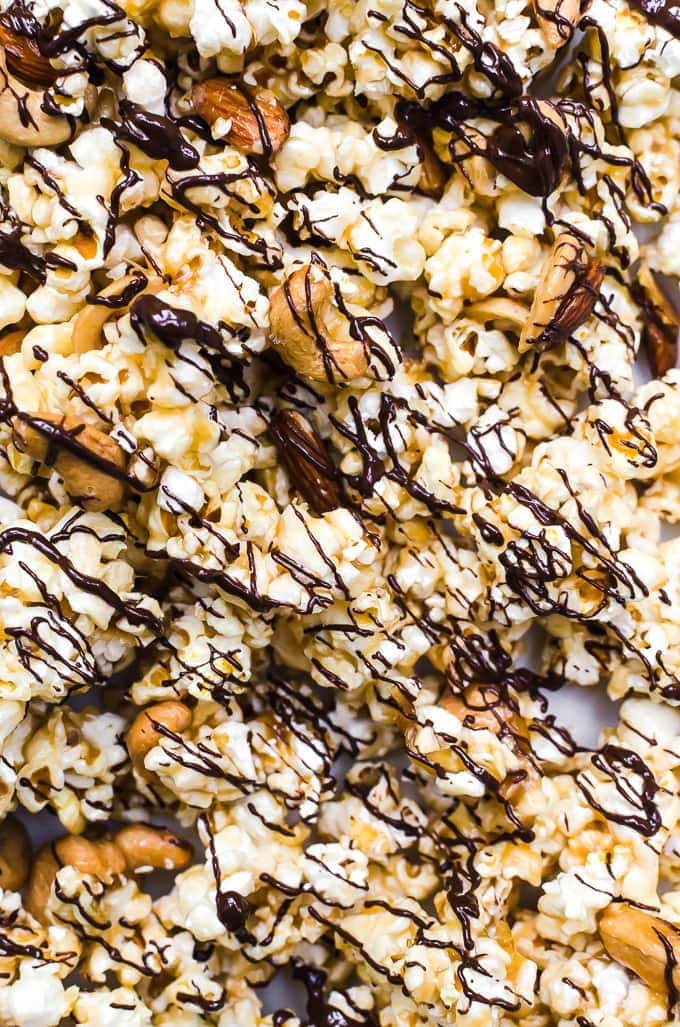 Recipe Card
Moose Munch Recipe
Crunchy and totally irresistible. You will get requests for this recipe constantly!
Ingredients
10

cups

popped popcorn

1

cup

cashews

⅓

cups

almonds

¼

cup

peanuts

12

tablespoons

unsalted butter

1 ¼

cup

granulated sugar

½

cup

dark corn syrup

pinch

of salt

1

teaspoon

vanilla extract

3

oz

melted chocolate
Instructions
Preheat oven to 300 degrees.

Mix popcorn and nuts together. and place on a lightly greased baking sheet.

Add butter, sugar, corn syrup, and salt together. Heat until 280 degrees F, or about 5 minutes boiling. Stir in vanilla.

Pour the caramel over popcorn and nuts. Stir well. It's okay if the caramel doesn't fully coat everything yet.

Bake for an hour, stirring and mixing well every 10 minutes.

Allow the popcorn to cool, then Break apart.

Drizzle with chocolate and allow to cool.

Store in an airtight container.
Nutrition
Serving:
1
/2 cup
Calories:
214
kcal
Tried this recipe?
Tag me on Instagram! @acookienameddesire #acookienameddesire